So sorry I didn't get around to responding to your comments on yesterday's post. As you know, that's not like me, but I confess I was just plain exhausted. After three nights in a row of too little sleep, a trip to the mechanic to get the car fixed, a trip to the dog wash to shampoo Scout, which wasn't easy as she seems to have taken a sudden dislike to the whole process, and then time spent as a tour guide, via the phone, as Don finally explored Cambridge, I found myself too fried at the end of the day to even consider signing into the blog.
I'm tired. I slept a bit longer last night but, unfortunately, when I got up at 5:30 to go to the bathroom, Scout heard me and let me know she had to go out. And there you go. Once again, up too early.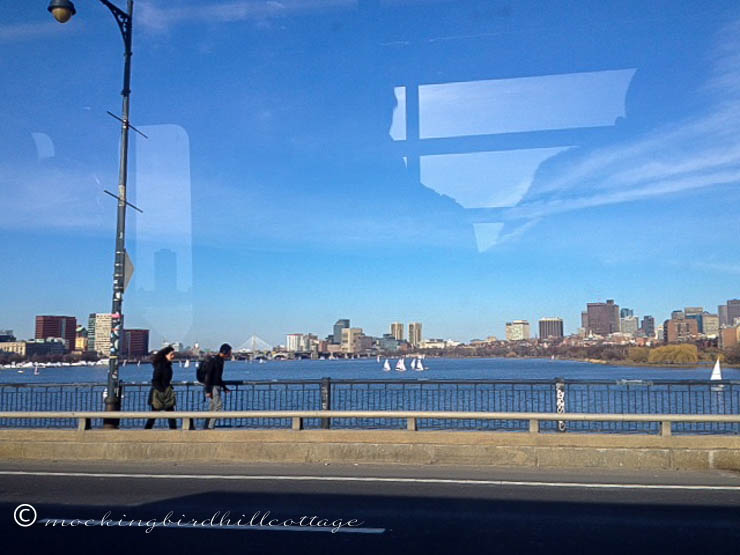 Photos courtesy of Don's iPhone
I've been bugging Don to get over to Cambridge and do some sightseeing but the weather in Boston has been awful for most of his time there. Yesterday was the first nice day in a long time, so he crossed the Charles River to explore my former home, a city I love and miss. I helped him navigate his way around Cambridge.
Just call me Claudia: Your Phone Guide to Cambridge.
He loved it there, as I knew he would. In the few hours he had available between shows, he got to drink in the charm of Cambridge, saw Harvard Yard, Harvard Square, The Old Burying Ground, Longfellow's home, the Harvard Coop, a couple of restaurants, and my former apartment building.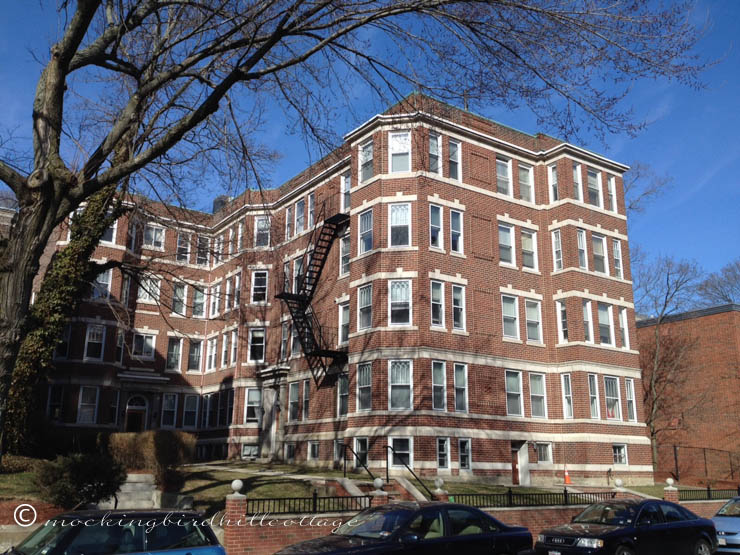 There it is! I lived on Harvard Street, just a few blocks from Harvard Square. Do you see the corner apartment on the third floor with the bay window? That was mine. I loved it.
For the first year I was in Boston, I had been living in the tiniest studio apartment you can imagine. I mean tiny as in a large walk-in closet. When I read about small apartment decorating, I usually laugh at what is considered small. You ain't seen small until you have seen where I lived that first year.
Now, do you see the corner apartment on the first floor? My friend and colleague, Judith, lived there. In fact I stayed there when I took a quick trip to Boston from Philadelphia to search for a place to live. This entire building was rent controlled and owned by an eccentric woman named Mary who sported a beehive hairdo. I loved Judith's apartment and envied her lower rent and the beautiful street she lived on in Cambridge.
A year later, during the summer, I got a call from Judith one day saying an apartment had opened up and if I wanted it I better call Mary ASAP.  I did. And I found myself moving to Cambridge, to an apartment that had a separate bedroom, hardwood floors, a charming non-working fireplace, a bay window, a sunny kitchen and a pantry. All for less than half of what I was paying for that studio apartment.
I felt like I'd died and gone to heaven.
I loved that apartment. I lived there for four years. I loved Harvard Street. I loved Cambridge, a city that just begs you to take long walks and explore all the history and beautiful buildings and streets and bookstores and charming cafes. I walked all the time – there's nothing I like better than the opportunity to explore a city on foot.
I would have gladly stayed there but I was underpaid and knew it. And I knew the rate at which my pay level would increase just wasn't enough. So I applied for the job in San Diego and got it. I said goodbye to my charming little apartment, to Harvard Street and Boston University. I had loved teaching there. I passed the apartment on to the guy who was going to take on my teaching load. When he left, he passed it on to another colleague. Eventually, Mary died, the building was sold and the rent control was no more. The apartments are now condos. I often wonder what happened to everyone living there. All of us seemed to be struggling artists or employed by non-profits and we knew how lucky we were to live in a rent-controlled building.
I'd live in Cambridge again if I could. Yes, I'd dump country life in a second if we could afford it.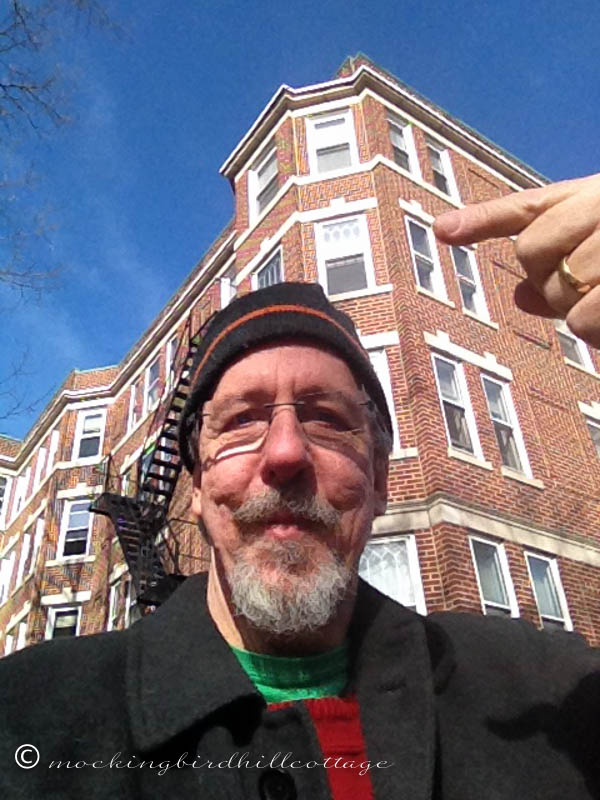 Don's pointing to my apartment. I love that he took the time to walk there and see it. He did that for me. It means a lot to know he's been there, as I've certainly talked a lot about it and Cambridge and Boston over the years we've been together. Just as I've seen his childhood home and some of the places he lived in San Diego, he's seen my childhood home in Michigan and now he's seen this building I loved living in.
By the way, Scout has been a lot better the last couple of days. Very feisty and energetic and full of the devil.
Happy Friday.