Today, we're traveling downstairs to the den where we'll find some more egg cups. They are very special and just might be my favorites. They are displayed on a charming shelf/whatnot that I found in a little antique store many years ago.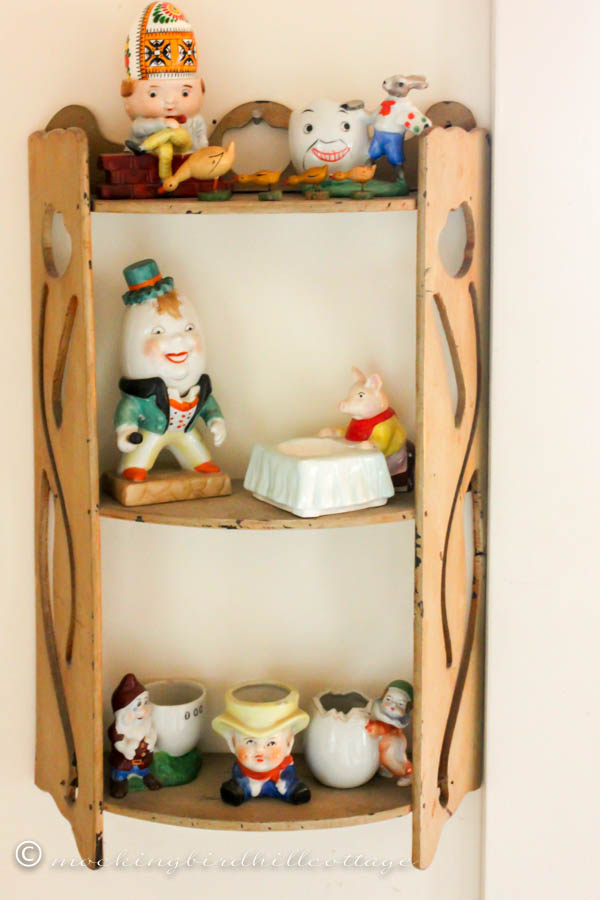 Top Shelf:
1. This Humpty Dumpty is made by Mansell in Great Britain. I had my eye on this little fella for a while and managed to snag it on eBay. The hand-painted egg is from Prague.
2. Oh, be still my heart. I rarely, if ever, see this one nowadays and, let me tell you, the minute I saw it, I had to have it. Another crazy middle-of-the-night bidding war on eBay many years ago resulted in it coming home to Mockingbird Hill Cottage. The Bunny as Painter, painting a face on an egg. Marked Japan.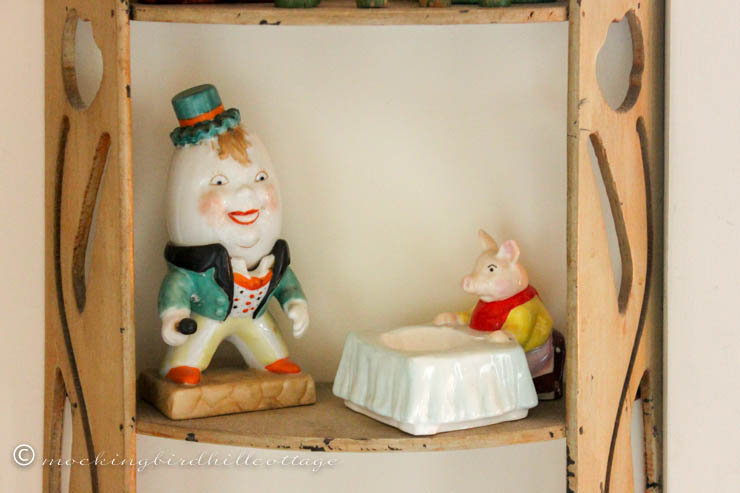 Middle shelf:
1. Another gem. The head comes off and is a salt shaker or salter. The bottom half, from the neck down, is the egg cup. This one is rather large and a couple of years ago, I saw a pair of them for sale. That's when I realized that they were originally sold as salt and pepper shakers. The details, the sweet face with the smile and the rosy cheeks – sigh. Love it. Marked Ardalt 6343/Occupied Japan.
2.  Oh my goodness. Another one that stole my heart. A pig getting ready to dine on an egg. Same story. Had to have it. This was made for Tiffany by Elizabethan Staffordshire in England.
Bottom Shelf:
1. Definitely worth the most of any of my egg cups, this Doc egg cup is part of a set of Snow White and the Seven Dwarfs egg cups that were made for Walt Disney Enterprises in the late thirties. They are not easy to find (Snow White herself is almost impossible to find and when she  shows up somewhere she goes for a lot of money.) Obviously, I'd love to have them all but for now, little Doc lives here at the Cottage. Marked ©1937, W. D. Ent. Made in Japan.
2. A little boy/cowboy. I lost track of him recently and then discovered him under the bed (our old bed) upstairs, where he had rolled after falling to the floor as a result of an unfortunate incident involving the collision of my head with the egg cup shelves. See Tuesday's post for that story. He's back and I love him. A reader mentioned that she thought he wasn't a cowboy but an English character. Nope. He's a cowboy. I have a reference/pricing book that I use and he's definitely a little boy/cowboy. I've also seen the same description on several other reference sites. Love the legs sticking out. Marked Japan.
3. Though this little cherub-like clown is holding an egg, this is actually a toothpick holder. But I love it so much that I include it with my egg cups. Wouldn't you? Marked Japan.
Tomorrow I'll share egg cups that aren't found on a official 'eggcup shelf' but are on display in various parts of the house.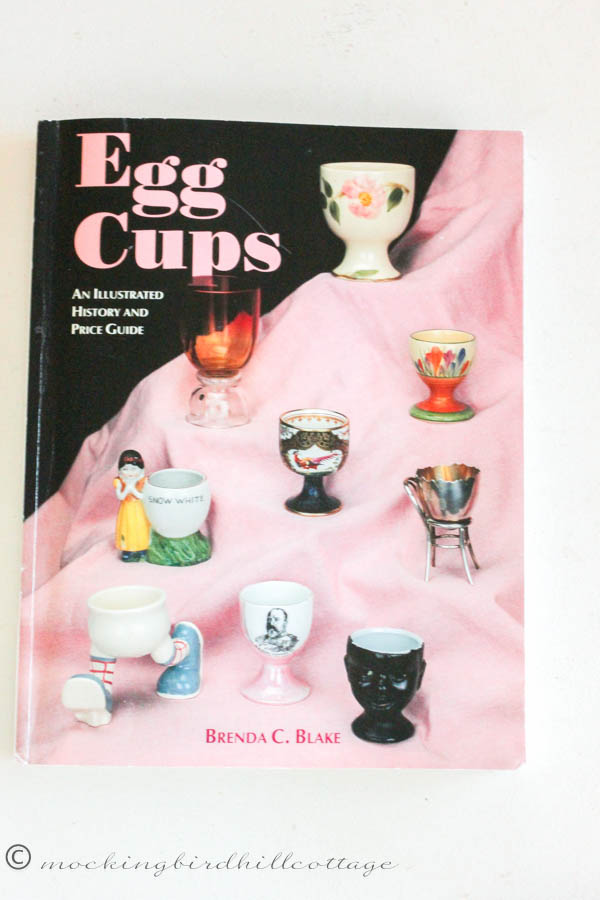 By the way, I use this book, which is a treasure trove of information. It's out of print but I regularly see it listed on eBay. If you're at all interested in this genre of collecting, this book is a must have. There's Snow White on the cover. I want her. Sigh.
It's cold here in the Northeast, but it's sunny, thank goodness. More work outside today. Don, who usually isn't at all into that sort of thing, is on a roll. He likes being busy outside and I'm going to take advantage of it while I can.
Happy Thursday.