Day four. The finale. For today's post, I've gathered up the rest of my egg cups, those cups that are on display hither and yon in the cottage. All this posting about egg cups has me sort of obsessed by them again. Isn't that the way it often happens? You get used to seeing something in your home, walk right by it (or them,) don't even register that it's there and then suddenly, you see it with fresh eyes and kaboom! It's all you think of.
Okay, here we go: the finale!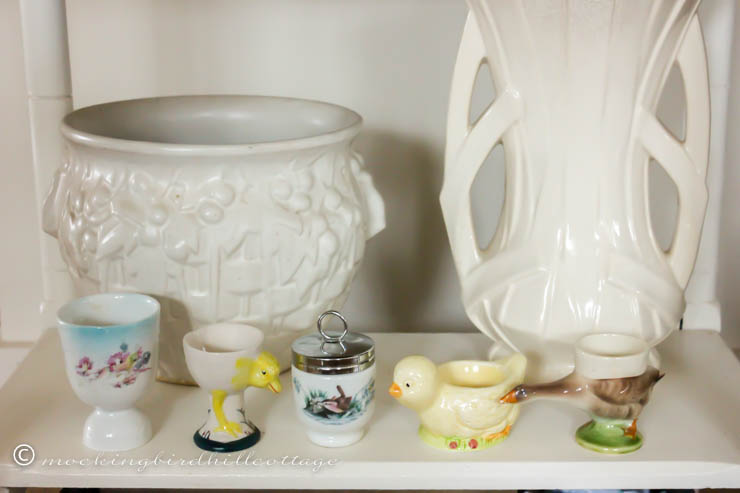 Starting from the left:
1. A beautiful egg cup in my favorite colors. It has no mark so I'm not sure who made it. It's vintage, though. I got it a few years ago at my favorite shop in San Diego, Vignettes. It usually is on display in the china cabinet in the den, with a found bird nest sitting on top of it.
2. A chick coming out of an egg, with some pretty flowers painted on the base. Marked Japan. Another gift from my Mom. On display in the kitchen china cabinet.
3. This is an egg coddler, not an egg cup. This particular one, given to me by my mom, has a bird on one side and two birds on the other. Marked Royal Worcester Porcelain, England. On display in the kitchen china cabinet.
4. A sweet chick. I believe this one is newer and not vintage. Unmarked. Given to my by my mom. On display on top of my bookshelves in the bedroom.
5. Love, love this goose egg cup. I found it in a local shop. Marked 'France.' Also on display in the den china cabinet.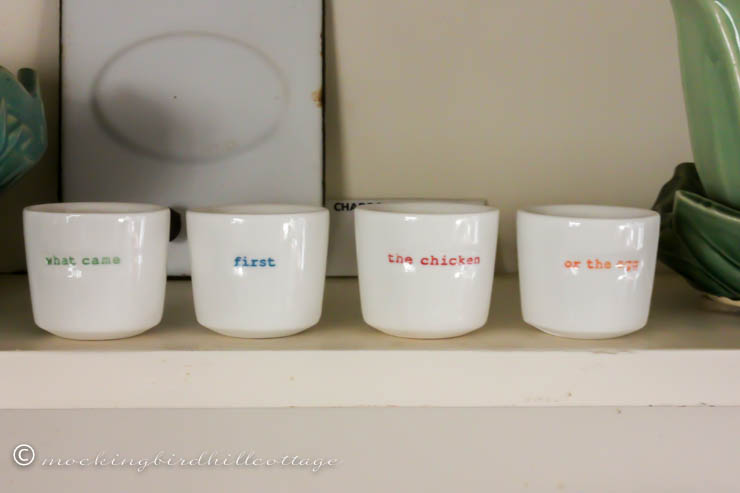 These adorable egg cups (in what is called the 'bucket' style) were a gift to me last year from dear Judy. I love them. They are on display in the kitchen. And, by the way, what is the answer to that question? I'll leave you to ponder it.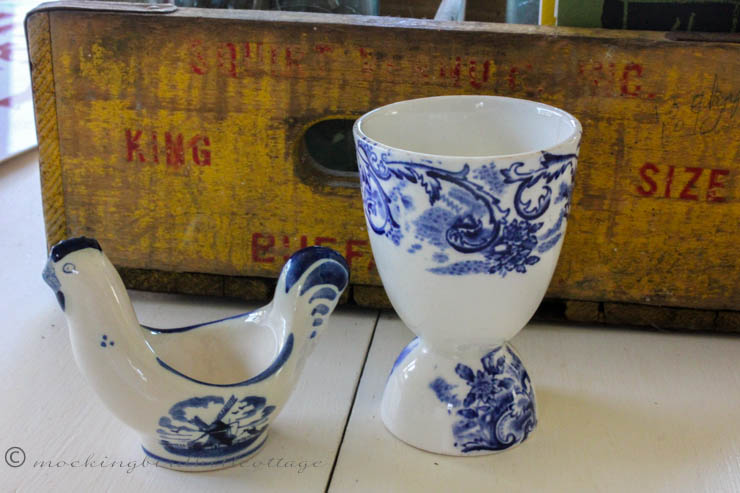 And finally, my two newest acquisitions. I bought them just the other day.
1. A Delft egg cup in the shape of a chicken. (I'm not particularly crazy about Delft, but I'm trying to add different shapes to my collection and this one is charming. Signed '1332 Kenith (or Renith) R.' Probably newish.
2. A Flow Blue double egg cup. Vintage and unmarked.
Well, my friends, I hope you have enjoyed my annual tour of the egg cup collection. I try to do it a wee bit differently every year. I'm sure I'll have even more to show you by this time next year.
By the way, most egg cups are very affordable and you can find many of them for a few dollars in antique shops and flea markets. I think the Flow Blue cup, for example, was about $4.00 and the Delft chicken was $5.00. Figural egg cups, especially the rarer ones, are pricier. Very, very old egg cups in ironstone or rare patterns command a higher price. But I often find that dealers are not very up on egg cups and the prices they might command, so you can usually get a great deal. In the beginning days of my obsession, which would have been around 2002, I haunted eBay and that is where I found many of my figurals. Etsy wasn't in existence then, but now it is and you'll find some wonderful examples there, as well. Of course, the best part of the hunt is discovering a gem tucked away on the shelves of a shop. I keep hoping to expand the figural part of my collection, but they are getting harder and harder to find. Certainly, the rarer ones – like the bunny painting the egg – are increasingly scarce. I don't check eBay all that often, but I haven't seen that particular egg cup in a long, long time. I'm so happy I started when I did because the figurals (my first egg cup love) were the ones that I found enchanting and whimsical and in 2002, there were still a lot to be found.
I'm fairly picky about what I collect, but I'm going to expand the collection into souvenir egg cups and double egg cups in various china patterns. I cannot pass up a pretty china pattern, as you know.
If you have any questions, feel free to email me.
A note to Debby Messner: I got your email yesterday but whenever I respond to that address it bounces back to me, so I wanted to let you know that I signed up for Club Little House swap. Thanks for telling me about it, my friend!
The winner of a copy of Casebook is SueZK! I've just sent you an email, Sue. Congratulations! (Winners are always chosen by the Random Number Generator.)
Happy Friday.