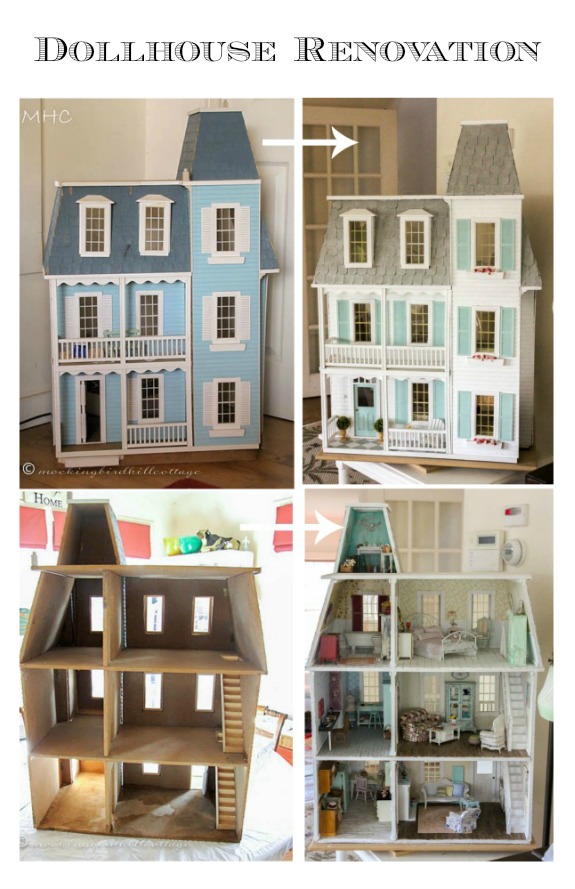 What to do with this? Gaps in the seams, water damaged floors, dingy walls, unfinished staircases?
First of all, two coats of primer. Then, everything was covered with paint in whatever white I had on hand. I follow the same rule as the one I use in my real house: use what you have on hand, if at all possible.
I did so much research. Like many of you who are working on your own dollhouses, I scoured catalogs, read how-tos, looked at tutorials. Then I just went for it.  (I'm trying to re-create the exact order in which I did the various parts of the renovation. That's when having a blog comes in handy – I have the facts and figures right at my fingertips!)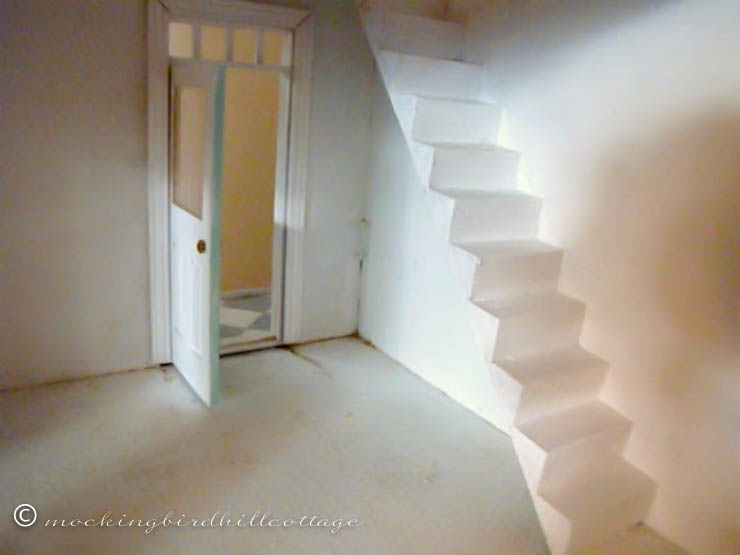 I decided to tackle the stairs first. I suppose I could have gone with the stairs as they were, but that was too modern for this dollhouse. So I ordered spindles, railings and newel posts. All were painted white. Then I fiddled with them, gluing the spindles onto the stairs, one by one, hoping I cut the railing accurately, adding the newel post. (Once again, I'm dealing with photos taken by my older camera, so bear with me. Oh, what a difference a good camera makes – especially with a dollhouse.)
It worked! Since I was tackling the stairs, which were in the living room and den, I concentrated on those two rooms. After ordering some more spindles – I ran out – I did the stairs leading from the den to the bedroom next. This was the first really painstaking work I did on the dollhouse and I was worried I wouldn't be able to pull it off. So it was a little triumph when I did.
Floors were up next. I had this idea rattling around in my head. Rather than buy a sheet of faux wood flooring (not there is anything wrong with that) I wondered if I could make my own wood floors. Popsicle sticks? Coffee stirrers? So I did some research and found a couple of miniaturists who had done that very thing in their dollhouses. A valuable piece of information surfaced: stain and/or paint the sticks before gluing them down. If you paint them after gluing them down, they can warp.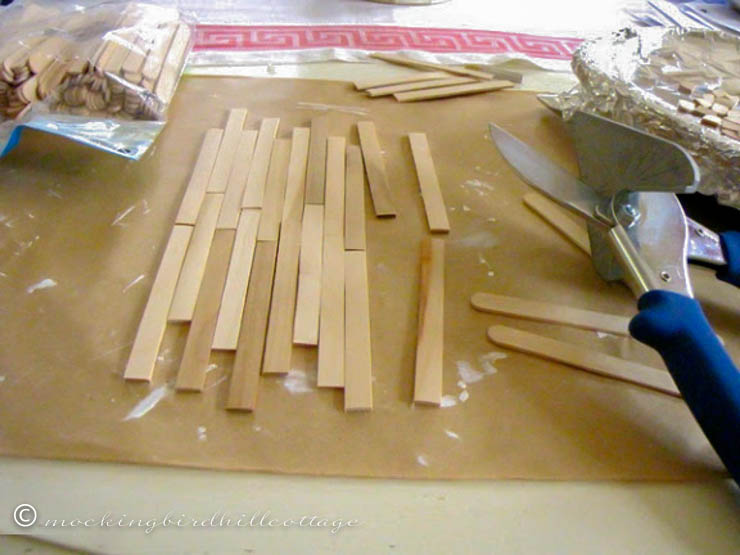 I ended up choosing narrow popsicle/craft sticks that I found at Michael's – coffee stirrers were too narrow. I cut the rounded ends of each stick, then painstakingly stained each one. When I had stained several sticks, I played around with them on the living room floor.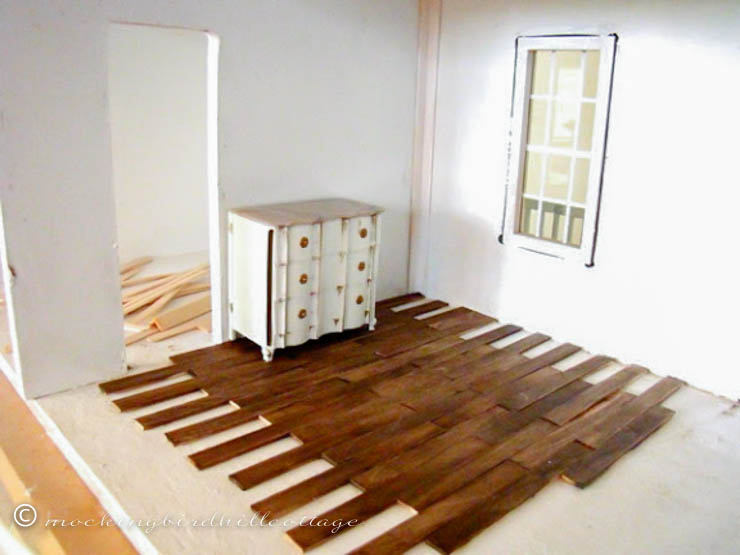 It was going to work. This was a long process, cutting, fitting, trimming and gluing. But what a difference it made. I really, really loved the look. By the way, I added that piece of wood in the corner to cover up a gap in the seam. I did that same thing in most every room of the dollhouse.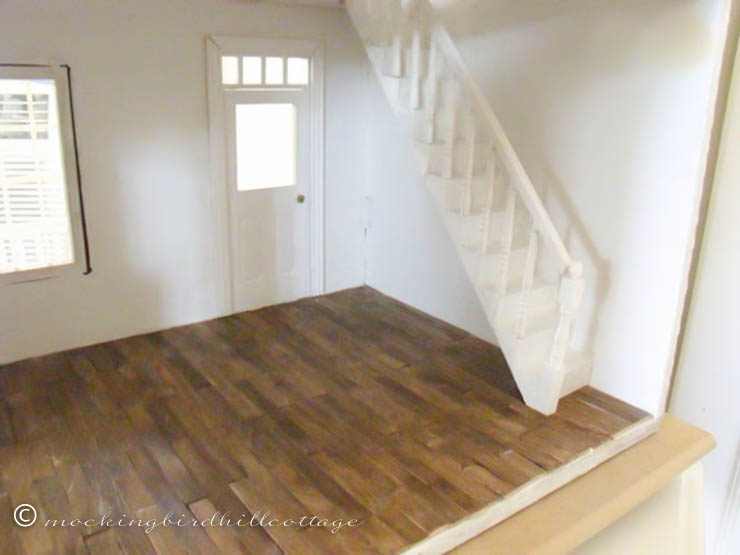 I cannot tell you how excited I was when this floor was finished. I wanted old, slightly worn, beautiful floors and I got them. I did the exact same thing in the den. Same stain (walnut, I believe), same look.
Then I decided to take a stab at what would be the kitchen. I wanted something different there, so I changed the direction of the wood sticks and painted them white with some gray dry brushed on top of the white.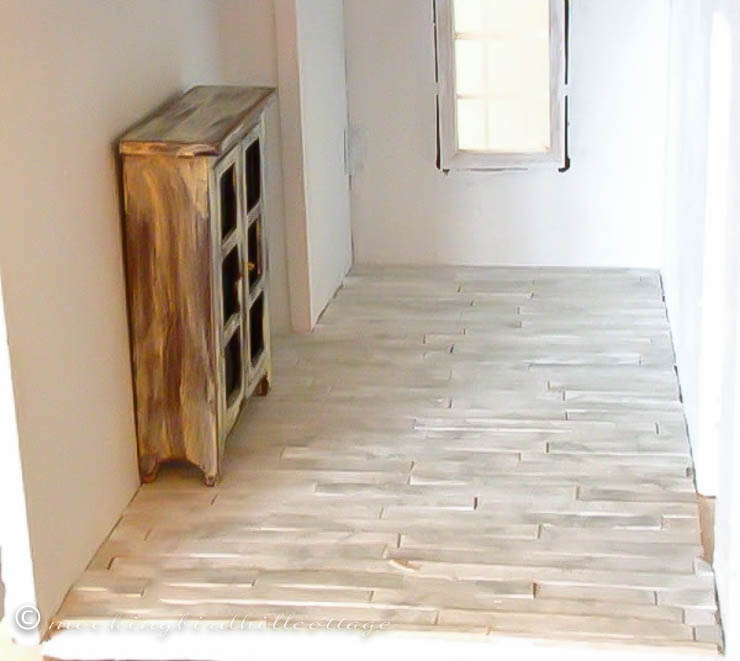 I wasn't entirely sure this would work. (Again, sorry for the photo quality.) The floor underneath was warped from water damage. But I reserved judgement because I had a feeling that when I started to add in the kitchen fittings, wallpaper and trim, it would look just as I had envisioned. I wanted the look of a floor that was very old and was preserved by the new owner, who appreciates old and vintage.
The next post in the series will cover choosing wallpaper and trim in the kitchen, living room and den.
If you're interested in a tutorial on laying a wood floor in your dollhouse, visit my post How to Make a Hardwood Floor for Your Dollhouse.
Update on me: I'm hanging in there. But it's been very, very hard, of course. This morning found me crying once again. And Dad seemed very fragile yesterday. My heart breaks for him. He took flowers to the nursing home to thank everyone for the loving care they gave my mom. It was his first time visiting since the day before my mom died. He even went into her old room to introduce himself to the woman who is now occupying her bed. Very brave and very giving. But, of course, it drove home the reality that she is gone. And that left him shaken to the core.
My dear friend, Darko Tresnjak, the Artistic Director of Hartford Stage and the man I have worked alongside on twelve productions, both there and at the Old Globe, was nominated for a Tony Award today! His direction of A Gentleman's Guide to Love and Murder garnered a nomination. The musical itself has ten nominations, the most nominations of any production this year. My friends and colleagues, Linda Cho and Alexander Dodge, are also nominated for costume design and scenic design. I'm thrilled for all of them.
Happy Tuesday.