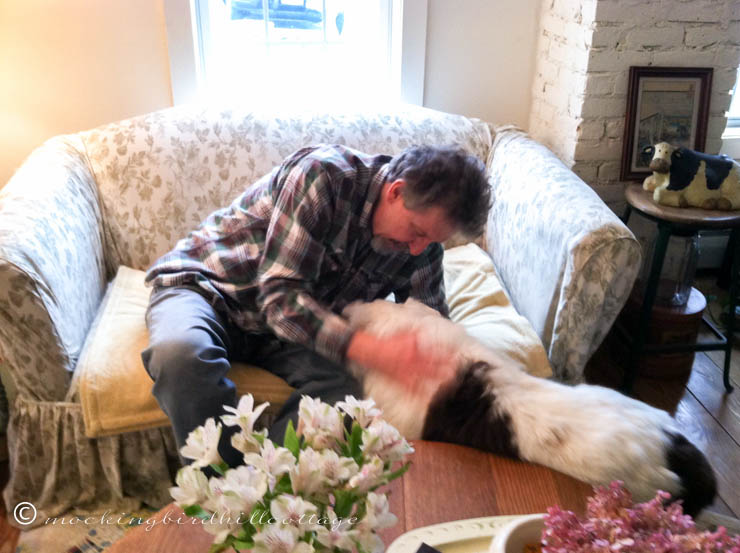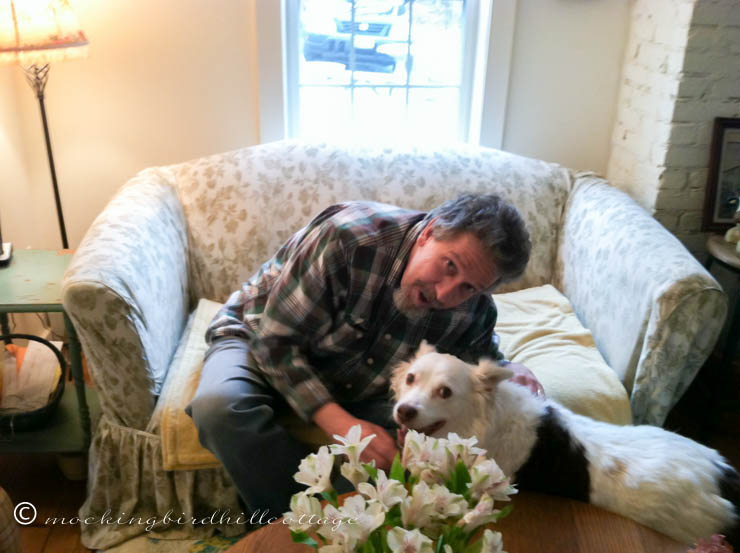 Do you think Scout is happy her daddy is home?
Or that her daddy is happy to see her again?
Ah, what a reunion! Scout was so happy to see him that she never let him out of her sight. She was exhausted at the end of the day from all the excitement.
It was a dark and rainy day but the minute I saw Don at the train station, it was all sunshine for me. So, so happy to see him again – so happy to have our little pack together once more. This particular separation was the hardest yet for us. We've been through many of them over the years and we seem to handle them pretty well. But this one was another story. Of course, the dreadful winter we suffered out here had a lot to do with it. But also, the older we get, the less we seem to be able to tolerate being away from each other. There's just been too much of it in our history.
But the work we do as artists requires that of us. Work often takes one of us to another city or another part of the country and it takes us there for six weeks or two months or six months. In an ideal world, we'd be able to visit each other for a big chunk of that time, but we haven't been able to do that for a long while. Our commitment to our dogs required one of us to be at home with them. Riley needed constant care that only we could provide. Scout is older now and she also needs one of us with her. Don's apartment in Boston was a third floor walk-up with too many stairs for her to navigate. We stayed here.
So we do our best.
If another offer of work came for either of us, we'd take it. We need the work. We need the money. But we are a wee bit jealous of all of you who live and work in the same general area. The thought of going off to work and being able to come home every night is a little glimpse of heaven for us.
Now, we'll go through a little re-entry period where we adjust to life together in our little cottage. But it won't take long.
And Don cooked dinner last night! Hallelujah!
By the way, I loved, loved the stories you shared on yesterday's post. I laughed out loud when I was reading them. Thank you.
Happy Tuesday.