Well, we had a mix up at the mechanics yesterday morning and the parts hadn't arrived yet. So I came back home and I'll be going back there early this morning.
When I got home I decided to do some work on the dollhouse. Whenever I feel stressed, I find it really helps to concentrate on something creative. It's my very own crafty version of "Calgon, take me away!" Since Spring is here and I can't do anything with my garden yet (May 1st is the magic date here in the Northeast) I thought I'd springify (my new word) Hummingbird Cottage.
How about some flowers in the window boxes?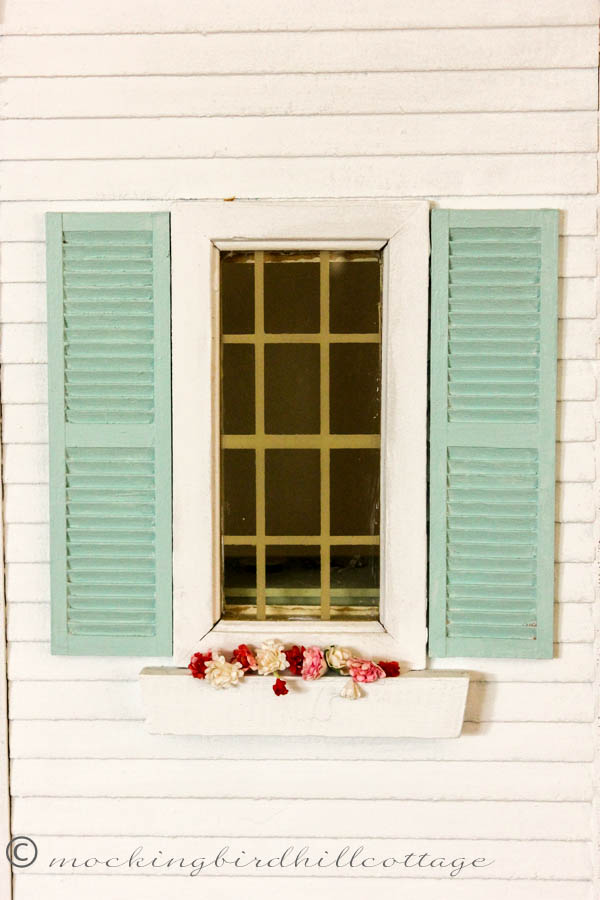 One…..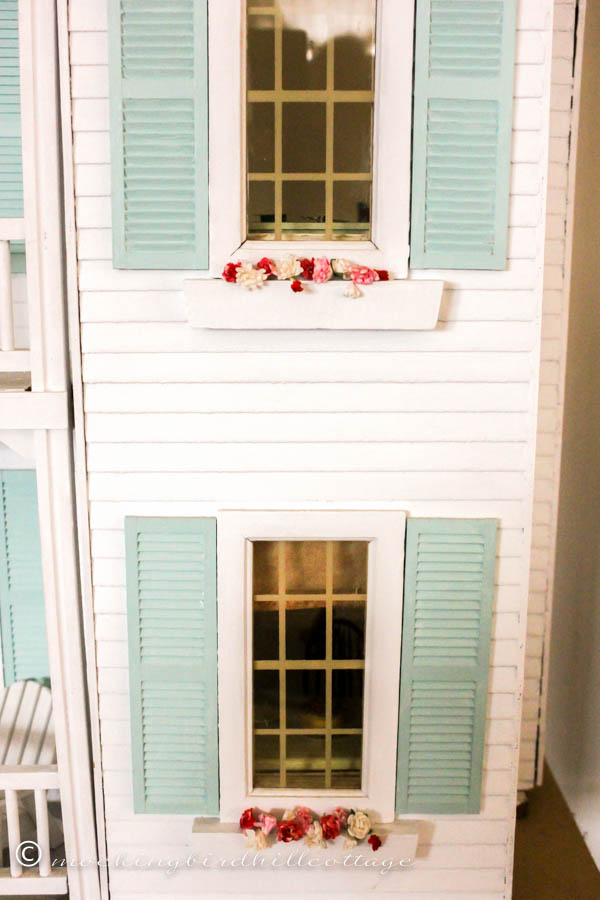 Two….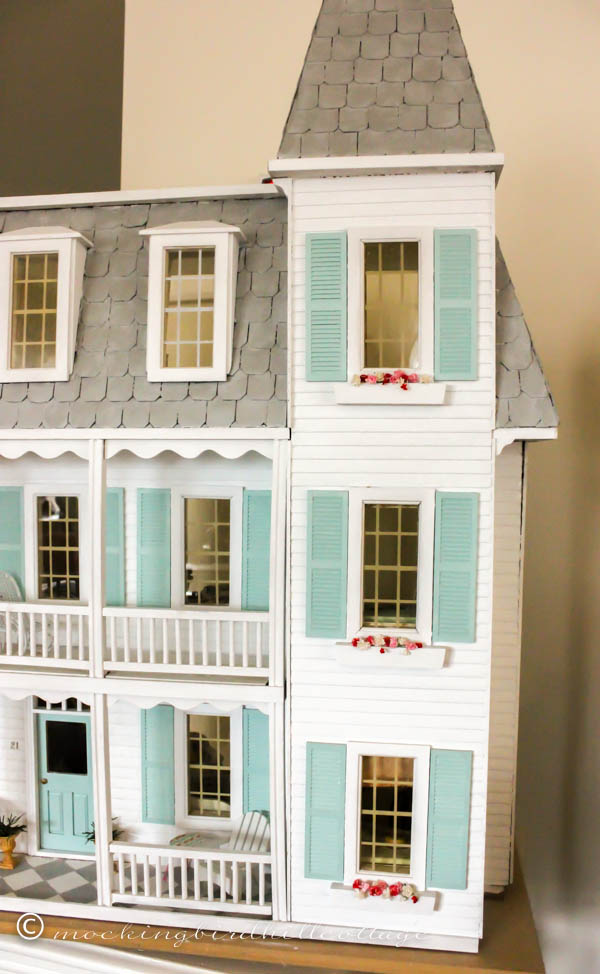 Three.
And on to another little dollhouse project. Remember that I told you I had plans for the tower at the top of the house? Don came up with the initial idea. He's awfully creative, that guy. Well, today I started on it. That room is going to be a potting shed of sorts. And I'm going to eventually have a little rooftop garden.
But first, the beginning of the potting shed.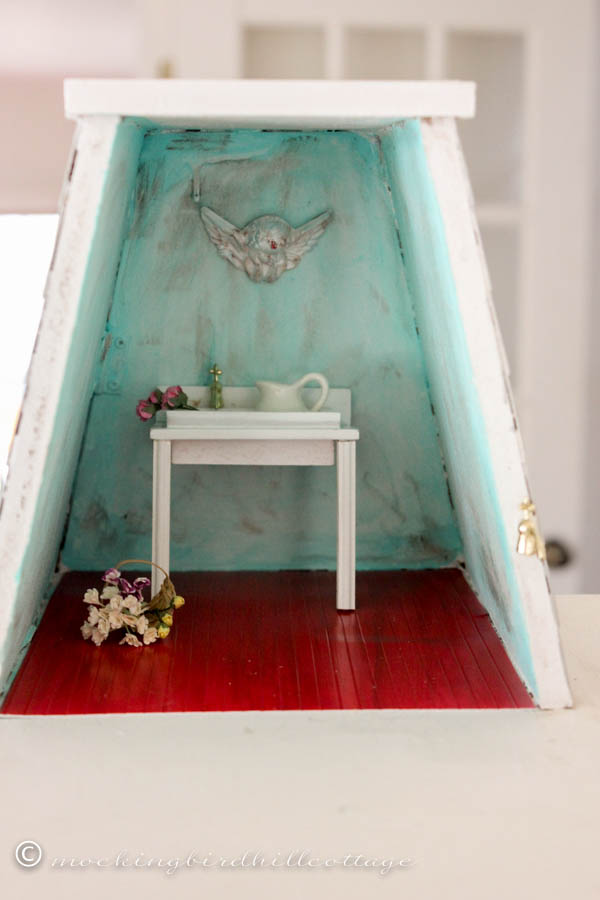 I started out painting the walls a pale aqua. But it didn't turn out as pale as I wanted it to. So I wiped some of it off and the uneven surface on the walls brought out an interesting texture. Then I thought about this being some attic room at one point that the owner had turned into a potting shed, so I aged the walls a bit.
Then, after considering floor possibilities and not being in the mood to cut sticks and paint them individually, I decided to paint some left over beadboard a vivid red. It was sort of a 'what the heck' moment.
And I find I like it!
The sink was the top part of a bathroom sink unit that was out of scale for the dollhouse. It was too tall. So I took it apart and just used the sink. Then I attached some legs. I removed one of the faucets and, you can sort of see it here, attached it to the outside wall. I'm going to figure out how to make a hose.
By the way, the cherub artifact on the wall should NOT have a red nose. I have to sand that red paint off. I think it got there when I was painting the floor.
Unless the cherub is a clown cherub…
Eventually, I'm going to add some pots and a bench and some tools (rakes, trowels, etc.) I ordered a few things today from a supplier and I'm excited about adding them to the room. Maybe some hooks to hang the tools from?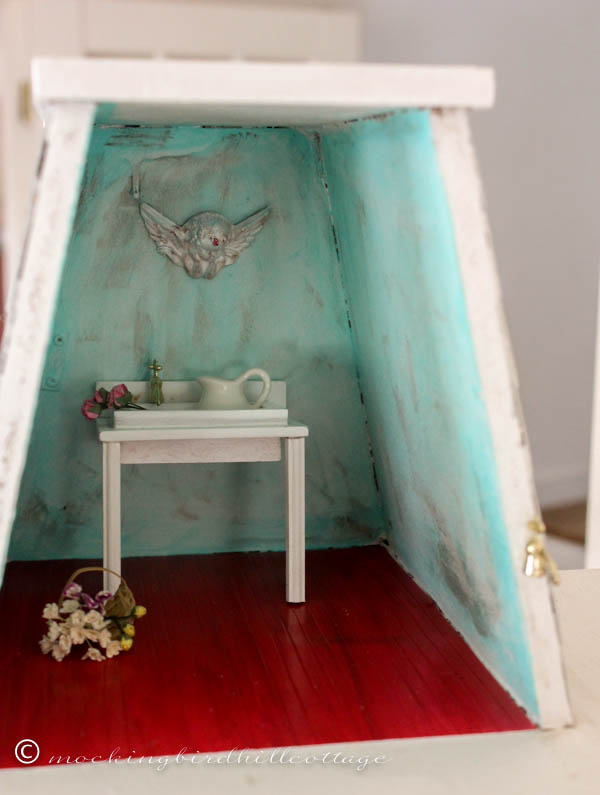 I'm excited about this new space.
Hummingbird Cottage has a potting shed!
Where is Mockingbird Hill Cottage's potting shed?
Happy Thursday.