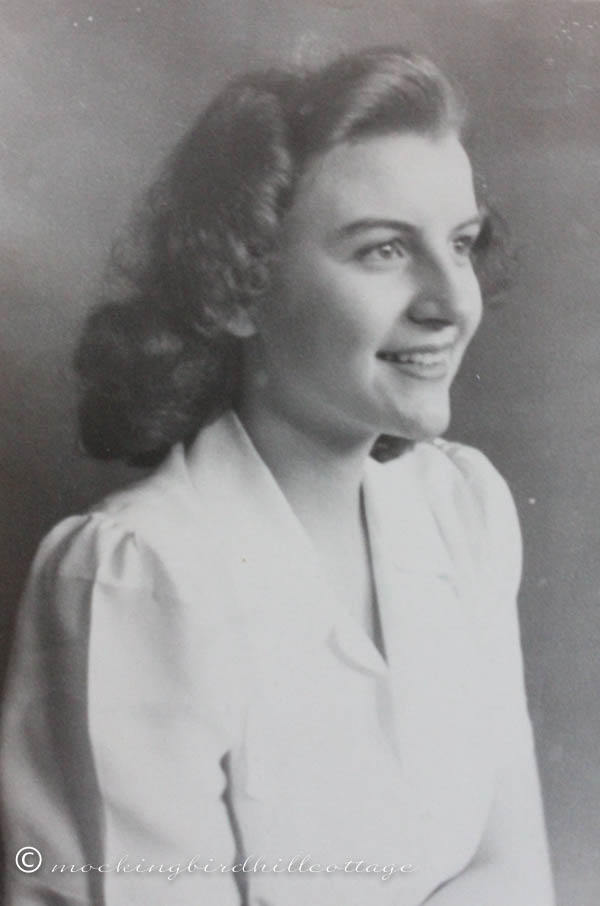 This is my favorite picture of my mom. She was in her late teens when it was taken.
I'm not officially back yet – that will be tomorrow – but I wanted to take a moment to thank you for all the loving and kind messages you have left here on the blog, on the blog's Facebook page and in private emails. They mean a great deal to me.
I'm still trying to accept the reality that my mother is no longer here; still profoundly and deeply sad. I'm so grateful that Don is here. Just a little over 2 weeks ago, he was far away in Boston. Having him here has been a blessing. While Meredith and I try to come to terms with the loss of our mother, we are also trying to help Dad come to terms with a world that no longer has the woman he loved and adored for 68 years in it. And we are once again dealing with the fact that our estranged sister (her choice) has made absolutely no contact with Meredith or me, even in the face of losing our mother. It's a mystery that will never be solved but it left its mark on my mother – just as it has left its mark on my father. There is obviously a back story to this – I wrote about it in a post called The Lost Sister. The loss of my mother has brought all that pain and anger to the surface once again.
So I'm wrestling with pain and loss. I'm awash in memories of my mom. I've been calling relatives and friends to tell them of Mom's passing. I've walked in our woods. I've sobbed in Don's arms. I've worked on the dollhouse. But mostly, I've been quietly honoring my mom, talking to her, telling her I love and miss her.
I've missed blogging, the daily ritual of writing a post. I've missed all of you. It will be strange, however, to be writing any sort of normal post tomorrow. I guess I'll just jump in – like getting back on the horse when you've fallen.
I also want to remind those of you who are taking part in the Christmas Critter Felt Along that this month's installment of our linky party is today. Dawn has kindly taken over this month's linky party so that I can have some time off. The link to the party is here.
Thanks so much.