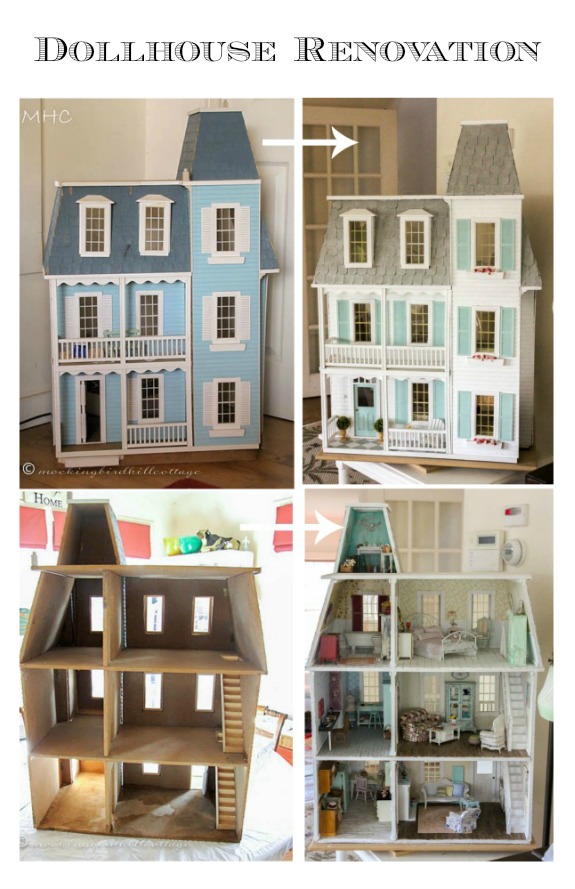 I'm starting a small series about the dollhouse that will show the befores and afters of the exterior and interior. I think it will be fun for you (and me!) to see how far it has come since the day it came home to the cottage. Today? The exterior.
In 2009, I had a job that took me away from home to work in San Diego for six months. Now, I had been wanting a dollhouse for quite a while. I had been reading miniature blogs, gazing at dollhouses, looking at dollhouse kits, pricing kits (expensive!) and generally mooning about all things dollhouse. A good kit seemed to be an extravagance that we couldn't afford at that time, so I started to look on eBay and Craig's List. One day in June, I saw a house on Craig's List that looked promising. The owner lived just a couple of towns away from our cottage. I emailed her, asked a lot of questions, and then pleaded with her to hang onto it until I could talk to Don. After a wee bit of cajoling, Don agreed to pick it up. It was $30. A steal! He brought it home and there it sat until I returned in July. The following photos were taken on my old camera and in some cases, you'll see my old watermark. I've tweaked them a little, but bear with me.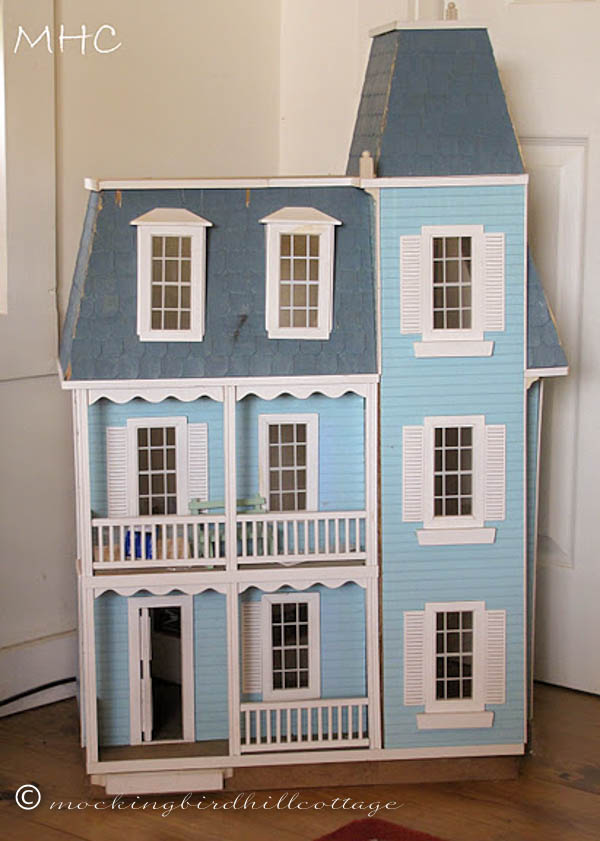 This is how it looked when it arrived. It was on a base that was funky, not level, and water damaged. It had a front porch step that didn't seem to work, fake shutters, the upstairs windows had been put in incorrectly and were crooked, several of the shingles were damaged, and that tower was installed in the wrong place – it had been set back too far from the edge of the roof.
It was completely unfinished on the inside and the floors on the first floor had water damage. It had also been put together incorrectly and there were gaps between some of the walls and for some reason, some of the siding was on display in what would become the Master Bedroom.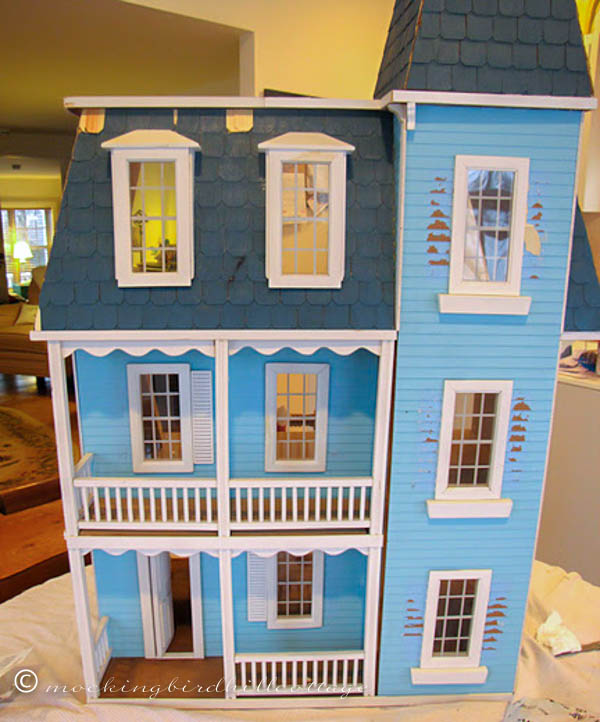 I did a lot of research on the internet and asked a lot of questions of my miniature blogging friends. I learned that I could take those upstairs windows out more easily than I thought and that allowed me to reposition them. The 'shutters' (which were really pieces of wood with lines painted on them) were removed and new shutters were ordered. I replaced several shingles. Then I pried off the tower and moved it into the correct position. I also removed the funky base and step.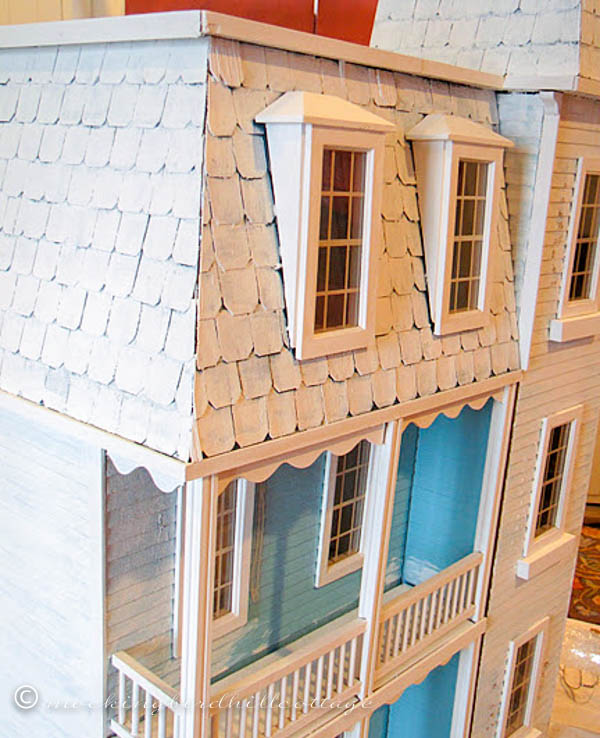 Most likely, this dollhouse (which is, frankly, a inferior copy of one made by Real Good Toys and manufactured by another company) came with the outside walls pre-painted. But it had taken a beating and I didn't like the colors, so I gave it a few coats of primer. I also primed the inside at the same time.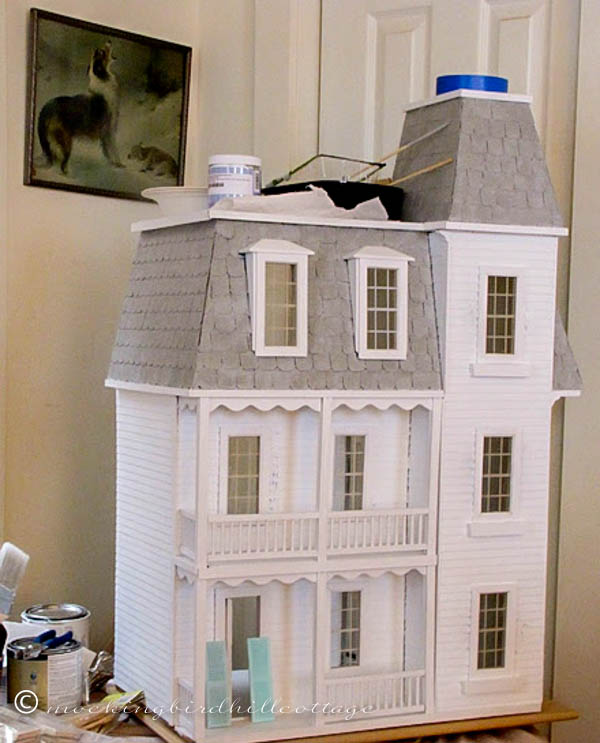 It took several coats of paint to cover up the blue. I decided the roof should be gray but I wanted the gray to have a texture. I painted all the shingles in one shade of gray, then dry brushed another shade of gray onto the first layer.
The shutters arrived and I played with paint colors.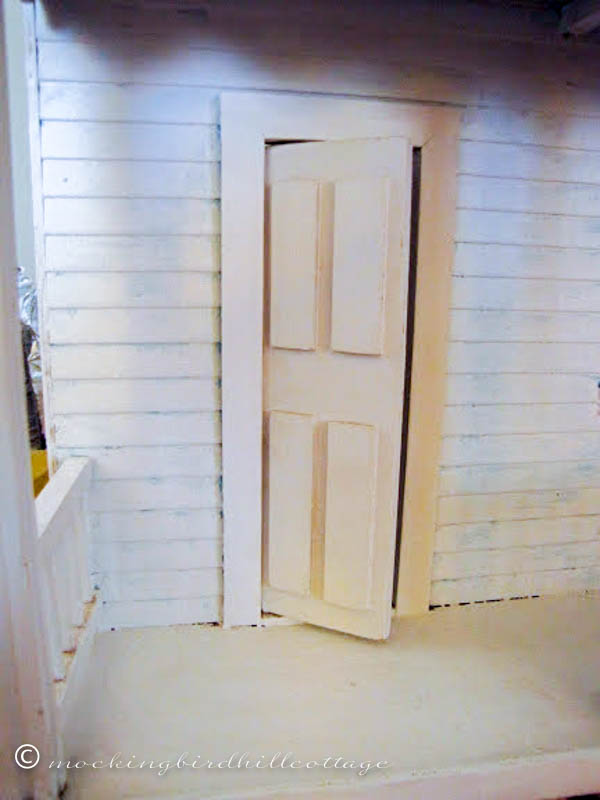 I never liked the front door. It looked cheesy, was too narrow, and it wouldn't close. I knew I was going to have to replace it.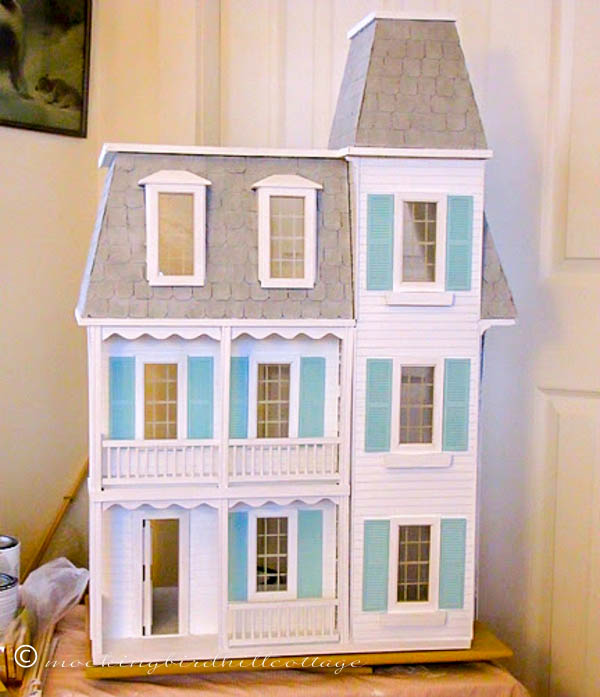 The shutters were painted and installed.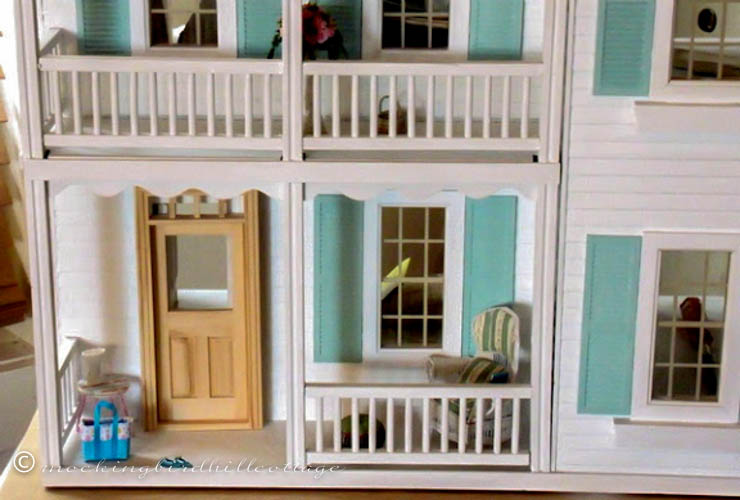 I bought this door. And I looked at it for a long time. It was wider and taller than the door that came with the dollhouse, so I knew I was going to have to deal with a saw. Research told me that I needed to invest in a keyhole saw and I did. The day I decided to bite the bullet and remove and replace the old door was definitely nervous making. Would I screw it up? I marked the new opening with pencil and I sawed and sawed and sawed again until I finally got it right. And dang it, it fit!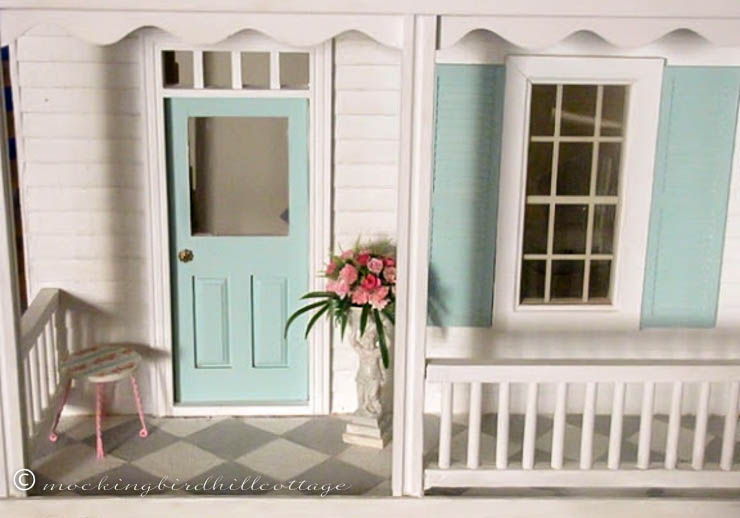 Ta da! I added a jewelry fitting for the door knob.
Which brings us to the porch. The porch was unpainted, had a very rough texture and some water damage. I decided that the best way to deal with that was to add some pattern. I've always loved painted floors, so I painted a diamond design in gray and white.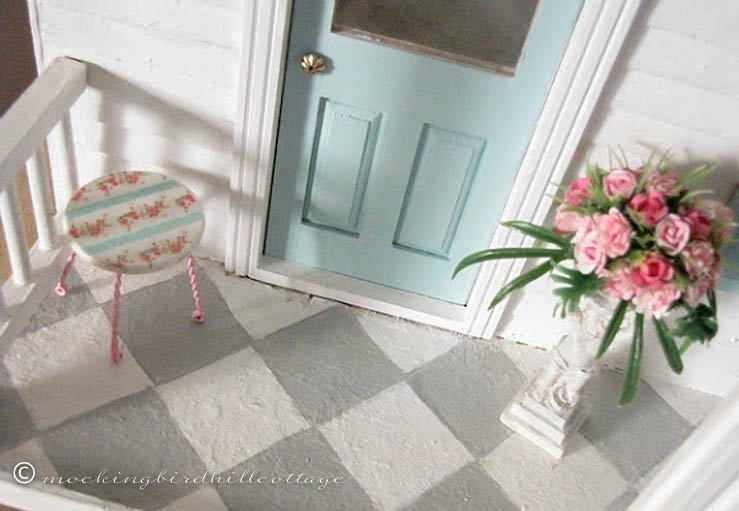 And there you have it. All of this took place over the course of several months, as I painted and replaced and researched and, in some cases, dithered a bit.
Just like rehabbing a real house, but much less expensive!
I know many of you are thinking of getting your own dollhouse and I want to assure you that you can take something less than beautiful and fix it up so that it looks like new. And you don't need to pay full price, unless you want to. I paid thirty dollars for the dollhouse. I mean, really, how could I go wrong? You can find all sorts of deals out there. Judy found a gorgeous dollhouse at a craft fair for an incredible price. Another of my readers recently found a beautiful dollhouse for next-to-nothing. Check out Craig's List and eBay and your local paper. You'd be surprised what's out there.
I've had the most wonderful time working on this dollhouse. I can't even begin to describe how much I love it.
There's more coming in this series. Next time, we'll start on the inside.
Speaking of the dollhouse, yesterday I received a package from Karen. It was rather large and heavy and I had no idea what was in it. When I started pulling things out of the box, I was stunned. So was Don.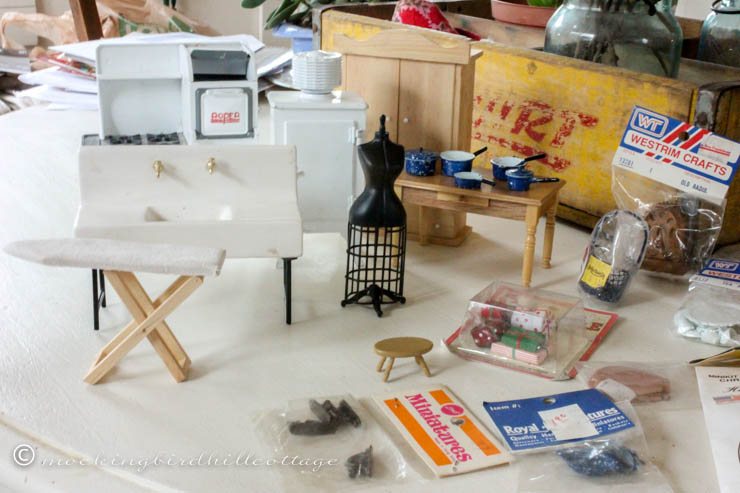 This is only a small portion of the contents. Accessories, furniture, furniture kits – treasure after treasure!
Thank you, Karen, for this incredible surprise and for your generous spirit. Bless you.
I am reminded of just how amazing my readers are on a daily basis. What a gift you are!
Happy Wednesday.