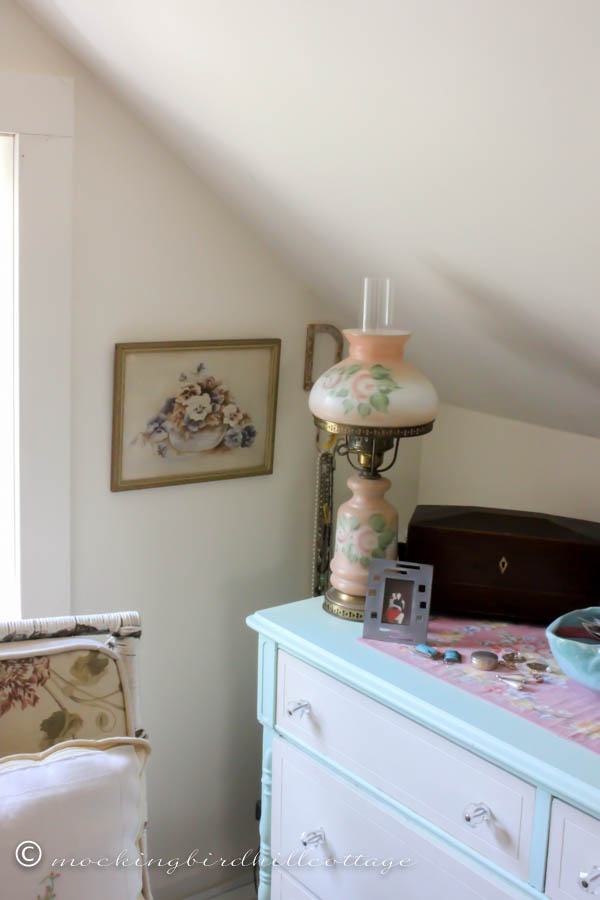 Let's explore another corner of the cottage today – our bedroom. As always, this is photographed 'As Is.'
What's that piece of furniture? Well, there are two. The dresser has a story, as does everything in this house. It's vintage and it has been in my possession for about 23 years. I was walking down Harvard Street in Cambridge, MA one day (I lived on Harvard) and I spied this dresser sitting out at the curb. The wood was dark but I liked the lines of the piece and I knew I could paint it. After I made sure it was indeed free, I ran back to my apartment building, enlisted my friend Annette's help, and together we walked that dresser about 3 blocks to the building and then hauled it up 3 flights of stairs. I painted it a soft gray. After it moved to San Diego with me, it was painted a pretty yellow. Just last year, I repainted it in these colors. When it was yellow, I changed out the metal knobs to vintage green glass knobs. When I painted it last year, I replaced them with clear glass knobs. Come to think of it, where did I put those green knobs? I haven't seen them in a while.
The wicker rocking chair is a favorite of mine. It needs some repair work. I got it for $60 in an antique shop. It lived on the porch, then in the living room, before moving up the stairs to its current home.
What's on/in it? On top of the dresser: a lovely hand painted lamp that was my grandmother's. I grew up with this pretty lamp and I've always loved it. A tea chest that belonged to my great-grandmother. It is handmade and is filled with mementos that were important to my grandmother – the funeral cards for her two adored sisters who died in the flu epidemic of 1918, a lock of her sister's hair, my great-grandfather's will. A framed photo of my late brother and me taken in my acting days. Favorite earrings. A Tiffany pill box. A vintage tea towel that I use as a dresser scarf. A piece of McCoy Pottery. There are also pieces of Roseville pottery but they are out of view. The pottery pieces hold bits and bobs, receipts, jewelry, photos.
The pillow on the chair is covered in a vintage linen napkin embroidered with the word 'Nice,' intertwined with flowers – embroidery by me.
What's on the wall? A vintage pansy print that I discovered in an old shop in Kentucky. It has the prettiest frame. A letter D/hook from Anthropologie that holds my favorite necklaces.
Any challenges? Yes. The danged slanted/sloped ceiling. The ceilings in both of the upstairs rooms are sloped and sharply sloped at that. It means that furniture placement is always a challenge. And doing anything in those areas is a daily challenge as both Don and I are tall. I can't tell you how many times I have bumped my head on the ceiling. The sloped ceilings are the reason that Don's dresser is in the other room – there was no place for it in ours. (That has worked out very nicely, by the way.)
Anything else? The vintage dresser is charming, but the drawers sometimes stick, which results in some colorful language on my part. (Don's dresser drawers also stick.) Ah, the charms of vintage.
Happy Sunday.