Obviously, this is a tough day for me.
It's only been 17 days since my mother passed away.
This is the first Mother's Day in my 61 years of living on this planet without my mother. The first Mother's Day that I can't pick up the phone and thank her and wish her a happy Mother's Day.
I know I can talk to her anytime, and do. But it's not the same as her being here on this plane of existence.
Many of you have lost your mothers and know all too well the ache that never entirely goes away. Many of you still have the impulse, after so many years without your mom, to pick up the phone and call her. You think, "Oh, I have to tell Mom this…"
Or, in my case, you look at the clock and still have the thought: "Dad must be visiting Mom at the Nursing Home right about now." And then you remember. She's no longer there.
How can my mother no longer be here?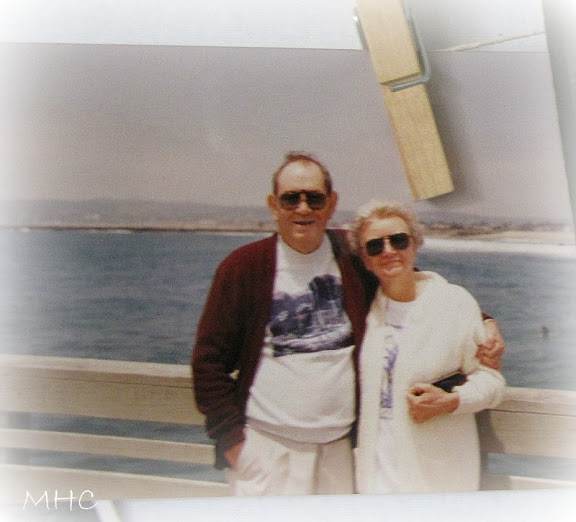 My parents, captured on film when they visited me in San Diego in 1994, just a month or two before I met Don.
A while back, I shared something very personal with you: that over the past 2 or 3 years, there have been times when I was alone in the house and I smelled the scent of Oil of Olay. My mom used Oil of Olay every night and that scent is forever Mom's scent. I became convinced, as did my sister, that Mom was visiting me in those moments. So I would talk to her and tell her I loved her and missed her. Always when I was alone. Usually the visits lasted 3 or 4 minutes.
The day after my mother died, I was sitting at the kitchen table working on some miniatures – doing something to keep me busy, to fill the time. Don was sitting in his chair in the living room.
"What's that smell?" – this from Don.
I couldn't smell anything, so I responded, "What smell?"
Don: "Something flowery."
Me: "I'm painting something, could it be that?"
Don: "No, it smells like flowers."
I shrugged and continued working for about 5 minutes. Then, as I got up to move to another part of the room, I caught a whiff of the scent. Even then, I didn't get it for a minute or two. Finally, it hit me.
"You know, I don't know why I didn't catch on, but I think that might be Mom."
Don: "That thought occurred to me, too."
I guess I didn't expect anything so soon. That's why I didn't get it at first. But it was Mom. She stayed around for a long time.
Don said, "Welcome, Shirley."
I said, "We always wanted you to see our cottage. We're so glad you're here."
And then I calmly continued work, occasionally talking to her, telling her I loved her, thanking her for being my mom.
She stayed for at least an hour.
And this time, she appeared to both of us.
I'm so grateful for that. On hard days, and there are many, I have to remind myself of that visit.
I really miss her.
For all of you who are mothers, a happy day to you. For those of us who never had children, but who mother students or neighbors or pets or those in need – we also need to be celebrated on this Mother's Day. To those who are estranged from daughters or sons or mothers, I wish for you the healing and repair of your relationships.
To all of you who have lost your mother, I know how you feel and I'm wrapping my arms around you. It's a club I never wanted to join. Nevertheless, I'm now a member.