I've been awake since 4:45 am. I'm not real happy about that. Lack of sleep, the inability to concentrate or remember things, a short temper, spontaneous tears; all are, I'm sure, part of the grieving process. Don has to fill in the blanks for me when I say something like, "You know….that series with Kevin Spacey….the one we like…. you know…"
"House of Cards?"
Frustrated. "Yes. Why can't I remember that?"
And so it goes.
But, hey, it's 6:34 am and I'm already writing my post for the day while Scout snoozes in the 'Tunnel.' That can't be all bad.
Let's talk about what I did yesterday for seven hours straight, in my painting clothes, hair unwashed. Because once I get going on something I am like a dog with a bone, I push myself beyond the point at which I should stop.
The talented Amy Powers, who blogs at Inspire Co., created Club Little House (for all of us who love miniatures) several years ago and occasionally, she conducts a swap. The last one I can remember was when I was first getting into my dollhouse and I didn't feel remotely qualified to take part. I still don't.
But when Debby told me that Amy had a new swap going on, I bit the bullet and signed up. Now, I am really not a miniaturist. I tweak, I play, I build a few things, but I'm very much a beginner. In this swap, we are to come up with some miniature that we can make 12 of. We send our creations to Amy and she puts everything together and soon we are opening a box with 12 different miniatures created by members of the swap. Sounds like fun, doesn't it?
I racked my brain trying to come up with something. When I finally did, I had to order some supplies that took a while to get here because they were sent from England, though I somehow didn't get that fact because this website has an American version as well, so I thought everything was being shipped here. I was a little panicked about whether my supplies would arrive in time. But they did. Everything arrived on Wednesday.
My first idea was to make a small hanging/coat/hook/rack. The mini hooks were brass, so the first thing I did was spray paint them white.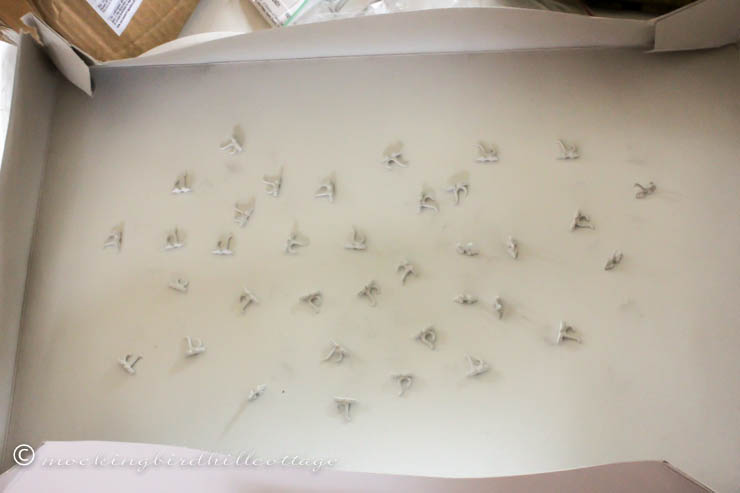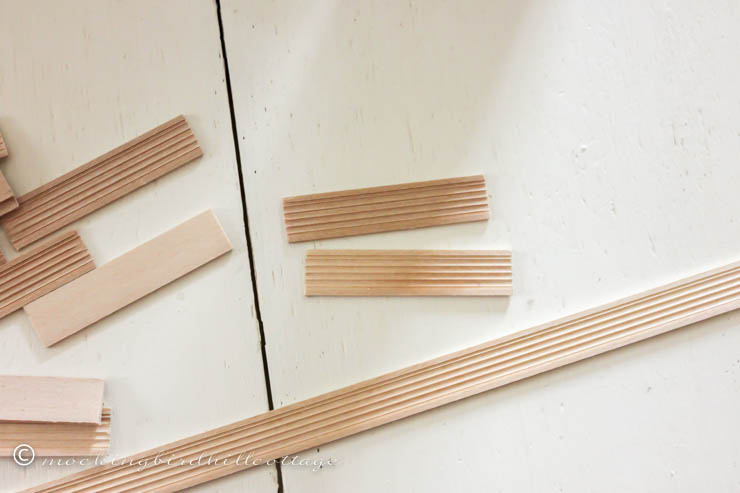 Then I used some of the wood trim I had on hand and cut several pieces 2¼" long – since the scale is 1:12, that means that one mini inch equals one foot in the real world. So this would be 2¼' long in reality.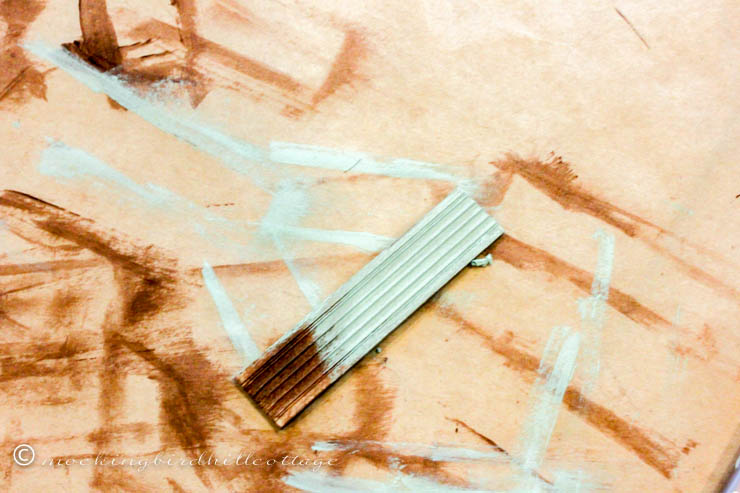 I stained and painted each piece of wood. Then I sanded the painted pieces down in order to give them a more rustic look.
Then I glued the hooks on.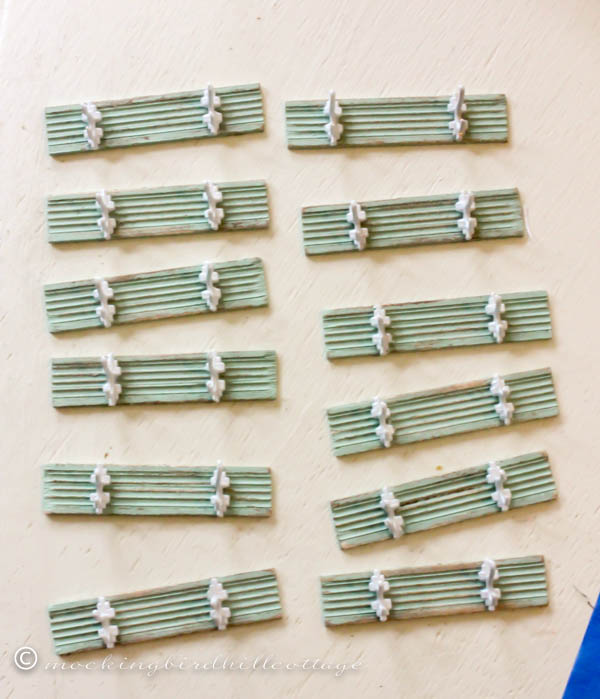 Twelve hanging hook/coat/racks. (I never know what to call them.)
I made a prototype for myself and here is what it looks like in the dollhouse: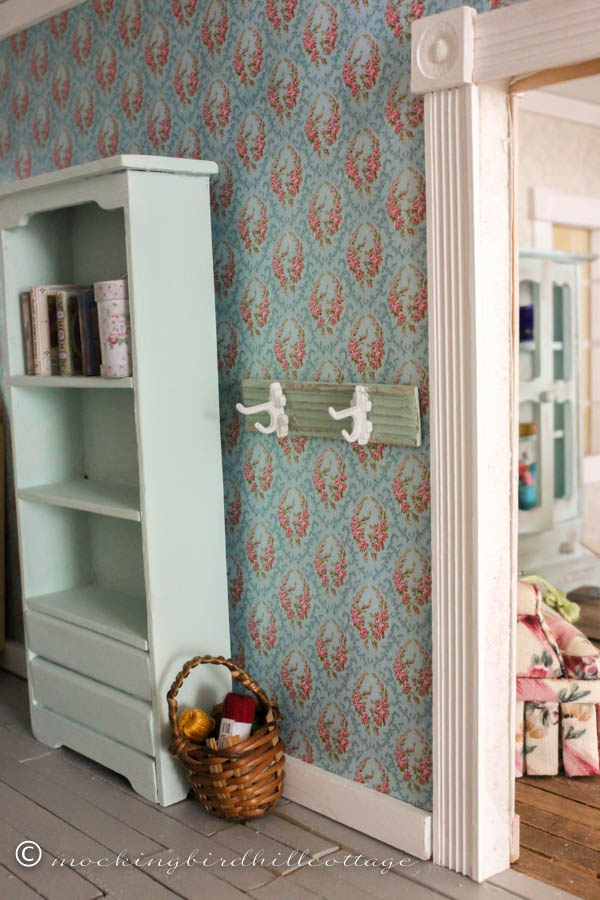 I think I'll make one to hang towels on in the bathroom.
The other mini that I made was inspired by the wooden crate I bought from a seller on Etsy. He did such a nice job with it. The same miniature site that had the hooks in stock also had mini crates, so I ordered them as well. I searched the internet for free printable miniature images and finally settled on a label that I really liked. I finally figured out how to print several of the same image on one page (I know. It's probably perfectly obvious to you. But not to me.) I cut out each of the labels with the aid of a metal ruler and an Exacto knife.
Here's the prototype I made: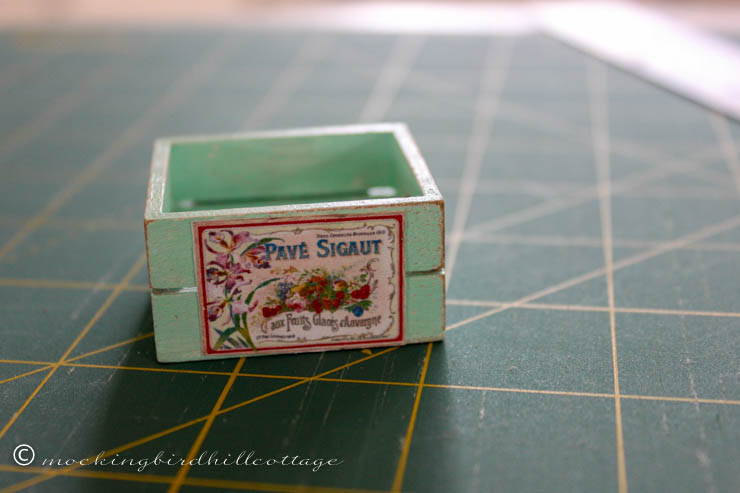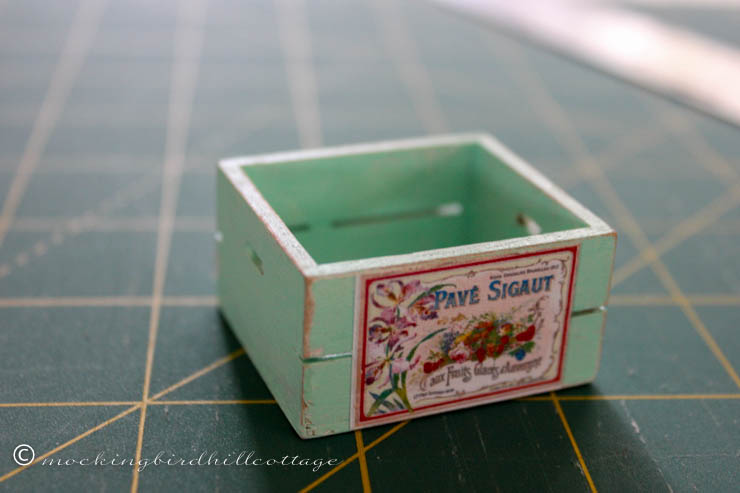 Because French labels are pretty. They just are. There is a label on the front and the back.
Each crate was first painted with a base coat of white.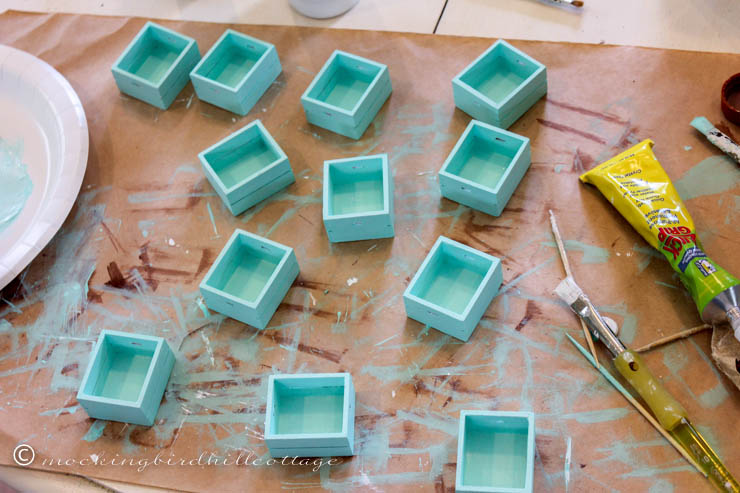 Then they were painted in aqua and the corners were sanded to age them a bit. Next, I glued the labels on to each crate.
And voilà!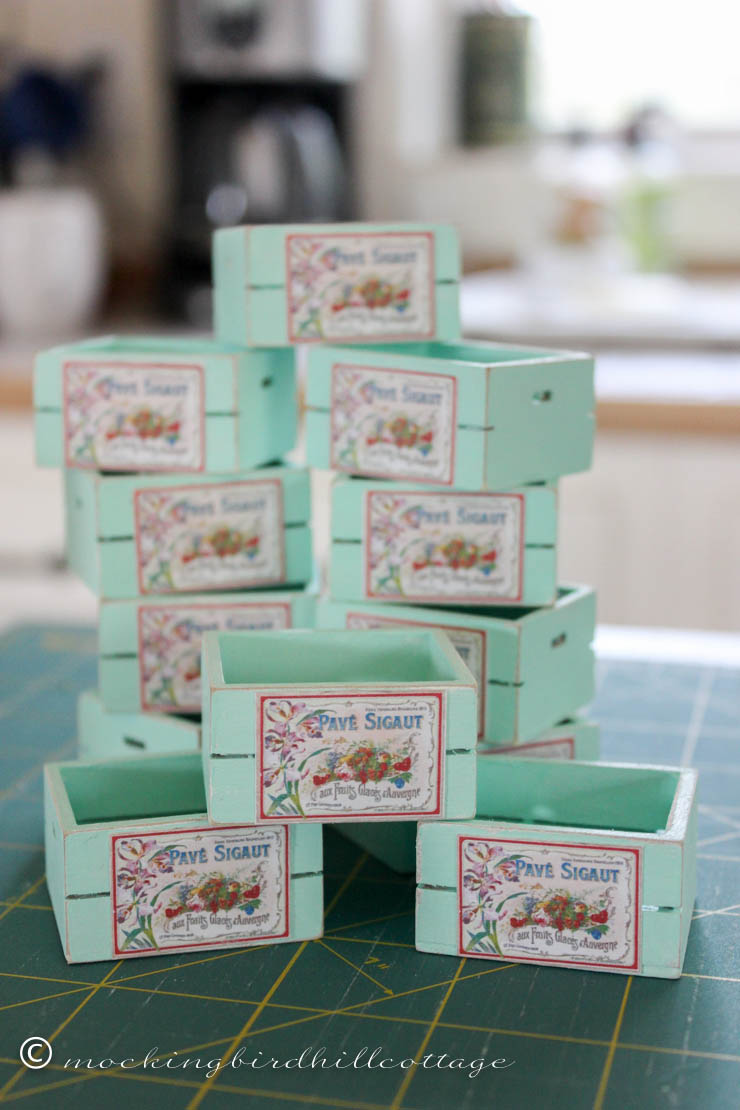 Nothing complex or intricate; nevertheless, it took me a long time to add each element, to paint, layer, sand and glue .
I'm pretty happy with these and I'll wrap them up and send them off to Amy on Monday. Can't wait to see what other swap participants have created!
Happy Friday.