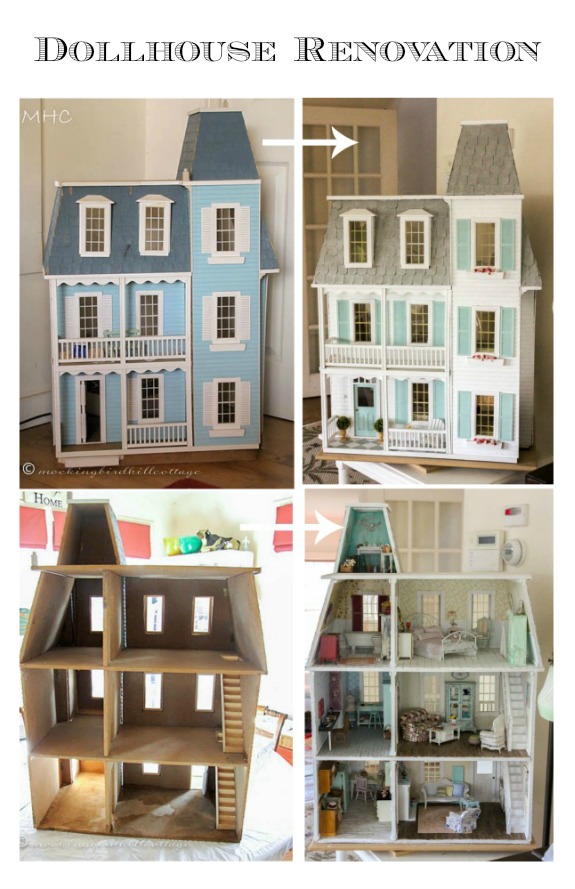 It's no secret that I'm jealous of the owner of the dollhouse. She has several things that I – let's just say it – covet. A fireplace, an AGA oven, a wrought iron bed, a potting room/shed and….an office/studio in its own enclosed space. Yes, I have a studio/craft area here at MHC but it's in the upstairs hallway. So, charming as it is, I can't go in there and close the door. You see? Envy.
I decided early on that the room on the left on the second floor would be an office/studio. I knew that much. But getting to it took a long time. I didn't have a specific look in mind, so I wasn't sure where to start. I decided to start with the floor.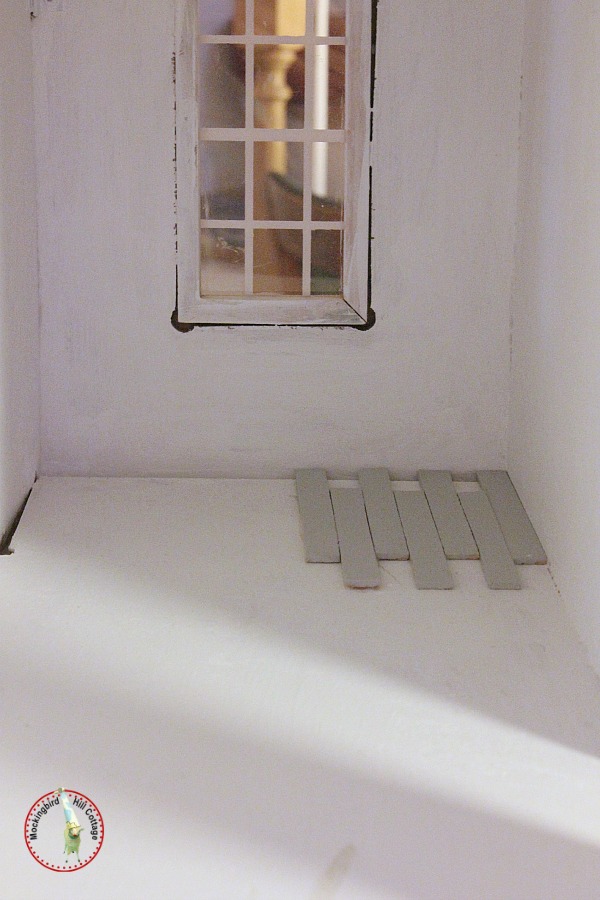 I wanted a painted floor so I went with gray. The idea is that the house is old and a fixer-upper, so sometimes the owner paints the floors, like in the kitchen and bedroom, rather than have them redone.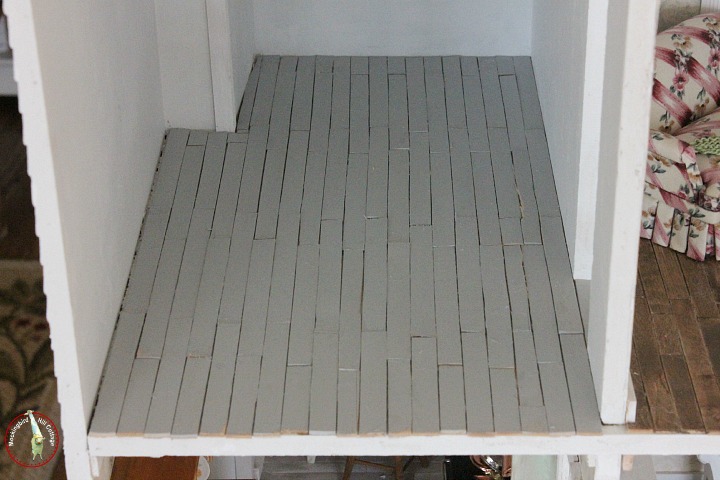 There are several irregularities in this room. You can see that the corner is a bit wonky. That made for some fiddling with the sticks that make up the floor – cutting and shaping them so they would work.
Still uninspired, the room stayed in this condition for a while, until one day I had an idea. I thought about it for several days before I went for it. I wanted one of the walls to be a planked wall. I see them all over blogland and I love that look. Using craft sticks, this time the ones that are the size of a tongue depressor, I went for it.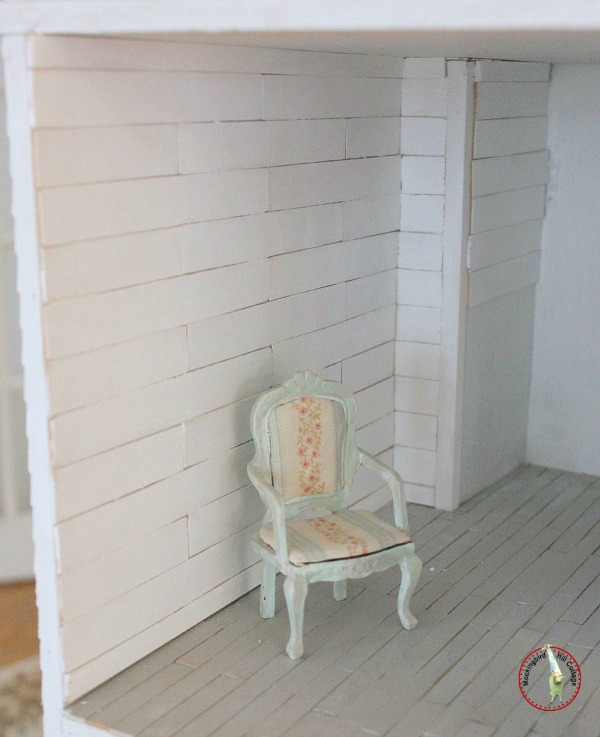 And there is the finished product. Adding this really made a difference. Though I flirted with the idea of doing all the walls that way, I decided to stay with one planked wall. So it was time to pick some wallpaper.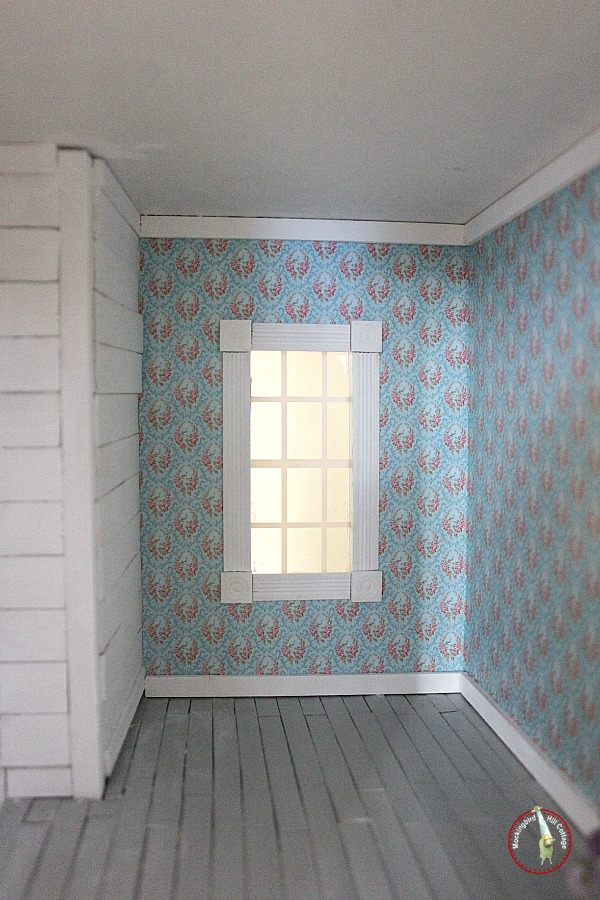 I found this French-inspired design on Itsy Bitsy Mini. It would have been too busy for an entire room, especially one without wainscoting, but thanks to the planked wall, it works.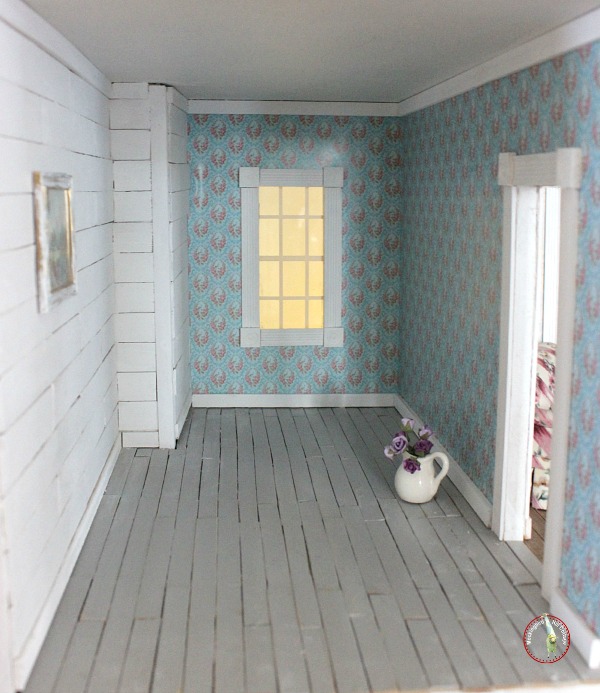 Then I added the window and door trim, baseboard and molding.
What next? Another little idea I'd had noodling around in my head: a work surface that would extend the length of the planked wall. I measured and cut a thick piece of wood I found in a hobby shop, stained it, and this is what I came up with: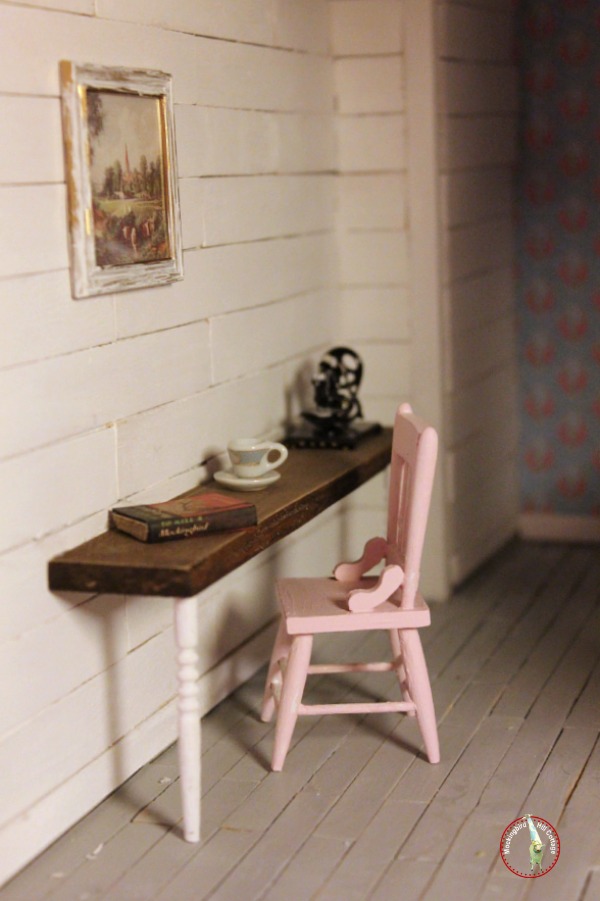 I used leftover spindles for the legs. My concept was that of a long desk that could be used for office work and sewing.
After that, the rest of the room took shape rather quickly. I bought an unfinished work table and painted it.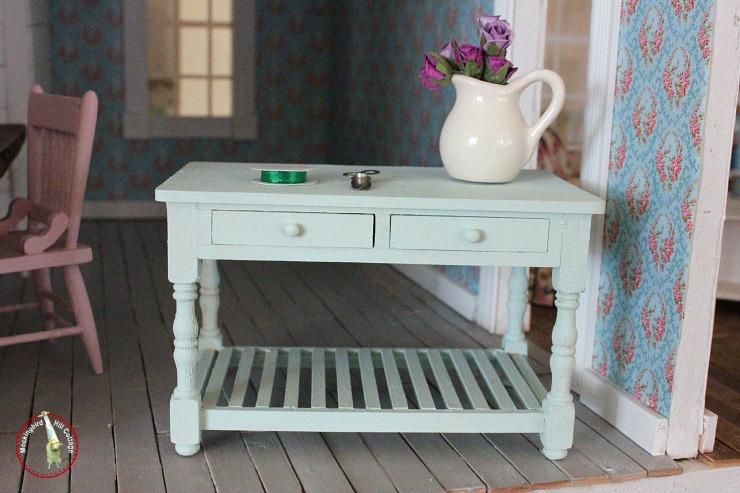 And then I found a bookshelf that was in my stash and painted it to match the worktable.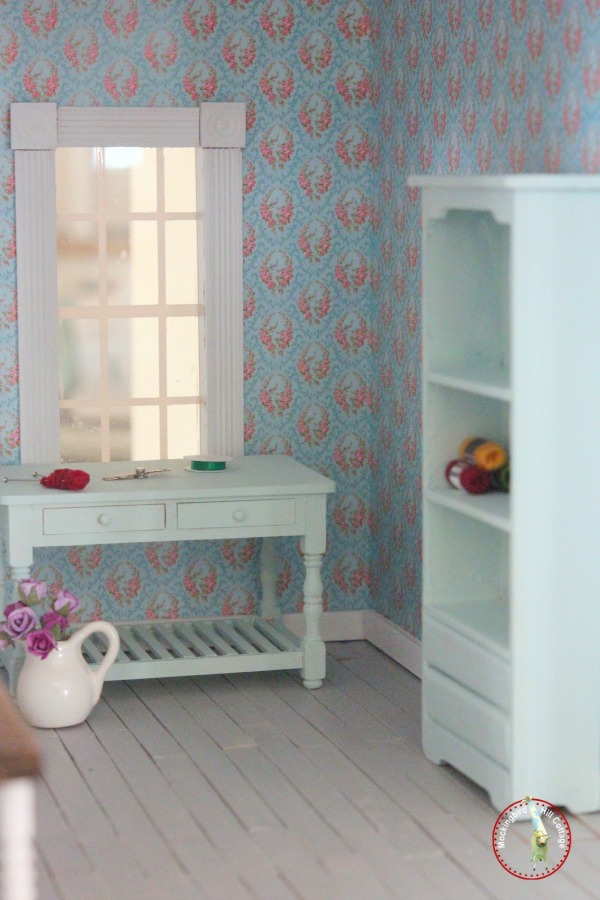 Then it was time to add some fun details – all from my stash. I love the deep pink/rose color of the flowers in the wallpaper, so I played around with my paints until I came up with something close to that shade. I grabbed one of the many shutters I have in my stash. This one had already been painted aqua (from the early days when I was experimenting with colors for the shutters on the outside of the house,) so I painted it in the new shade, sanded it to reveal some of the blue and hung it on the wall.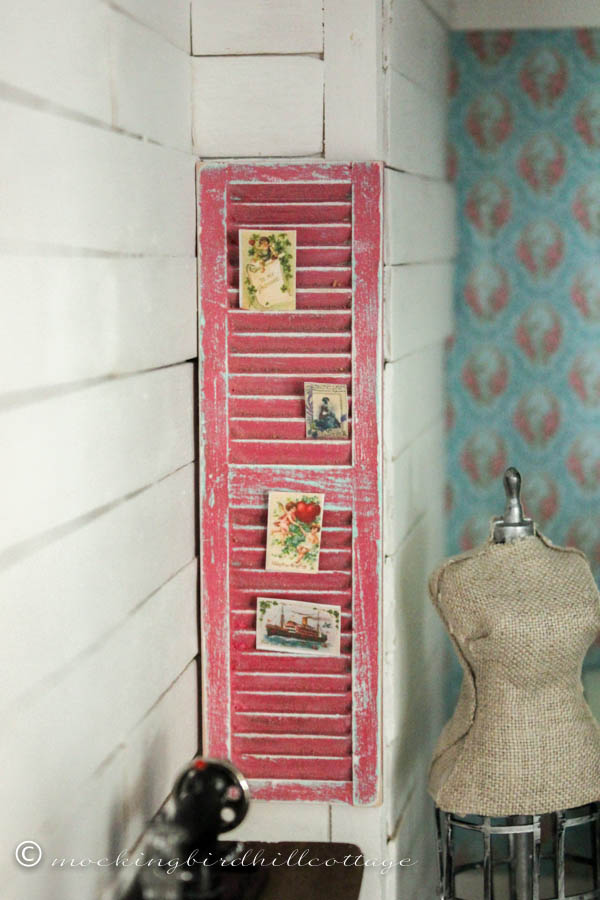 It can be used to hold postcards and notes and mementos. (Don thinks we should do something like this in MHC. I'm inclined to agree with him.)
Since I had the paint already mixed, I grabbed the other 'window' that I had on hand from an earlier project. It, too, got a coat of paint and was backed by some vintage wallpaper Elyse had given me.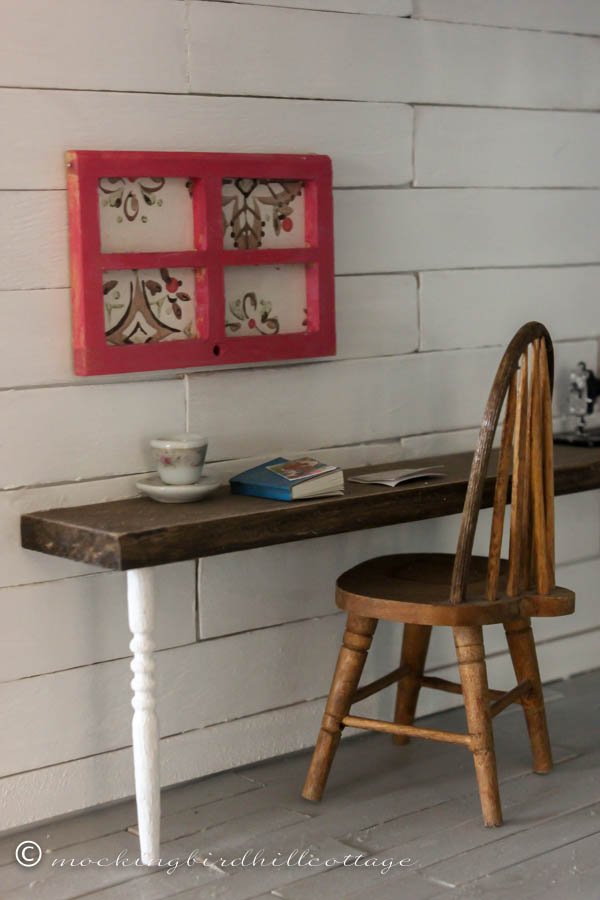 Voilà! A pinboard for the owner, handily positioned above the desk.
And, of course, one of my favorite additions: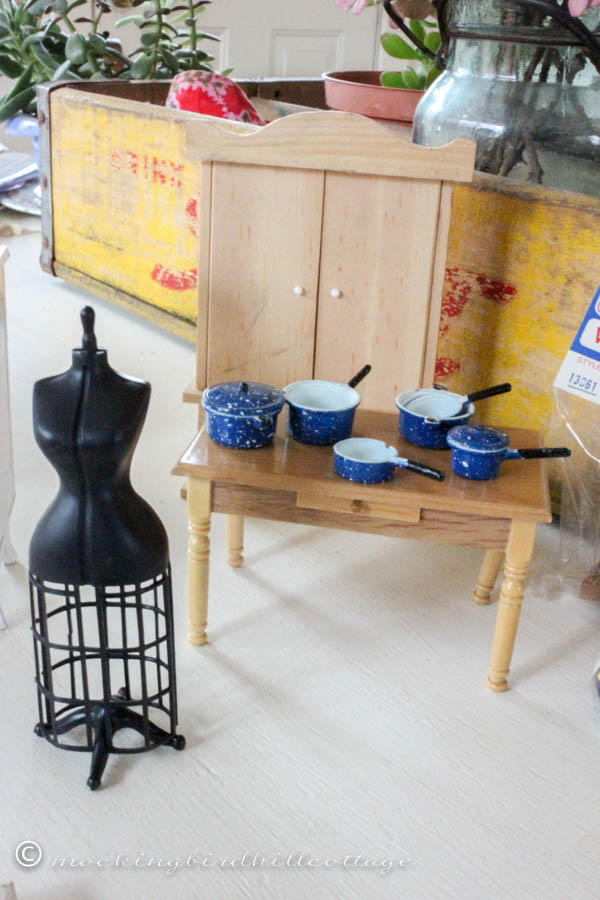 That black plastic dress form that I fashioned into this: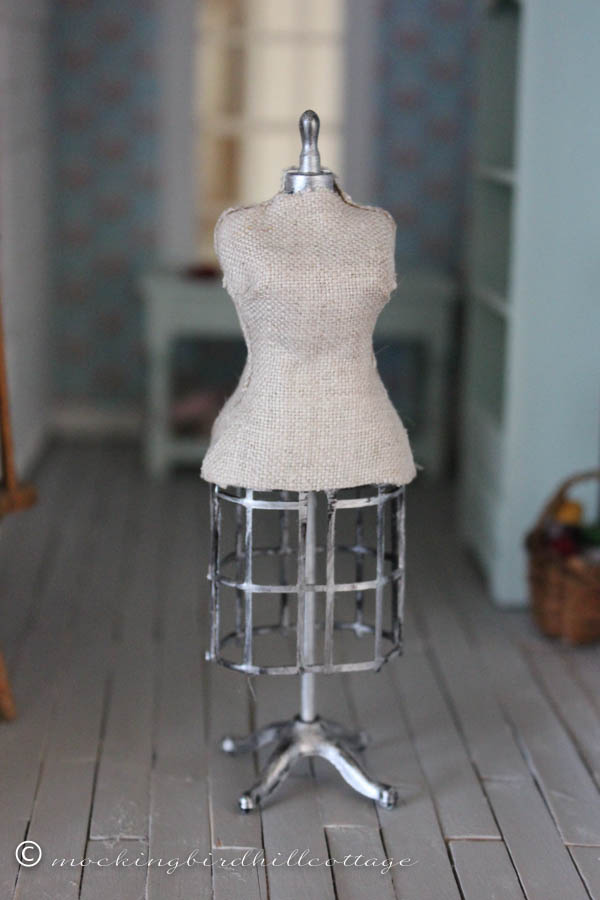 Speaking of fiddly work, this definitely falls in that category! But it was worth it. I painted the 'metal' part of the dress form with Rub n' Buff in silver, made a spindle out of the wooden part of a Q-tip, and used some linen fabric that I had in my stash to cover the body.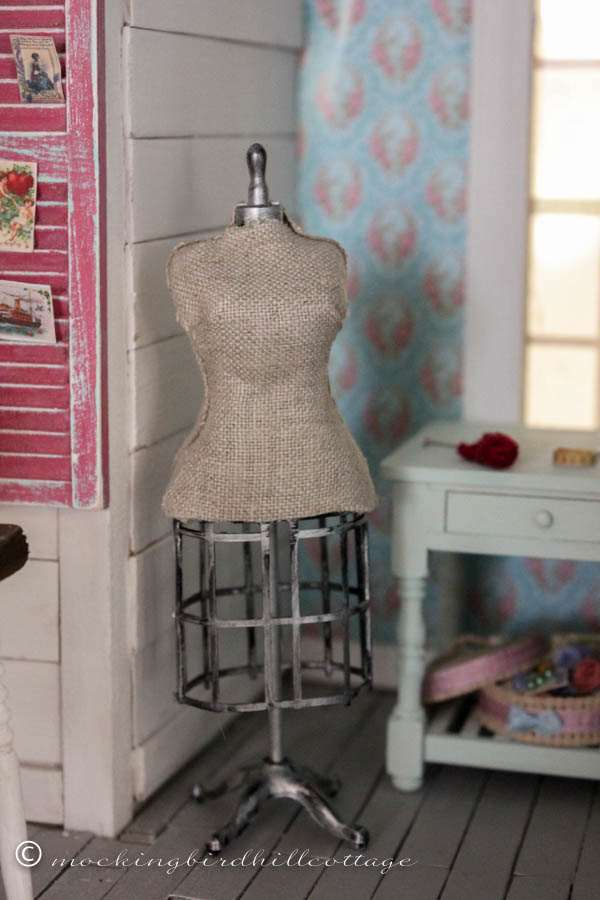 I've also been making miniature books: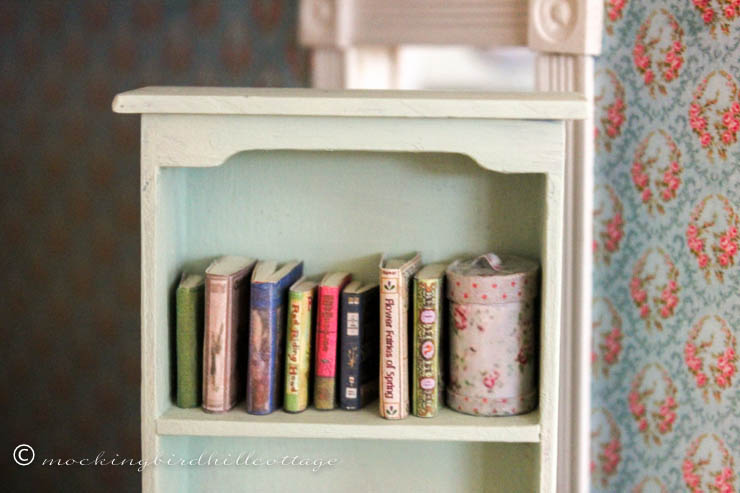 I have a lot more to go!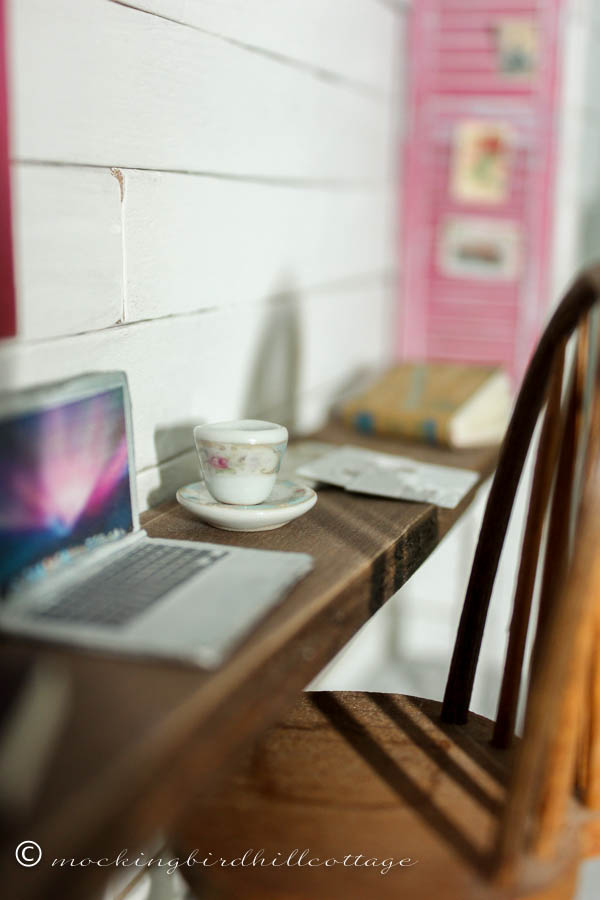 I made a MacBook Pro laptop (like the one I use to write this blog) from a printable I found online. Added a teacup and saucer and some paperwork. And, of course, the coat hook/rack that I made for the Mini Swap that I'm a part of.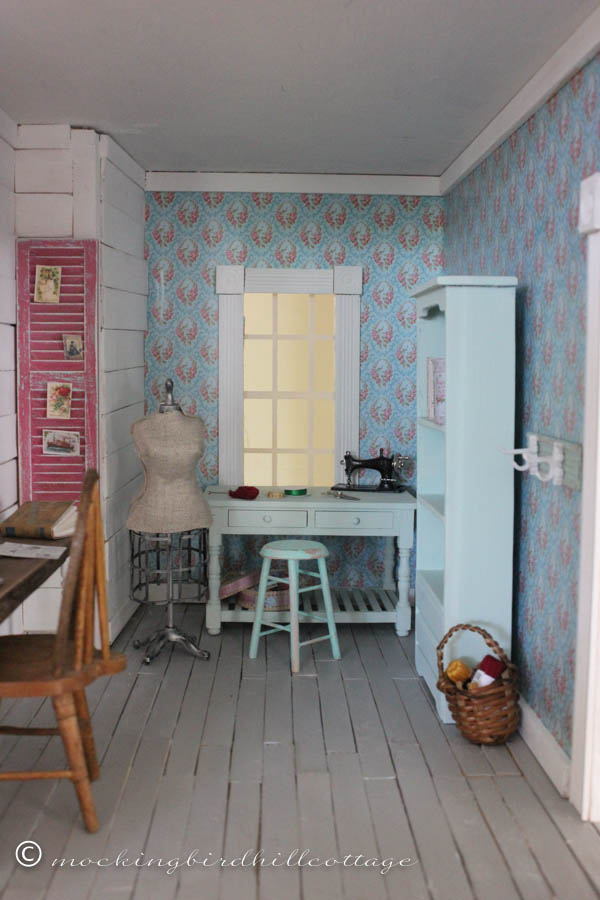 And here you go! This is pretty much the current state of the room. Oh! I forgot the work stool that is a very recent addition. I got it unfinished from miniatures.com and painted/sanded it to make it look nicely aged.
Still have to get a rug. And some lights. And some bolts of fabric. And make more books. And….and….
You get the picture. It's always a work in progress.
Part 6 will concentrate on the Potting Room/Shed.
Happy Thursday.