This looks a bit like phlox but it's Rocket, a plant that grows all over this property. I suppose it's a wildflower (I much prefer that to 'weed.') The beautiful blossoms are lavender and white and they have a lovely scent.
It's raining as I write this, a welcome change to the high of 85° and high humidity that was yesterday. We haven't put in our window air conditioners yet – I try to hold off as long as possible – so last night was not the best night for sleeping. But now the rain has come and the temperatures are dropping. Scout will be especially happy about that.
We hiked about 4 miles yesterday but because the humidity was so high during the hike, I was really, really tired afterwards. And my allergies? Off the charts. Anyone else experiencing worse than usual allergies this year? I must have sneezed thirty times yesterday!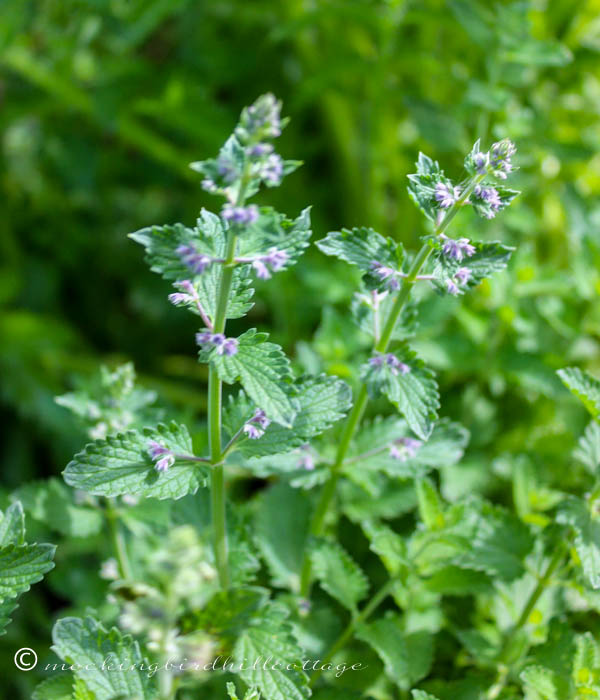 The catmint is just starting to bloom. Soon there will be lavender colored blossoms everywhere.
A dear blogging friend of mine wrote me and mentioned that some pop up ads had appeared while she was trying to read one of my posts. She was being a pal and letting me know about it. The pop up ads are not coming from BlogHer or AdSense, which are the only two ad companies I use and, therefore, the only ads that appear on my blog. Some of the BlogHer ads will expand if you move your cursor over them, but moving your cursor away from them will take care of that. If that kind of thing irritates you, simply make sure you are not moving your cursor over the ads.
But that is not the same as a pop up ad. I read my blog on two browsers, Safari and Firefox, and I never encounter those ads. On a rare occasion I might see that little pop up that floats along the bottom of a site and is some sort of survey. I see that on all sorts of blogs but very, very rarely on mine.
And I'm experimenting with an ad opportunity from BlogHer where a small ad might appear on a separate line of text in a post that is clearly different from the font used for the body of the text – lately they have been for American Express – but nothing at all happens with that ad unless you deliberately click on it. I don't have and will not have the ads that come out of a highlighted word in the text. I find them annoying, because they automatically show an ad if your cursor moves over them.
All of my ads are separate from the post content.
As for what you can do? You can block Pop Up Windows, those annoying windows that sometimes appear on websites and have to click out of. It's in your browser's Preferences.
In Safari: Go to Preferences/Security and put a check mark next to Block Pop Up Windows.
In Firefox: Go to Preferences/Content and put a check mark next to Block Pop Up Windows.
I'm not sure of the exact setting in Chrome, but something tells me that Chrome might automatically block Pop Up Windows.
There is also something called AdBlock, an extension you can add to your browser, which will block pop up ads and windows and videos.
The other possibility is that an individual computer might have been infected with Adware, which is fairly common. I know very little about this, but if you google Adware, you can learn more.
Your browser could be an issue. But again, I'm no computer expert.
I have a security system on this blog that regularly checks it for malicious code of any kind and all is well on this end.
I hope this clarifies things. I watch this blog like a hawk and I don't see pop up ads here. I regularly view it in different browsers. However, individual computers and browsers are a whole other thing that I can't control. I can only give you suggestions that might help viewing on your end.
Just know that I have set places for my ads on this blog. There shouldn't be any pop up ads.
I always try to address these things when they come up because this blog is very, very important to me. As are all of you.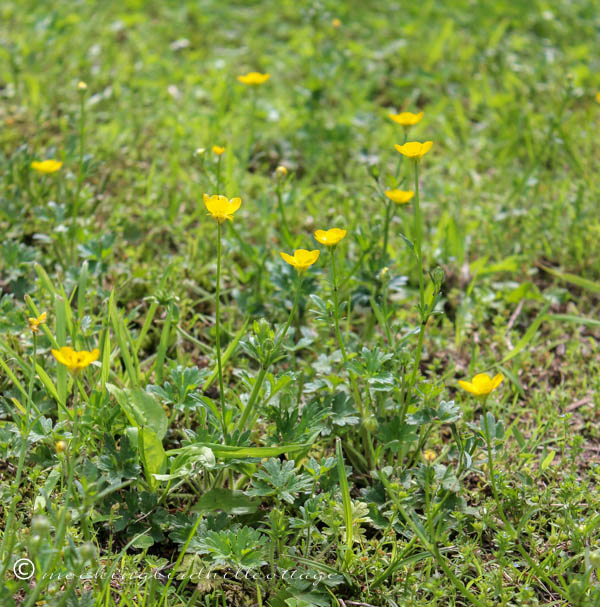 Back to pretty things. Buttercups have once again invaded (in the nicest possible way) part of our front yard. I know some call them invasive, but let's face it, we live in the country. We don't have manicured lawns. We have areas of grass among the trees and woods that border almost everyone's property. And I don't use any chemicals on the grass or in the gardens. So I consider buttercups and wild violets and dandelions to be little gifts from Mother Nature.
I like them.
Happy Wednesday.