We live in a beautiful area of the country. As I look out my front window, I can see the mountains known as the Shawangunk Ridge. They extend from Northern New Jersey to the Catskill Mountains and are a continuation of the Appalachian Mountains. The locals call the mountains 'The Gunks.' The Gunks are stunningly beautiful, with layers of bedrock and spectacular vegetation. They are protected by several preserves, one of which is the Mohonk Preserve. We got wind of a special offer for a month-long free pass to the Mohonk Preserve, which has beautiful hiking trails, so we snapped up some passes over the weekend. Yesterday, we took our first hike.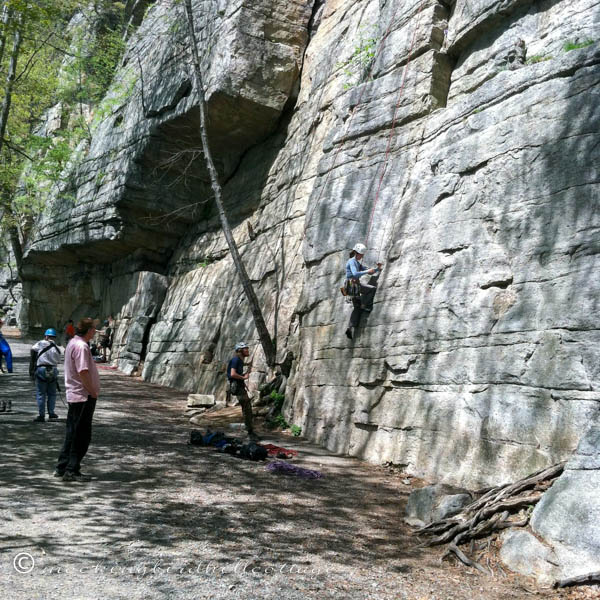 The area we hiked in is popular with rock climbers, so we stopped and watched them as they did their thing. Me? No. Afraid of heights.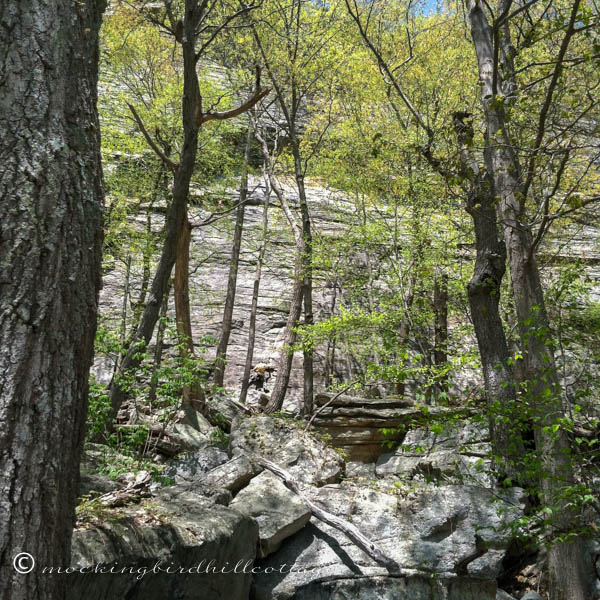 Trees seemingly growing out of the bedrock. Do you see the rock climber?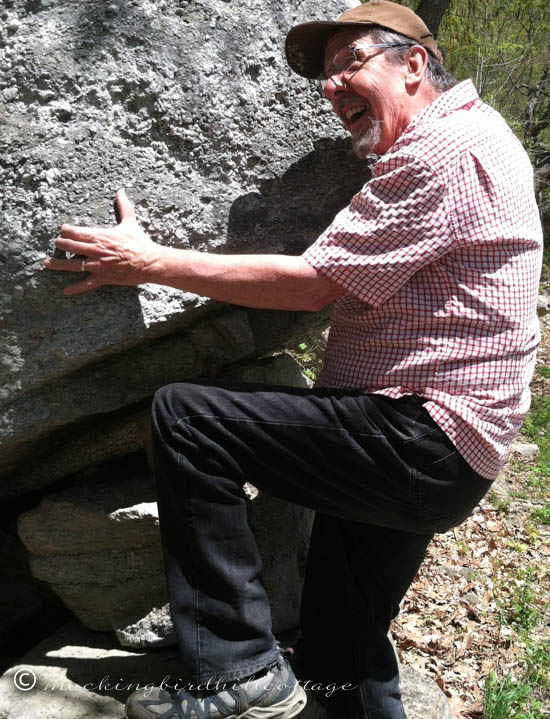 Here you see Don starting his own arduous ascent.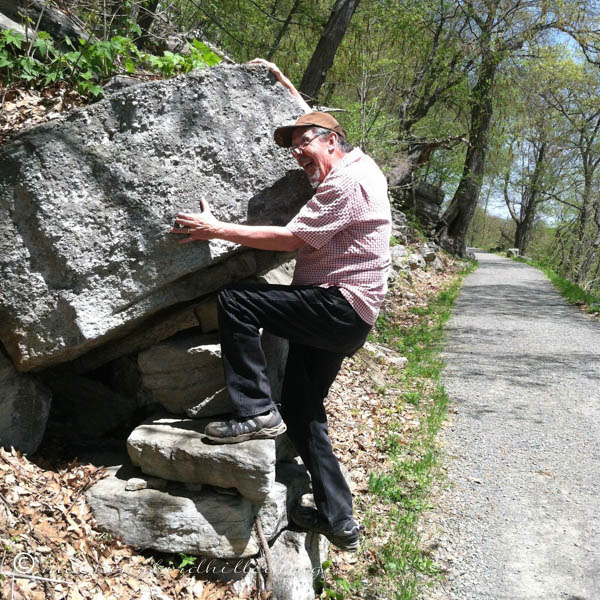 Oh wait. I lie.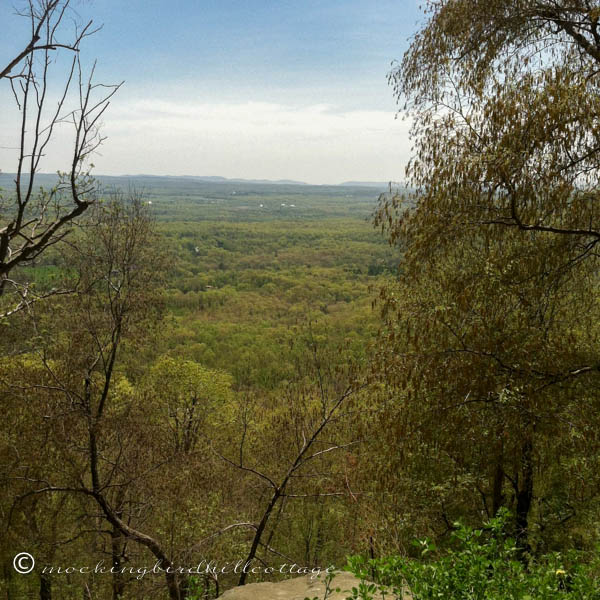 The view from high above the Hudson Valley.
It was absolutely gorgeous. We're going back as soon as we can.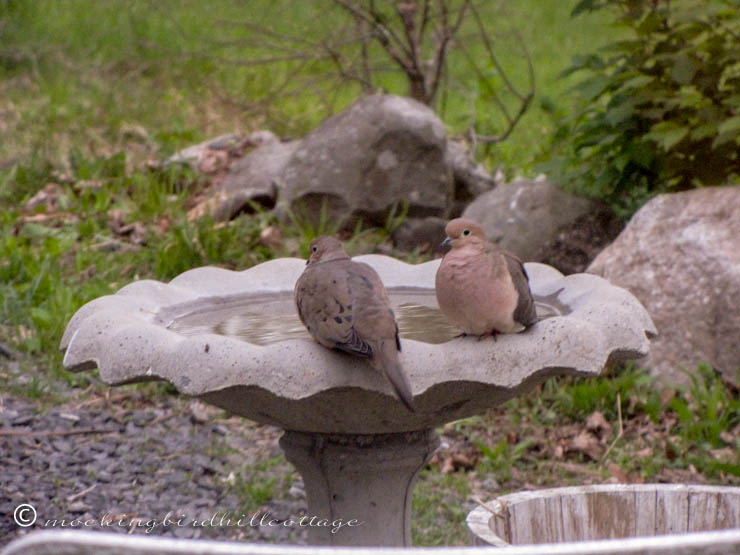 In the early evening yesterday, Scout let me know she needed to go out, so I headed toward the kitchen door. Hold on. Not so fast! There was a pair of mourning doves on the birdbath. I didn't want Scout to disturb them so I held her off. The doves stayed on the edge of the birdbath for at least thirty minutes. They were just hanging out, I guess.
I love mourning doves. I love their haunting calls. They are gentle, sweet birds.
These photos were taken from inside the kitchen. I was entranced. The one on the right spent a great deal of the time preening. The one on the left occasionally hopped down to the bench and then back up to the birdbath.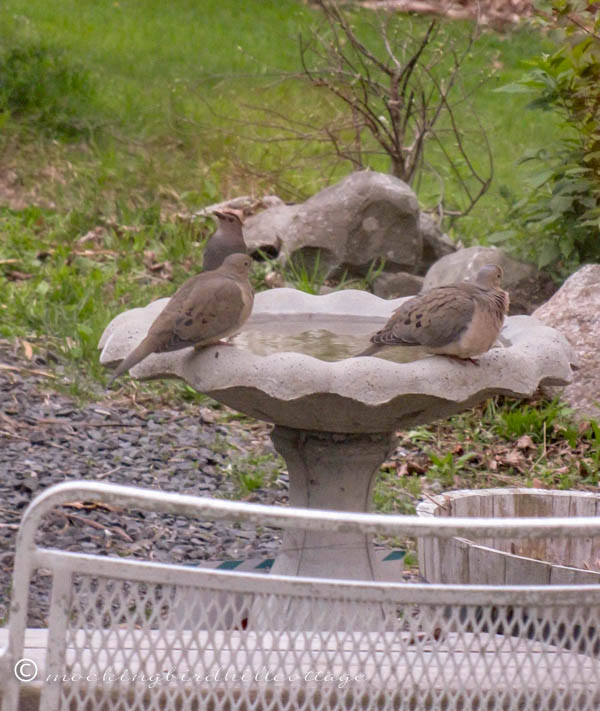 A catbird joined them. They weren't fazed by him.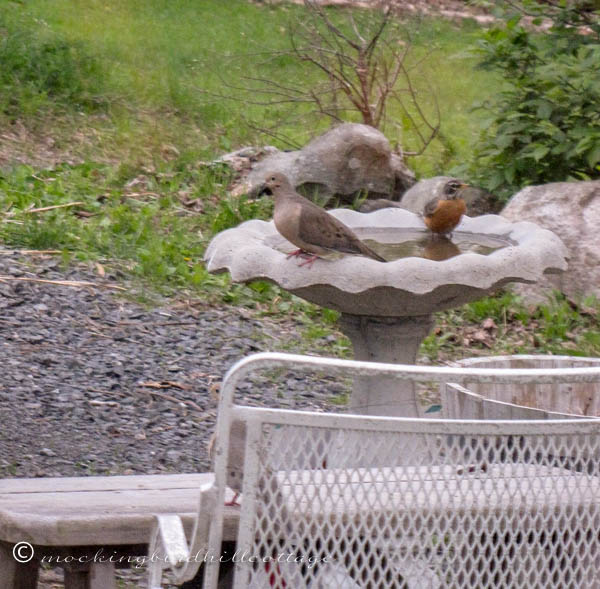 Then a robin stopped by. The other dove is on the bench.
And yes, there was a bunny just to the left of this photo.
I'm telling you, it's a Disney world around here.
Eventually, the doves flew upward from the birdbath, landing in the catalpa tree. There they stayed for several minutes until they took off and soared into the trees at the edge of our property.
And Scout, tired of all the waiting, was finally let outside.
Having you been watching 24? Oh my goodness, we are so happy it's back! I love that series. And in another installment of Claudia's Former Students Who Are Doing Incredibly Well Out In Los Angeles, my former student, Kim Raver, is back as Audrey, Jack's former love interest and daughter of the President of the United States. Kim has had a great career; she was in Third Watch, along with another former student, Anthony Ruivivar, as well as Grey's Anatomy and a host of other series. She's beautiful, not to mention very talented, and the camera loves her. She's also a lovely person. She and her fellow classmates were part of a group we took to the Edinburgh Festival in Scotland, where they performed two plays by playwright Craig Lucas, a BU alum. It was an incredible experience and lots of fun, to boot.
Kim can cry on screen like nobody's business. I'm in awe of her crying skills, and believe me, it isn't at all easy to conjure up tears again and again while the director does several takes. It's a gift.
That's all for now.
Happy Tuesday.