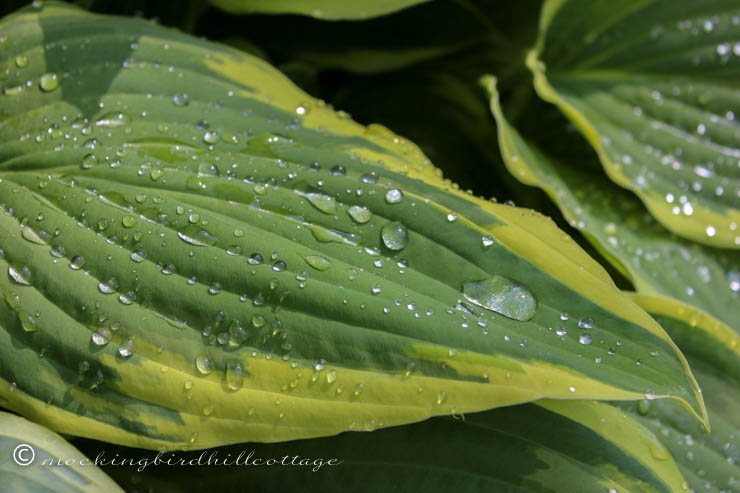 I just realized the other day that this is the first time I have been home for an entire spring since 2008. Starting in 2009, I was away all or most of the spring on coaching jobs. The good news? I am really enjoying the opportunity to watch everything grow instead of witnessing it via the occasional photo Don would send my way. I love spring.
The bad news? I need work.
Ah well. I'm choosing to be grateful.
We had very heavy rain all day yesterday with high humidity. It was bit tropical-rainforest-y around here. Today the sun is out and it's a bit cooler. We're hoping to take another trail walk later in the day.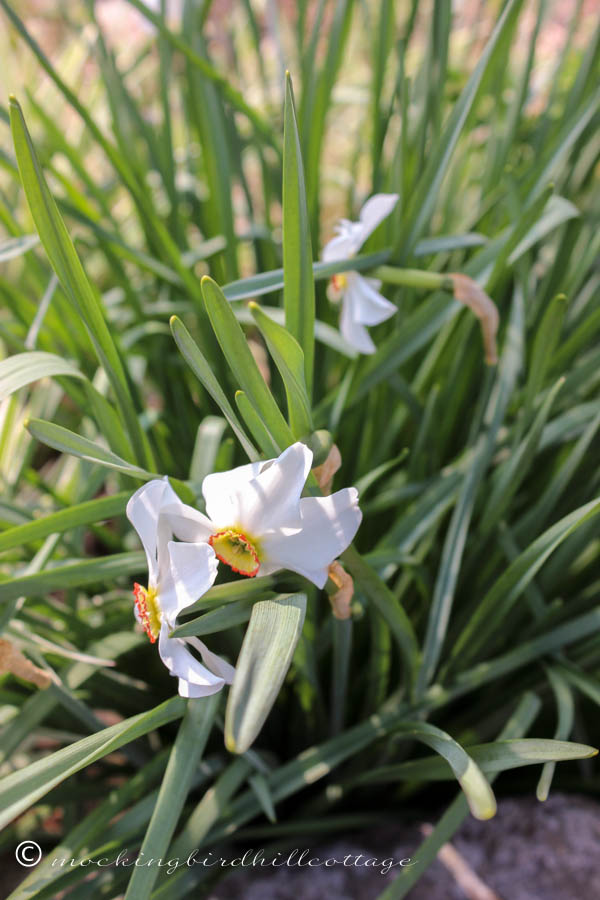 Oh pretty daffodils, I love you. Of the two kinds of daffs on this property, this one is my favorite. I love the white flower with that delicate yellow and orange center.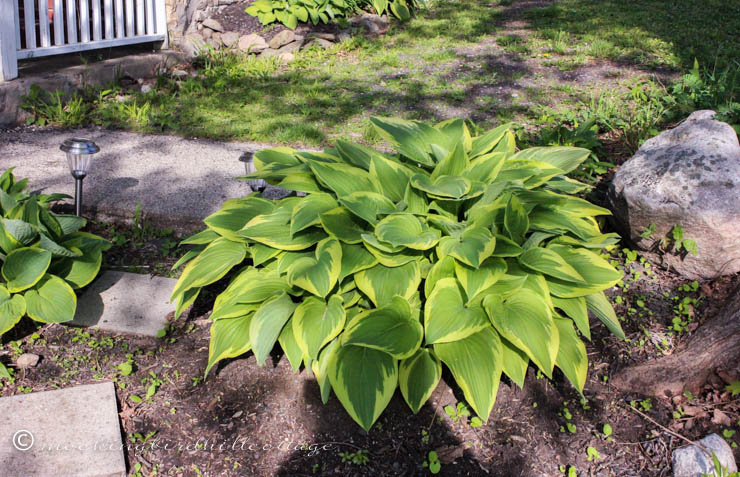 Our biggest hosta is well on its way to filling this bed – which it will, believe me.
I need to weed. I haven't put down any mulch since I'm on a strict budget. That means I'm going to have to weed a lot more. Some of the garden beds will eventually be full of perennials and weeds will disappear, but right now, as they are filling in and filling out, I have to be ruthless.
Or not.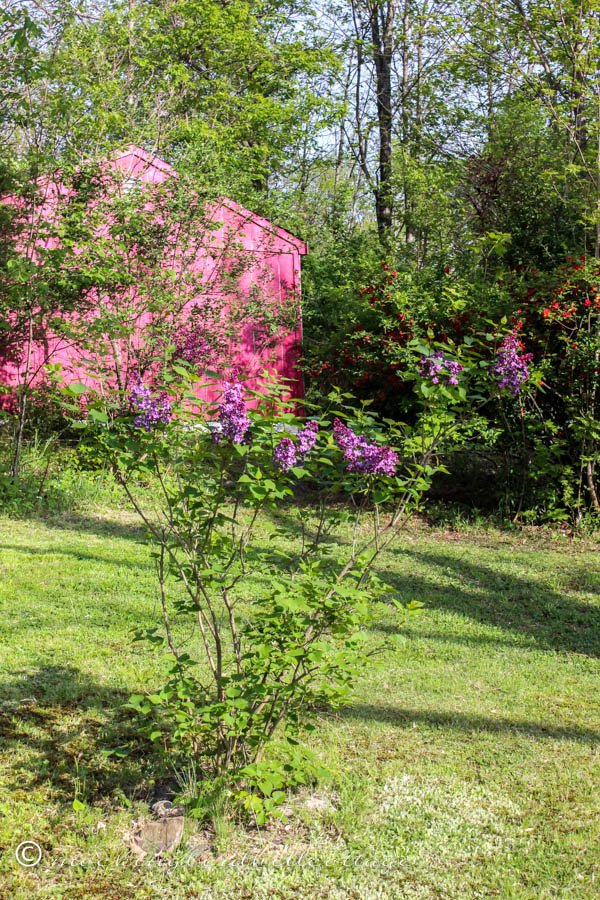 The little lilac bush that could. I planted this a few years back and it's growing, for sure, but very slowly.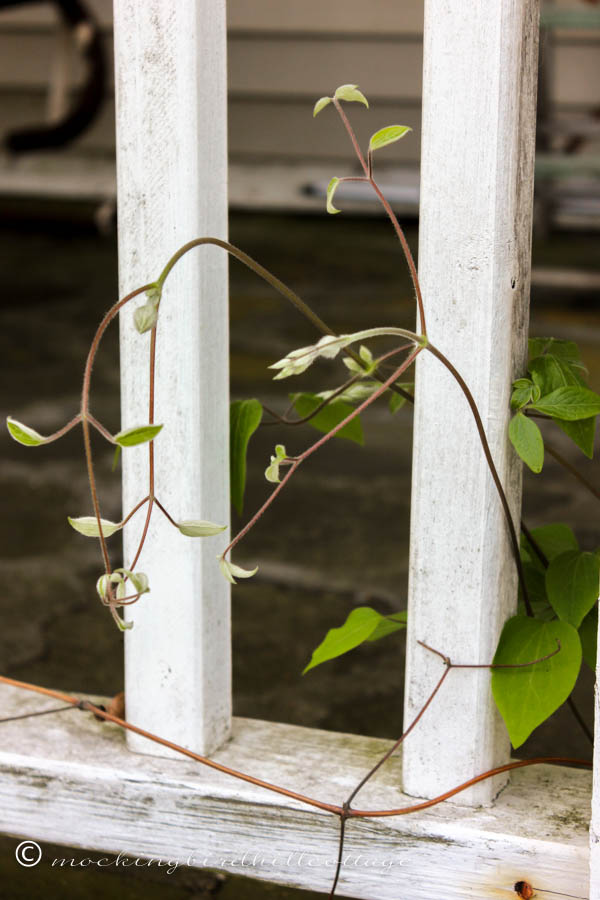 The clematis has taken off this year and is winding its way around the porch railings.
Oh right. I need to clean the porch railings – a job I really don't look forward to.
The catalpa, usually the last of our trees to leaf out, has tiny leaves now. The shag hickory has leaves. The maples are fully leafed out (now I'm wondering – is that a legitimate term?) as are the ashes and the black walnuts and the elms and the oaks. Don and I sometimes consider counting all the trees on this property. We have a lot of trees. And here's a question: if one counts the trees, are saplings part of the count? Or just fully grown adult trees?
Where does one draw the line?
The other day, I was once again wrangling with the brambles (you can see the evidence of the battle on my hands) and was clearing some from an area near the woods. As I cleared out a bunch of the stuff that had been strangling some bushes, I noticed a young tree with blossoms on it.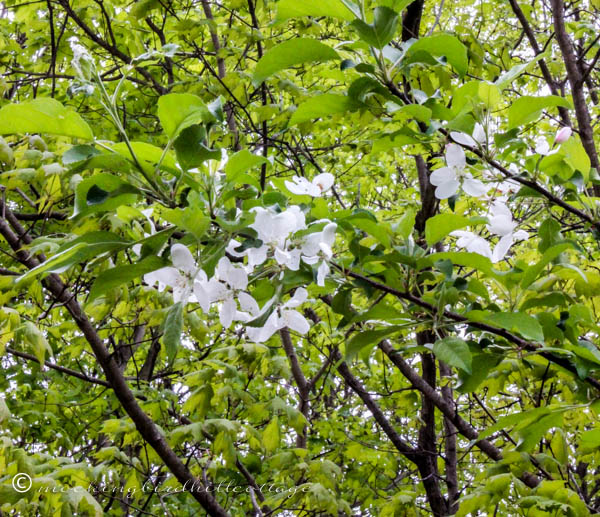 Hold on there…we have a little dogwood tree! I had no idea! It's sort of blocked by another tree and unless I'm right down there in the thick of things, I can't see it. It's so pretty!
There are always surprises on this property.
Thursday was a bit hard for me as the mail arrived and I saw an envelope from my dad. I knew it was coming, but I realize now that I really wasn't prepared to see Mom's death certificate.
What can I say? It's so final.
More tears.
I'm off to explore what's happening out in the gardens.
By the way, a book I recently reviewed and loved, The Moon Sisters, is on sale right now (eBook/Kindle version) on Amazon for $1.99 through May 25th. That's a great deal for a wonderful book! If you missed the review, you can find it here. So if you didn't win the giveaway and have it on your list of books to read (and if you use eBooks) hop on over and buy it!
Happy Saturday.