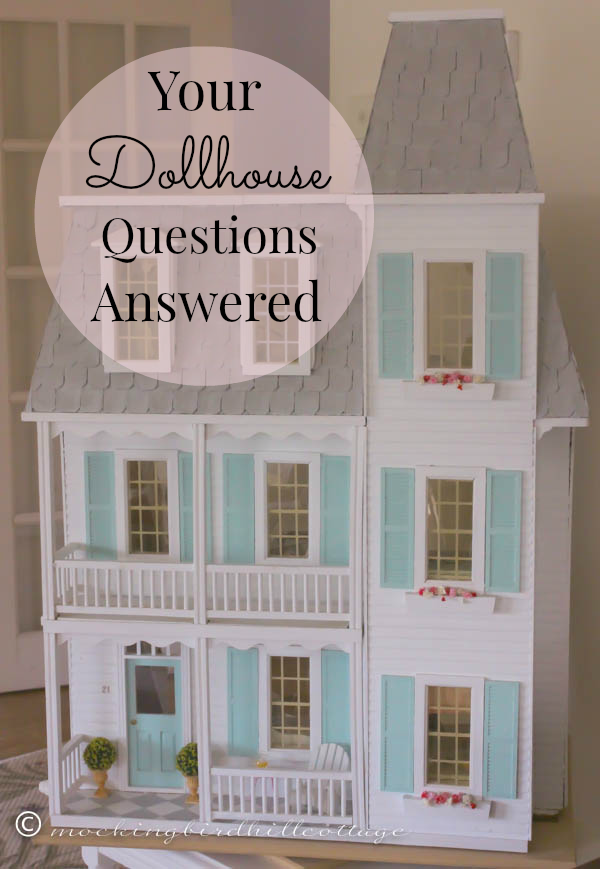 I often get questions from you concerning dollhouses and miniatures. Many of you are just about to rehab an existing dollhouse or are searching for a dollhouse of your very own. Most of you are beginners, just like me (though I can now say I have a little experience under my belt!)
Not long ago, I asked you to email me with any questions you might have and Debbie from Oregon did just that. Today, I will focus on her questions and, hopefully, provide you with some basic information.
Okay, Debbie, take it away!
1. When you did your wallpaper, how did you keep it from sticking to your already installed doors and windows?
Good question! If you're assembling a dollhouse, you are often advised to paint the walls and/or wallpaper before you put a room together. But what about those of us who find a used dollhouse, already assembled? We have to work with what we've got. In my case, the windows are doors were already there, but were untrimmed. So I made a template of each wall and cut the wallpaper to match the template. I used dollhouse wallpaper paste and attached the wallpaper, smoothing it with the side of a credit card. Then I took an exacto knife and cut around the window frames, as well as the doors. The only door that might have been a potential problem was the front door but I managed to work around it without any paste getting on the door. Then I attached the window and door trim.
You can also make a template that allows for the windows and doors. Take a piece of paper, trace the dimensions of the wall on the paper and at the same time, trace each window and door. Make sure you also take measurements so that when you fine-tune your template, the dimensions of the windows and doors are accurate. Then cut out your template. You can then take an exacto knife and cut out the openings for the doors and windows and transfer all of that to the wallpaper itself, making the same cuts for the windows and doors.
Some miniaturists attach wallpaper to card stock and paste the card stock to the wall.
2. Do you recall the name of the glue you used to do your repairs/re-gluing of things like your outside shutters and such? I have quite a few repairs to make to the outside of my dollhouse. Even though it was packed well for shipping, my entire front porch fell off! None of the pieces are broken, but I want to use a good adhesive when I start the repairs.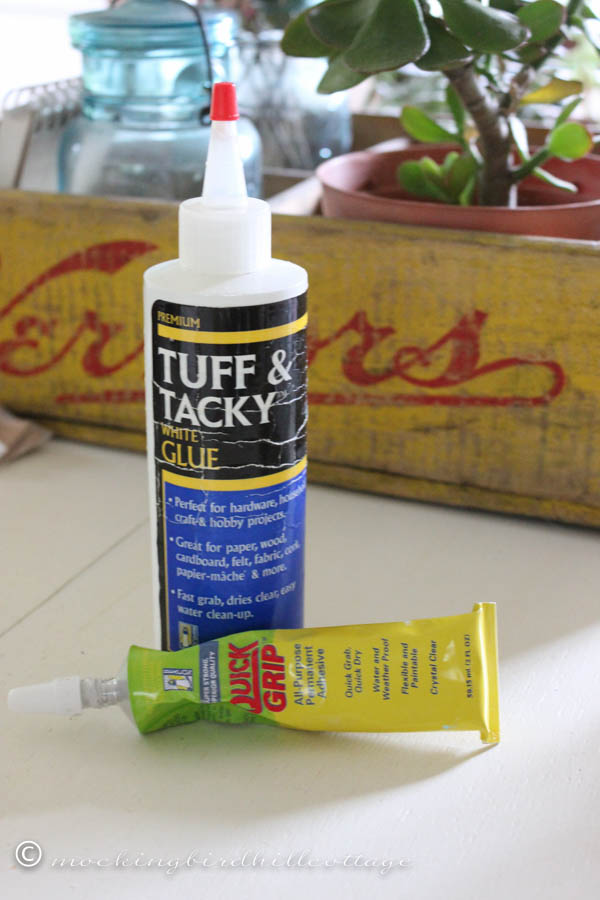 There are many adhesives out there and miniature websites carry a wide variety of them. Early on, I searched the web for advice on just this subject and ended up using these products.
Quick Grip is an all-purpose permanent adhesive with the consistency of airplane glue and I use it all the time. You can find this at any craft store.
Tuff & Tacky is a white glue that dries clear.
I tend to use Quick Grip for the heavy duty things – I used it when I moved the tower at the top of the house to its proper place. I used it on all of the shutters. I used it when I replaced the front door. I'm pretty sure I used it when I was building the staircases. And I used it when I installed the skylight in the ceiling of the potting shed.
I use Tuff and Tacky, too. It just depends on the job. I like the white glue for working on furniture.
Every miniaturist has a favorite adhesive and a quick search of Google will give you even more possibilities.
3. How do you decide what to attach permanently and what to attach with the sticky museum wax stuff? Did you permanently attach your fireplace? Your kitchen sink/counter unit?
Oh, what a good question! The answer will most likely be different for everyone. I have not attached the kitchen unit or the fireplace permanently. I want to be able to get to them and the kitchen unit is in a very confined space. Adding things to it is tricky – my fingers can't always reach the areas under the sink. Being able to pull it out and add things is much easier.
Same for the fireplace. It has little shelving nooks on the far end and I could never get to them if it was glued in place.
I think you have to allow yourself the room to be flexible. What if I wanted to move the fireplace to another wall? If it was glued in place, moving it would impact the wallpaper and the floors.
Having said that, I use this stuff all the time: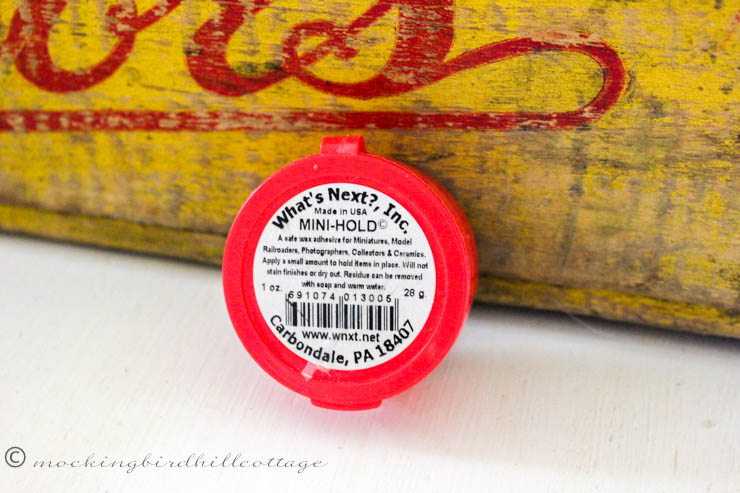 I got it through miniatures.com and it lasts a long time. You can also use museum wax. This particular wax doesn't leave any residue on floors or wallpaper. I use it to hang plates and pictures, to keep little things like vases and cups from falling from table surfaces. Since my dollhouse is still in the 'creation' stage, I don't always attach things because I often haven't settled on a permanent solution. I'm still playing. But this reminds me that I want to use some wax to attach those planting pots to the surface of the potting table. I've already had a couple of them break.
If you move your dollhouse around a lot, then you might want to attach furniture and pieces like the fireplace with some wax. Sometimes Don or I bump into the dollhouse and all the little pieces that are on tables and countertops fall and that can be annoying!
4. What did you use to attach the flowers to your window boxes? And where did you find the flowers you used? I've looked for flowers at Michael's and in the craft section of Walmart, but can't find what I like that is small enough.  I know they have a lot of options on miniature sites, but those flowers seem a bit spendy.
Another good question, Debbie! Early on, I was fortunate to be given a gift by a blogger who is a fantastic miniaturist. She sent me all sorts of things that she had in her stash and among them were lots of flowers. Wasn't I lucky? I quickly learned that there is a difference between the kind of small flowers you can get at Michael's and flowers that match the 1:12 dimensions of a dollhouse.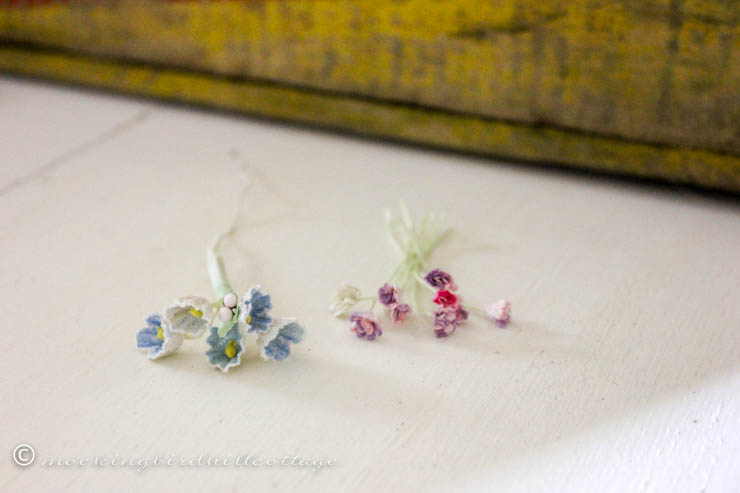 On the left, sweet flowers that many of us use for crafting. I used to add some of these to all my Etsy packages. I love them. And they can be used in a dollhouse but they'll always be a bit off in scale. The flowers on the right were purchased through miniatures.com. They are the same as some of the miniature flowers I found among the flowers that Jayne sent me. I grabbed a vase from the dollhouse to show you the difference: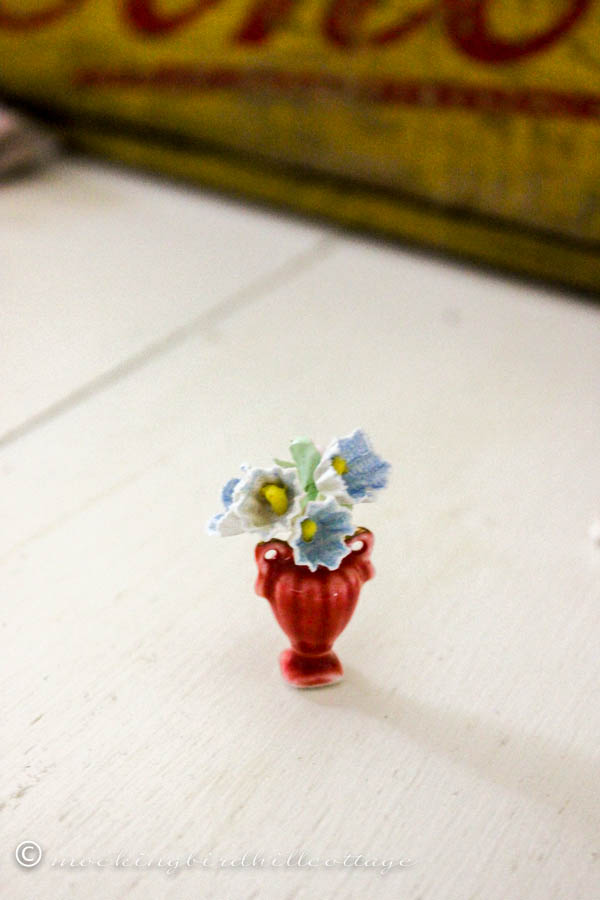 (The light around here has been less than perfect. It's been raining for 3 days. Sorry!)
The Michael's kind of flower in the vase. They're okay but not to scale. And they don't look all that real, nor are they meant to.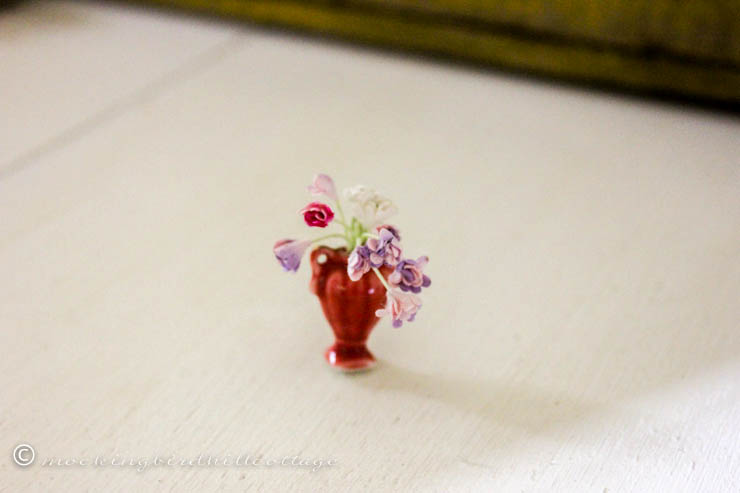 The mini flowers. This isn't the most artful arrangement because I didn't want to cut the stems for this shot. But it gives you an idea of the difference in scale.
Yes, they are spendy. But you can also buy kits to make flowers and there are lots and lots of tutorials on the web on how to make flowers for your dollhouse.
As for attaching the flowers to the window boxes, the window boxes that came with this house are really solid blocks of wood. Unlike other window boxes, there's no well in which to sink the flowers. So I cut the stems off of several different varieties of flowers and attached them with the wax I mentioned in #3. Fiddly work, but worth it. If you have a window box with a well, I bet you could use small pieces of floral foam as well.
5. Could you remind me of the phrase/words you use to find your good miniature images? For some reason, I've not hit on a good word combo.
Of course. I google "Free dollhouse printables." You will be surprised at how many printables pop up on your screen!
I hope this answers your questions, Debbie. I've learned by googling, visiting the blogs of miniaturists and dollhouse enthusiasts and reading lots of tutorials. And by trial and error.
Keep your questions coming!
Happy Saturday.