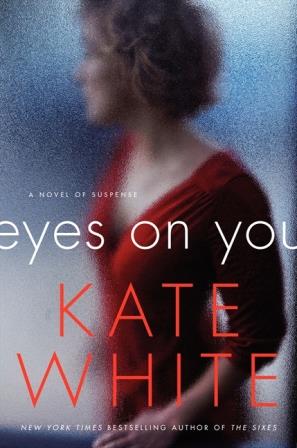 I'm reviewing Eyes On You by Kate White today for TLC Book Tours. As always, I am provided with a copy of the book in exchange for my honest review.
About the book (from the publisher): After losing her on-air job two years ago, television host Robin Trainer has fought her way back and now she's hotter than ever. With her new show climbing in the ratings and her first book a bestseller, she's being dubbed a media double threat.
But suddenly things begin to go wrong. Small incidents at first: a nasty note left in her purse, her photo shredded. But the obnoxious quickly becomes threatening when the foundation the makeup artist uses burns Robin's face. It wasn't an accident – someone has deliberately doctored the product.
An adversary with a dark agenda wants to hurt Robin, and the clues point to someone she works with every day. While she frantically tries to put the pieces together and unmask this hidden foe, it becomes terrifyingly clear that the person responsible isn't going to stop until Robin loses everything that matters to her…including her life.
My review: I'm pretty sure I've read all of Kate White's books and I've enjoyed them. I've even reviewed one on this blog – you can find the review of Hush here. So I was really looking forward to a new novel of suspense from this author. White is a good writer and her mysteries usually take place in and around New York City. The author knows her beloved city well and that clearly shows in the words she uses to paint a picture of NYC; the neighborhoods, the street life and the hustle and bustle.
But this time, I was a wee bit disappointed. The very idea of a stalker is chilling and when bodily threat enters the picture, the stakes immediately ramp right up to pure terror. I can't imagine how frightening that must be. That fear should be the force that drives the novel. Though White does an admirable job of weaving events and clues into the fabric of this mystery, it never quite worked for me. I figured out early on in the novel who the bad guy was and it turned out I was right. I think the best suspense/mystery/thrillers are those that keep you guessing up until the end. You, as a reader, might think you have an idea of how it's going to end….but you should never be absolutely sure. Even better if there's a plot twist in the final pages that completely surprises you. That isn't easy to do, I know, but the best novels in this genre do it well.
As events escalate, I want to feel that I'm along for the ride, catapulting my way through the pages right along with the protagonist. Is anything better in the book-reading world than the words: I couldn't put it down? I didn't have that feeling this time around.
That being said, Eyes on You is still a good read. I'd label it Good Beach Reading – perfect for when you want to read something engaging but light. The world of television and media and publishing and agents is fascinating and White writes it well. Add to that the sights and sounds of Manhattan and you've got a good summer read with a plucky heroine, to boot.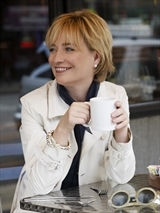 About the author: Kate White is recognized internationally as not only the veteran editor-in-chief of Cosmopolitan, the bestselling women's magazine in the world, but also as the critically acclaimed author of both fiction and nonfiction books. Few high-profile editors have successfully balanced the rigors of overseeing a major magazine title with a thriving and independent writing career.
Good news: one of you will win a copy of Eyes on You. Simply leave a comment on this post to be entered. It's open to readers in the U.S. and Canada. I'll pick a winner on Sunday evening.
Happy Thursday.