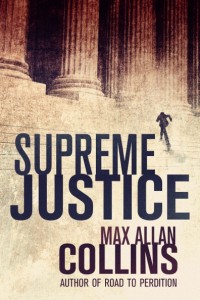 Today I am reviewing Supreme Justice by Max Allan Collins for TLC Book Tours. As always, I am provided with a copy of the book in exchange for my honest review.
About the book (from the publisher): After taking a bullet for his commander-in-chief, secret service agent Joseph Reeder is a hero. But his outspoken criticism of the president he saved – who had stacked the court with hard-right justices to overturn Roe v. Wade, amp up the Patriot Act, and shred the First Amendment – put Reeder at odds with the Service's apolitical nature, making him an outcast.
FBI agent Patti Rogers finds herself paired with the unpopular former agent on a task force investigating the killing of Supreme Court Justice Henry Venter. Reeder – nicknamed "Peep" for his unparalleled skills at reading body language – makes a starting discovery while reviewing a security tape: the shooting was premeditated, not a botched robbery. Even more chilling, the controversial Venter may not be the only justice targeted for death…
Is a mastermind mounting an unprecedented judicial coup aimed at replacing ultra-conservative justices with a new liberal majority? To crack the conspiracy and save the lives of not just the justices but also Reeder's own family, rising star Rogers and legendary investigator Reeder must push their skills – and themselves – to the limit.
My review: The premise is promising, with a setting in our nation's capitol and a cast of characters that includes Secret Service agents, politicians, local police and the FBI. Certainly, we are no strangers to the assassination of political figures – our country has seen more than its share. So I was looking forward to reading this mystery/thriller.
Though all the elements for a fast-paced ride are in place – Max Allan Collins has done a good job on that end, and he clearly knows his setting and the environment of Washington DC – I was left curiously unsatisfied. I love this genre, as you know, and am no stranger to plots that might seem fantastical on any given day- that doesn't bother me at all. But fantastical or not, the underpinnings must be written in such a way that all the parts come together and lead to a logical conclusion that, bizarre though it may seem, makes absolute sense. So, if an author decides who the bad guy is going to be in the end, that decision has to be fully supported by the writing. I don't think that happened here.
And once again, I figured out who that bad guy was well before it was revealed on the page. Ah, well.
Though it wasn't my particular cup of tea, it surely will appeal to other readers. I kept thinking of Tom Clancy readers as I read it, which leads me to believe that there will definitely be an audience for this book.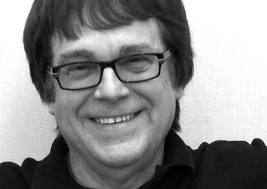 About the author: Max Allan Collins has earned fifteen Private Eye Writers of America "Shamus" nominations, winning for this Nathan Heller novels, True Detective and Stolen Away, and receiving the PWA life achievement award, the Eye. His graphic novel, Road to Perdition, the basis for the Academy Award-winning film starring Tom Hanks, was followed by two novels, Road to Purgatory and Road to Paradise. His suspense series include Quarry, Nolan, Mallory and Elliot Ness, and his numerous comic credits include the syndicated Dick Tracy and his own Ms. Tree. He has written and directed four feature films and two documentaries. His other produced screenplays include The Expert, an HBO World Premiere, and The Last Lullaby. His coffee table book, The History of Mystery, received nominations for every major mystery award and Men's Adventure Magazines won the Anthony. Collins lives in Muscatine, Iowa with his wife, write Barbara Collins. They have collaborated on seven novels and are currently writing the Trash 'n' Treasure mysteries.
One of you will win a copy of this book. Just leave a comment on this post and I will choose a winner on Monday.