I've been so busy with the garden and Spring and working on the road that I have neglected my little series. I believe I owe you one more segment, right? Since I plan to visit Chautauqua Miniatures on Monday, let's get back into a dollhouse kind of mood.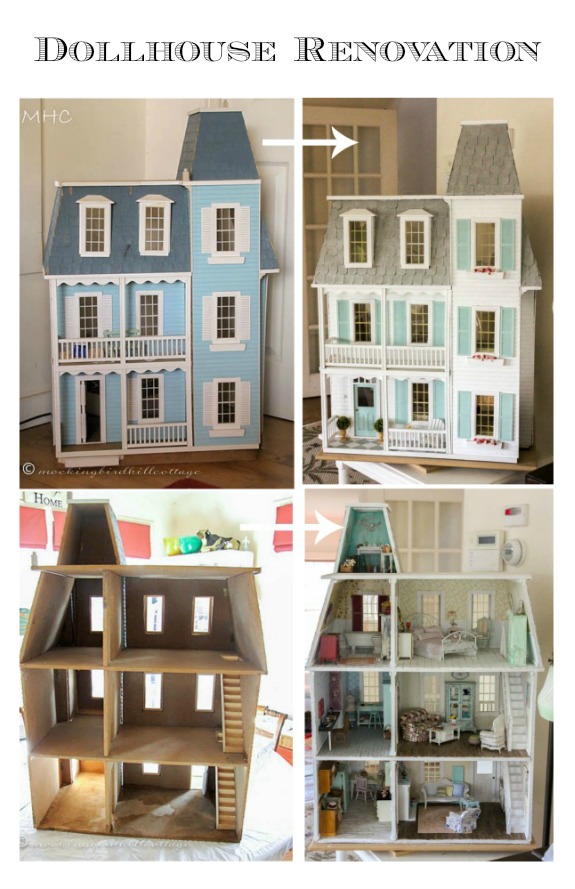 All through the renovation, there was one room that I totally ignored. You can see it at the very top of the house on the left. On occasion, I would stop and wonder what the heck I was going to do with it, but the main house was my priority. So I thought of it as a potential attic and figured I'd artfully stash some minis up there and call it a day.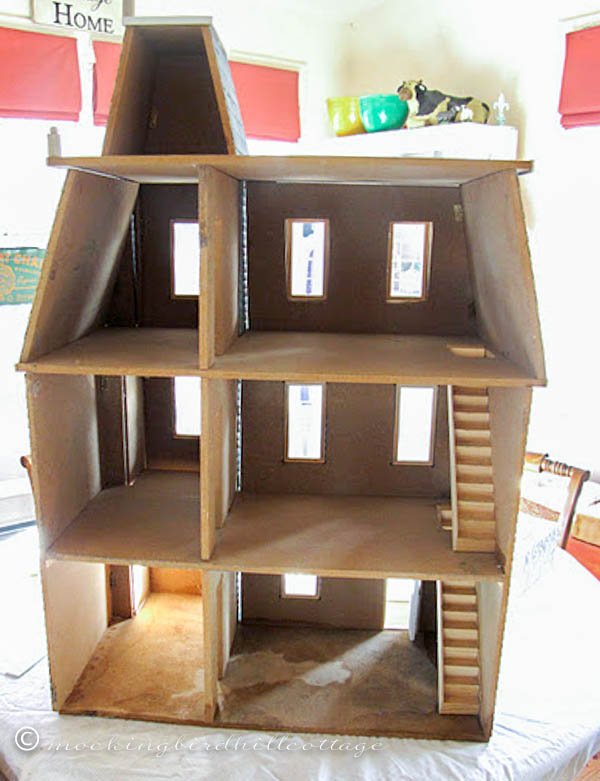 Have I ever told you how creative my husband is? One day we were looking at the dollhouse and I was going on and on about my ideas for it and I mentioned my lack of inspiration for that space. My husband knows what a devoted gardener I am, so, to him, having it be some sort of potting shed or greenhouse made sense and he told me so.
Brilliant. (It had never occurred to me.)
Well, that got me going and I suddenly found myself excited about the possibilities for that room and for the roof itself (the roof will eventually be Part Seven of the Renovation Series.)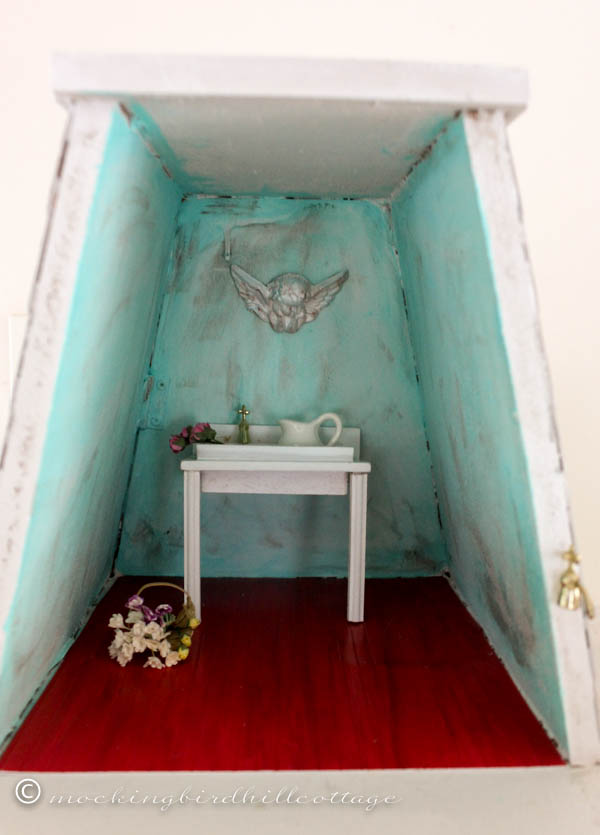 One day, I just went for it. I grabbed some aqua colored paint and painted the walls. Since the texture of the walls was already uneven, I went with that and rubbed some of the paint off, adding some antiquing gel to age them further. I wanted the room to look shabbily aged, like an attic room that has been repurposed for very little money.
At this point, I wasn't in the mood to lay a wood floor made out of popsicle sticks, so I grabbed some leftover beadboard, cut it to fit the floor space, and painted it red. It was a time saving move, but it ended up being one of my favorite things about this room.
I had a bathroom vanity that someone had given me, but I wasn't going to use it because it was out of scale – it was too tall. But you have to think outside the box and I realized I could definitely use the sink. So I took it apart and made some legs from trim that I had on hand, put it together and, what do you know? It worked!
The cherub on the wall came from my stash of all sorts of stuff that I keep in the cupboard in the studio. I thought it would be the perfect architectural artifact for the room. I had the big white pitcher and the flowers and basket in my stash.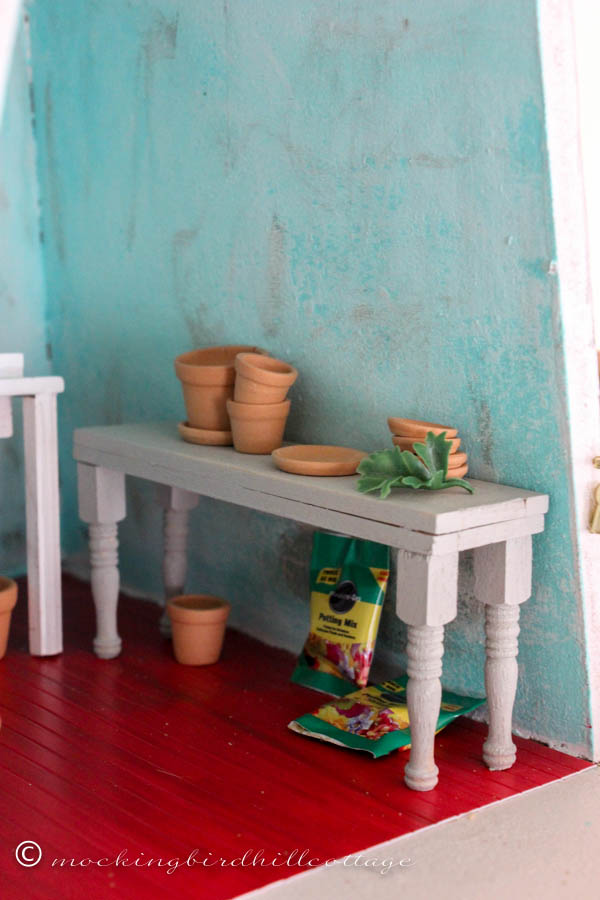 Next on the agenda was some sort of potting bench. I made this from some shutters in my stash. The legs were made from some newel posts that I had on hand and I cut them down to work with the table top. I ordered the pots and the potting soil from miniatures.com.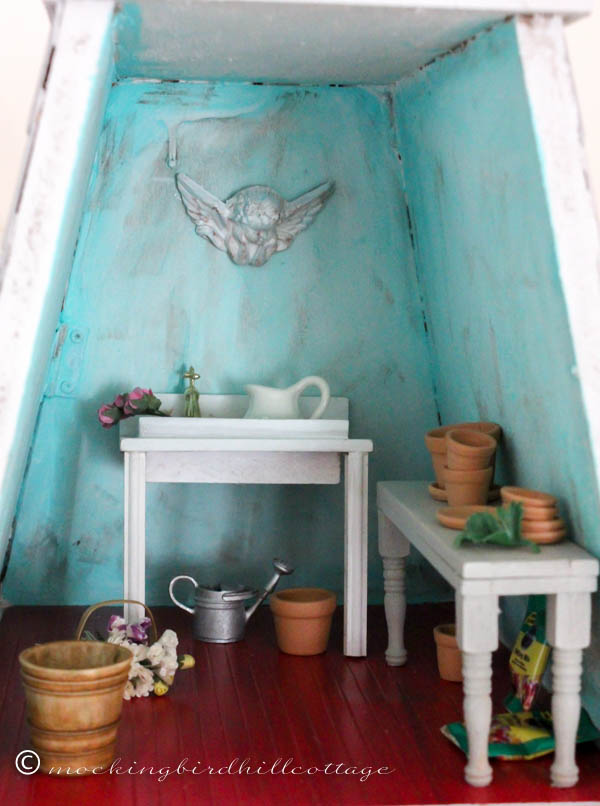 The watering can and large pot on the left also came from miniatures.com.
So far so good, but not quite there yet.
There was one idea that kept percolating in my brain. I measured the space and ordered the necessary element. It arrived. But I was a little hesitant and I didn't do anything until I was in one of those What the heck? kind of moods and then I went for it. Out came my keyhole saw. I traced the opening. I drilled a starter hole. And then I sawed. And sawed.
It worked.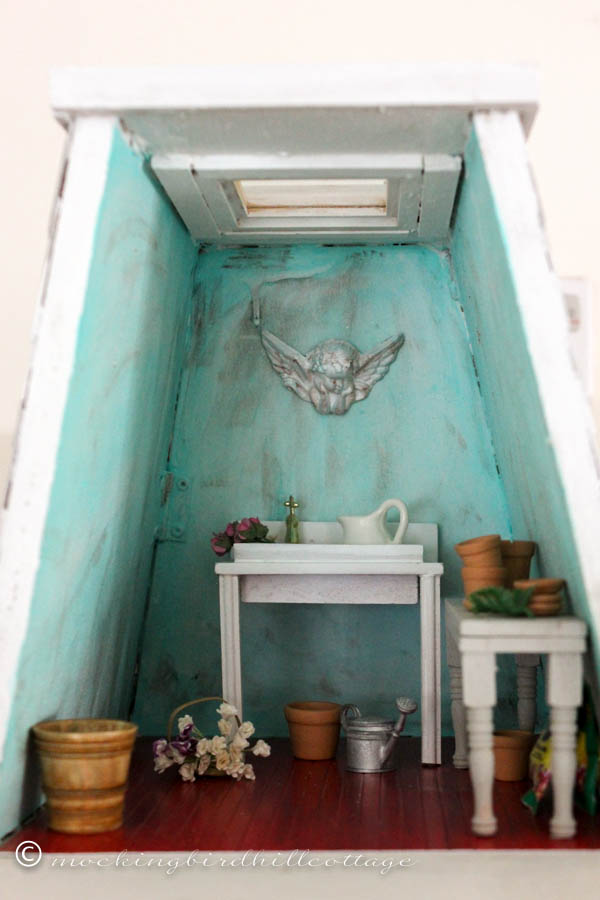 Behold, my skylight! I love, love it. And it's one of the tweaks I made to the dollhouse that I am proudest of. After all, the owner needs some natural light in her potting space, don't you think?
I keep adding things here and there: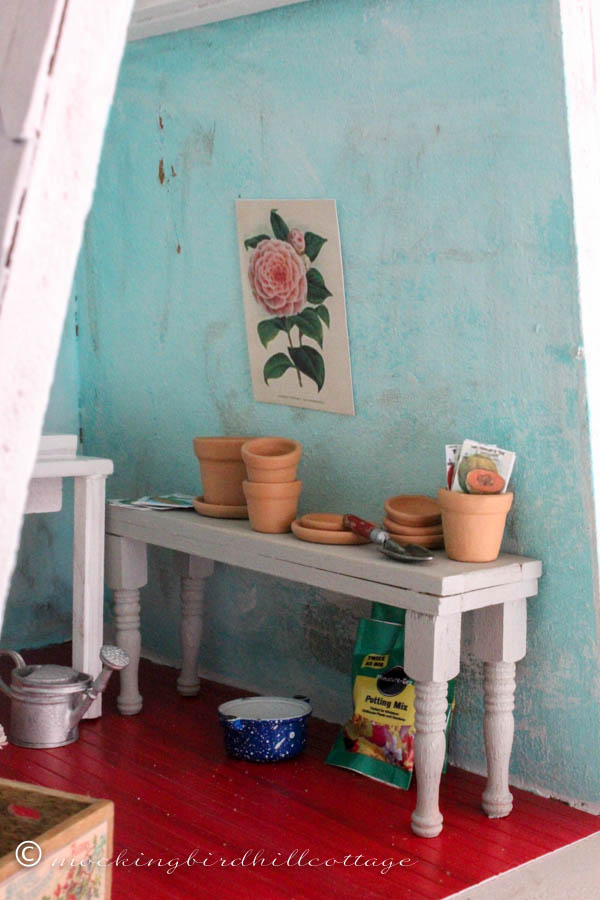 The internet is an amazing source for dollhouse printables. That's where I found the seed packets and the botanical poster on the wall.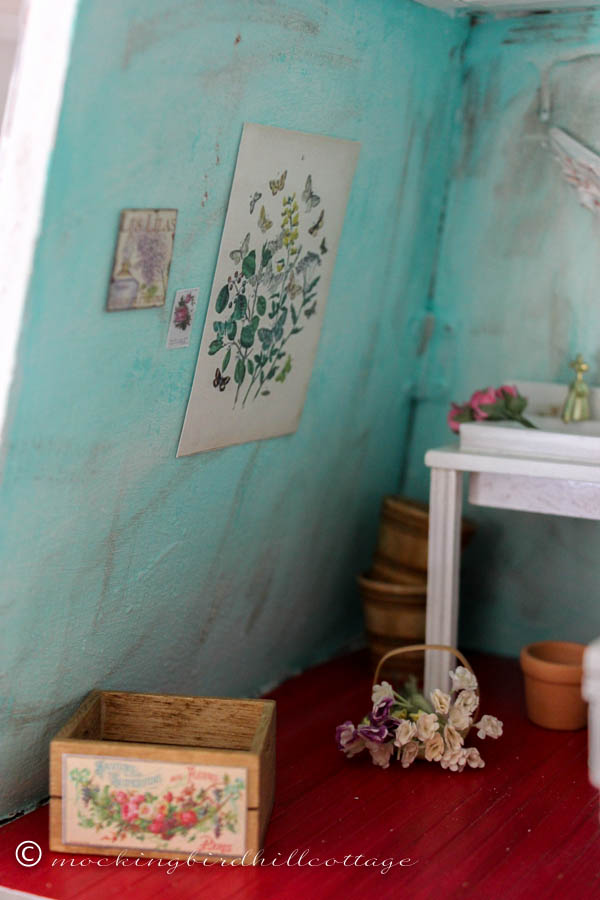 And these. I love the butterflies. I got that crate from Weston Miniatures (on Etsy.) It inspired the crates I made for the Miniature Swap. (By the way the minis from that swap have arrived, but I have to wait until I get home to open the box!)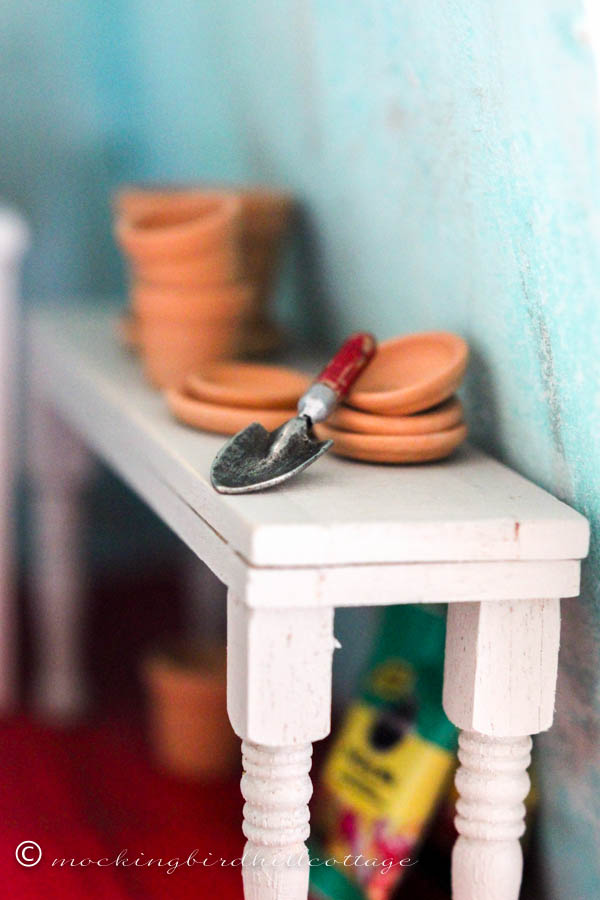 The trowel also came from Weston Miniatures.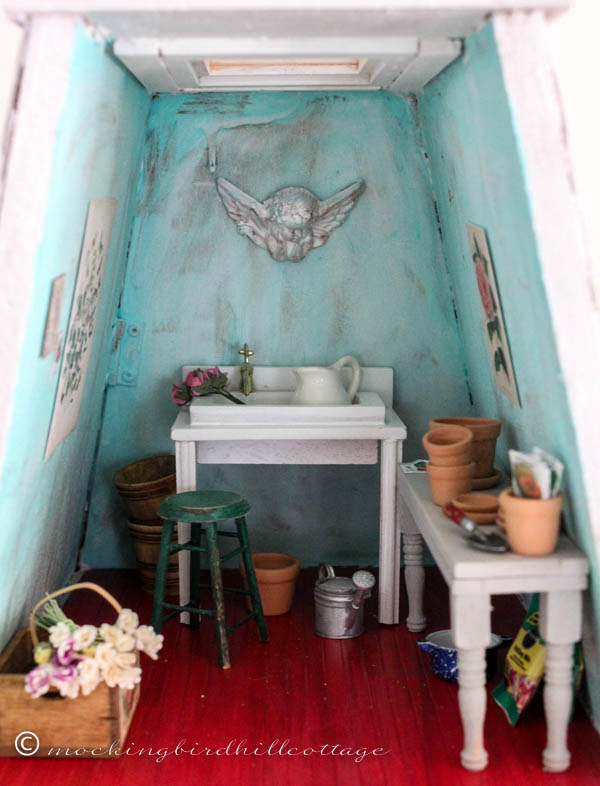 The latest addition is the green stool, which I ordered from miniatures.com and painted and aged. (That hinge, by the way, was added by the dollhouse's original owners. I've managed to cover most of them up. I'm plotting what to do to hide this one. To Be Determined.)
Next up, when I have the time and the funds, will be the rooftop garden. Oh, do I have plans for that space!
The winner of a copy of Moving Day is Linda from A La Carte! Congratulations, Linda!
Happy Thursday.