I'd like an order of hot and humid, please.
Oh, wait, what was I thinking? Please cancel that order!
It's too late?
Drat.
Yep. We're in the middle of a hot and humid stretch that is causing this girl who hates humidity to stay inside. The activity level in the birdbath was at an all time high yesterday, which necessitated several trips to replenish the water supply.
The birds are feeling it, too.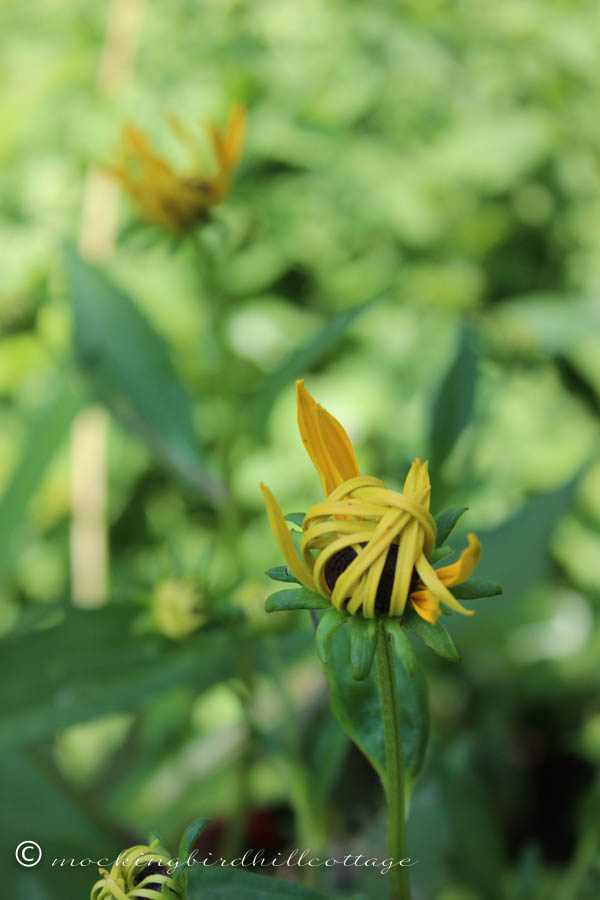 The rudbeckia is just about to open.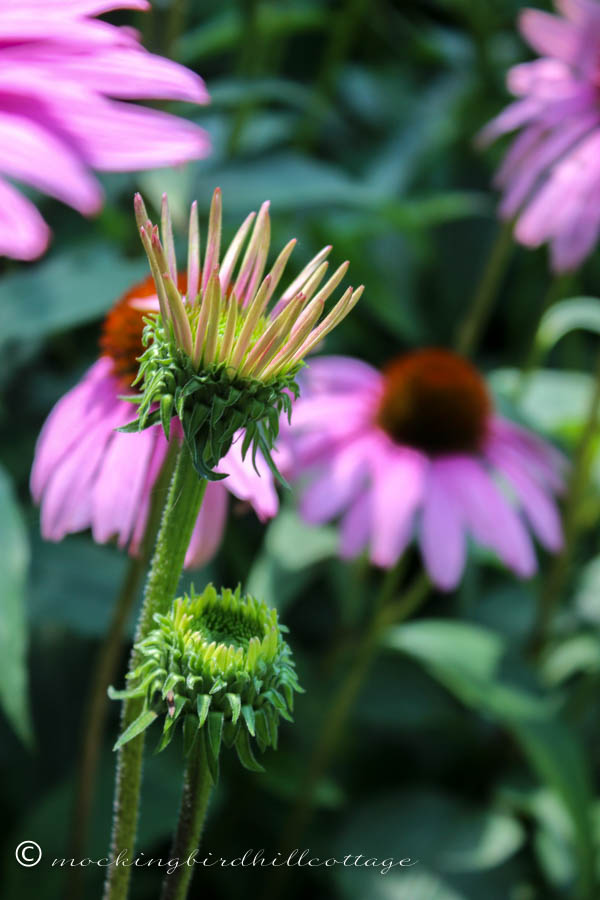 And so are more coneflowers.
I edited a few of my comments on yesterday's post. I did it simply because I feel protective about my father's issues and don't want to discuss too much in this very public place. He's confused and scared and, yes, extremely difficult to deal with lately, but I want to make sure I draw the line at how much I reveal. I've said before that maybe someday I'll speak in more depth about those issues in terms of how they have impacted me, but I won't do it until he's gone.
He's my dad and I love him, and he's troubled and complicated and insecure and lots of other things that make dealing with him very hard indeed. But he's also a good man who is devoted to his family and kind to others. He has a big heart.
So, there you have it. Writing a personal blog involves constant decisions as to just what I choose to reveal and what I choose to keep private. I know you understand.
Did you notice those four words in the sentence I just wrote? "Writing a personal blog…?"
There are times when I have to tick a box as to what kind of blog I write. Often those choices include Decorating and DIY or Lifestyle or Food – that kind of thing. I've never felt comfortable choosing "Lifestyle" which is often the only option that might fit. Here's why: I don't prescribe any sort of Lifestyle for my readers. I'm not Martha Stewart. I don't write about how you should do things or what you should do. There's an occasional tutorial, though come to think of it, I can't remember the last time I wrote a tutorial.
So the other day I was reading about something, somewhere, and saw the term Personal Blog.
And I smacked myself upside the head.
I know this might very well seem like a "Duh!" moment to you, but I, on the other hand, said "Of course! I have a Personal Blog." I write about my life and my adventures and my cottage and…my lifestyle. But not your lifestyle or what I think you might want your lifestyle to be.
I know. Seems obvious, doesn't it? But I can't tell you how many times I've wrestled with how to describe this blog when pursuing advertising opportunities or filling out surveys.
I have a personal blog. And a book blog, which has new post up today, by the way. It's all about one of my favorite authors. Stop by.
Happy Wednesday.