Today might be the last day of several days of rain. Fingers crossed. I'm really tired of it, though I know there are those of you out there that would give anything for some rain at this point. And I would gladly send it to you if I could. Everything is soggy. It's humid. It's dark. It's depressing.
Again, when I ventured outside yesterday for a few short minutes…bam! Another mosquito bite. In the same place on my arm. The other day, I was bit on my eyelid. Lovely. I don't really miss living in California, but I do miss the lack of mosquitoes there. For eight years, I was mosquito-free. Sigh.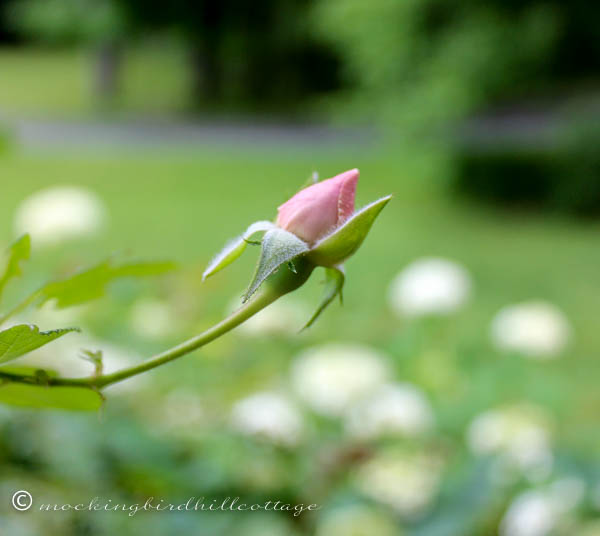 The Japanese Beetles have chewed on most of my New Dawn roses, save this bud. I'm pulling for it. A quick examination  yesterday of the roses that border the porch revealed no beetles. Dare I hope that they have left the premises?
One of my day lilies had exactly two blooms on it, ready to open. Had is the operative word here, as they are no more. My friends, the deer, decided to dine on them.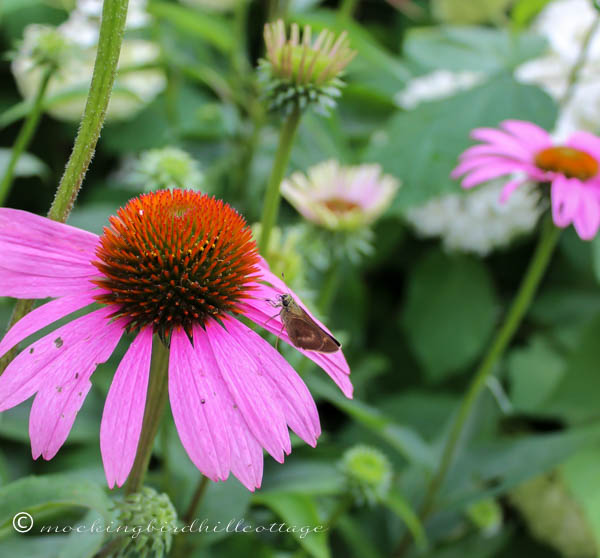 These coneflowers really are this color. No adjustments to the saturation of the photo. This is how they look. Hello, little moth.
The other day, when I mentioned my few kitchen accomplishments, one of them being fluffy scrambled eggs, Kathleen asked if I would pass along my secret. So yesterday, when Don requested scrambled eggs and I immediately responded with "No. I have a headache,"  I reconsidered my response, thinking that it might be a blogging opportunity. Don got his scrambled eggs, thanks to you  guys. I hope he appreciates you.
By the way, I really did have a headache.
I read this tip years ago and I couldn't tell you where at this point. Here's the tip:
Mix together your eggs and milk, whipping them with a fork. Pour the mixture into a frying pan.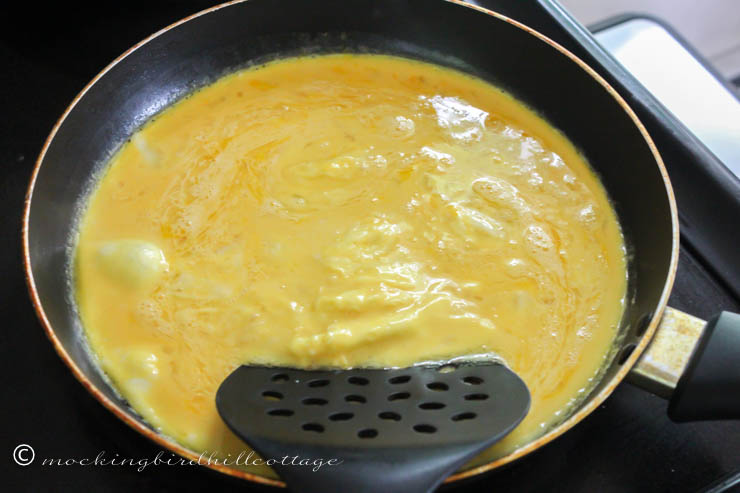 And here's the trick: as the edges start to solidify, push the solid eggs toward the middle of the pan. Constantly.
This means, my friends, that you really can't leave the eggs to attend to other kitchen duties, like making toast. Assign that to someone else. Because the eggs cook quickly, you need to use that spatula to push the eggs toward the center.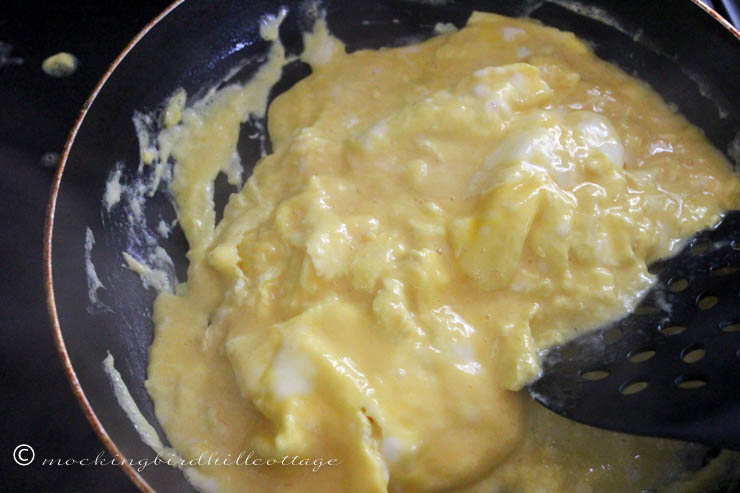 See? More of the solidified eggs have been moved to the center. Keep doing this, never letting the eggs stick to the pan, occasionally flipping them to ensure even cooking. I don't flip them until the end of the process. If you leave the pan unattended, you risk scrambled eggs that have browned, which is okay if you like that, but not as pretty. Or fluffy.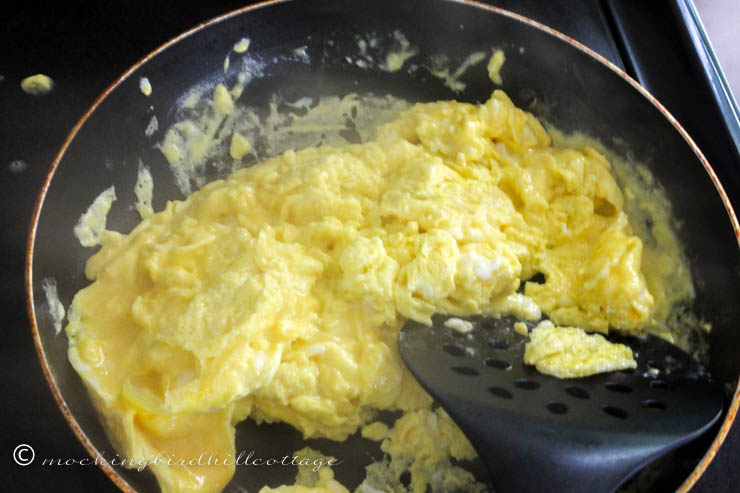 Here they are, just about done. Don't overcook them. Trust me, they are light as a feather. Don loves them. Add some salt and pepper, have your child or husband or partner or niece or nephew or dog butter the toast, and you're all set.
What the heck am I doing giving cooking advice?
The winner of a copy of Elizabeth is Missing is Shirley Elliott. Congratulations, Shirley! I'm sending you an email as soon as I publish this post. (And I love your name. That was my mom's name.)
And there's a new post up at Just Let Me Finish This Page. It's a book review.
Happy Wednesday.