I don't do much decorating these days. The walls need painting (how long have I been saying that on this blog?) I still want to build bookshelves in the den. And I want different window coverings in the living room. None of those things are urgent. I'll get to them when time and funds allow. Other than that, things are pretty much the way I want them.
I did change a little thing the other day, based on a conversation I was having with Don. The center of the kitchen table has been taken up by the Vernor's soda crate and Riley's Dish Garden. Since the table isn't that big, those two items take up a lot of real estate. Don mentioned he was a little tired of seeing the Vernor's crate there. And then we talked about Riley's Dish Garden, which is important to both of us, but let's face it, the blue plastic dog dish isn't all that attractive.
Hmmm. I wasn't ready to move the Vernor's crate out of the kitchen, so I moved it to the end of the kitchen island.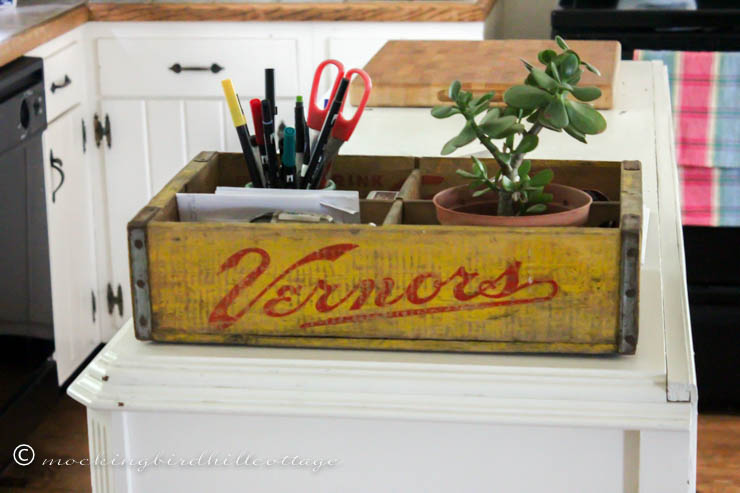 And I added the mug full of pens, pencils and scissors. There's notepaper in one of the other compartments, along with my older camera and a jade plant. I tend to write out lists and pay bills while standing at the island, so this works rather nicely.
Moving it to the island meant that I had to find a place to store the cake stand and glass dome, which were pretty but were serving no purpose other than to accumulate dust. Since storage space is at a minimum here, finding a home for them took a lot of maneuvering. They had become a source of irritation, so I'm relieved they are out of sight.
Then I spent about an hour trying to figure out what to do with Riley's Dish Garden. I knew I had to disguise it a wee bit, so I pulled out various pieces of pottery until I hit on this combination: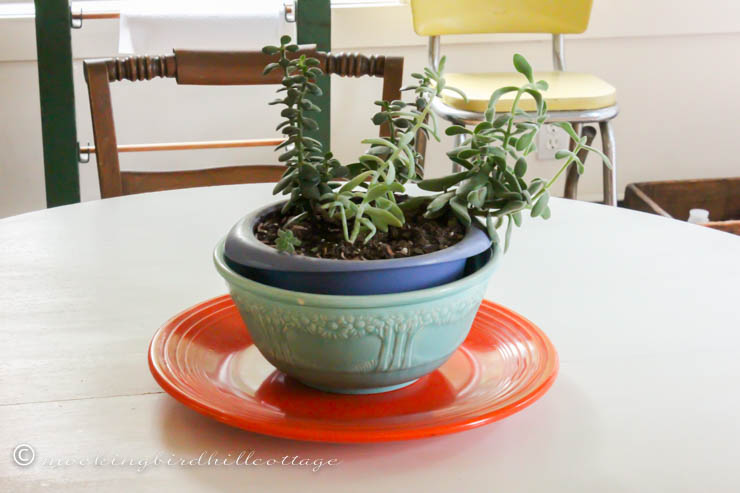 I grabbed the larger of my two Homer Laughlin Orange Tree bowls, then spent what seemed like an endless amount of time trying to find some little piece to put in the bottom of the bowl to work as a base for the dish garden.
But that didn't seem like quite enough. So I plucked my vintage Fiesta platter from high atop the pantry and plopped it under the bowl.
I really like that splash of contrasting color.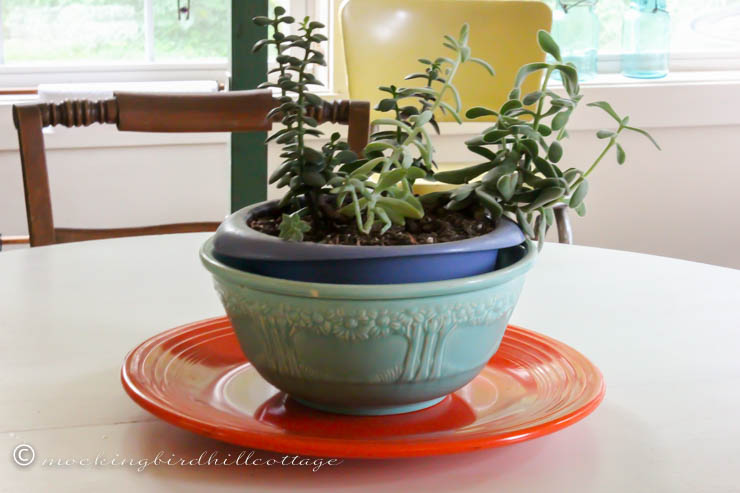 Those succulents are getting a bit out of control. On the other hand, they look sculptural and I like that.
So there you are. The not-so-pretty plastic dog dish deserved a prettier presentation. To the rescue: a couple of pieces from my pottery collection.
Love you, Riley.
New post up on Just Let Me Finish This Page.
Happy Wednesday.