I drove to the Apple Store yesterday – the closest one is an hour away – and had a chat with a tech at the Genius Bar. We think we've resolved things, but I'm going to keep an eye on the laptop and if the issue arises again, it will be off to the store once more.
Fingers crossed!
It's been coolish around here for the last two days. The high yesterday was 72 degrees. It was cloudy as well, and Don and I remarked that it felt like mid-September. I think the warmer temps will be back on Sunday.
I got the test results back the other day. I officially have Lyme. Good thing I didn't wait for the results to start the medication!
We watched His Girl Friday again last night. There was nothing else on (PBS is doing its fundraiser which always results in programming that is, let's face it, rather unappealing) so we checked out TCM On Demand. With some sweet talking, I managed to persuade Don to watch it again, even though we'd seen it rather recently. And he laughed and laughed.
See? I was right.
What a fabulous movie, with razor-sharp, quick-paced dialogue, people talking over each other (like real life) and so much palpable energy that you can almost feel the sparks shooting out of the television. Just over an hour and a half in length, it moves very quickly. Rosalind Russell and Cary Grant are at the top of their game, as are the great character actors in supporting roles, including Ralph Bellamy.
Did I ever tell you Don got to work with Ralph Bellamy? The did an episode of L.A. Law together. Don played his attorney and the filming lasted a week with lots of scenes in the courtroom, so Don got to sit next to Mr. Bellamy and hear stories about his pals and his years in Hollywood.
Someday, I'll write a post about all the actors Don has worked with – you'd be amazed.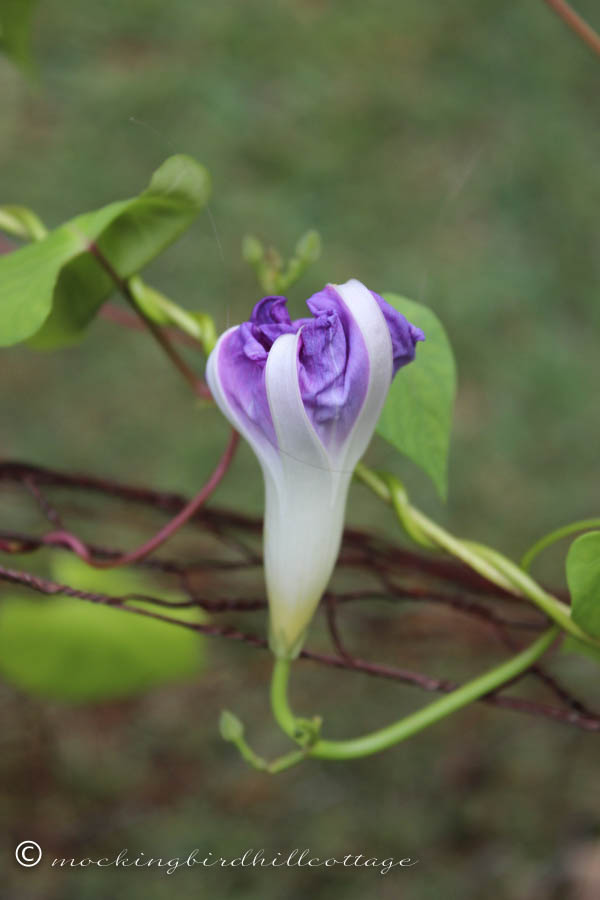 The second morning glory bloomed on Thursday. By about four o'clock, it had closed.
Open or closed, the blossoms are truly lovely.
Happy Saturday.