Two foggy mornings in a row.
I love a foggy morning. It's such a sweetly mysterious way to start the day. If my memory serves, those kind of mornings seem to happen more often as we move into Autumn.
Hurrah! I had my first cup of coffee this morning with half and half. No more black coffee because of the antibiotics. See? My needs are few. But it didn't taste quite the same to me as the coffee does when Don makes it, so when he got up I asked him about it. Turns out he adds an extra scoop. Ah! Bless him, he made another cup for me and I am happily sipping it while working away on the laptop.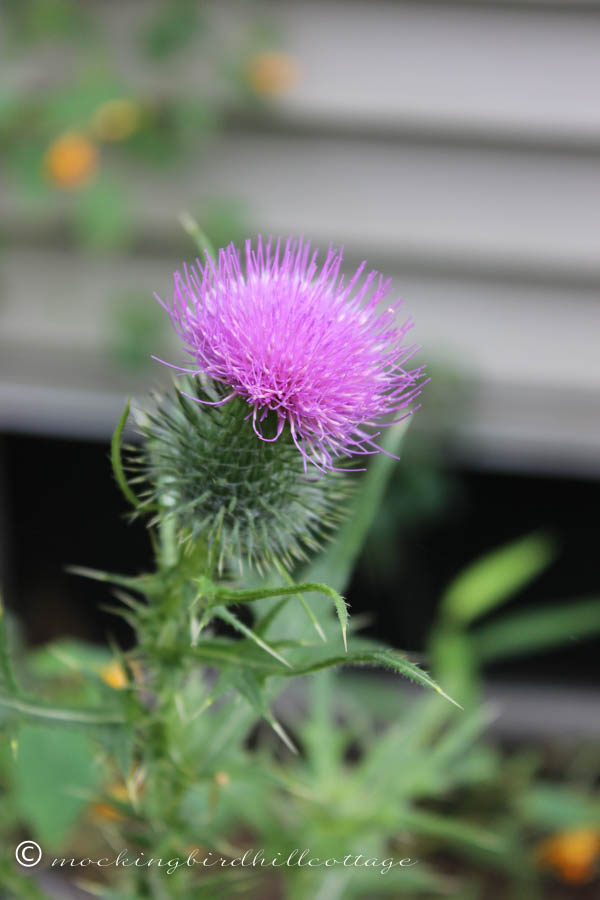 These thistles are growing wild alongside the house. Lucky me!
I've decided to treat myself to a trip into NYC tomorrow. I have to buy some material for my work on Hamlet, and what better place to go but my favorite bookstore in the world – The Strand. And, to top it all off, I'm going to Barnes & Noble on the Upper West Side, where Louise Penny will be signing her newest book, The Long Way Home.
I'm so excited! I decided that after being housebound for so long, I deserved a treat and Don agrees wholeheartedly. So I'll take off in the morning, go to The Strand and spend lots of time there and maybe stop by Anthropologie and then I'll have a meal somewhere before I head to B &N (early) so that I can be in line for the 7:00 pm event.
All about NYC and books tomorrow. And finding a new pair of readers, since mine broke the other day. I'm wearing an older pair at the moment.
New post up on Just Let Me Finish This Page today. Stop by.
Happy Monday.