Don and I took a little drive yesterday and ended up in a neighboring town, the one with an independent bookstore and a really neat used bookstore. Why did we go there?
Because I have become obsessed with those pencils I told you about. You know, the Palamino Blackwing. (If you missed the post you can read it here.) Ever since I brought that pencil home, I've been using it. I write lists with it. I use it to write notes about all sorts of things in my spiral notebook. I do crossword puzzles with it.
I know, I'm a bit nuts.
The pencil sharpener I was using here at the cottage was a vintage wall sharpener, like the ones that were in our school classrooms. I love it because it's vintage, of course, but it was hacking up my pencil. Horrors! In my earlier post I wrote about Blackwing's pencil sharpener. It has two holes: #1 sharpens the wood, #2 sharpens the graphite. And I knew that the used bookstore had at least two of them on display.
So I confessed to Don that I just had to have that pencil sharpener.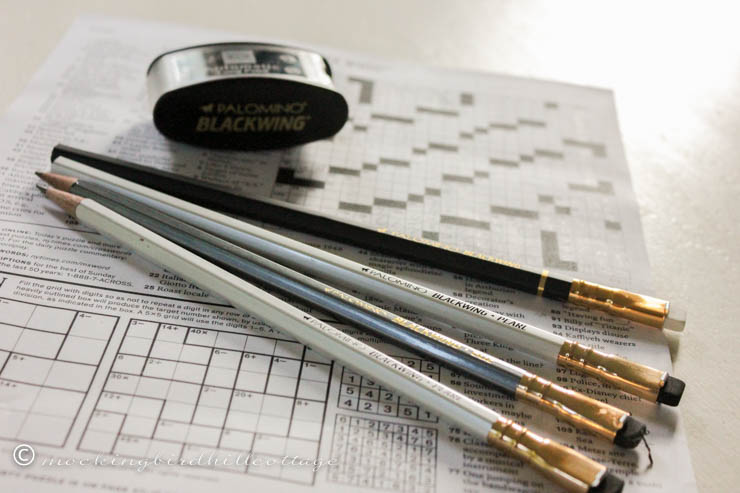 And I came home with three more pencils. They had a Sampler Pack that had one each of the Blackwing Pearl, the Blackwing 602 (which has "Half the pressure, twice the speed" on the barrel) and the original Blackwing.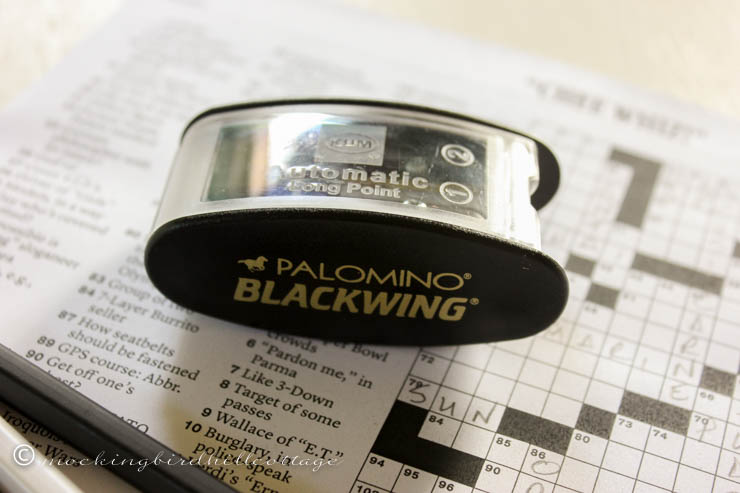 My past experience with pencil sharpeners has been less than positive. The verdict on the Blackwing Sharpener? It works like a dream! It's a thing of beauty.
On the way home, we stopped at the library so I could make a copy of the Sunday New York Times Crossword Puzzle. I mean, I had to have something to use as a test for my newly sharpened pencils, don't you think?
And I added this at the checkout: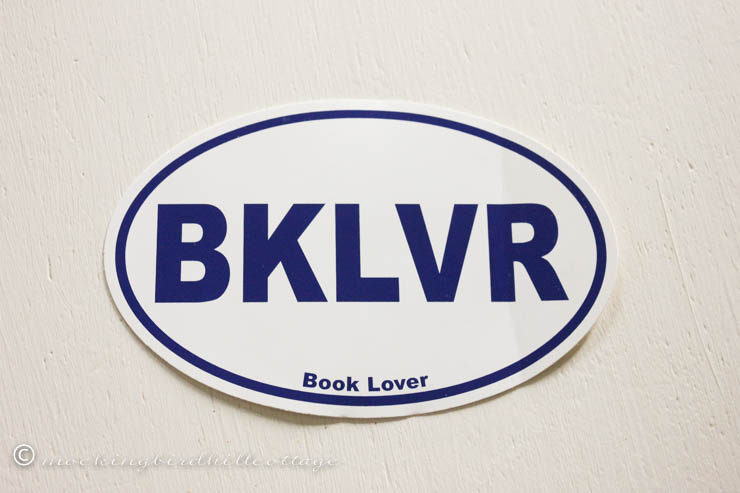 Now, that's the kind of bumper sticker for me!
I'm reviewing Wendy Tyson's new book Deadly Assets, over at Just Let Me Finish This Page. I'm also giving away a copy. So, stop on by!
Happy Monday.