When I was out and about yesterday, and thank goodness I know how to navigate around West Hartford where I can visit Target, Trader Joe's and Barnes & Noble all on the same road, I made a quick run into B & N. I was looking for a copy of Bird by Bird by Anne Lamott, a simply wonderful book about the writing process, and one that I own, but…you guessed it, it's packed away in the shed. (I wonder how many books I have purchased that are duplicates of the ones that I can't get to?) Given B & N's increasing lack of books, it's a miracle that I found a copy, but I did. And I have to say that this particular B & N, one I've been to many times before, has changed during the past year. Less books, more tchotchkes and games and stuffed animals. Like all B & Ns, I guess.
Anyway, I also ended up buying another book, which was on the remainder/sale table.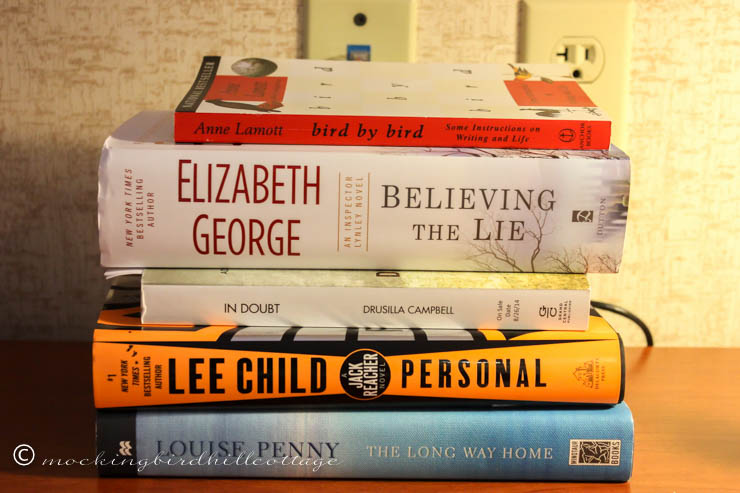 Believing the Lie by Elizabeth George. I have a bit of history with this book. I have checked it out from my local library on three different occasions, only to return it, because, at a whopping 608 pages, it was impossible for me to read it in the allotted 3 weeks the library allowed me to have the book. Well, I suppose it wasn't technically impossible, I'm a fairly quick reader. But the pressure I felt to get it read ended up being too much for me. So each time I checked it out, thinking "This time I'll do it!" I ended up defeated before I ever really had a chance to start it.
It was on sale for $7.98. Aha! Now I have it, I own it, and I'll get around to reading it someday when I don't have other books to read/review. By the way, I love Elizabeth George's Inspector Lynley mysteries and I've read most of them. So I really do want to read this one!
From Trader Joe's: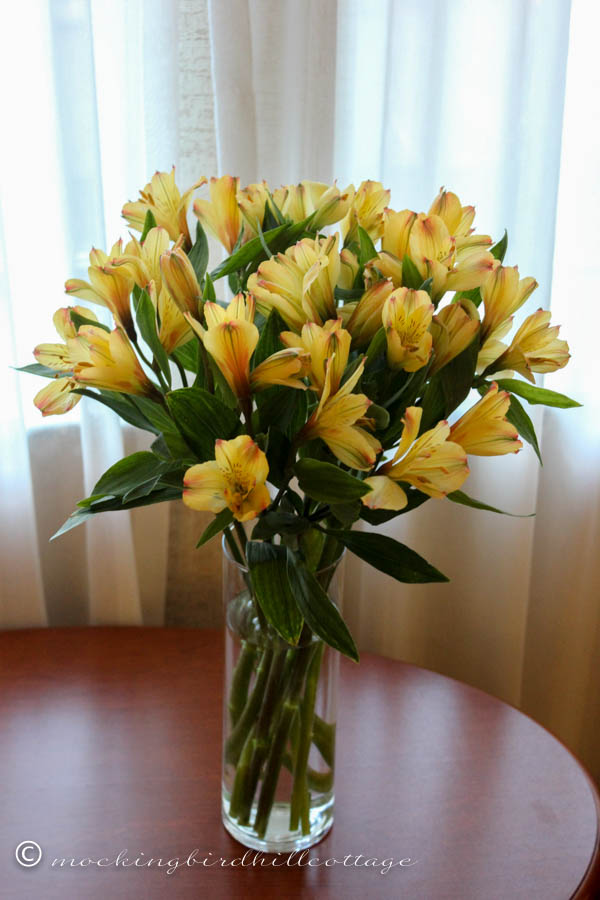 Because every hotel room and/or temporary apartment needs flowers. – preferably easy-care, long-lived ones like alstromeria.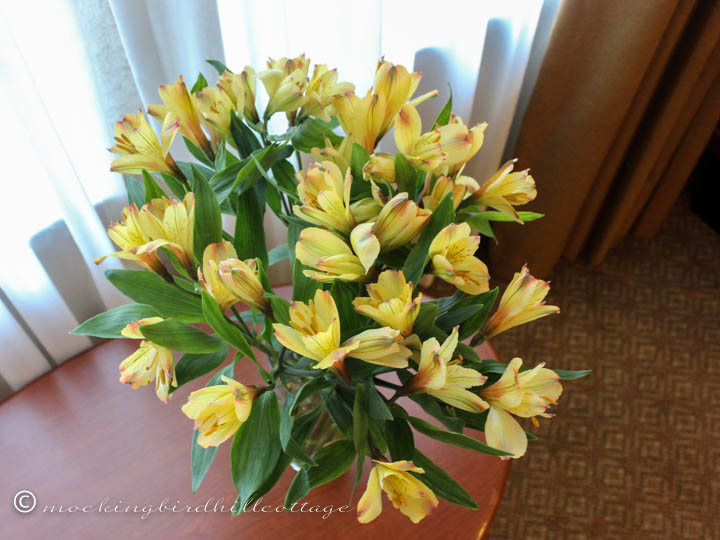 Yesterday was my day off. Theaters almost always have Mondays as the day off. But, for some reason, the theater where Don is currently working decided to make Thursday the day off during the rehearsal process. So, even though we are 40 minutes apart here and were excited to be able to spend time together, we can't. What's wrong with this picture?
Have to go. Today is the first day of rehearsal for the entire cast. A long day ahead and I have to get Dame Scout over to the park before I leave for the day.
She insists on it.
In case you missed it, I posted a lovely interview with Deborah Crombie on Just Let Me Finish This Page yesterday.
Happy Tuesday.