Left the house at 9:30 am. Pulled up in the driveway at 7:15 pm, with Scout's face visible in the window as she kept one eye pealed for the car from her "Where's Mom?" perch on the loveseat. Thank goodness for my neighbor who cheerfully dropped by a couple of times to let her outside. I'd left food out in her dish, which my neighbor informed me had been 'nosed' by Miss Scout to a spot under the kitchen island.
That scamp.
I asked my neighbor to please put the food back in its original position on the rug. When I got home to an ecstatic, jumpy, pouncey Scout, I discovered she'd eaten it all. Good girl!
We had a loving reunion with lots of "I missed you!" and "What a good girl you were!" and then it was time for more food. For Scout, first.
Then I ordered a pizza. Just for me. It was 8 pm and I was starving.
Scout was like a hyped-up little kid for the next 3 hours until she finally crashed.
I've been in Efficient Mode for a few days now, but I think today I'm going to be in Lay Low Mode. Especially since I woke up at 5:30.
Nevertheless, I have to finish Act Three of Hamlet. I'm on a schedule. Here's the current view of the kitchen table: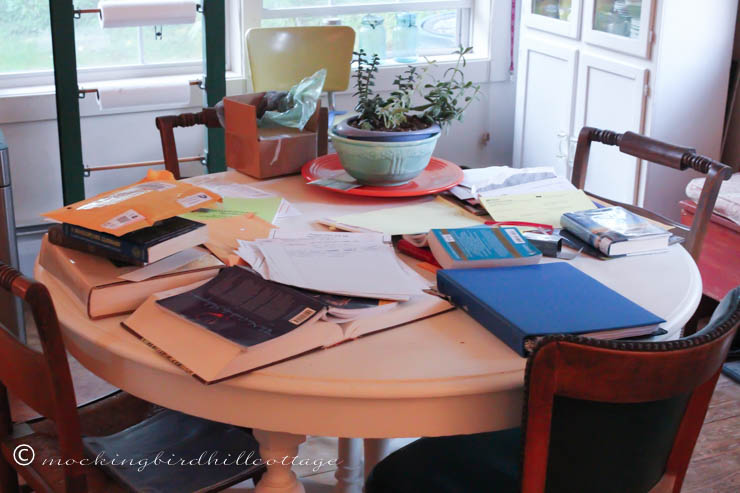 Filled with research books and scripts and notes for our taxes and books due back at the library and some mail.
Attractive, isn't it? And not at all pin-worthy.
I want to share a few surprises that have arrived in my mailbox lately – all from generous and lovely readers of this blog.
Tammy sent me this lovely crocheted mat. I love, love the colors, which are not quite true in this photo. That's because it's early in the morning here and the lights are on. The bookmark was also in the package – those are pressed flowers. Thank you so much, Tammy!
Yesterday I stopped off at the post office to mail something and check the contents of my post office box. Whoo hoo! There were three packages waiting for me. One was a book for a future review.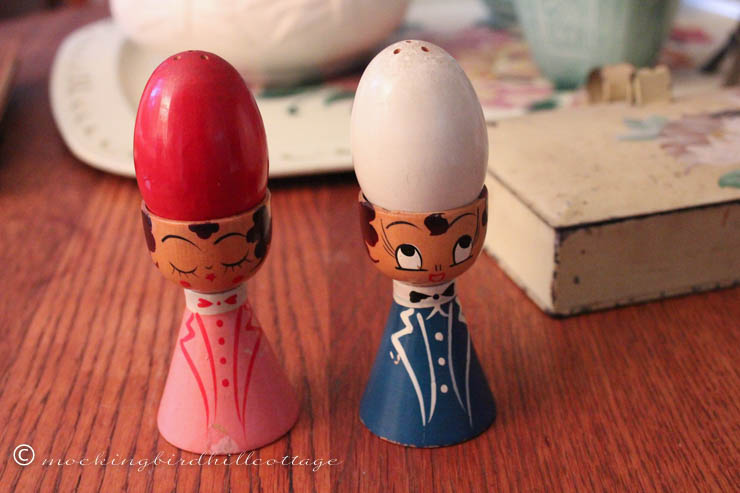 One was a box that contained these. Oh my! Generous reader Sandra sent these vintage egg cups that are also salt and pepper shakers. Sandra said that one of the things she loved about my egg cup collection is that each one of them has a story. Then she went on to say that this set wouldn't have a wonderful story like the others, but that they were 'sent fondly.' Hold on there, Sandra! They do have a wonderful story: they were sent to me by you. You discovered them at an estate sale and you took the time to package them up, along with a lovely note, and send them to me.
I'd say that's a pretty neat story. Thank you, Sandra!
And the other box contained these: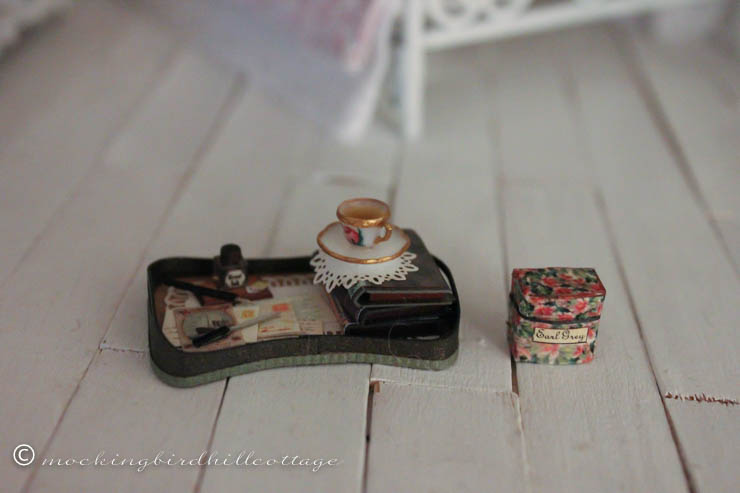 Oh my! Lovely reader Lee sent me these minis. They were given to the attendees of a NAME convention (National Association of Miniature Enthusiasts.) That's a beautiful tray with letters, a letter opener, pen and ink, books, and a cup of tea on a doily. And a tin of Earl Grey. Beautifully done. Yes, my friends, it will definitely be going in the dollhouse, which has been untouched for a while now. That happens every summer, as my thoughts turn to gardening and the great outdoors. Soon enough, I will be finding myself back in the thick of it.
Thank you, Lee!
I am continually amazed by the thoughtful and generous gifts that are sent to me by you, my readers and friends. I don't think I am nearly that thoughtful or generous, to be perfectly honest. I wish I was more like you. You set the bar pretty high, my friends.
Bless your hearts!
A new post with some interesting links is up at Just Let Me Finish This Page.
Adding to The List: Forgot about Hilary Swank in P.S. I Love You (movie) and Robert Sean Leonard in Pygmalion. Oops!
Oh, and if you're occasionally not getting a post in your email, it most likely has to do with your email provider and there's really not a thing I can do about it. I subscribe to this blog through AOL, Gmail, and Yahoo and I've been getting every post. Remember: you can bookmark the site and visit it directly. You know that I post every day.
And one more thing: I'm getting a lot of spam today – somehow it's getting past my filter, so for the time being I am moderating comments.
Happy Friday.