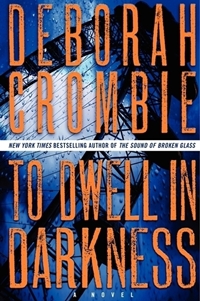 Today I am reviewing To Dwell in Darkness by Deborah Crombie for TLC Book Tours. As always I am provided with a copy of the book in return for my honest review.
About the book (from the publisher): In the tradition of Elizabeth George, Louise Penny, and P.D. James, New York Times bestselling author Deborah Crombie delivers a powerful tale of intrigue, betrayal, and lies that will plunge married detectives Duncan Kincaid and Gemma James into the unspeakable darkness that lies at the heart of murder.
Recently transferred to the London borough of Camden from Scotland Yard headquarters, Superintendent Duncan Kincaid and his new murder investigation team are called to a deadly bombing at historic St. Pancras Station. By fortunate coincidence, Melody Talbot, Gemma's trusted colleague, witnesses the explosion. The victim was taking part in an organized protest, yet the other group members swear the young man only meant to set off a smoke bomb. As Kincaid begins to gather the facts, he finds every piece of the puzzle yields an unexpected pattern, including the disappearance of a mysterious bystander.
The bombing isn't the only mystery troubling Kincaid. He's still questioning the reasons behind his transfer, and when his former boss – who's been avoiding him – is attacked, those suspicions deepen. With the help of his former sergeant, Doug Cullen, Melody Talbot, and Gemma, Kincaid begins to untangle the truth. But what he discovers will leave him questioning his belief in the job that has shaped his life and values – and remind him just how vulnerable his precious family is.
My review: Once again, Deborah Crombie has written a thoroughly engaging mystery that I dare you to put down. I mentioned in an earlier post that I wanted to pace myself with this one, to savor it, to linger over the words, knowing that it would be another year until a new book came out.
I couldn't do it. I simply had to keep reading. That's because Crombie is a gifted writer, skilled in plotting the twist and turns of a mystery, in juggling a large cast of characters, and in weaving the various plot strands together along the way to a bang-up ending. This particular plot, revolving around a protest gone terribly wrong, takes Kincaid and Crombie's recurring cast of characters down many paths in their quest for the truth, each one more mystifying.
What I love about this novel and all of Crombie's novels in the series, is the way she has made various characters from earlier mysteries a part of the overall life of the novels. A veterinarian, a caregiver, a musician and more, all of them part of earlier plots and mysteries, are now a part of the daily life of Kincaid and James. They've been enfolded and welcomed and, to the reader who has followed these mysteries from the beginning, they are like old friends. And now we have new characters, those on Kincaid's new murder investigation team, each of them interesting and compelling – as are all Crombie's characters. She has a gift for character development, each one wholly individual, richly detailed, with a past that informs who he/she is in the present.
Not only is there the immediate mystery, that of the bombing in St. Pancras Station, to solve, there is the overarching mystery that spans this book, Crombie's last book, The Sound of Broken Glass, and will clearly be a part of the next book: What is behind the transfer of Kincaid from Scotland Yard to his new posting in Camden? Are there malevolent forces behind it? Just how threatening are they? Just as Kincaid is left with many questions, so are we.
That's just fine. It only makes me that more anxious to read the next mystery in this series.
To Dwell in Darkness doesn't disappoint. The plot and its resolution will keep you reading into the night.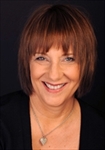 About the author: Deborah Crombie is a New York Times bestselling author and a native Texan who has lived in both England and Scotland. She lives in McKinney, Texas, sharing a house that is more than a hundred years old with her husband, two cats, and two German Shepherds.
For more about Deborah Crombie, read my interview with her on Just Let Me Finish This Page.
And, finally, one of you will win a copy of To Dwell in Darkness. Just leave a comment on this post and you will be entered. You have until Wednesday evening, when I will pick a winner.
New post up on Just Let Me Finish This Page. Stop by!
Happy Monday.