As I was walking through the kitchen yesterday, I spied a butterfly in the Chicken Wire Fence Garden.
Me: Oh, there's a big butterfly in the garden!
Don: (silence)
Me: Do I dare try to get a photo? It will probably be gone by the time I get out there.
Don: I wouldn't bother.
Me: (ignoring him, because I wasn't really asking his advice) I'm going anyway.
These kinds of conversations go on all the time here.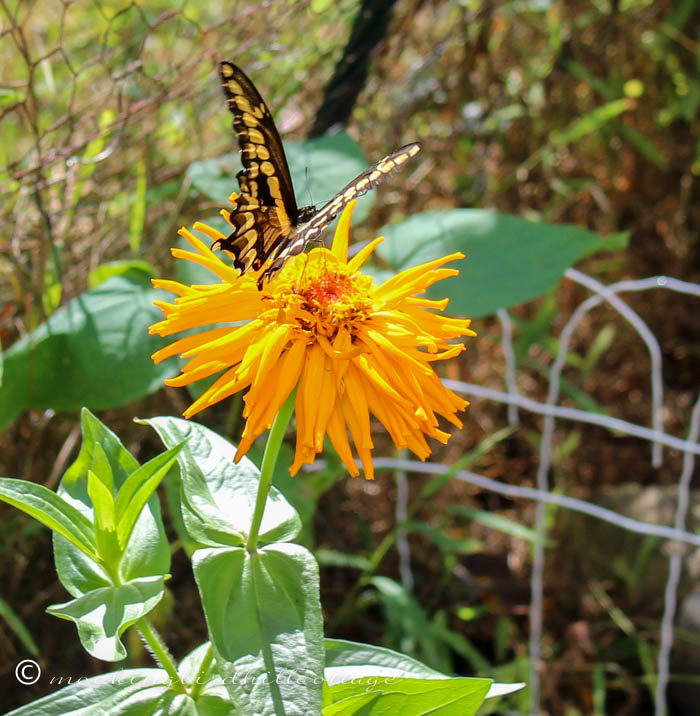 It was hot and humid and sunny. And the butterfly stayed long enough for me to get a few pics.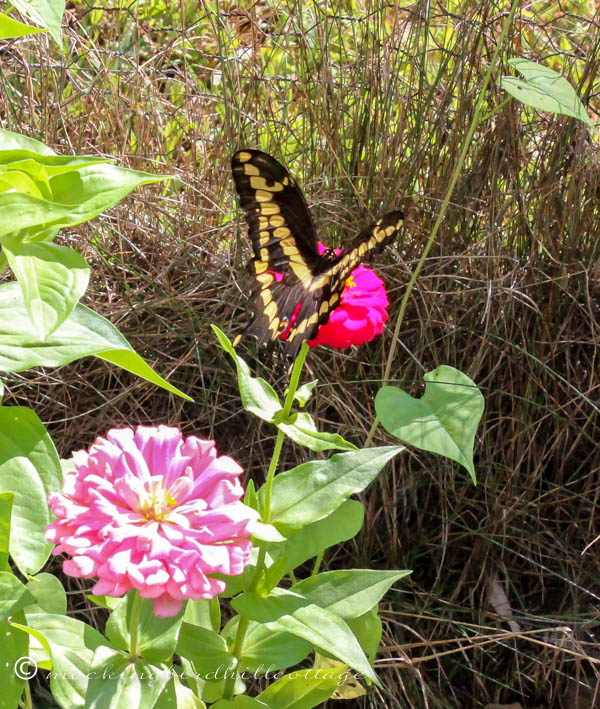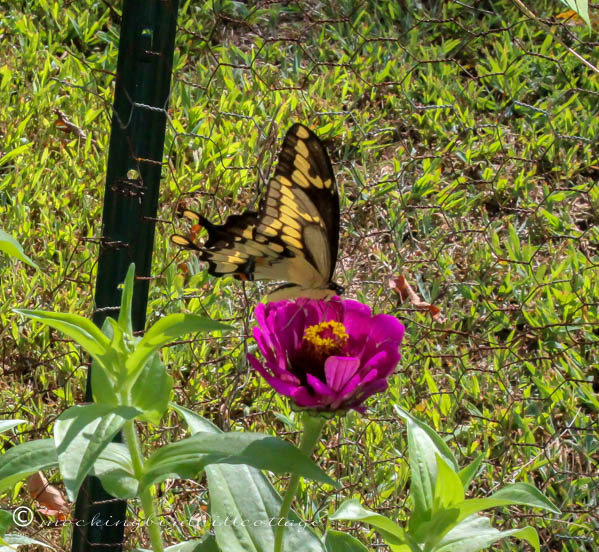 And now for the gist of this post:
I've come to the conclusion that I'd rather read than pin.
It's been a long time since I've been on Pinterest. It simply hasn't been on my radar. Oh, I know that Pinterest can bring a lot of visitors to a site and that means more ad income. A lot of bloggers strategically pin images (and also pin for pleasure, of course) that will hopefully go a bit viral. I get a fair amount of visitors from Pinterest and I'm grateful. I'm also flattered and grateful when others pin images from this blog. Perhaps I could get more income by strategically pinning. It's one of those "I know I should, but I just can't bring myself to do it" situations.
When I'm working on the dollhouse, I'll usually end up pinning some images and tutorials. I know my sister loves it for crochet and knitting patterns. I totally get why so many people love it. The truth? I don't go back and 'visit' my boards very often. Once pinned, usually forgotten.
I just can't seem to get excited about it. I am bombarded with images (especially decorating photos) on a daily basis, simply by visiting other blogs. And let's face it, both on blogs and on Pinterest, there is often a sameness to the designs and color choices, so it's very rare that I see something startling and unusual enough to want to pin or repin it. More often than not, the images/designs are variations on the same theme.
Heck, I've had a copy of Flea Market Style sitting on the coffee table for a week now. I bought this particular copy on Tuesday in NYC. I'm sure it's full of beautiful photos and great ideas for repurposing.
Have I cracked it open? No.
I am sadly lacking in the Pinterest gene.
Is it simply a matter of Decorating Photo Fatigue? Or, just plain Photo Fatigue? Probably a little of both. I just don't want to spend hours on Pinterest. Or even an hour. I have no desire to be a Pinning Pro.
But I know lots of you spend time on Pinterest and love every minute of it. It provides lots of good tips, ideas, and inspiration. It's like an uber-magazine.
So, I have a feeling I'm the exception here. The oddball. That's okay. I've certainly been in that position before and most likely will be again.
I'm sure you're thinking, "What are we going to do with her?"
Sigh.
My name is Claudia and I'd rather read a good book than pin.
(New post up on Just Let Me Finish This Page.)
Happy Monday.