I don't get it.
I like my house. I like my dog corral.
I like to sleep on the loveseat.
I like knowing where everything is.
But what the heck?
Let me tell you what has been happening: A few weeks ago, Dad and Mom put me in the car. There was a lot of other stuff there, too. We drove a long time. Then we stopped and all the stuff in the car was moved to another place. So was I. The floors were slippery and I felt like I might fall. We went to a park.
Then, we spent the night. The next morning, Mom and I left that place. But Dad didn't.
Huh?
We went back home. Everything was okay for a week or so. Then Mom started making piles of things and she started packing. She tries to pack upstairs so I can't see her, but I know what's going on. I mean, really, does she think I'm that dense?
Then she piled all that stuff in the car and we drove again. For a long time.
Then we ended up in a big building with lots of people. Mom says it's a hotel. And that we're in a Suite. But let me tell you, the first 'suite' we were in bothered me a lot. It was small, and something didn't seem right. I couldn't settle down. I had to keep sniffing and checking things out and I DIDN'T LIKE IT IN THERE.
So we moved again. This place is nicer. There's more room. I can stretch out. And the smells are okay.
But I don't get why we're here.
Sometimes Mom leaves for a long time. Then she comes back for a bit. Then she leaves again.
I DON'T LIKE IT.
But I do like this place she takes me to, which is the only reason I'm putting up with being far away from home stuff.
There's lots of grass and smells and poop and leaves and boy, do I like it! It's called a park.
Mom usually takes me there a couple of times a day.
Yesterday, we went at lunchtime and there were people everywhere.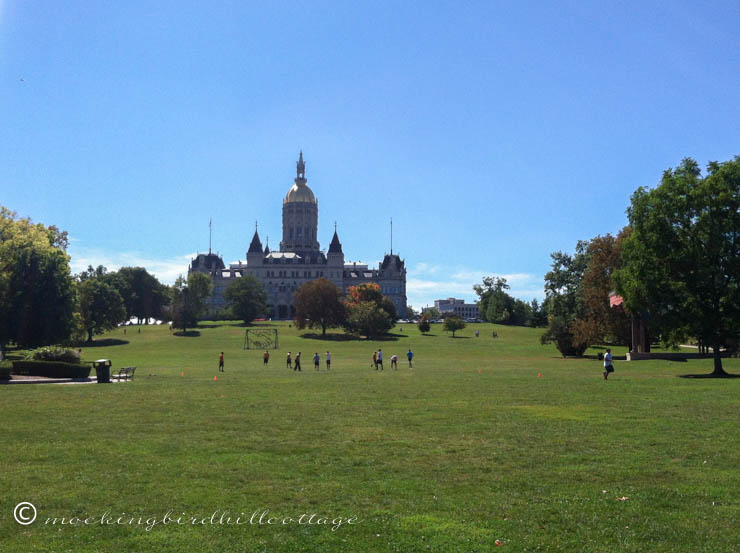 I mean, everywhere! And there are lots of people on the streets, too. Some of them stop to pet me. Everyone thinks I'm cute. And they all ask about my limp. (Mom gets tired of having to answer that question all the time. She tells them I have something called Arthritis – Mom spelled that out for me.)
I like people. I stop when they walk toward me. I wait for them to admire me.
Sometimes, they just keep going.
What??
Poop on them.
We go up and down in an elevator. I like that.
Everyone likes me here at the hotel.
They think I'm pretty. And they can't believe I'm 15½.
Neither can I. I know I look good for my age.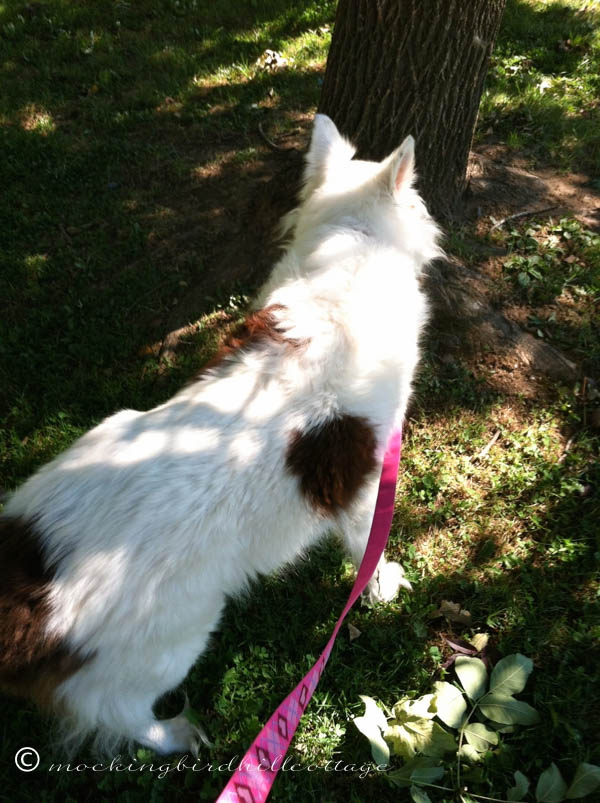 I have to say that I'm liking this change of scene.
I don't understand it, but I like it.
I miss my Dad.
He misses me, too. He talks to me on some thing that Mom holds up to my ear.
Can I let you in on a secret? I try to con Mom into taking me outside. I act like I have to take care of business, but I really just want to explore the street and the smells and the cars and the people. Sometimes, she's on to me and she tells me to lay down.
But other times? I win and we go outside.
Ha!
Have to start bugging Mom again. I haven't been to the park yet this morning. And I have to poop.
Bye.
Scout