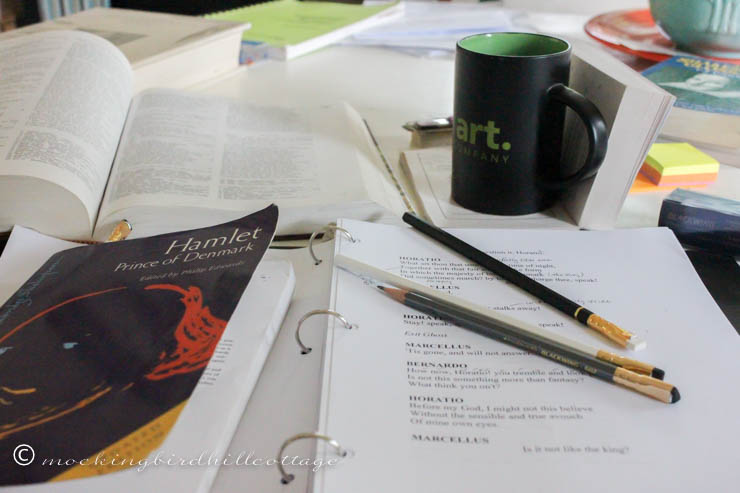 Act One? check. The back forty and part of the front lawn mowed? Check. And now on to Act Two.
By the way, I need to get my eyes examined. I think I've reached the stage where readers no longer do it. Between computer screens and reading and the prep work for the play, my eyes are having a bit of trouble making the necessary adjustments. I took a break in the middle of the Hamlet work yesterday just to rest my eyes. That break morphed into mowing the lawn.
It's time for Interesting and/or Well-Known Actors/ Directors Don has Worked With. We sat down with a pad of paper and did our best to remember everybody. But of course, I'm sure we've forgotten some people. This list is in no particular order. I've added a little information here and there.
Harvey Korman – Harvey 'discovered' Don and became a big fan. He signed Don to be a part of the cast of his new variety series, The Harvey Korman Show (after the Carol Burnett show). He had a part written especially for Don. The show was eventually cancelled. Christine Lahti was also part of that cast. Korman was very important to Don and his career.
Jackie Mason – Don did a week on The Jackie Mason Show. Jackie loved to say, "Don Sparks, the most famous actor you've never heard of."
Hans Conried – Right after Don's first Equity show at the Old Globe, he was in a play called Norman, is that You? with the legendary Hans Conried.
Ray Walston – Broadway actor, star of My Favorite Martian – Don worked with him in a play in St. Louis.
Jesse White – in the original Broadway cast of Harvey (also the movie) and the famous Maytag repairman in commercials for years. Jesse was a funny, fast-talking comedian and Don really liked working with him. They did a play together.
Ralph Bellamy – in a week-long shoot for an episode of L.A. Law. Don loved working with him.
Robert Reed – Of The Brady Bunch fame. Don did a play with him. He was an extraordinarily nice man.
Josh Logan – Legendary director of South Pacific, Annie Get Your Gun, Mister Roberts, Picnic and Bus Stop, among other landmark stage productions and movies. He directed Don in at least two plays. Don got to travel with him and soak up all his wisdom and stories about the theater.
Jerry Van Dyke, Craig T. Nelson and Shelley Fabares – in an episode of Coach.
Andy Griffith – on an episode of Matlock. Don was thrilled to work with him. At the end of shooting, Don went up to Mr. Griffith and said, "It was a pleasure working with you, sir." And Griffith responded in his wonderful drawl, "Well, it was pleasure working with you."
Don Knotts – On Three's Company. Loved working with him.
John Ritter – Don did two episodes of Three's Company with him, playing two completely different characters. John Ritter was a kind, generous, and wildly funny actor. So generous, in fact, that he spent time making sure that Don got good camera coverage and close-ups. That's how generous he was.
Jimmy Smits, Susan Dey, John Spencer and Harry Hamlin – during nine episodes of L.A. Law, where Don played District Attorney Russell Spitzer.
Renee Zellweger – in My Own Love Song, a movie where Don played a homeless man and sang a Bob Dylan song. Zellweger and Don talked a lot about guitars and music. She was very nice.
Timothy Hutton – in the movie, Kinsey.
Mary Tyler Moore, George Segal and Tea Leoni – in an episode of The Naked Truth. Mary Tyler Moore was really a lot  of fun to work with.
John Goodman  – in Henry IV at the Old Globe. (I worked on that production, as well.)
Ed O'Neill, Katey Sagal – in an episode of Married With Children
Kelsey Grammer – in a play in Los Angeles, another play at The Old Globe and on Frasier. Great guy.
David Hyde Pierce and Shelley Long – on Frasier.
Brad Pitt – he was very young and just starting out – he and Don did an episode of Freddy's Nightmares together. I've seen it and it's very funny.
Will Smith – on an episode of Fresh Prince of Bel Air.
Scott Bakula – on an episode of Quantum Leap.
Ted Danson – on Cheers and on a film – great guy.
John Ratzenberger, Frances Sternhagen – on Cheers.
Dennis Franz – on Hill Street Blues. Another lovely man.
Blake Edwards – legendary director of The Pink Panther, Victor, Victoria, etc. On two films.
Bruce Willis and Kim Basinger – in Blind Date, a movie directed by Blake Edwards.
Richard Mulligan – on an episode of Empty Nest.
Tuesday Weld and Joan Hackett – in Reflections of Murder, the first movie Don was cast in.
Sam Waterston, Dianne Wiest – on Law and Order.
Jerry Orbach, Angie Harmon, Richard Belzer, Ice-T – on various Law and Orders.
Denis Leary – on three episodes of Rescue Me.
Peter Scolari and Betsy Palmer – in a production of The Foreigner.
Deborah Raffin – She and Don worked together in a play in Canada. Don said that she was a wonderful person. She died too young.
Robert Hays – Don and Bob have known each other since Don was 18. They roomed together while working at The Old Globe and are still close friends. Don also did an episode of Bob's series, Starman. Forgot to mention that I worked with Bob at the Old Globe in a production of Mister Roberts. Wonderful guy.
Beah Richards – the legendary actress who played Sidney Poitier's mother in Guess Who's Coming to Dinner did an episode of The Practice with Don. She won an Emmy for that episode.
Jay North – the original Dennis the Menace – Don did a play with him.
Tab Hunter – Don did a play with him.
Elinor Donahue – of Father Knows Best and Andy Griffith fame – Don did an episode of Get A Life with her, along with Chris Elliott and Bob Elliott (half of the comedy team, Bob and Ray.) Lovely woman.
Okay. That's all for now. If we think of any more names, and we will, I'll let you know!
There is a book review up on Just Let Me Finish This Page. A wonderful read by Jussi Adler-Olsen. Stop by.
Happy Wednesday.