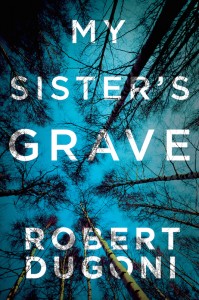 Today I am reviewing My Sister's Grave by Robert Dugoni for TLC Book Tours. As always, I am given a copy of the book in exchange for my honest review.
About the Book (from the publisher): Robert Dugoni's bestselling legal thrillers have earned him comparisons to John Grisham, Scott Turow, and Nelson DeMille, among others. In My Sister's Grave, Dugoni returns with the powerful and poignant story of a homicide detective determined to avenge the murder of her beloved younger sister – regardless of the cost.
Seattle cop Tracy Crosswhite was a high school chemistry teacher when her teenaged sister Sarah disappeared one night on her way home to their small town of Cedar Grove. A young ex-con, Edmund House, was quickly tried and convicted of her murder. Twenty years and a career change later, Tracy has dedicated her life to questioning whether the right man went to jail. When Sarah's remains are uncovered from a newly-exposed lake bed, new evidence seems to support Tracy's theory that the original prosecution was deeply flawed.
Working with a childhood friend, now an attorney, to exonerate House and find Sarah's true killer, Tracy begins to uncover long-held secrets that point to a shocking – and potentially catastrophic – truth about what happened to her sister on that long-ago night. Somewhere in Cedar Grove, a killer is waiting, and Tracy must summon the strength to confront the past in order to save her future.
My Review: I've not read any of Dugoni's other books, so My Sister's Grave was my first experience with his writing. But I'm now suddenly interested in reading those other books, as Dugoni really knows how to write a mystery that you can't put down.
The premise of this story – a disappearance of a beloved sister twenty years ago, the obsession her older sister has to find out the truth about her murder, and a small town that was irreparably damaged by the loss of one of their own – immediately draws the reader into the mystery. Dugoni provides us with flashbacks along the way that help to tell the story of Tracy and Sarah and what happened that fateful night when Tracy let her sister drive home by herself. Tracy's guilt has never gone away; her parents are dead, victims, in their way, of their grief for Sarah, and the town of Cedar Grove has suffered. Never having found her body, much is unexplained and Tracy has spent years compiling information and files and reports, leading her to believe that the man convicted for the murder just might not be the killer. At the very least, Tracy is suspicious of the proof provided by the prosecution.
Why was the prosecution flawed? Was there a cover-up? What secrets are still being held?
The discovery of the body is what launches this story. From that moment on, we are taken on a journey with Tracy as she fights to find out the truth. Dugoni gradually peels away the layers of the mystery like an onion, until we, at last, discover the truth. Believe me, you won't be able to put this book down as you draw nearer and nearer to the climax of this riveting story. I was completely transfixed, to the point of not moving from my chair or answering the phone until I finished the last page.
Dugoni paints a vivid picture of the Pacific Northwest, creating the town of Cedar Grove and bringing it to life. As the story builds to the climax amidst a winter storm, you will feel the cold and the wind and the terror that lies underneath it all.
Yes, this is an unputdownable mystery, but above all, it is a beautiful story about a love that never dies.
I recommend this book highly.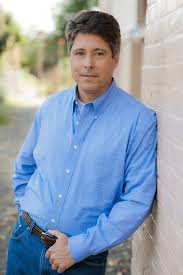 About the Author: Robert Dugoni is the critically acclaimed and New York Times-bestselling author of the David Sloan series: The Jury Master, Wrongful Death, Bodily Harm, Murder One, and The Conviction. Murder One was a finalist for the Harper Lee Award for literary excellence. He is also the author of the bestselling standalone novel, Damage Control, and the nonfiction work The Cyanide Canary.
Good news! One of you will be the lucky winner of a copy of My Sister's Grave. Just leave a comment on this post and I will choose a winner on Wednesday evening. Good luck!
New post up on Just Let Me Finish This Page.
Happy Monday.