As in the real-life decorating of Mockingbird Hill Cottage, decorating the dollhouse's rooms has been about collecting things over time, about gifts given and/or inherited and proudly displayed, about re-imagining older pieces of furniture and making them 'new.' I looked at each room this week and wrote down the story/source of each item. I wanted to get it all down on real and virtual paper – partly for me, and also for you. I often get emails asking me about where I source things for the dollhouse. I will provide all of the information I can for you. Links will be at the end of the post.
Today we visit the den. It's on the second floor of Hummingbird Cottage.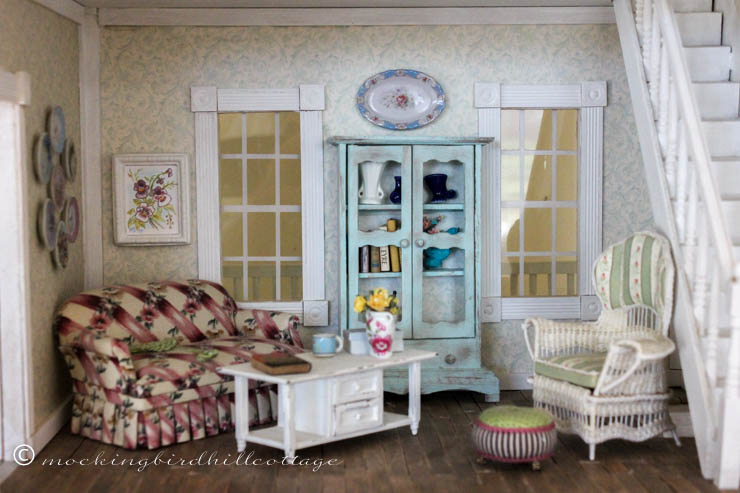 Wallpaper: ItsyBitsyMini; Moldings, trim, spindles and newel post: miniatures.com; Floor: made by me from popsicle sticks.
Sofa: Dollhouses and More; Knitting on sofa: a gift from Julie. Coffee table: a gift from Marsha, I painted and distressed it.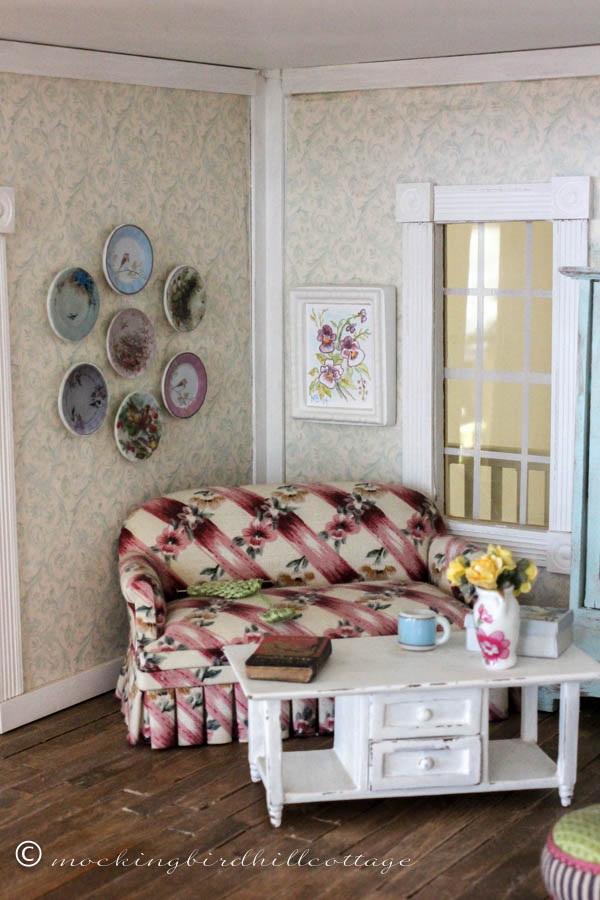 To Kill a Mockingbird: LDelaney, an Etsy Shop; Bluebird Mug: TwelveTimesMoreTeeny, an Etsy shop (Spain); Flower Vase: purchased at a craft shop; Flowers: from my stash; Chocolate Biscuit Box: handmade by Norma; Pansy Painting: hand painted by Mary Bell, part of a miniature swap.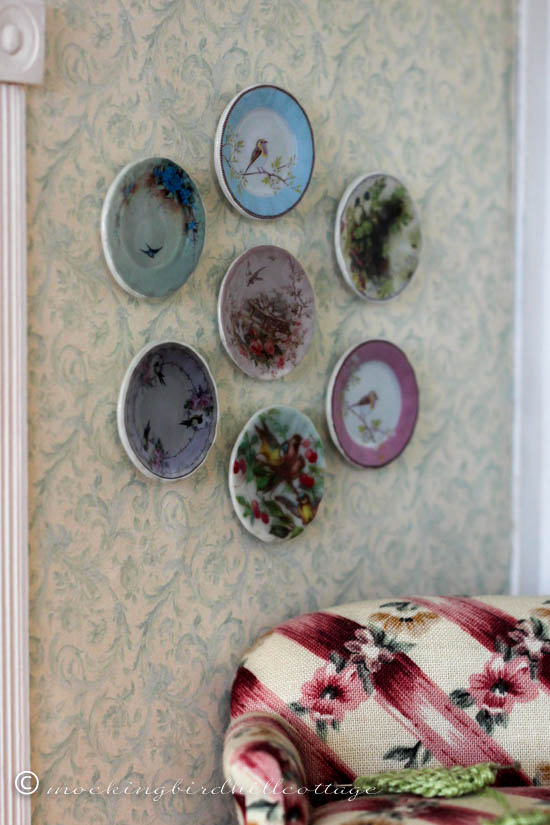 Various Bird Plates on the wall: from two Etsy Shops – TwelveTimesMoreTeeny and A LavenderDilly (Australia).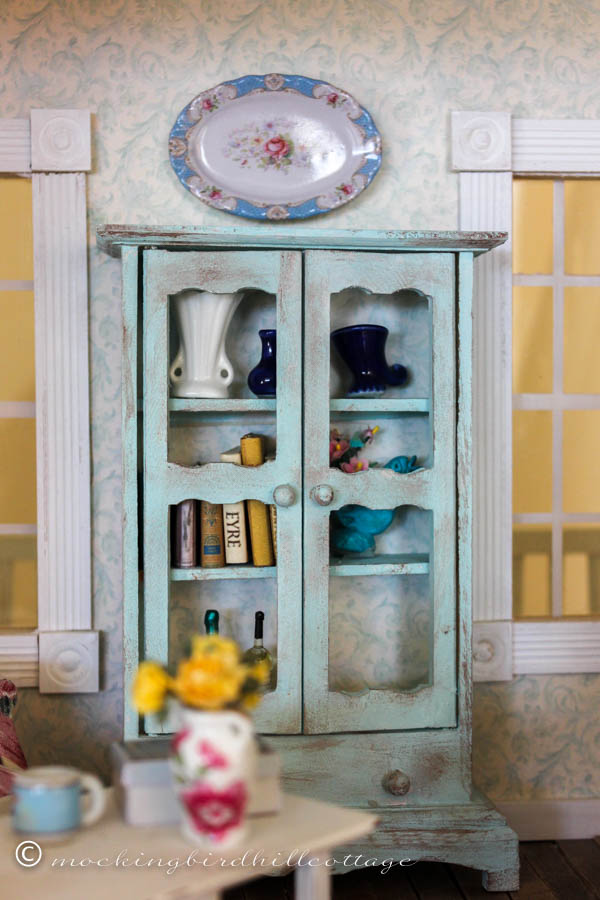 Cabinet: a gift from Rizzi, it was unfinished. I painted, stained and distressed it and added wallpaper behind the shelves; Vases on top shelf: gifts from Marsha and Jayne; Books: some were gifts, some purchased, some made by me; Singing bird vase: a handmade gift from Kim, made to match the singing birds on the piano in MHC; Liquor bottles: a gift from Barbara; Platter hanging on the wall: from TwelveTimesMoreTeeny.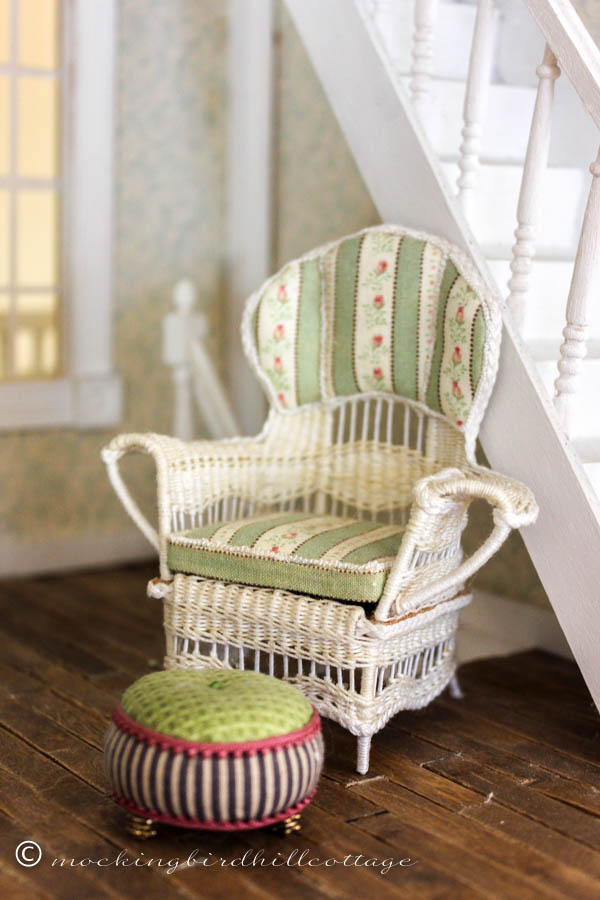 Wicker chair: handmade by Casey of Casey's Minis. I won it in a giveaway. She made the chair and the cushions. Footstool: also handmade by Casey.
Sources:
Miniatures.com
ItsyBitsyMini
Dollhouses and More
LDelaney (Etsy Shop)
TwelveTimesMoreTeeny (Etsy Shop)
A LavenderDilly (Etsy Shop)
Casey's Minis
It's important to me to get all of this source information down on paper. I have been blessed by friendships via this blog and many of those friends have sent me gifts for the dollhouse. I've also learned so much from bloggers who are miniaturists. Their generous sharing of information has been an absolute essential in the rehab of the dollhouse. And I've put in a lot of work, sourced materials, found Etsy shops. Putting together a dollhouse such as this one didn't happen overnight. I found it on Craig's List in 2009, five years ago. And I've been working on it ever since.
So, if you're getting tired of all this dollhouse stuff, I understand. However, I know there are those who love reading this information and find it helpful and valuable.
In other words, I'm continuing until we've covered all 7 rooms!
Happy Thursday.