I'd say the "Master" bedroom, but really, let's be honest here. We have two bedrooms. One functions as a guest bedroom/office/studio. The other is the one we sleep in. So I'm not going to use the somewhat grandiose Master. Come to think of it, Master of what? Of his domain? Of his lands?
And why not Mistress? Or Master and  Mistress?
I'm starting a movement to cease and desist using the term "Master Bedroom" unless you have an estate in the country with servants in the house and serfs working your land.
The bedroom is tucked under the eaves, which makes furniture placement a challenge – to put it mildly. But it's cozy, that's for sure.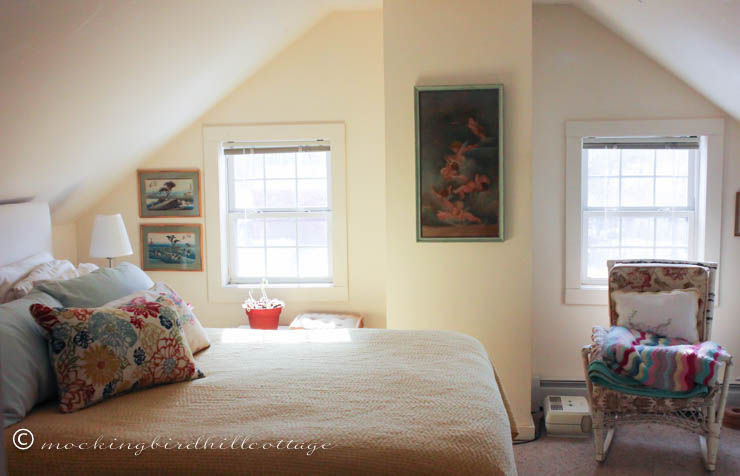 It's impossible to take a picture of the entire room. I've tried.
Those of you who have been following this blog for a while will remember the new California King bed we ordered last year and the delivery saga that ensued. We ended up having to sleep in the full sized bed in the other room for about a month. To say we were in tight quarters is an understatement. But the new bed has been with us almost a year now and we love it. LOVE IT.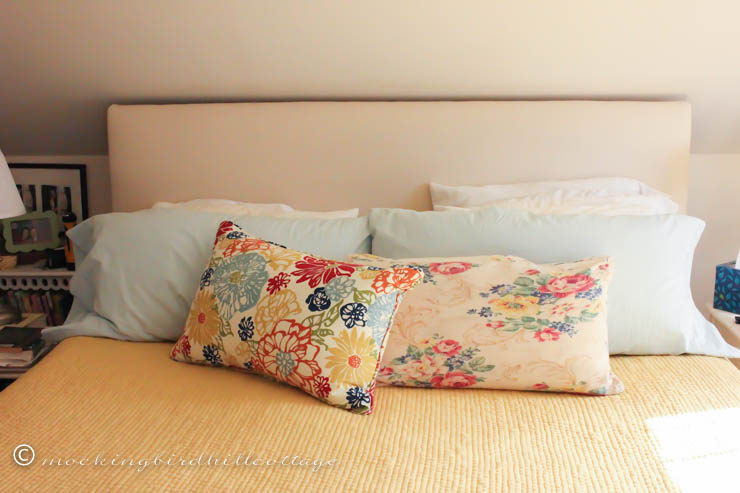 No, I don't iron my pillowcases, not even for a photo shoot. I can't be bothered. I do make my bed every day, though. I cannot handle an unmade bed unless I'm sick.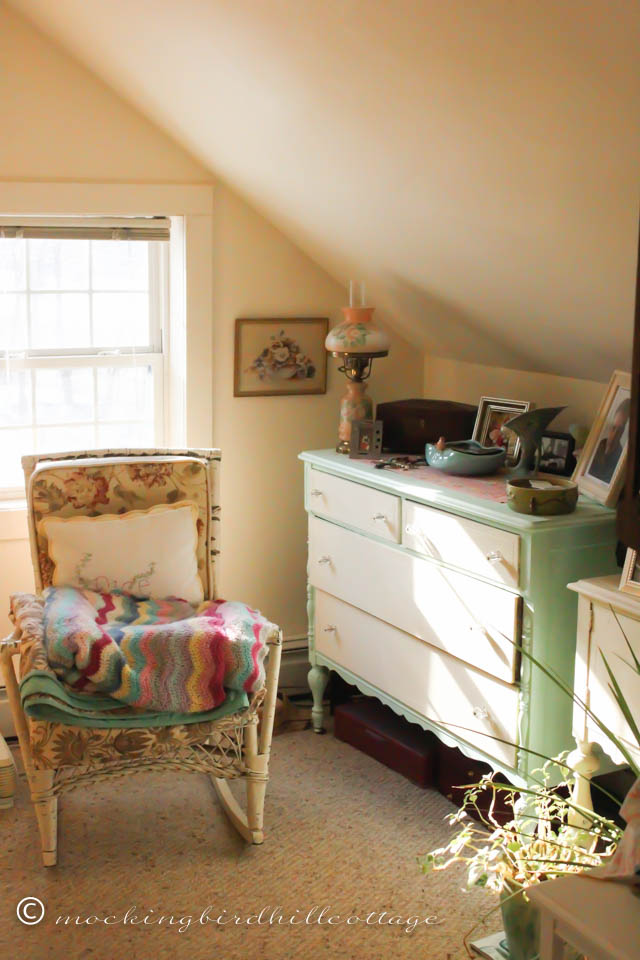 A couple of years ago, when Don was away working, I went on a mad painting spree. The furniture in the room had a variety of wood finishes, many of them darkish. We have two small windows in this room, so I decided a creamy white was in order. It looks much better, though I worried it would be a bit feminine for Don. He assured me that he didn't care because he was only in the bedroom when it was time to sleep.
A practical guy.
The dresser was found on a street in Cambridge when I was living there. Free. My friend and I carried it for about four city blocks and then up four flights of stairs. I've had it for about 23 or 24 years. It's been painted gray, then yellow, and now aqua and cream.
The vintage rocker needs some repair and I plan on attending to that shortly. I love that rocker. I crocheted that throw and made the quilt, as well.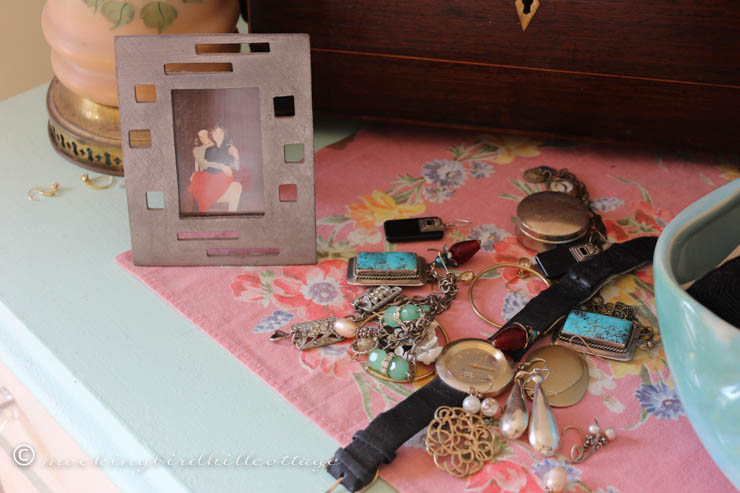 A vintage tea towel as dresser scarf, assorted jewelry, a silver pillbox from Tiffany's given to me by my late mentor and his partner, my grandmother's lamp, my great-grandmother's tea chest, and a photo of my late brother and me.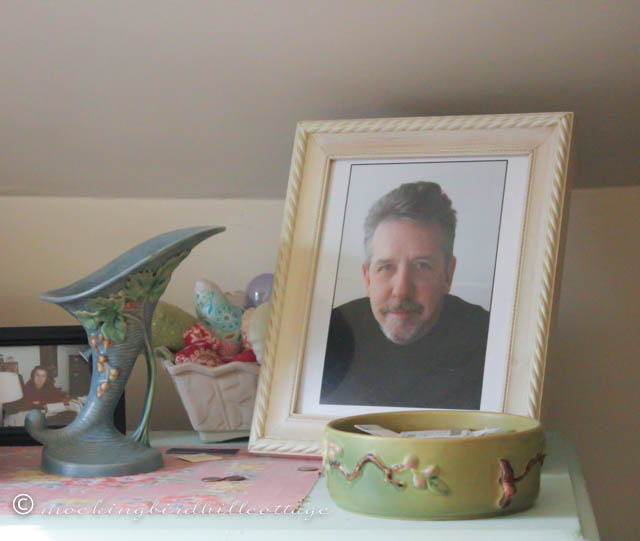 A photo of me when I was teaching at Boston University (oh, to be that young again), some McCoy and Roseville pottery, and Don's head shot (which I took).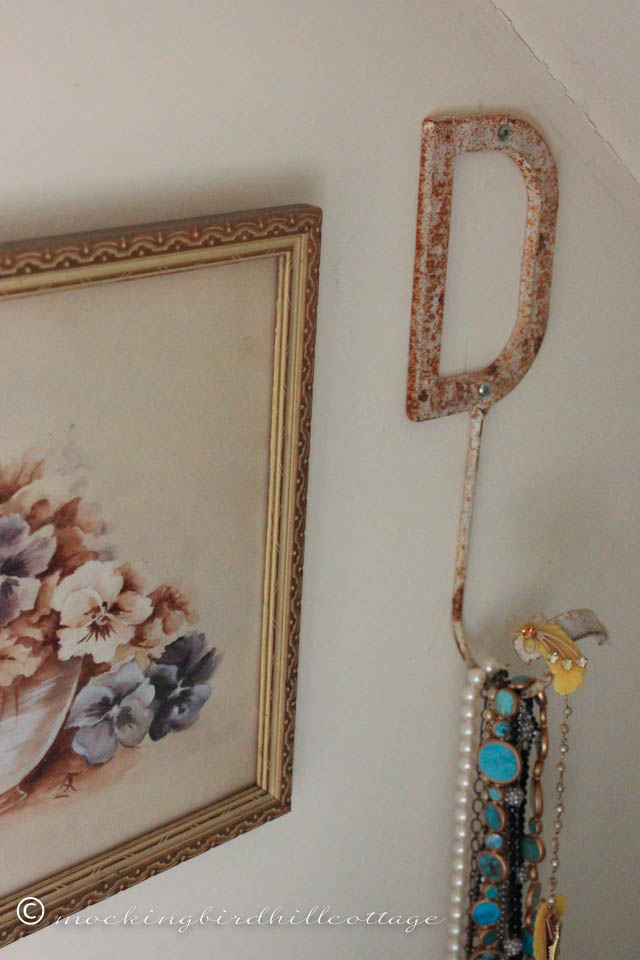 A pansy print that I bought while working in Owensboro, Kentucky. I love the print and the vintage frame. A D hook from Anthropologie which holds my necklaces (most of which I never wear). D for Don, by the way. I also had the C, but I couldn't find it when I was putting this up. So the D won.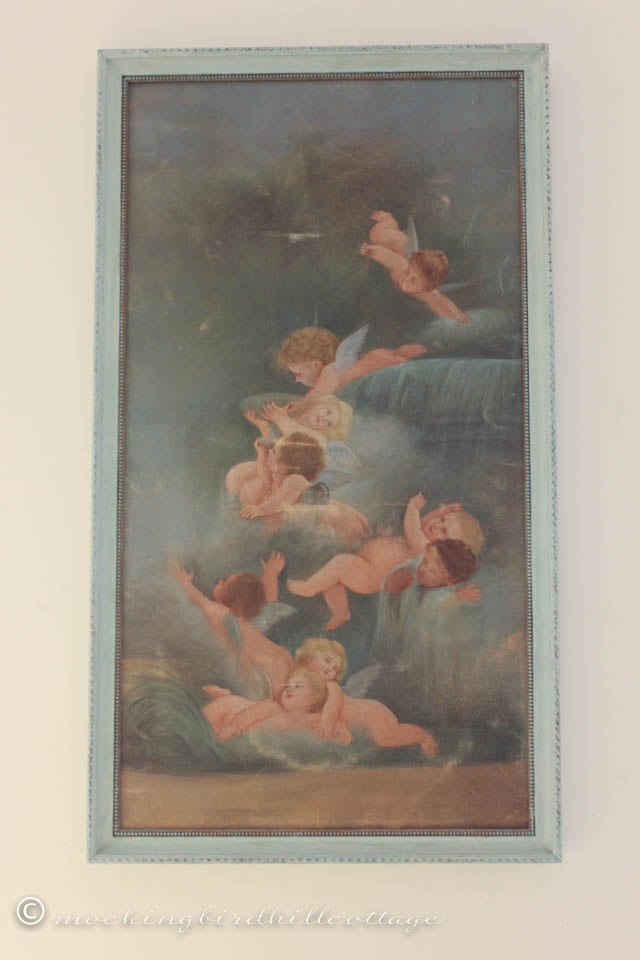 I coveted and salivated over this painting for over a year. It was in a shop in San Diego – Vignettes – and as I went back and forth to SD to coach a few shows, I would see it and gaze upon it and then I would walk away because it was too expensive for me.
Finally, I took a picture and sent it to Don, talked it over with him and got his approval, and then drove to Vignettes where Lori, the owner, told me that she had wrapped it up for a customer and was getting ready to put the sale through when the customer changed his mind. All the while, she had been thinking that I was going to be so upset when I saw it was gone.
That clinched it. I bought it. I always knew it would go on this section of the wall that surrounds the chimney.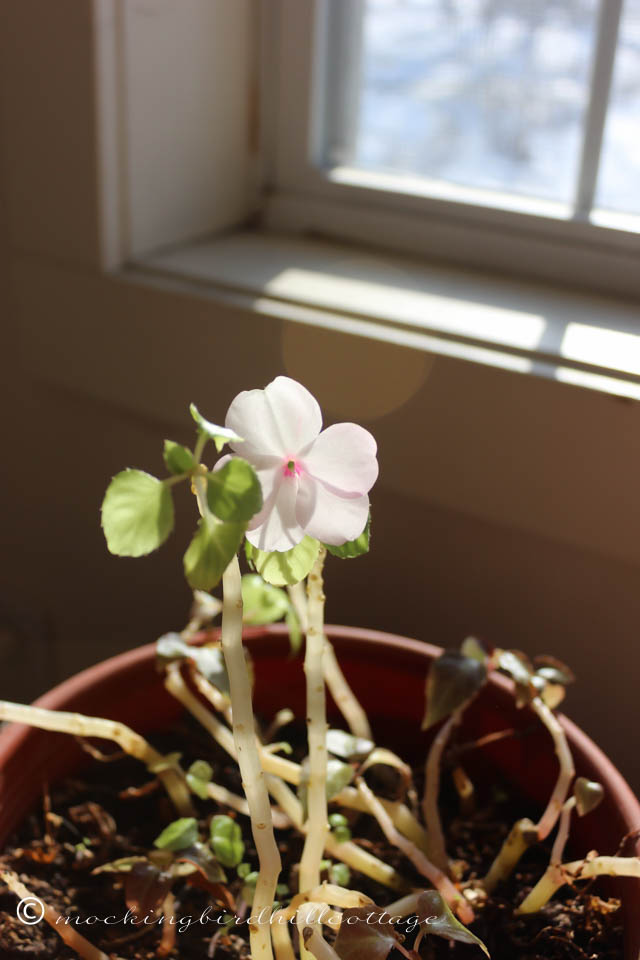 Impatiens brought in for the winter.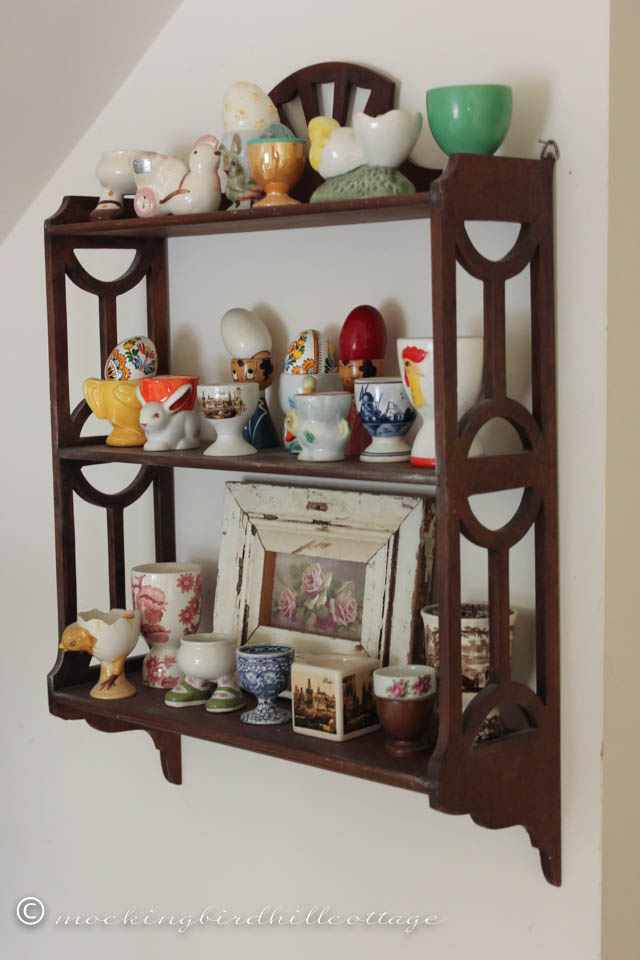 Egg cups. And a Christie Repasy print.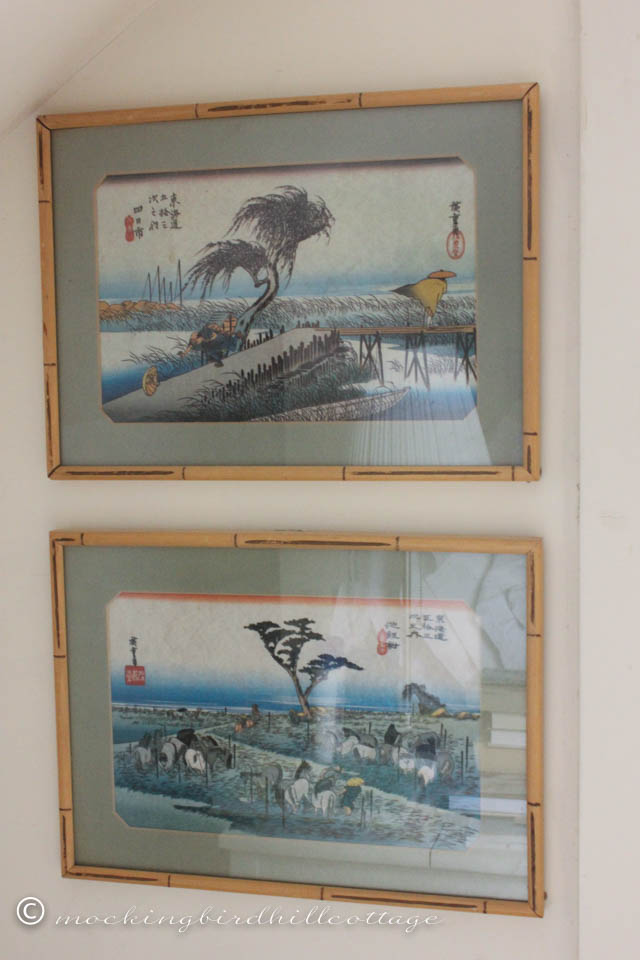 Beautiful Japanese wood block prints on rice paper. These are Don's. He bought them when he was courting me and living in the company housing provided by the Old Globe. He wanted something to personalize his living space.
On my side of the room: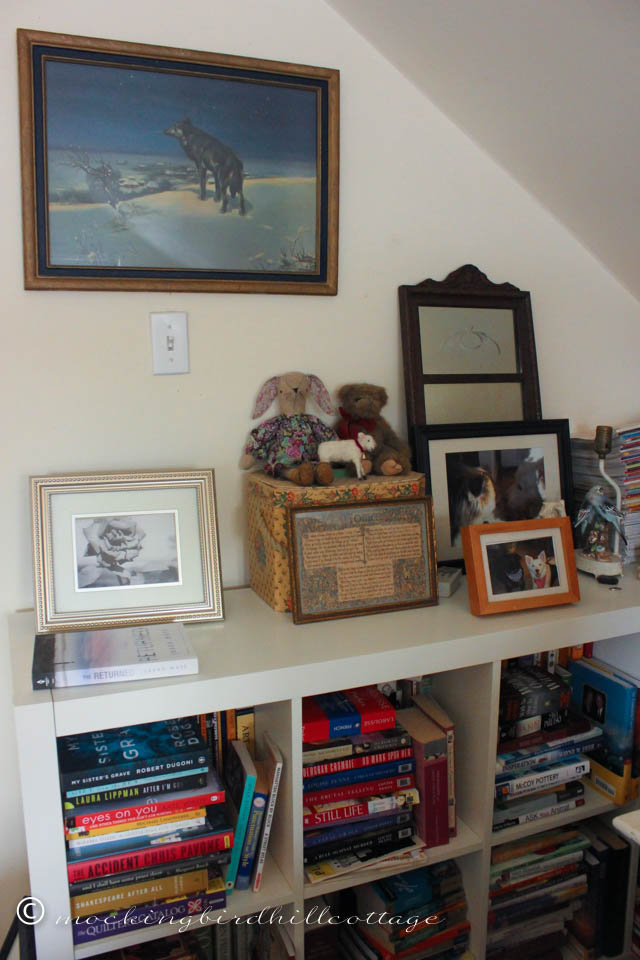 Books and lots of 'em. There are books behind books – two layers deep.
The black and white photograph of a rose was taken by my late brother, there's vintage mirror my mom bought me when I was visiting them in Michigan, another parakeet lamp that I found (!) that needs some rewiring, photos of Winston and Riley and Scout.
The lone wolf print was purchased while we were living in San Diego.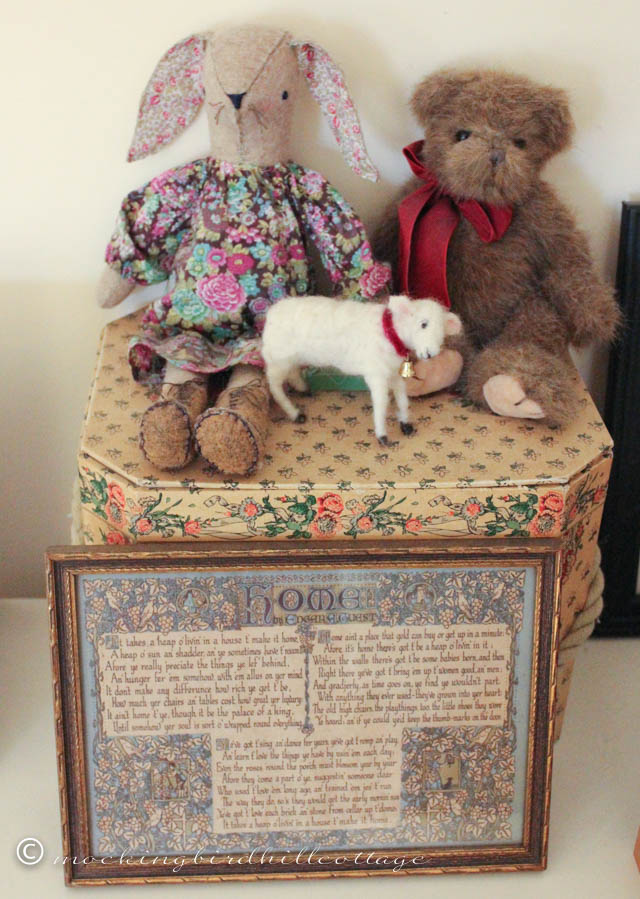 My traveling pals: Maggie Rabbit, Wayfrum Holmes, Little Lamb. They're sitting on a vintage hatbox I found many years ago in the Berkshires. And that's Home, by Edgar Guest. I found it in a local antique shop last year.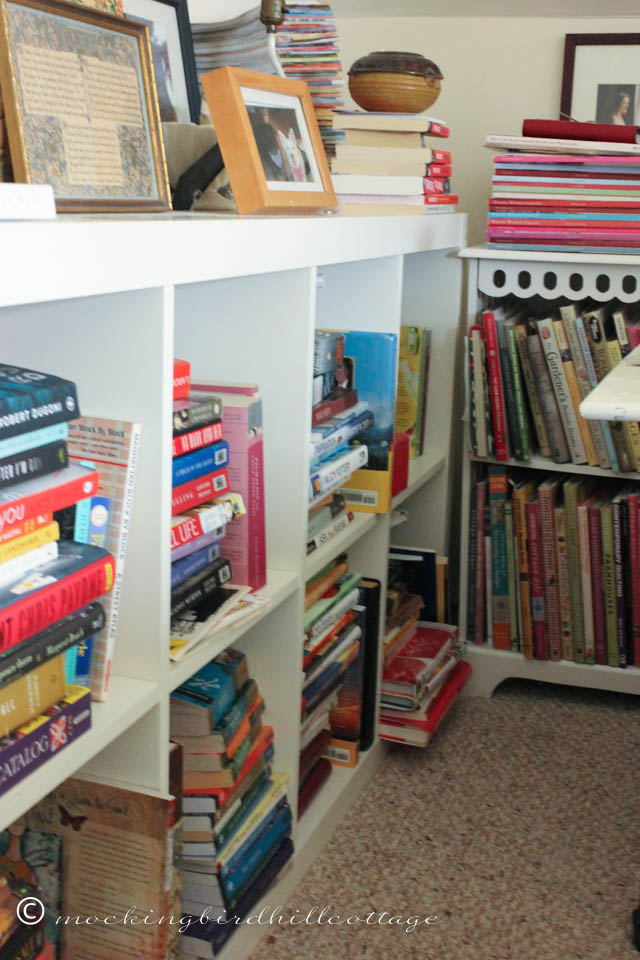 More books. A bit blurry, but you get the picture. They're everywhere.
There's also a cabinet to the left of my dresser that our old behemoth of a television sits on, but I didn't get a photo of it, though there's one elsewhere on this blog.
On a sunny day like today, the bedroom is filled with a lovely, rosy glow. And though I'd love more wall space, instead of the half-walls, there is something wonderful about being tucked under the eaves in an attic bedroom.
Any questions? Feel free to ask in the comments section.
Happy Thursday.