For those of you who are new to the blog, this is a little space I carved out of the upstairs hallway. I use it for my sewing machine and a cupboard that holds supplies and favorite things. I used to call it my studio. In fact there was an article published about this space that used that very word.
However, 'Studio' is another term I'm trying to phase out – purely in terms of my personal space. Because I don't feel entirely comfortable with that word. Don insists that I'm an artist. And I am. But do I earn my living from the things I create in this space? No. So, studio? I'm not so sure.
So….what word to use?
Craft room? It's not really a room, is it? Craft space? No. I'm also tired of 'craft' and 'crafting.' Creative space? That might be a possibility, although my creative space is not limited to this hallway. If I could get away with it, I'd use the word 'atelier' because it conjures up spaces with skylights tucked in the attics or garrets of a French building. And I have a skylight and this space is located in the former attic of this cottage.
Atelier, though bordering on pretentious, might be sort of fun. What do you think?
I've chronicled this space a lot on this blog and it has gone through various incarnations. To tell you the truth, I haven't been using it much lately and I've felt sort of 'meh' about it. I think it has nothing to do with the space, but more to do with where my head is at lately.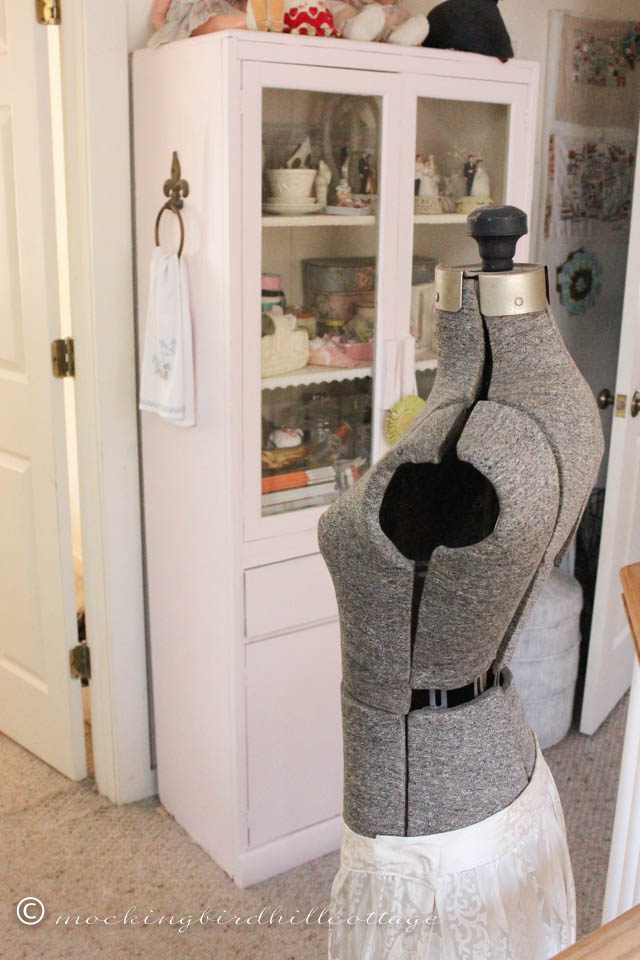 Letitia, my vintage dress form, and the cabinet I got on Craig's List for $75. I repainted it at the same time I was going crazy painting the bedroom furniture.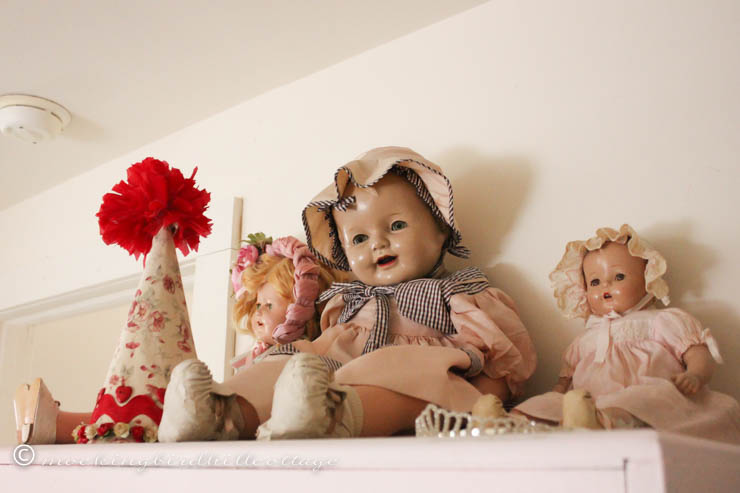 The girls: my mom's Shirley Temple doll on the left, Tressa (who has two left feet, so of course I had to rescue her) is in the center, and Emma (also a rescue) is on the right. Party hat made by my friend Tina, who also gave me the tiara.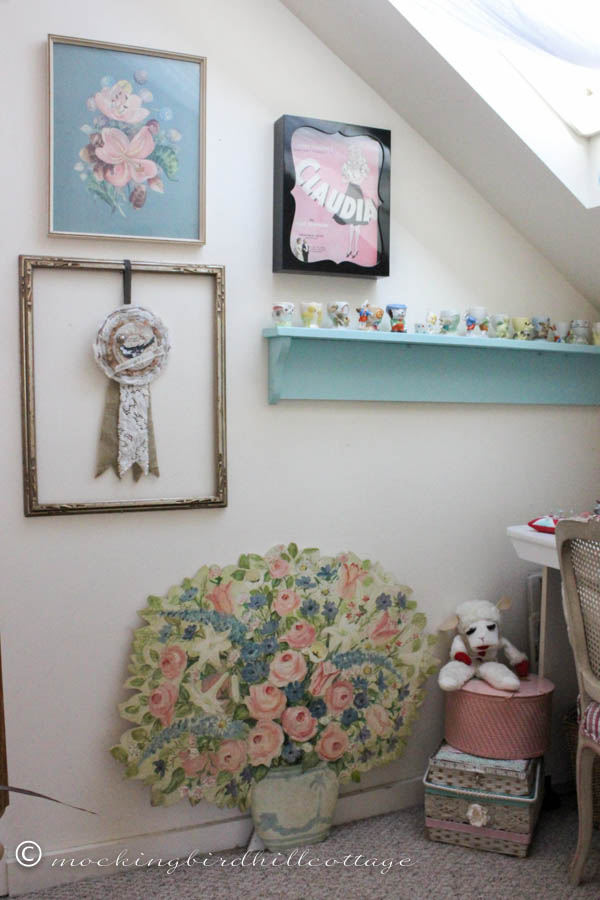 Egg cups on a vintage mantel that's been hung on the wall. I found the flower print in San Diego, the shadowbox holds a program from the Broadway play, Claudia, along with a little tiny bride and groom cake topper. The program was given to my by my friend Suzanne. That burlap and lace ribbon says Mockingbird Hill Cottage. The fireplace screen on the floor was found in my friend Heidi's now defunct shop. I love it. The pink sewing box was found in Wisconsin when I was coaching there. It holds all the letters Don sent to me when we were courting. (Lamb Chop has recently moved to the top of the sewing machine. She gets around.) The sewing basket (which has recently moved to a closet in my effort to clean up this space) was found in a local shop – embellishments added by me. It holds all my embroidery supplies.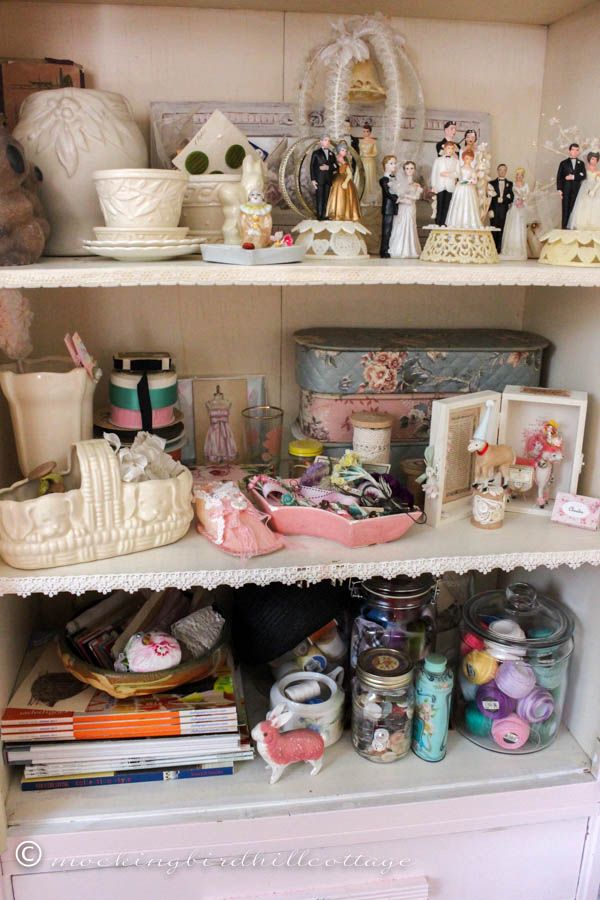 Inside the cabinet: threads, ribbons, buttons, some McCoy, fabric covered boxes, a piece of Roseville Pottery, a koala bear bank from my friend Becky, and my bride and groom cake toppers.
The putz sheep that my friend Lori (who is the owner of Vignettes in San Diego) had a friend embellish and decorate for me is on the right. I treasure it so much! I miss Vignettes, which is my favorite shop ever. The putz sheep on the left was given to me by my dear friend Judy. The Claudia covered matchbook was made by another dear blogging friend, Elyse.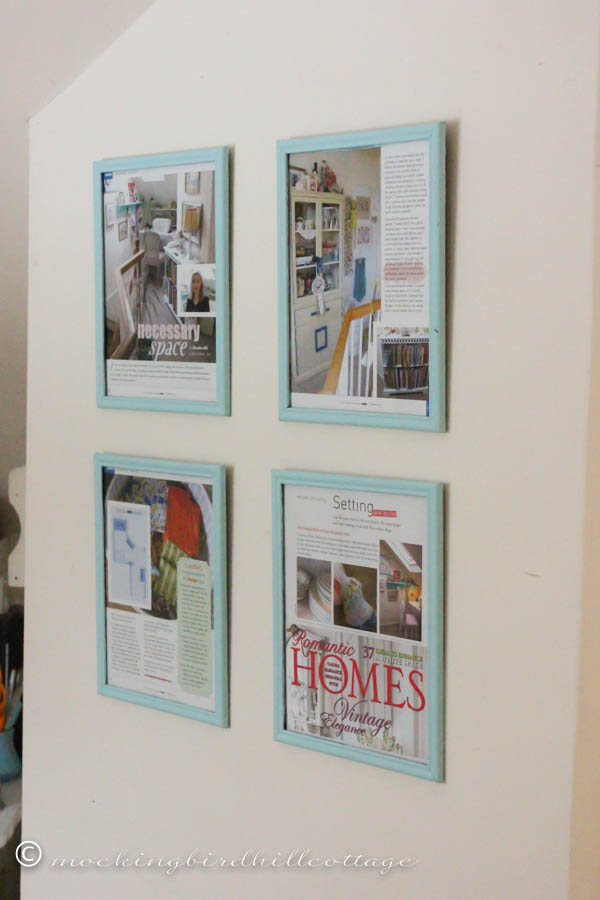 If you look at the frame on the right at the top, you can see the original colors of the cabinet.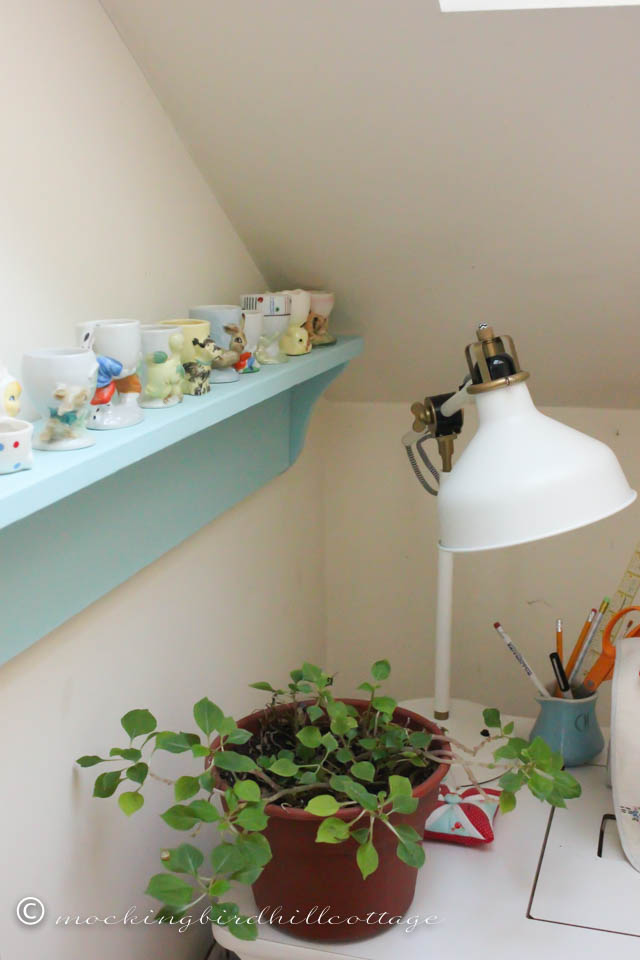 My Ranarp lamp from IKEA. And more overwintering impatiens. The pin cushion was made by Debbie of Happy Little Cottage. I found the little blue pitcher with the letters CH on it in a little antique shop. My initials, of course, so I had to have it.
There was a lovely old shelf on the wall behind the sewing machine but it fell off the wall one day. I'm still trying to figure out if I want to repair it or just put something else there.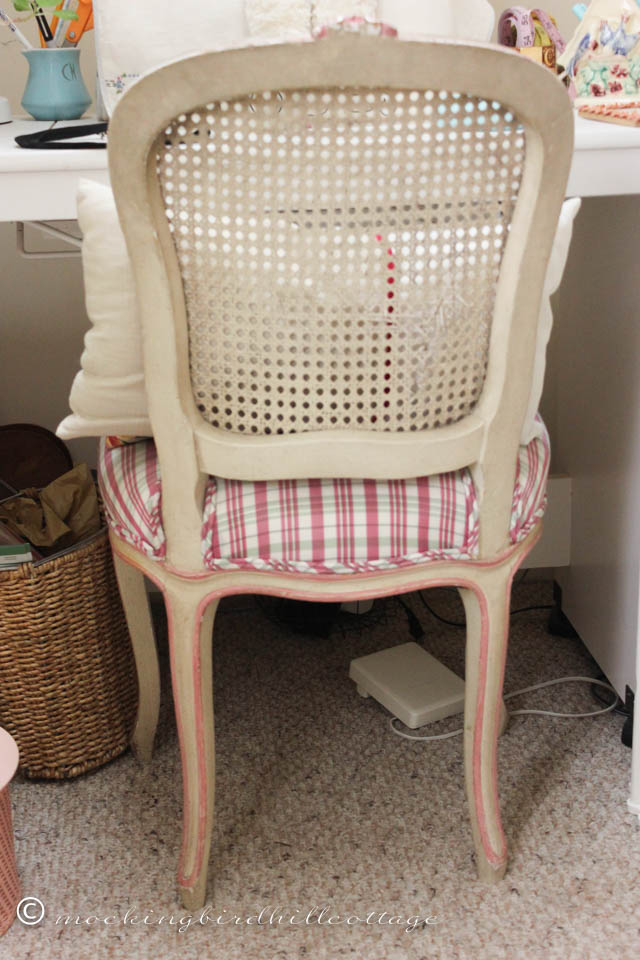 A favorite chair. If you look closely, you can see where I stepped through the cane on the chair back. Yes, my friends, I did. I was standing on the chair in the bedroom trying to get to a leak in the ceiling and the chair fell over, causing my foot to go through the cane. I was extremely ticked off at my foolishness. Much cursing and swearing ensued.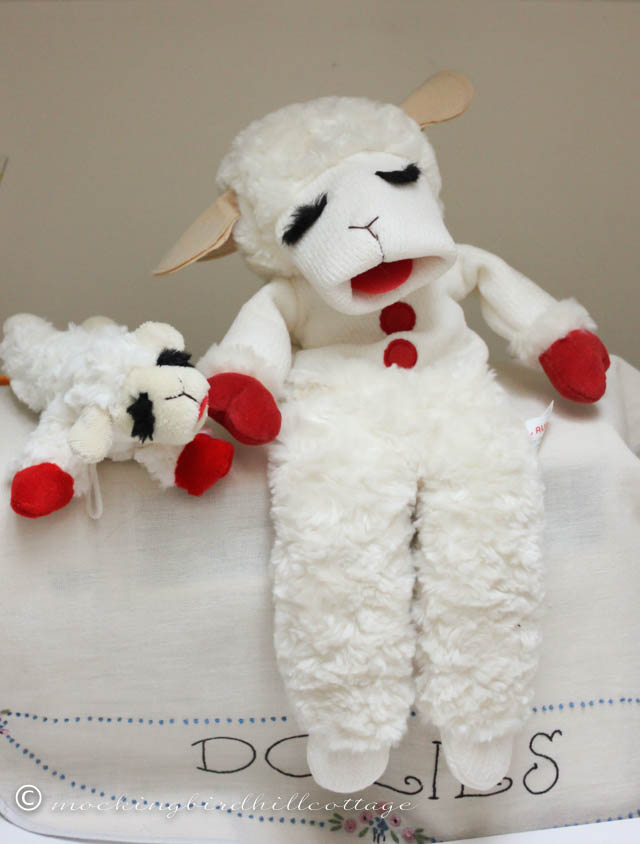 Lamb Chop and Baby Lamb Chop sit on top of the sewing machine, which is covered by a vintage embroidered doily roll that I found in an antique shop a few years back.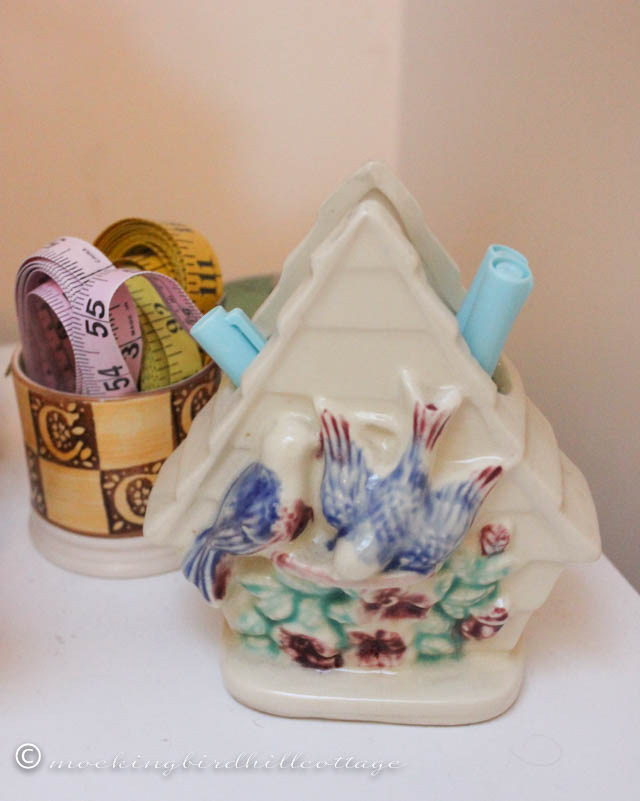 The baby mug with the C was made by Emma Bridgewater. I got it many years ago while I was in London at her shop in Marylebone, which I think is no longer there. I found the wall pocket in a local vintage shop.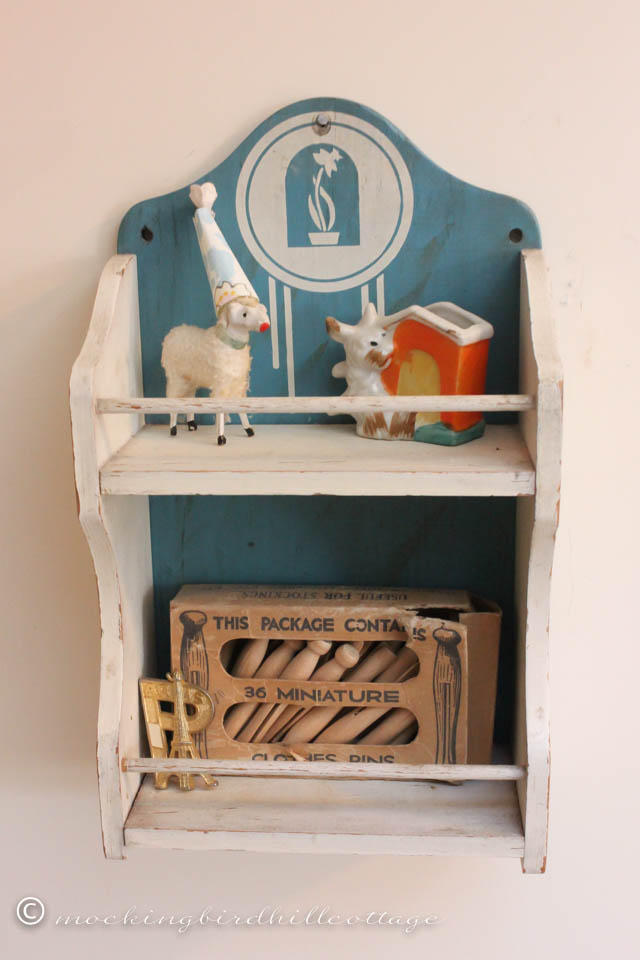 A vintage kitchen spice shelf hangs on the wall. That's the original Lamb with the Party Hat. Yes, indeed! And a doggie toothpick holder, some vintage miniature clothespins and a Paris/Eiffel Tower medal I got at Vignettes in San Diego.
There are other tours of the studio, ahem, atelier, on the blog. It's had many looks, and lots more 'stuff' along the way; I cleaned a lot of that up about a year ago because I was in the mood for a less cluttered look.
That's it, my friends. No bathroom tours and definitely no tour of the guest bedroom/office/studio which is currently a mishmash of furniture and guitars and amps. Maybe someday.
Happy Friday.