Something new was added to the dollhouse bedroom a couple of weeks ago. In the meantime, yours truly has been too busy blogging about other things to share it with you. Shame on me. Caroline made it very clear to me that I had been remiss.
Message received, Caroline. Here it is: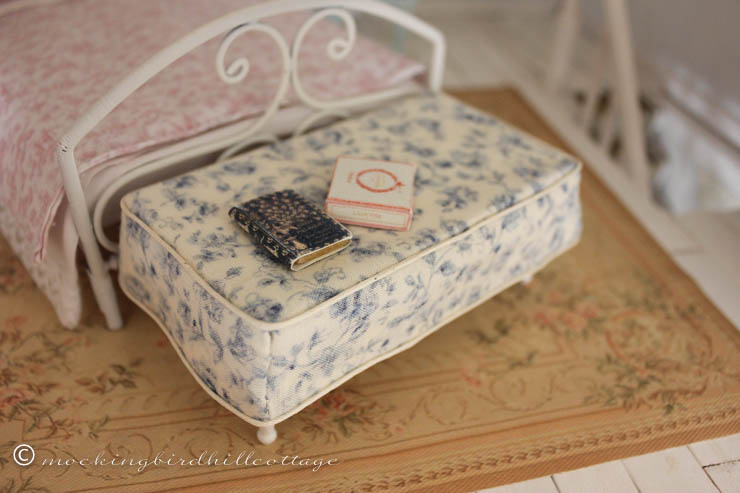 This little gem was in my Etsy cart for a couple of months before I finally hit 'Buy.' It's made by a wonderful miniaturist who runs the shop, French Vellum. I must add that the packaging and presentation I saw when I opened the outer box was simply gorgeous!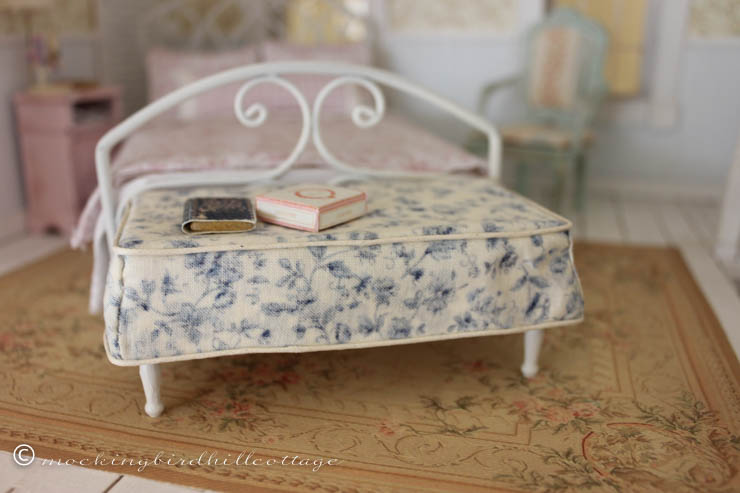 I am crazy about this piece, which just happens to fit perfectly at the foot of the bed. For a moment, I contemplated using it in the living room, but it was a wee bit too tall when placed in front of the settee. This is where it belongs.
And this seems the perfect time to segue into Who, What, Where, which has been knocked out of the rotation by all things Christmas.
Here we go.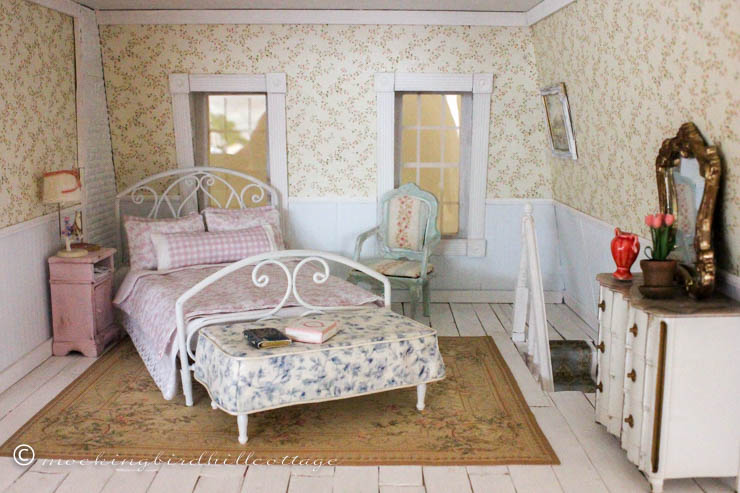 Wallpaper: ItsyBitsyMini; Beadboard, moldings, trim, brick wall: miniatures.com; Wood floor: made by me from large popsicle sticks.
Bedside table: given to me by Heidi, painted by me; Lamp: part of the Petite Princess line of furniture made by Ideal Toys, found on eBay; Bed: the entire thing – bed, sheets, pillows – was made for me by dear friend and miniaturist, Norma Bennett; Chair: miniatures.com, painted, aged and reupholstered by me; Painting on wall: found in a dollhouse shop; Dresser: part of the Ideal Petite Princess Line of furniture, found on eBay; Vase: a gift from miniaturist Jayne; Potted flowers: purchased at Chautauqua Miniatures; Mirror: a gift from Karen; Aubusson rug: from Etsy Shop, Green Gypsies; Jane Austen books: A Lavender Dilly; Box of Macarons from Laduree: made by Norma.
Sources
Norma Bennett (blog)
Norma Bennett (shop)
Green Gypsies (Etsy shop)
French Vellum (Etsy shop)
Itsy Bitsy Mini
Miniatures.com
Chautauqua Miniatures
A Lavender Dilly (Etsy Shop)
One more room to go, the potting shed; that is, until I finish the roof garden.
New post up on Just Let Me Finish This Page.
Happy Friday.