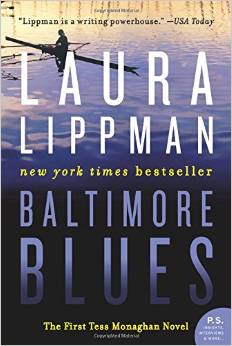 Today, I am reviewing Baltimore Blues by Laura Lippman for TLC Book Tours. As always, I am provided with a copy of the book in exchange for my honest review.
About the book (from the publisher): When a former Baltimore reporter must solve the murder of a notorious attorney, she discovers Charm City is rife with dark, sordid, and dangerous secrets.
In a city where someone is murdered almost every day, attorney Michael Abramowitz's death should be just another statistic. But the slain lawyer's notoriety makes the case front page news in every local paper except the Star, which crashed and burned before Abramowitz did.
A former Star reporter who knows every inch of this town – from historic Fort McHenry to the crumbling projects of Cherry Hill – now-unemployed journalist Tess Monaghan also knows the guy the cops like for the killing: cuckholded fiancé Darryl "Rock" Paxton. The time is ripe for a career move, so when rowing buddy Rock wants to hire her to do some unorthodox snooping to help clear his name, Tess agrees.
But there are lethal secrets hiding in the Charm City shadows. And Tess's own name could end up on that ever-expanding list of Baltimore dead.
My review: The publishers are rereleasing this first book in the popular Tess Monaghan series in preparation for the release of the latest book in the series, Hush Hush, which will be published later this month. I've reviewed one other Lippman book, After I'm Gone (a stand alone novel), and liked it very much, so I was quite happy to read this first Tess Monaghan book.
After I'm Gone introduced me to Lippman, who I had most definitely been aware of but had not yet had the pleasure of reading. As I look back at that review, I see that I wrote: "I look forward to starting the Tess Monaghan series." Someone must have heard me, because here I am with the opportunity to review the first book in the series.
Tess, a former reporter at loose ends, trying to put together an income by working in her aunt's bookstore as well as doing work for another relative, finds a rhythm to her days of unemployment by rising early, grabbing a scull and rowing. She often encounters her friend Rock during these early morning rows. The publisher's blurb is a wee bit misleading, as Tess's friend Rock initially hires her to follow his girlfriend because he's worried about her frequent absences. He figures Tess has time on her hands and has a reporter's instinct to follow clues, so she might be able to figure out what is going on. When things go wrong and the girlfriend's co-worker is found murdered with Rock arrested as a suspect, Rock's lawyer hires Tess as part of his investigative team.
From there? I won't give away any of the plot. Lippman writes wonderfully rich characters, and this novel is full of them. As a lifetime resident of Baltimore, Tess is surrounded by friends and family who figure prominently in Tess's daily life. She also knows the city like the back of her hand. In this book, as in After I'm Gone, the city of Baltimore is a character in itself. Lippman clearly knows and loves that city, and it shows on every page. It is vividly and lovingly portrayed.
Boy, does Lippman know how to write a mystery! She is skilled in plotting and maintaining a level of tension that builds until the final pages. She knits together all the various threads of the storyline in a way that makes absolute sense, but still results in surprises. And don't we all want to be surprised when we're reading a mystery? Baltimore Blues is seamless and gripping. As I found with After I'm Gone, you can't put it down.
Tess is a wonderful character; strong, funny, insecure, self-depricating, dogged and inventive in her pursuit of answers. I believe there are eleven novels in this series so far. Hush Hush  (which I will also be reviewing) will be the twelfth. I can't wait to read the rest of them – in order. In Tess Monaghan and her family and friends, Lippman has given us a bevy of wonderful characters that we want to meet up with again. And again.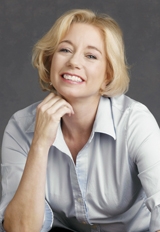 About the author: Since her debut in 1997, Laura Lippman has been heralded for her thoughtful, timely crime novels set in her beloved hometown of Baltimore. She is the author of twenty works of fiction, including eleven Tess Monaghan mysteries. She lives in Baltimore, New Orleans, and New York City with her family.
Good news! One of you will be the lucky winner of a copy of Baltimore Blues. If you're interested, leave a comment on this post and I will pick a winner on Friday evening. Good luck! (US Residents only.)
By the way, the winner of a copy of Cain and Abe  by James Grippando is Linda of A la Carte. Congratulations!
Just added: News on Just Let Me Finish This Page!
Happy Tuesday.