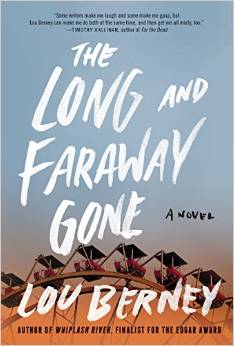 Today I am reviewing The Long and Faraway Gone by Lou Berney for TLC Book Tours. As always, I am provided with a copy of the book in exchange for my honest review.
About the book (from the publisher): In the summer of 1986, two tragedies rocked Oklahoma City. Six movie-theater employees were brutally killed in an armed robbery. Then a teenage girl vanished from the annual state fair. Neither crime was ever solved.
Twenty-five years later, the reverberations of those unsolved cases continue to echo through the lives of those devastated by the crimes. Wyatt, the one teenage employee who inexplicably survived the movie-theater massacre, is now a private investigator in Las Vegas. A case unexpectedly brings him back to a hometown and a past he's tried to escape – and drags him deeper into the harrowing mystery of the movie house robbery that left six of his friends dead.
Like Wyatt, Julianna struggles with the past – specifically, the day her beautiful older sister, Genevieve, disappeared at the fair. When Julianna discovers that one of the original suspects has resurfaced, she'll stop at nothing to find answers.
As Wyatt's case becomes more complicated and dangerous, and Julianna seeks answers from a ghost, their obsessive quests not only stir memories of youth and first love, but also begin to illuminate dark secrets of the past. Even if they find the truth, will it help them understand what happened and why they were left behind that long and faraway gone summer? Will it set them free – or ultimately destroy them?
My review: I had the pleasure of reviewing an earlier book written by Lou Berney – Whiplash River – for TLC Book Tours. I liked it enormously and became a fan. So when the opportunity to review his latest book was presented to me, I jumped on it.
The premise – two people haunted by the past, with a desperate need to find out the truth – is haunting. After heartbreaking loss, life somehow goes on, and both Wyatt and Julianna have careers and lives. But they are damaged. The past is never far from the present. It is this struggle with the past that fuels the story.
Berney writes characters beautifully, with great detail and a dash of humor thrown in the mix. He weaves together the individual story lines with ease. Wyatt, brought to Oklahoma City to investigate a case of harassment, pursues that case while also searching for answers to the murder of his fellow movie-theater employees – always with the question, "Why was I spared?" At the same time, Berney tells us Julianna's story. There is a thread here that connects both stories, happening at the same time: the need to know the truth. And, perhaps, to find healing.
Berney's depiction of Oklahoma City is richly detailed. I really got a strong sense of that city and its environs. He's a wonderful writer. With a rich cast of supporting characters, Berney's story of Wyatt and Julianna and those loved and lost is a great read. I don't think you'll be able to put it down.
When I was at The Mysterious Bookshop the other day, this book was sitting right by the cash register. The man writing up my order hadn't read it yet and I happily gave it a huge thumbs up and urged him to read it.
I finished it a couple of weeks ago, yet the characters remain with me. What more could you ask for?
If you haven't read Lou Berney yet, I urge you to. This man knows how to write and you will be caught up in the story immediately, as I was.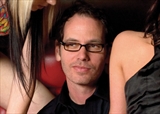 About the author: Lou Berney is an accomplished writer, teacher, and liar who has written feature screenplays and created TV pilots for Warner Brothers, Paramount, Focus Features, ABC, and Fox, among others. His short fiction has appeared in the New Yorker, Ploughshares, the Pushcart Prize anthology, and other publications. His first novel, Gunshot Straight, was named one of the ten best debut crime novels of the year by Booklist and nominated for a Barry Award.
One of you will win a copy of The Long and Faraway Gone. Just leave a comment on this post – it has to be on the post, not via email – and I will pick a winner on Thursday evening. Good luck!
Happy Monday.