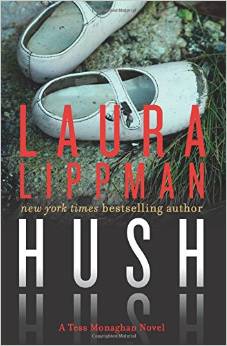 Today I am reviewing Hush Hush by Laura Lippman for TLC Book Tours. As always, I am provided with a copy of the book in exchange for my honest review.
About the book (from the publisher): On a searing August day, Melisandre Harris Dawes committed the unthinkable: she left her two-month-old daughter locked in a car while she sat nearby on the shores of the Patapsco River. Melisandre was found not guilty by reason of criminal insanity, although there was much skepticism about her mental state. Freed, she left the country, her husband, and her two surviving children, determined to start over.
But now, Melisandre has returned to Baltimore to meet with her estranged teenage daughters and film the reunion for a documentary. The problem is, she relinquished custody and her ex isn't sure he approves.
Now that she's a mother herself – short on time and patience – Tess Monaghan wants nothing to do with a woman crazy enough to have killed her own child. But her mentor and close friend Tyner Gray, Melisandre's lawyer, has asked Tess and her new partner, retired Baltimore PD homicide detective Sandy Sanchez, to assess Melisandre's security needs.
Tess has always felt that her curiosity about others is her greatest strength. Yet the imperious Melisandre is someone she cannot begin to understand, much less empathize with. A decade ago, a judge ruled that Melisandre was beyond rational thought. But was she? Tess tries to keep her distance from her mercurial yet confident client. This strategy gets tricky after Melisandre becomes a prime suspect in a murder.
And as her doubts about Melisandre grow, Tess realizes that she's under scrutiny as well, followed by a judgmental stalker with an ax to grind . . .
My review: If you ever glance at my sidebar, you've seen the widgets where I share what I'm currently reading and what I've just finished reading. Right now, and for the past week, both books have been by Lippman as I've gone back to read the entire Tess Monaghan series in order. I've had the pleasure of reviewing two other mysteries by Lippman for this blog:  After I'm Gone, a stand-alone novel featuring Sandy Sanchez, who is now a part of the Tess Monaghan series, and Baltimore Blues, the first novel in the Tess Monaghan series.
I'm a fan.
Hush Hush, the newest novel in the Tess Monaghan series, does not disappoint. Lippman is a gifted writer who knows how to spin a plot that is complicated and layered. There are always, and I mean always, twists and turns that I as a reader did not expect. Can I tell you how much I love that? This time, we are introduced to Melisandre who has committed the unthinkable crime, one that is almost impossible to forgive. She is unpredictable, imperious, and quite possibly, untrustworthy. Her motives are questionable. At the same time, Tess herself is dealing with a stalker.
You know I won't divulge more of the plot. As always, I want you to be completely surprised, just as I was.
Lippman is particularly gifted at creating complex characters (one of which is the city of Baltimore.) Over the course of the series she has created a cast of characters – some family, some  friends, some colleagues – who are richly detailed. All of them grow and change throughout the series. The result is the completely realized and multi-layered world in which Tess lives and works and plays. We get to know everyone over the course of the novels, so, like all the best mystery series, we feel as if we belong there, too. We want to hang out with everyone.
In this mystery, as in all Lippman's books, there is a strong element of humor. Tess's observations alone are funny in a wonderfully dry way, and the supporting cast of characters often include the quirky and off-beat.
Lippman is, quite simply, a wonderful writer. I'm hooked. After reading the first and most recent books in the series, I'm now on number 4. I can't put them down. When I do, it's only long enough to grab the next book in the series.
I recommend them highly.
On an entirely personal note, one of Lippman's favorite singers is the late Nancy LaMott; she mentions her in her books. I've spoken of my love for LaMott, who died too young and had the voice of an angel, many times on this blog. I was surprised and delighted when I saw a reference to her in one of Lippman's books.
I have a feeling Lippman is a kindred spirit.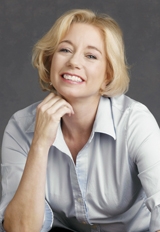 About the author: Laura Lippman has been awarded every major prize in crime fiction. The recipient of the first Mayor's prize, she lives in Baltimore, Maryland, and New Orleans, Louisiana, with her husband, David Simon, and their family.
The publisher has created a special page called Tess is Back. It's interactive and a lot of fun. You can learn more about the characters, as well as win prizes.
And, one of you will win a copy of Hush Hush. Just leave a comment on this post. Please remember: it has to be on this post. I'll pick a winner on Thursday evening.
Happy Monday.