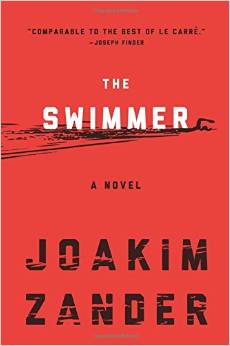 Today I am reviewing The Swimmer by Joakim Zander for TLC Book Tours. As always, I am provided with a copy of the book in exchange for my honest review.
About the Book (from the publisher): Early 1980s, Damascus. A nameless American spy abandons his newborn child to an uncertain fate. His inability to forgive himself for what he has done leads him on a lifelong quest to escape his past that will take him to Lebanon, Afghanistan, Iraq – anywhere where the danger and the stress allow him to forget.
Thirty years later, European Union aide Klara Walldéen is learning to navigate the world of politics – the lines between friend and enemy, truth and lies. But Klara has just seen something she should not have: a laptop containing information so sensitive that people will kill to keep it hidden. Suddenly, she is thrown into a terrifying chase through Europe, with no idea who is hurting her and why.
Their stories converge one stormy Christmas Eve in the Swedish Archipelago, where blood is spilled, shocking discoveries are made, and the past inevitably catches up with the present.
My Review: This is Zander's first novel and he hits it out of the park. Already a best-seller in Europe, it has been translated into English and is now debuting here in America. This is a spy story in the best tradition of spy stories. With a decidedly 21st century take on spies and clandestine operations, it explores the ramifications of covert actions on those involved, the innocents caught in the crosshairs, and those who know too much.
Zander interweaves the stories of the American spy, older, weary, a man who has seen too much over his career and who, in the end, must seek redemption; Klara, a young Swedish woman working in Brussels for the EU who finds herself in possession of dangerous information; and George, a young man working in Brussels whose only desire is to work his way to the top of the shadowy company where he is employed. Zander moves back and forth between these individual stories beautifully. I was thoroughly caught up in them, all the while trying to figure out their connection to each other. As those connections became clearer, the suspense started to build, almost unbearably, until the final pages.
Zander writes time and place beautifully. Damascus, Brussels, Paris, the Swedish Archipelago – each one is distinct and vivid. He uses flashbacks which serve to give us hints as to the past and how it has informed the present. In fact, this thriller is one big puzzle in the best possible way. As a reader, I don't want to be able to figure things out too quickly. I want to be surprised, to feel a quickening as I start to put things together. I stand in awe of the way in which Zander has masterfully told his story. To be able to write the overall arc of the story, while all the while sharing bits and pieces of each character's story until they merge into the greater story is quite a feat.
The characters are multi-dimensional and fascinating. Just how they all come together in the final pages of The Swimmer  is something you'l have to discover for yourself.
This is an amazing tale, told by a very talented author. You won't be able to put it down.
About the Author:  Born in Stockholm, Sweden, Joakim Zander has lived in Syria and Israel and graduated from high school in the United States. He earned a PhD in law from Maastricht University in the Netherlands and has worked as a lawyer for the European Union in Brussels and Helsinki. The Swimmer is his first novel; rights have been sold in 28 territories. Zander currently lives in southern Sweden with his wife and two children.
One of you will be the lucky winner of a copy of The Swimmer. Leave a comment on this post to be entered. I'll pick a winner on Sunday night. Good luck!
New post up on Just Let Me Finish This Page today.
Happy Friday.