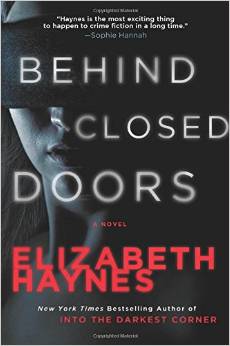 Today I am reviewing Behind Closed Doors by Elizabeth Haynes for TLC Book Tours. As always, I am provided with a copy of the book in exchange for my honest review.
About the book (from the publisher): An old case makes Detective Inspector Louisa Smith some new enemies in this spellbinding second installment of New York Times  bestselling author Elizabeth Haynes' Briarstone crime series that combines literary suspense and page-turning thrills.
Ten years ago, fifteen-year-old Scarlett Rainsford vanished while on a family holiday in Greece. Was she abducted, or did she run away from her severely dysfunctional family? Lou Smith worked the case as a police constable, and failing to find Scarlett has been one of the biggest regrets of her career. No one is more shocked than Lou to learn that Scarlett has unexpectedly been found during a Special Branch raid of a brothel in Briarstone.
Lou and her Major Crime team are already stretched working two troubling cases: nineteen year old Ian Palmer was found badly beaten; and soon after, bar owner Carl McVey was found half-buried in the woods, his Rolex and his money gone. While Lou tries to establish the links between the two cases, DS Sam Hollands works with Special Branch to question Scarlett. What happened to her? Where has she been until now? How did she end up back here? And why is her family – with the exception of her emotionally fragile sister Juliette – less than enthusiastic about her return?
When another brutal assault and homicide are linked to the McVey murder, Lou's cases collide, and the clues all point in one terrifying direction. As the pressure and the danger mount, it becomes clear that the silent, secretive Scarlett holds the key to everything.
My review: This isn't my first introduction to the writing of Elizabeth Haynes. I reviewed her psychological thriller, Into the Darkest Corner, two years ago. Then, as now, I was completely riveted by the story. Haynes is an incredibly skilled writer. She doesn't pull punches when dealing with a story line that, in the case of Into the Darkest Corner, focuses on physical and psychological abuse, and in the case of this, her latest novel, focuses on the nightmare of human trafficking.
Haynes tells two stories: what is happening in the present, with the reappearance of Scarlett, along with the other cases Lou Smith is investigating; at the same time, she reveals, little by little, just what happened to Scarlett in the ten years since she disappeared – in Scarlett's voice. The result is – and I'm not exaggerating here – an un-put-downable read. The author knows her subject matter and she knows how to pace a plot in a way that doesn't rush, that carefully leaves clues here and there that keep you guessing. Yet, the plot has a forward movement that doesn't tire, doesn't lag. I found myself thinking about the book when I was doing other things in the course of the day.  I remember one particular time where a tantalizing clue had been laid out, very subtly, and I couldn't help but think about it, turning it over and over in my mind, thinking 'Could it really be this ?" Isn't that the best feeling? To be so caught up in a story that it never quite leaves your thoughts? Even now, a good week after finishing it, I'm still thinking about it.
This book features strong female characters – from Lou Smith to DS Sam Hollands to Scarlett herself. They are women who fight against those who would do harm, who do their best to survive in a world that can be unbelievably, horrifyingly cruel.
I don't linger too much on details in the plot because I think the publisher's blurb gives just enough away and I'm not about to spoil your reading experience. Having said that, I admire the way Haynes doesn't just tie things up neatly at the end of the story. There are questions left unanswered. There are issues that will raise questions in your mind long after you finish the last page. That makes for a very powerful ending, but not an ending, to this extremely well written novel.
I am a fan. I haven't read the first installment of this Briarstone series, but you can be sure I will.
I recommend this one highly.
About the author: Elizabeth Haynes is a former police intelligence analyst, a civilian role that involves determining patterns in offending and criminal behavior. She is the New York Times  bestselling author of Into the Darkest Corner, Dark Tide, Human Remains, and most recently, Under a Silent Moon, the first installment of the Briarstone crime series.
Good news! One of you will win a copy of Behind Closed Doors. Just leave a comment here – on this post – and I'll draw a winner's name on Sunday.
Happy Thursday.