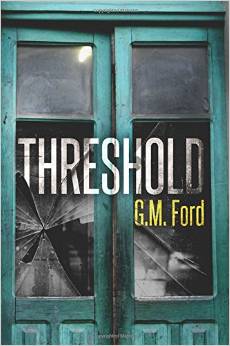 Hello everyone. Today I am reviewing Threshold by G.M. Ford for TLC Book Tours. As always, I am provided with a copy of the book in exchange for my honest review.
About the book (from the publisher): Acclaimed for his best-selling books featuring P.I. Leo Waterman, Ford introduces readers to a new, yet equally unorthodox hero in Threshold ; embattled Detective Sergeant Mickey Dolan. Still smarting from the very public breakup of his marriage and facing conduct complaints for the use of excessive force, Dolan is at the end of his rope – and possibly at the end of his career – when he catches a case that just might turn things around: the disappearance of the wife and daughters of a powerful city councilman.
While investigating, Dolan meets Eve Pressman and her remarkable daughter, Grace. Gifted with the ability to bring people out of comas, Grace is reluctant to be thrust into the public eye but determined to help those in need. Eve and Grace may know where Councilman Royster's family is and the terrible truth that sent the three of them into hiding in the first place. Now Dolan faces the toughest choice of his career: Is he still a good cop if he has to do the wrong thing?
My review: G.M. Ford is the author of a series of books featuring Leo Waterman, as well as a series featuring Frank Corso. I went into this particular book not having read any of Ford's previous books and I plan to remedy that very soon. Threshold  is excellent; a skillfully paced story that will keep you engaged to the very end.
Ford has a gift for characterization; everyone, from Mickey Dolan on down to the most minor of characters, is richly detailed. He also has a gift for writing place/setting. I could see the streets of this unnamed city; I could visualize the buildings, the alleyways, the dangerous parts of town. His words create a vivid and fully realized world.
The story itself is extremely compelling: a cop needing a case to sink his teeth into, along with more than a little redemption, a young woman who is 'different' and endowed with gifts most people aren't willing to accept or acknowledge, the battle between those with power and money and connections and those who are caught in the crosshairs. And in the end, Dolan must face his demons and make a difficult choice – one which will propel the plot to its conclusion.
Ford knows how to tell a story. He knows how to grab the reader. And you will be grabbed. I promise.
I really liked this book. I know this phrase is overused, but I truly 'couldn't put it down.' As soon as I reached the final page, I found myself thinking how wonderful it was that Ford has written so many other books….I'm thinking the Leo Waterman series will be my next choice for reading matter.
I loved Mickey Dolan and I hope this stand-alone novel is the start of another series for Ford.
About the author: G.M. Ford broke onto the mystery scene with Who in Hell is Wanda Fuca?, a gin-soaked tome featuring Seattle private investigator Leo Waterman. The six-book Leo Waterman series was nominated for several awards, including the Shamus, the Anthony, and the Lefty. In 2001, Ford launched a new series featuring disgraced reporter Frank Corso and his goth assistant, Meg Dougherty. In 2011, after a twelve-year hiatus, he decided to write a new Leo Waterman novel, Thicker Than Water, which Thomas & Mercer promptly bought. His eighth Leo Waterman book, Chump Change, followed in 2014. Ford lives and works in Seattle, and is married to the beautiful and talented mystery author, Skye Kathleen Moody.
Good news! One of you will win a copy of Threshold. Just leave a comment on this post before Thursday evening.
There's a new post up on Just Let Me Finish This Page.
Happy Monday.