Today? A lot of photos. Hope you don't mind! I'm going to start with one more living room group.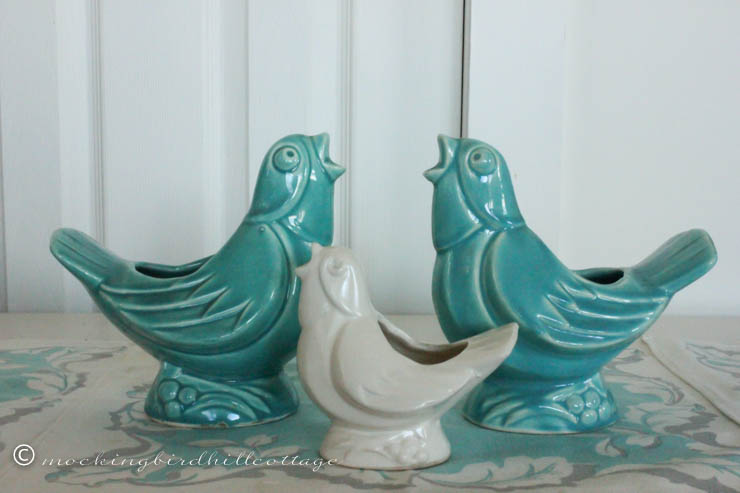 The singing bird planters. Oh, how I love these. They've been photographed frequently for the blog, as they live on the piano. Of course they do. They're singing!
They also used to be part of one of my headers when I was still on Blogger.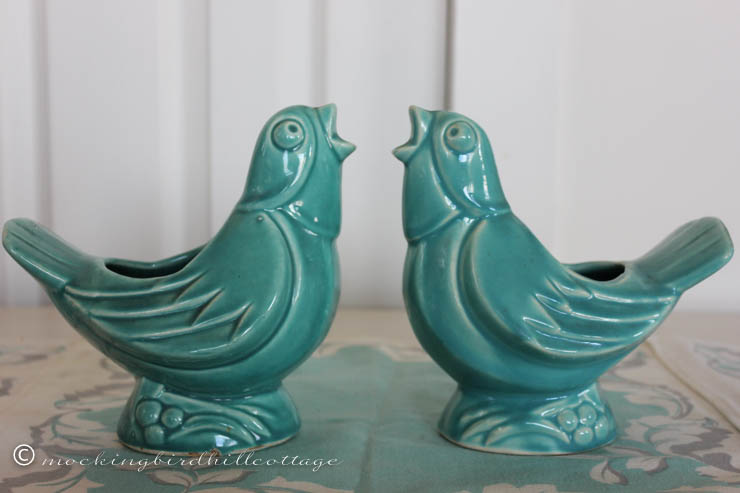 The birds came in two sizes – 7 inches tall and 4½ inches tall. These are 7 inches tall. You can see how the glaze varies from piece to piece. I absolutely adore these birds. They're from the 1940s.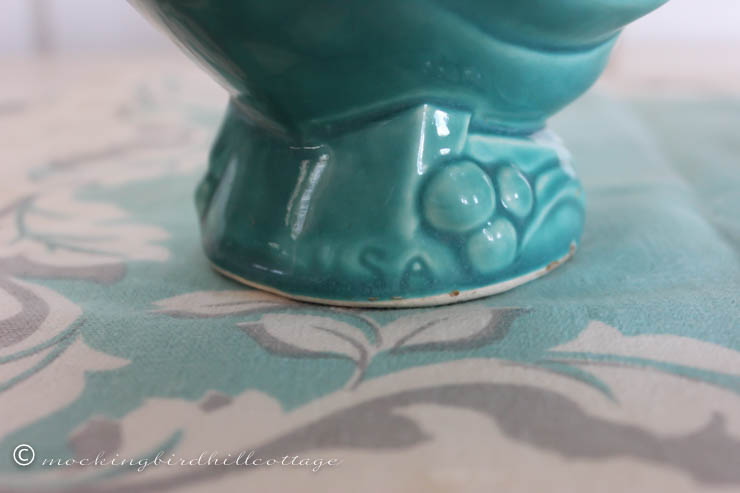 The mark – USA – is at the base of the bird.
I bought the aqua birds individually. First one, then I had to get another. Then, I felt they needed another companion, so I bought this little one: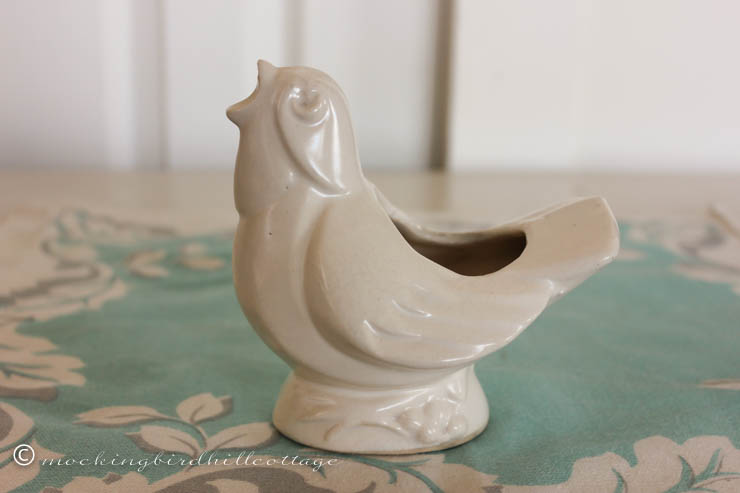 She is 4½ inches tall and is lovely. The books all describe this color as white, but it's more of a cream to me. More of a matte look. Same USA mark on the base.
Now we move on to the kitchen china cabinet, where I display a lot of the smaller McCoy pieces. Here we go.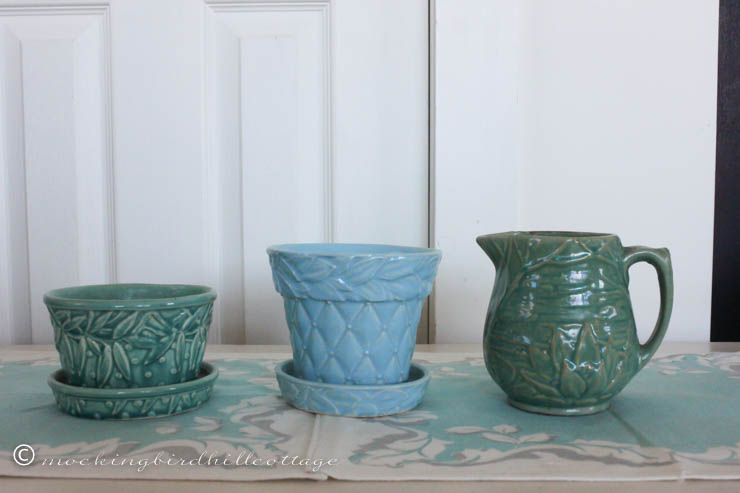 Two planting pots and a pitcher.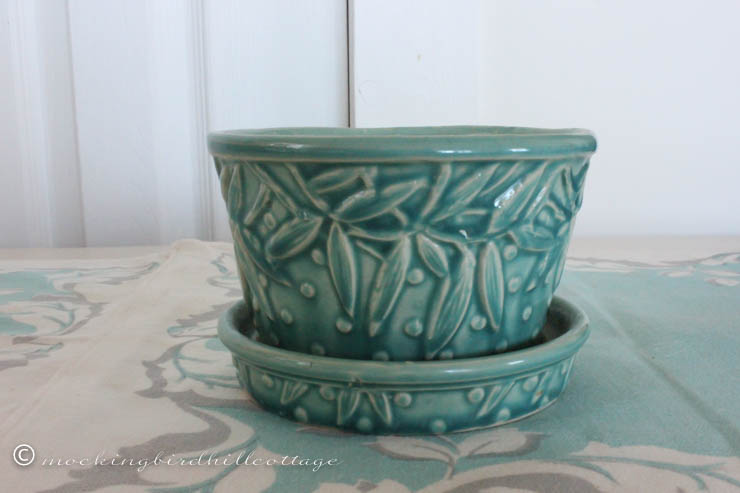 A flowerpot in the Hobnail with leaves pattern. From the 1940s.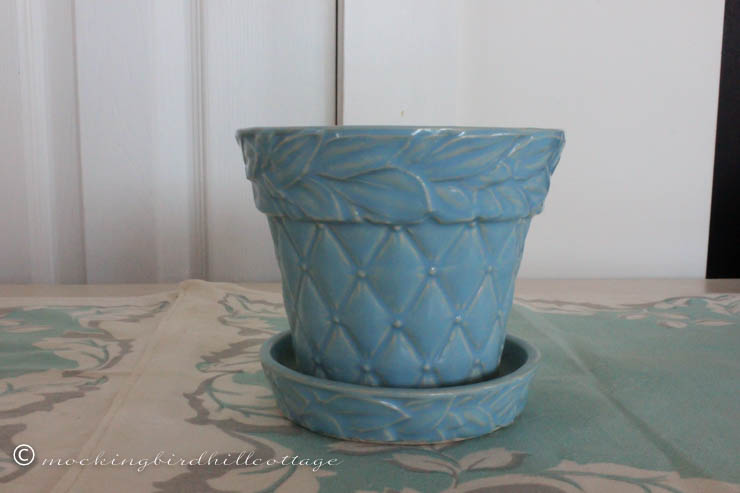 A quilted flowerpot with leaves around the upper rim and on the saucer. From the 1950s.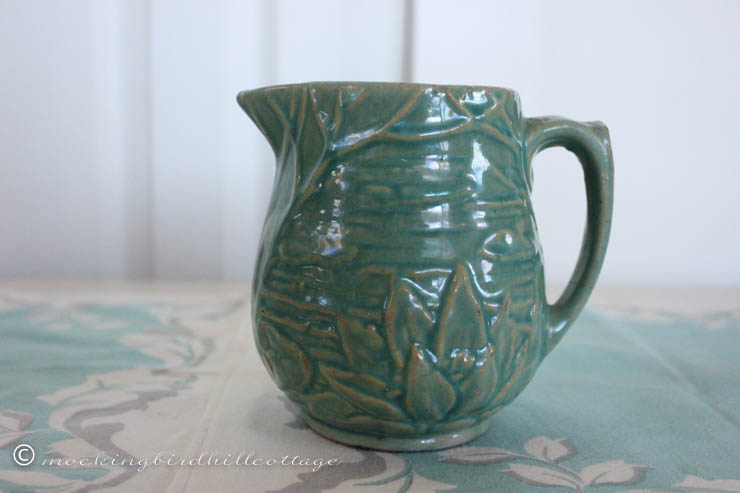 Very old pitcher in a water lily pattern from 1935. This is from the early Nelson McCoy stoneware line. I found this when I was on a coaching job in Owensboro Kentucky. Wandering through an antique shop, my eyes lit on this one and I grabbed it. I think I've only seen this one other time. Hard to find out in the wild! It's gorgeous.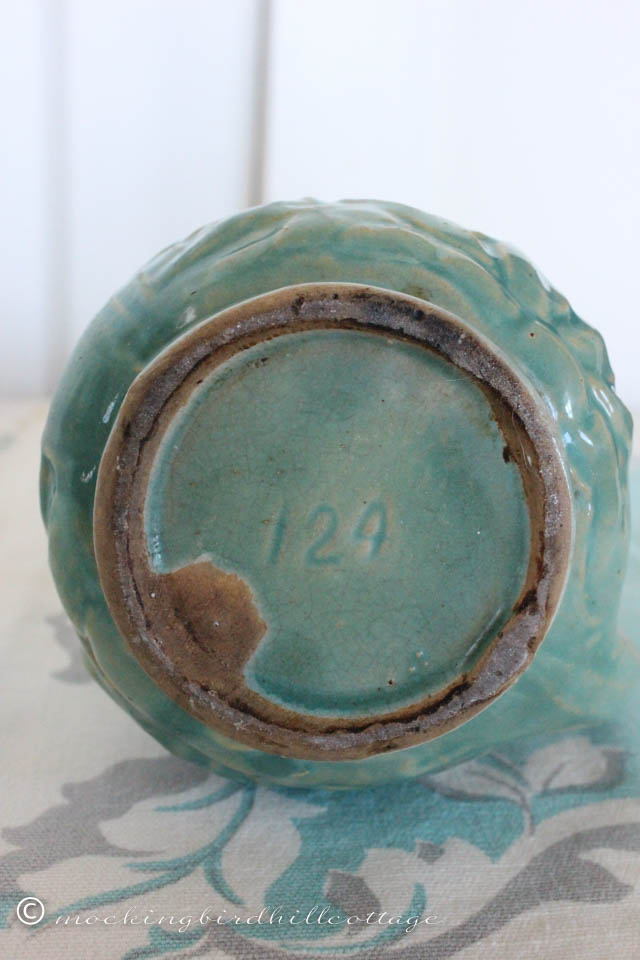 Marked with the number 124.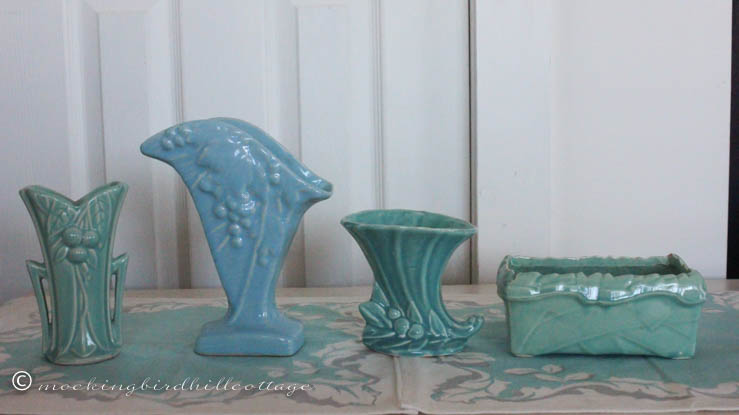 More smalls: Three vases and a planting dish. Are you starting to see the wide range of blue and blue-greens that McCoy used?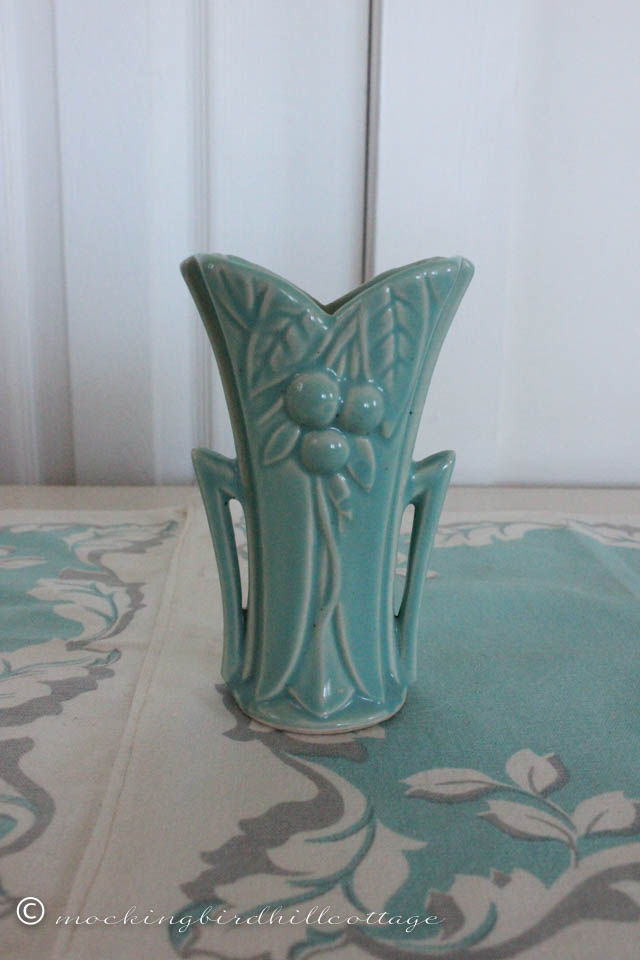 I particularly love this little vase and I often use it for little bouquet; rose buds, for instance. I don't have any info on the date (checking on that.)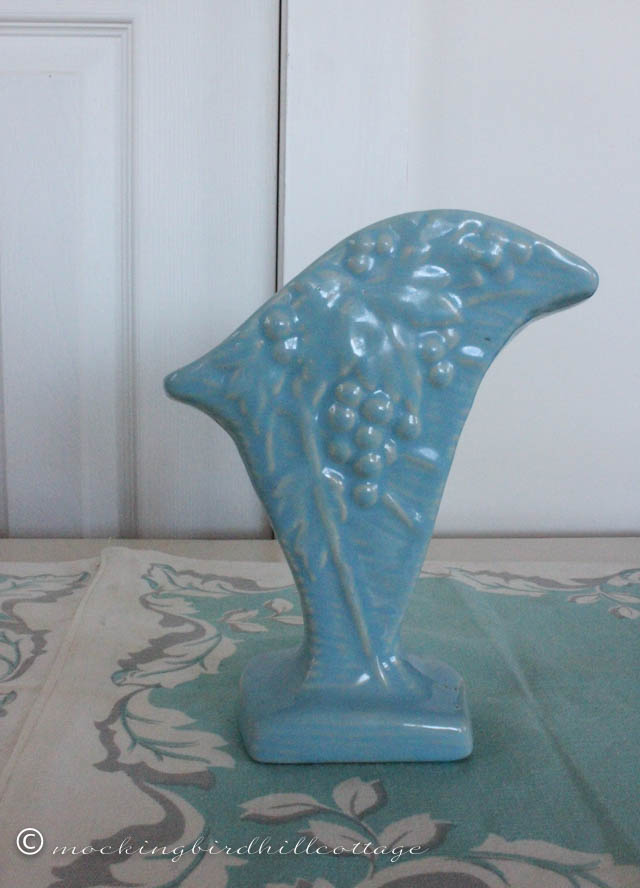 From the Rustic line – in blue. The line was first produced in 1945 and was made for many years. I don't like the multi-colored Rustic pieces, but I do like the solid colored ones.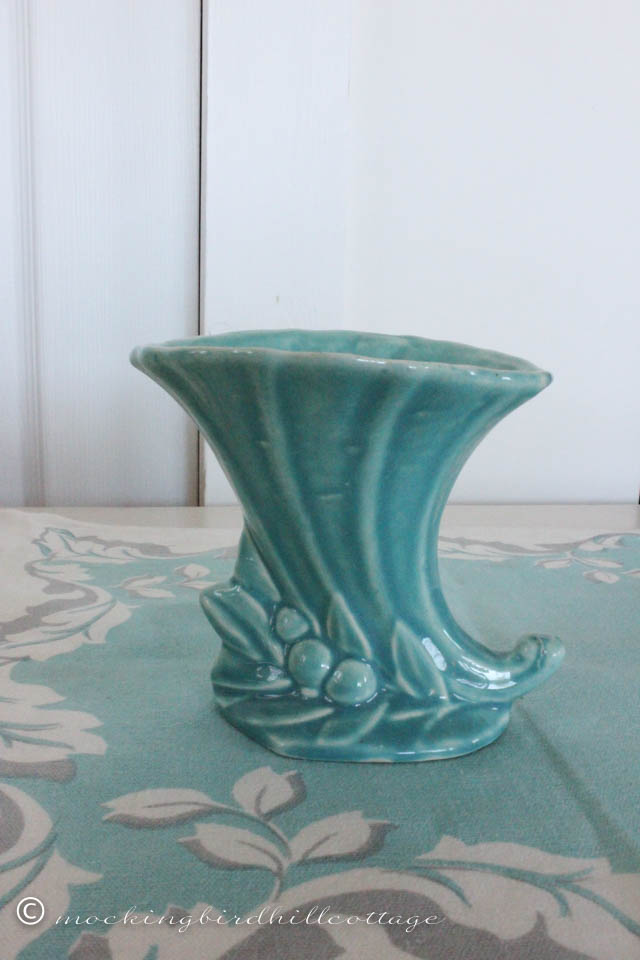 A very small cornucopia vase, with leaves and berries. From 1956.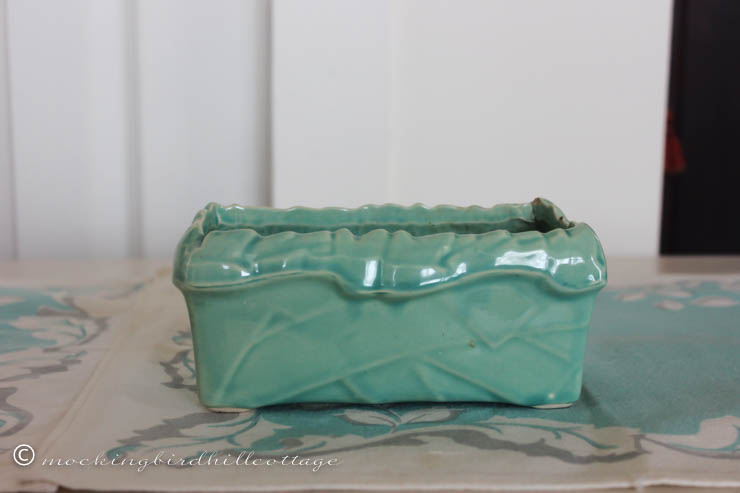 An aqua planting dish. From 1948. Or 1952. Depending on the McCoy book.
And the last group of smalls from the cabinet: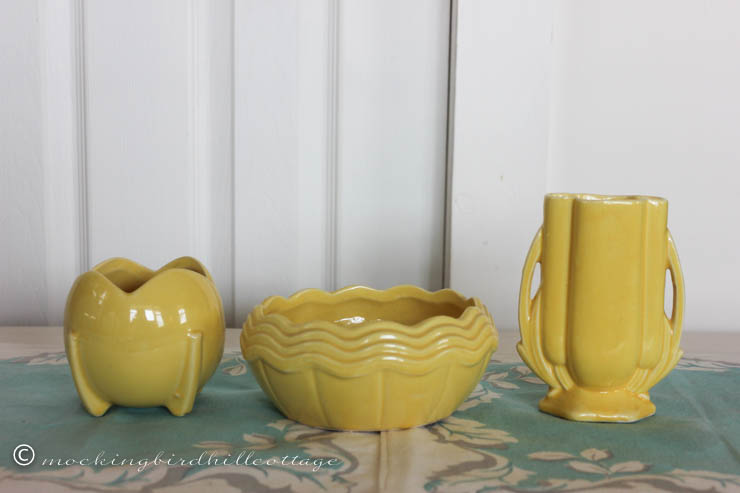 A planter, a bulb bowl, and a vase.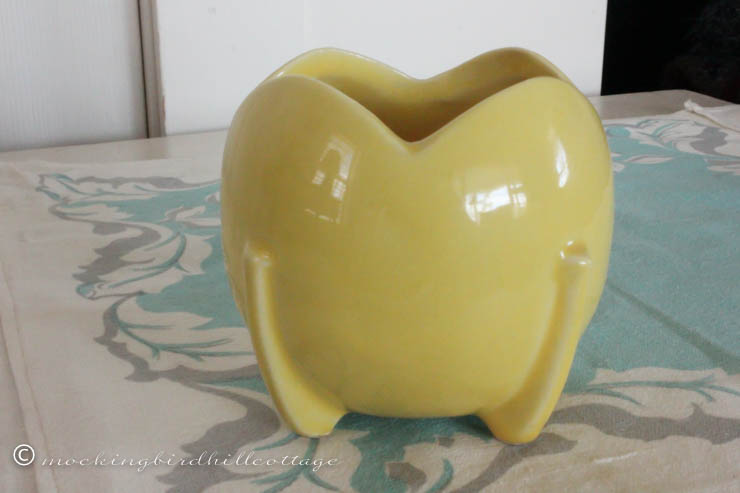 This is a ball planter. From the 1940s. A present from Don.
It's marked with the Nelson McCoy  (NM) mark: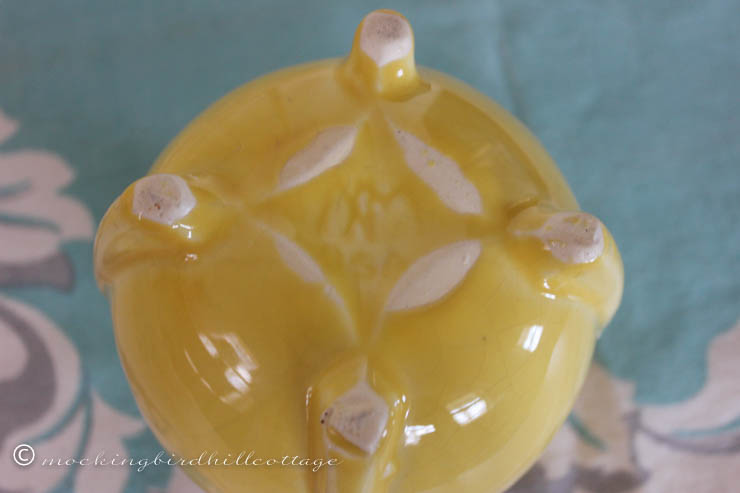 Interlocking NM and USA.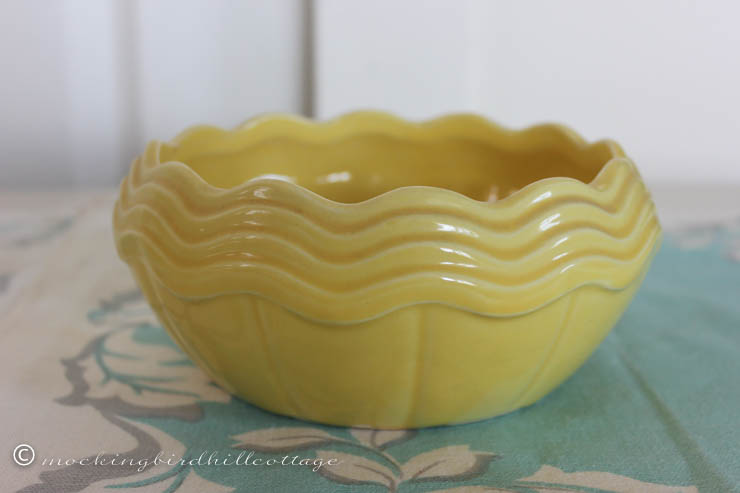 A pretty yellow bulb bowl, from 1957.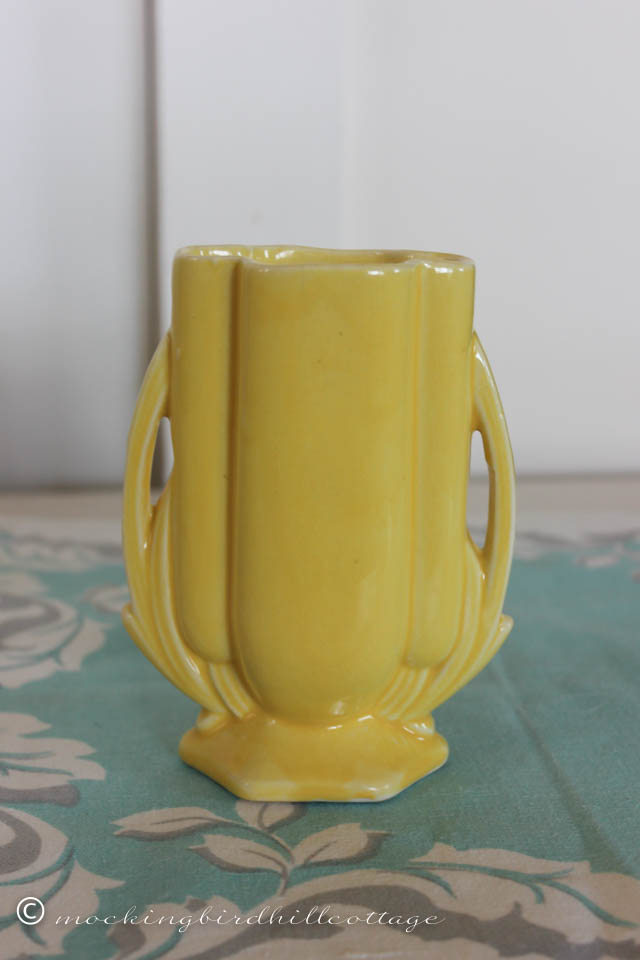 And a lovely little yellow vase, from the 1940s. This is 5¾ inches high and is part of a small group of vases that are now called the 5″ vases – considered harder to find nowadays and, therefore, a desirable collecting group. I believe this was also a gift from Don. One birthday or Christmas, he set out to find some McCoy for me and ended up with three pieces in the yellow glaze. What a guy!
That concludes the contents of the kitchen china cabinet. Whew!
More on Wednesday. As always, if you have any questions, don't hesitate to ask!
Happy Monday.