A brief bit of McCoy Pottery history 
McCoy was a family business, started by J.W. McCoy in Roseville, Ohio in 1899. In 1911, it merged with other companies and became the Brush-McCoy Pottery Co. In 1925, the McCoys sold their interest in the business and Brush-McCoy became Brush Pottery. However, during this time – in 1910 – Nelson McCoy started his Nelson McCoy Stoneware Company. In 1933 the company was renamed the Nelson McCoy Pottery Company.
in 1967, the company was sold to David Chase of the Mount Clemens Pottery Company, which was sold in 1974 to Lancaster Colony Corporation – Nelson McCoy, Jr. was President of the company during this time and all the pottery continued to carry the McCoy name.
In 1985, the company was again sold but eventually closed in 1990.
All of this history is reflected in the various marks on the pieces. I will try to point them out as we go.
My history with McCoy
I've always been aware of McCoy, especially in the form of the ubiquitous flower pots I used to see when I was growing up. But in about 2002, I started to noticing it in a different way. We were renting a little cottage in Westchester County, after having moved East. One of our neighbors, a young couple, asked us to feed their dogs while they were away. Because I had to go in their house, I noticed all these gorgeous pieces of pottery, some of them rather large, on the cabinets and furniture in the living room. It was McCoy.
Around the same time, there were several articles published about Martha Stewart's extensive collection of McCoy. I became entranced with the designs and the glazes and the colors. And I ventured into the world of collecting McCoy Pottery.
In the beginning, I got a lot of my pieces on eBay. It was simply easier to find them there and I started to gather together a nice collection. I found I was drawn to the sherbet-like colors, rather than the darker pieces. In fact, those colors inspired a lot of the decorating choices in the cottage.
By the way, McCoy made lots of pottery, lots of cookie jars (there are some people who collect only the cookie jar; the most famous collector was Andy Warhol) and lots of utilitarian pieces made in the seventies that were…how do I say it?….less than attractive. I concentrate on what I consider to be the prettier pieces.
So. I decided to start with the McCoy pieces that are in the china cabinet in the den. Here we go.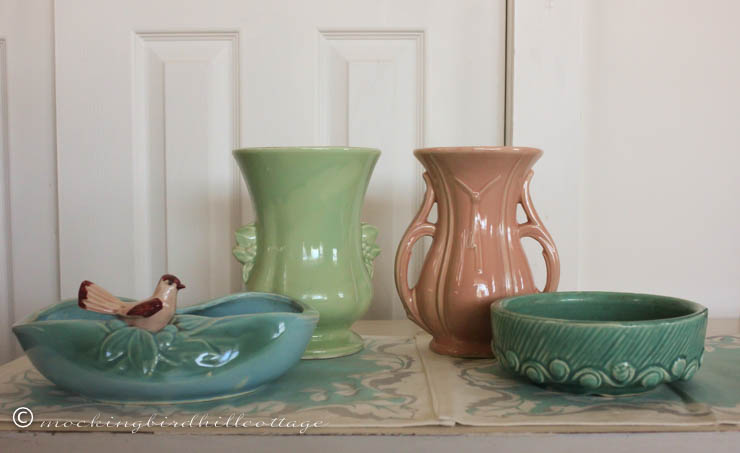 Two vases, a planting dish, and a bulb bowl.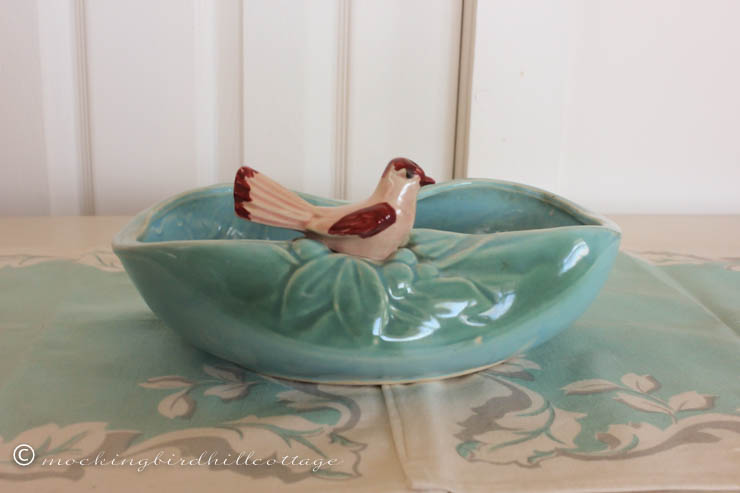 The McCoy reference book calls this one Novelty Dish with Bird. Made around 1950, it also comes in a yellow-green combination, but you know I had to go with this one. I have two of these dishes – one is on my dresser upstairs. McCoy's use of birds in designs is one of my favorite things about the line. This one was a gift from my friend Heidi.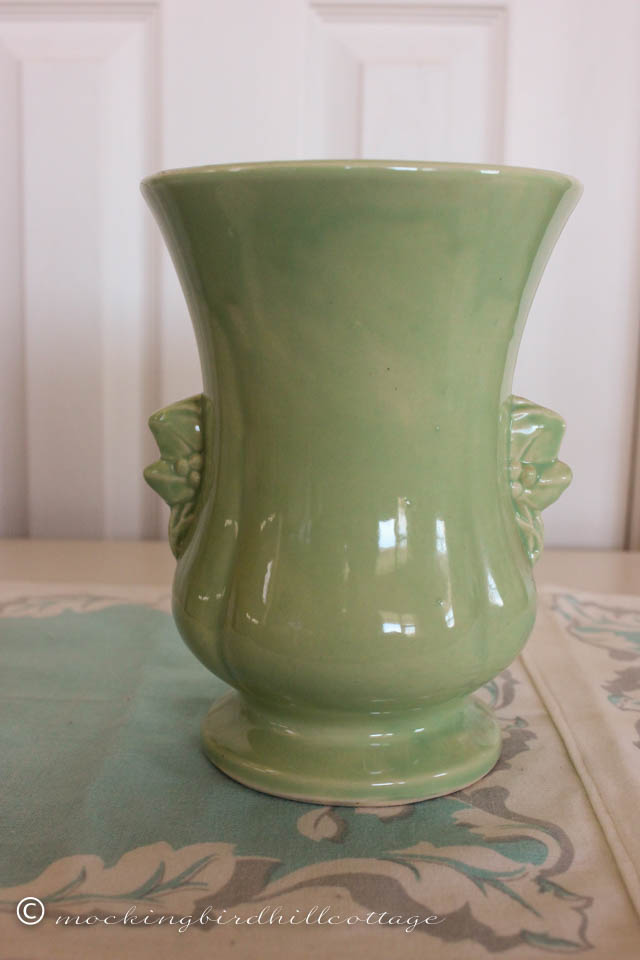 One of the very first pieces I purchased on eBay. Love this soft shade of green and the shape of the vase. The handles have a leaf and berry design. From around 1950.
Coral double-handled vase. From 1948. A very graceful vase, I think – quite lovely. I can't remember where or how I got it! Sorry.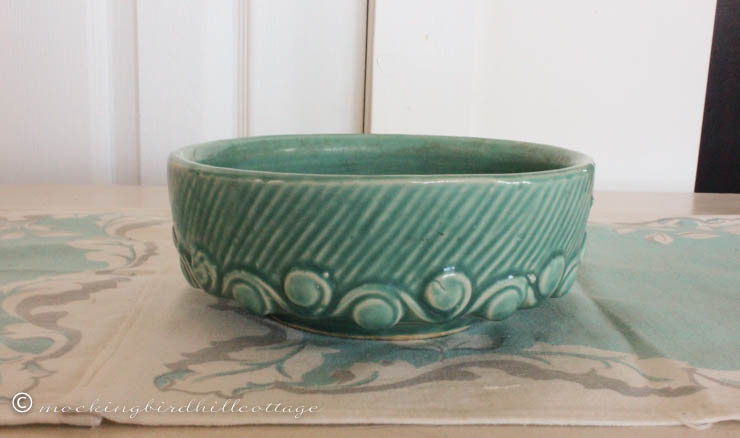 Another early acquisition – I was taken by the design of this bulb bowl; the diagonal lines and the circle and vine-like design running along the bottom. From 1947. Purchased on eBay.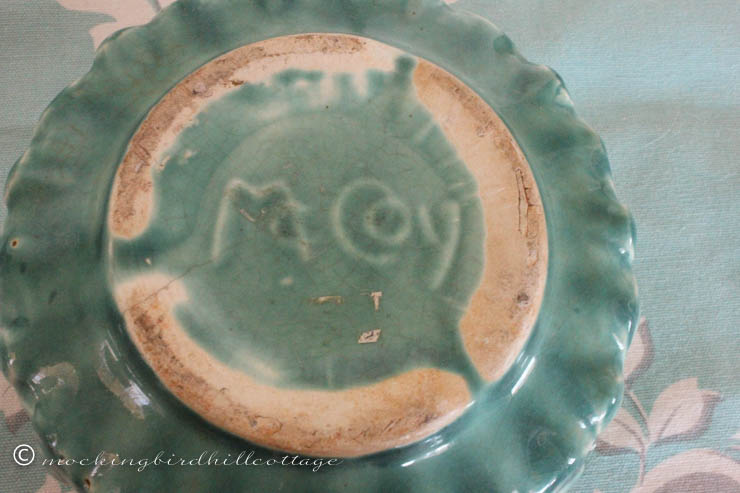 The mark on the bottom of this bulb bowl is the most common McCoy mark; sometimes it is accompanied by Made in the USA, or USA.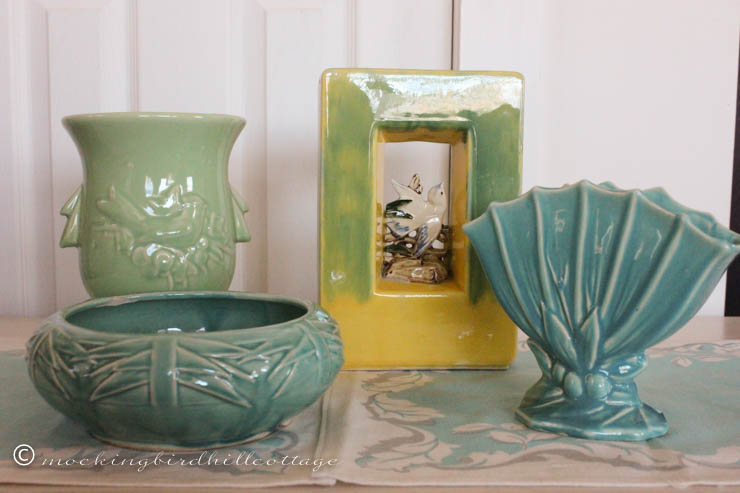 Three vases and a planting dish.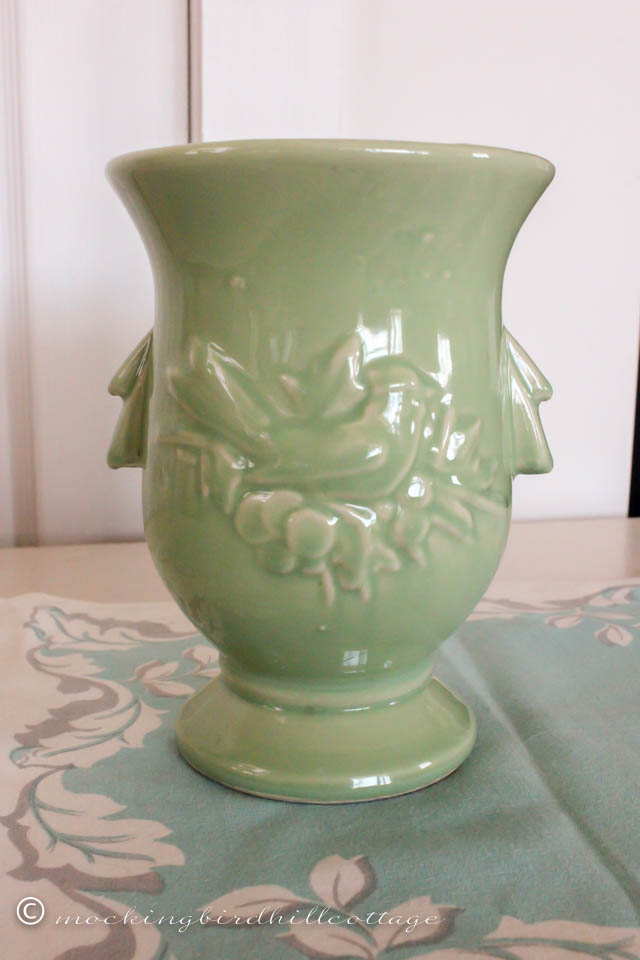 The design of this vase is not unlike the previous green vase I showed you. This one has birds and berries on it – a frequent theme of McCoy Pottery. This is one side of the vase.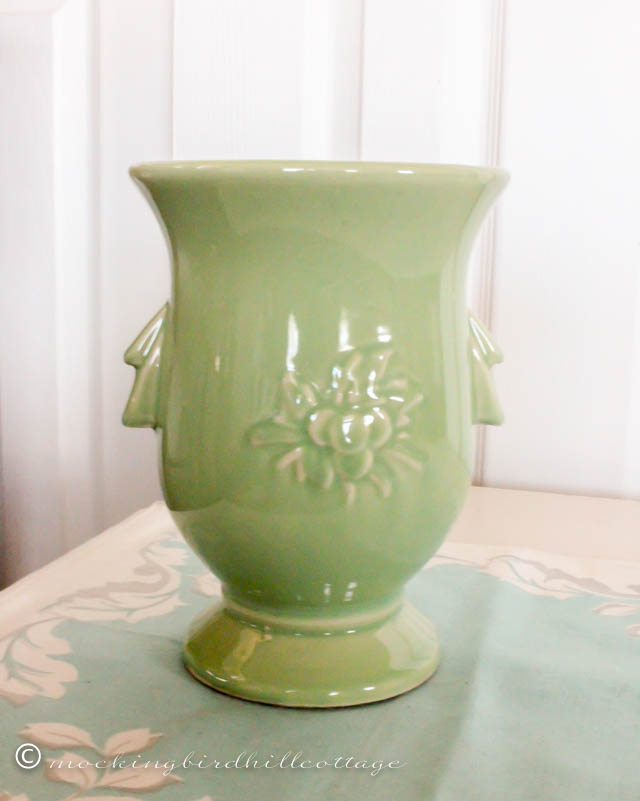 And on the other side: cherries. This vase dates from the 1940s. I have two of them. One lives in the china cabinet and one lives on top of the white cabinet in the living room. Another early acquisition via eBay.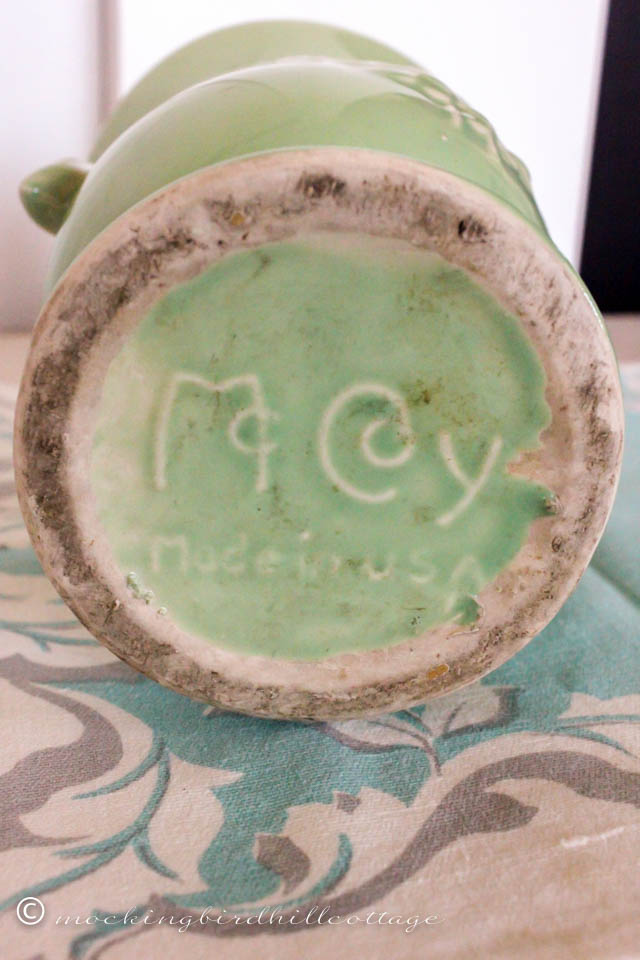 A variation on the mark, this time with Made in USA.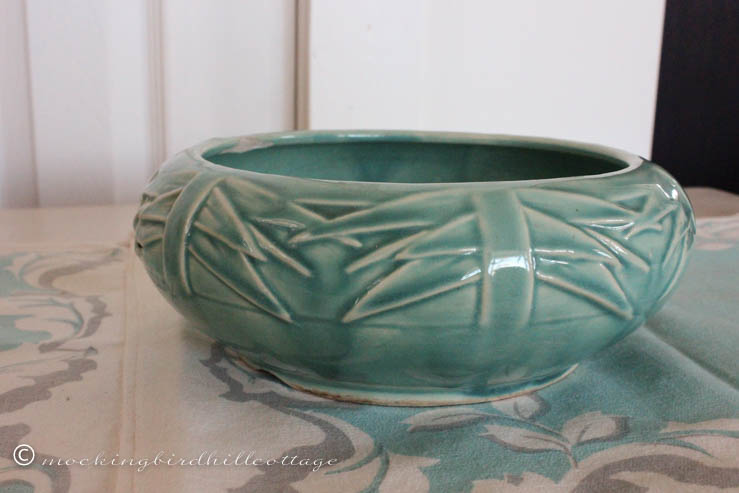 I love this planting bowl. I have two of them, one is in cream. You'll see that later. Very Art Deco in style. I'm searching for more information, but I can't seem to find it in my reference books. I'll update this when I learn more. Found on eBay.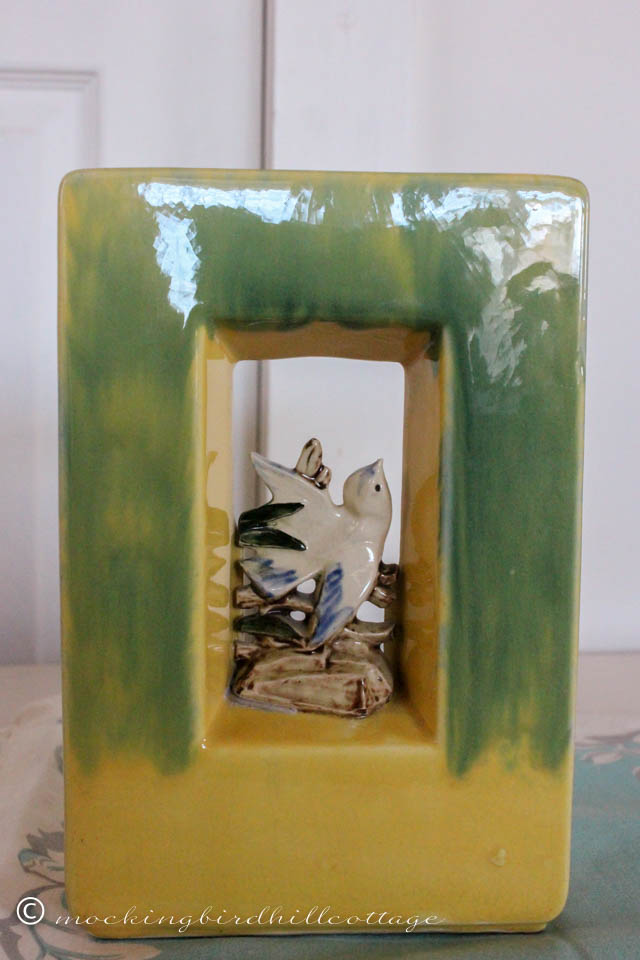 One of my very favorite pieces, found on eBay. These are called Arcature vases. The two sides are open at the top, ready for water and a flower. Although, looking at this one, I think the design is enough and no flowers are needed! More of the McCoy three-dimensional birds. Let's look more closely: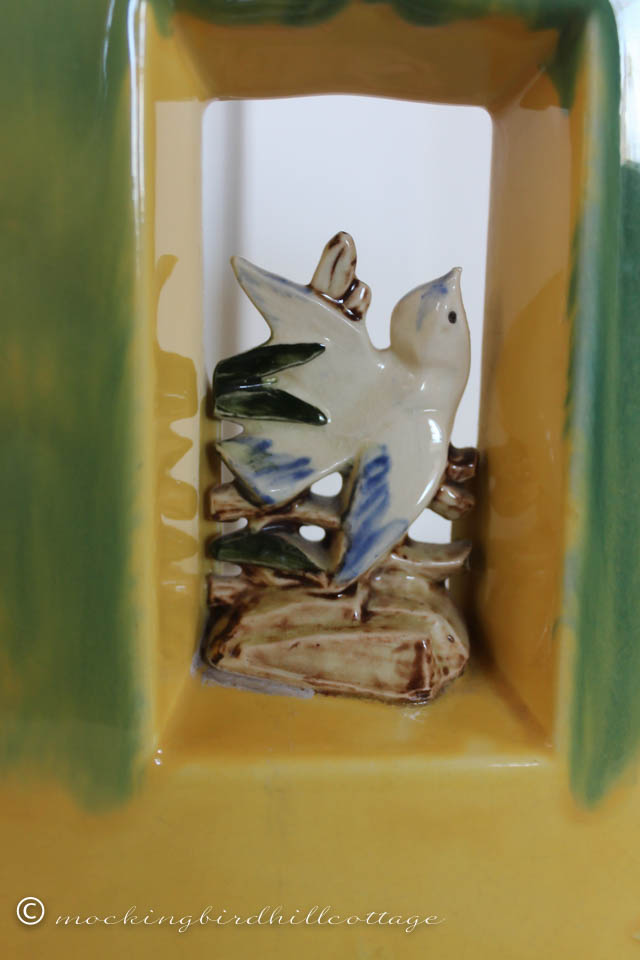 Sigh.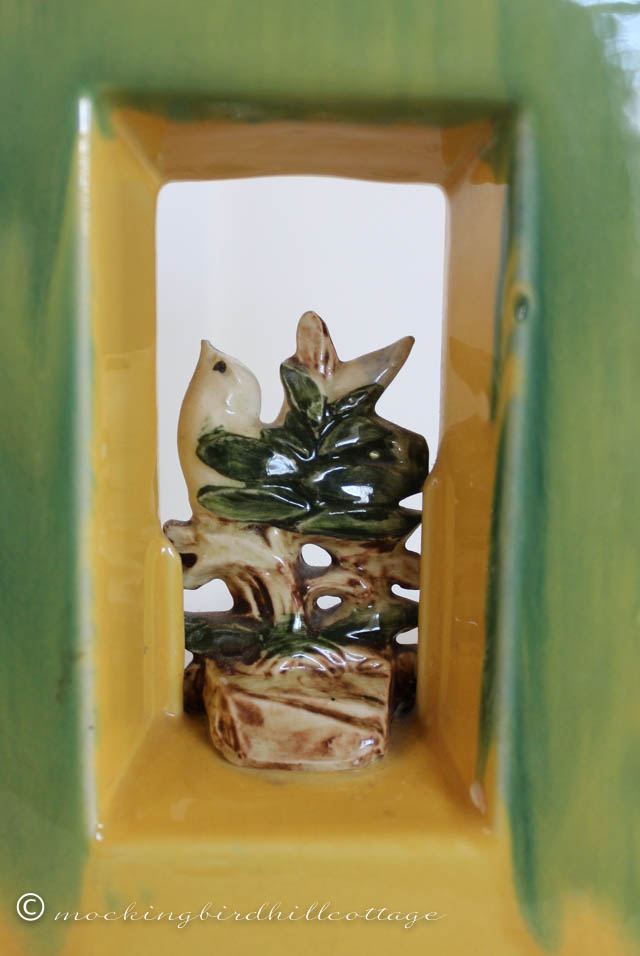 And from the back. These vases came in three different sizes – this one is the largest. From 1951.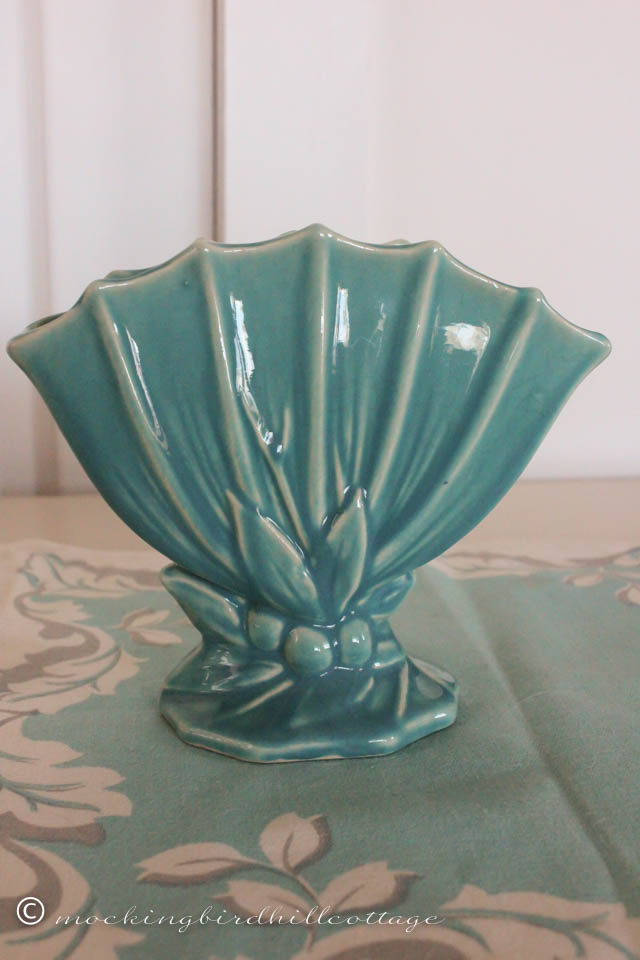 I found this leaves and berries fan vase in a local shop a year or so ago. It is in great shape – such great shape that I worried it was a knock-off. It isn't. It has one of my favorite marks on the bottom: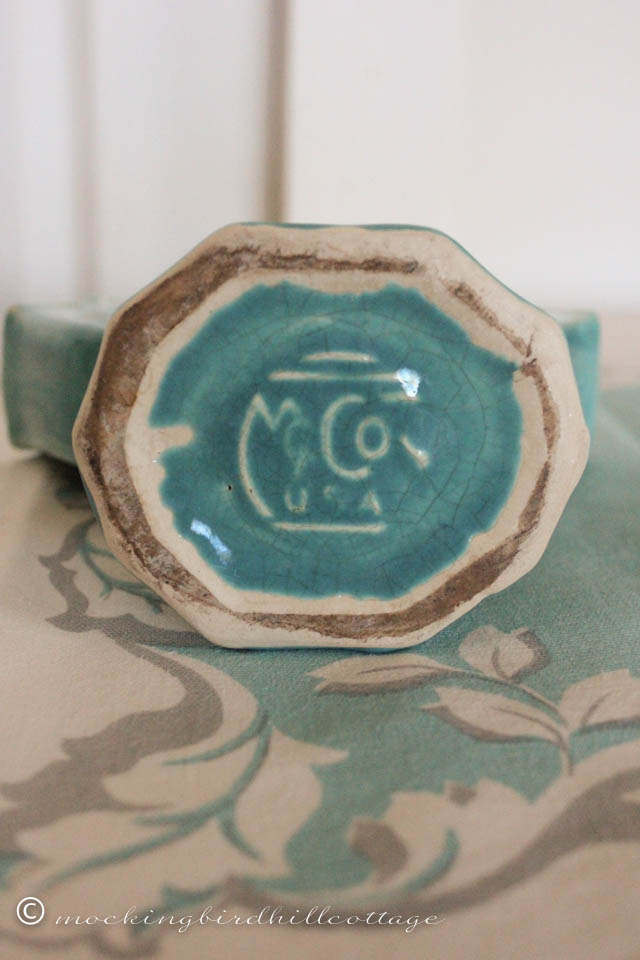 From the 1940s.
There's the beginning of our tour, my friends. I'll probably post this series every other day or so. If you have any questions, please feel free to ask in the comments.
I also have a post you might be interested in Collecting McCoy Pottery: Some Tips From a McCoy Lover. Maybe I can entice you to start your own collection!
Happy Tuesday.