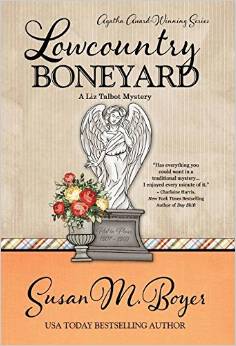 Today I am reviewing Lowcountry Boneyard by Susan M. Boyer for TLC Book Tours. As always, I am provided with a copy of the book in exchange for my honest review.
About the book (from the publisher): Where is Kent Heyward? The twenty-three year old heiress from one of Charleston's oldest families vanished a month ago. When her father hires private investigator, Liz Talbot, Liz suspects that the most difficult part of her job will be convincing the patriarch his daughter tired of his overbearing nature and left town. That's what the Charleston Police Department believes.
But behind the garden walls South of Broad, family secrets pop up like weeds in the azaleas. The neighbors recollect violent arguments between Kent and her parents. Eccentric twin uncles and a gaggle of cousins covet the family fortune. And the lingering spirit of a Civil War-era debutant may know something if Colleen, Liz's dead best friend, can get her to talk.
Liz juggles her case, the partner she's in love with, and the family she adores. But the closer she gets to what has become of Kent, the closer Liz dances to her own grave.
My review: I reviewed Lowcountry Bombshell  by Boyer a couple of years ago. I enjoyed it. Then, as now, Boyer writes a tightly plotted mystery where Charleston and the island named Stella Maris, where Liz lives, are lovingly described in rich detail. This series is written by a Southerner who clearly loves her chosen home. I tip my hat to her – her words make Charleston and Stella Maris come to life.
Liz is a strong female protagonist, who balances her tough work as a private investigator with the demands of family, lover, and friends, with a running commentary on what designer handbag she's carrying or outfit she's wearing. In other words, this mystery series is a combination of the American version of a cozy mystery and Chick Lit. It's very entertaining and a perfect summer read.
I love the other-worldly character of Colleen, Liz's best friend who died too young. Only Liz can see her and she flits in and out of the story, all the while keeping her protective eye on Liz. It's a lovely eccentric character detail in a series that honors and nurtures the eccentric.
But that leads me to something I must address. Liz's family is portrayed as a group of endearing Southern eccentrics. There is one scene in which Liz goes to her parents' house for dinner, a dinner where they are to meet her sister's new boyfriend. I won't go into detail, but the successful efforts of her father to rid the backyard of tunneling rodents with gasoline and bullets was too much for me. This reviewer, who cannot bear to see cruelty to animals – any  animals – found it very hard to read. I have to admit that it put me off the book for quite a while. I love eccentricity as much as the next person, but there are lots of other ways to make that quality come to life on the page. I think this particular choice was an unfortunate one. I'm fully aware that many readers will not even blink an eye when reading this scene. Nevertheless, you're reading my reviews in great part because they are honest and forthright, so I have to share my reaction with you.
That being said, I think Boyer is a very good writer. The Lowcountry series is richly Southern, with  fascinating characters and compelling plots. There's a nice dose of humor, as well. The plot has lots of twists and turns that will keep you guessing while following along with Liz as she methodically sifts through clues, interviews suspects, and tries to figure out who is telling the truth and who is not.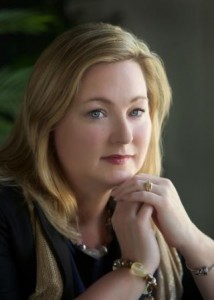 About the author: Susan M. Boyer is the author of the USA Today bestselling Liz Talbot mystery series. Her debut novel, Lowcountry Boil, won the 2012 Agatha Award for Best First Novel, the Daphne Du Maurier Award for Excellence in Mystery/Suspense, and garnered several other award nominations. Susan loves beaches, Southern food, and small towns where everyone knows everyone, and everyone has crazy relatives. You'll find all of the above in her novels.
Susan lives in Greenville, SC with her husband and an inordinate number of houseplants.
I'm giving away a copy of Lowcountry Boneyard. Just leave a comment here and I'll pick the winner on Thursday evening.
New post up on Just Let Me Finish This Page.
Happy Monday.