A gentle rain is falling as I write this. We need it. It has been extraordinarily dry here, with much less rain than is the norm. There have been ongoing burn bans and a couple of forest fires not far from us. One of those fires was caused by someone burning brush in spite of the ban. I guess he thought the rules didn't apply to him. Don't get me started.
So I welcome the rain.
I've been adding pots and plants to the Funky Patio and the porch. I love this Pink Ivy Geranium and I've used it for a couple of summers now. It takes me right back to my friend Kathy's little cottage at the beach in San Diego. She had this growing everywhere in her garden. That little cottage was magical – Kathy was ahead of her time in her decorating style. All of those blogger/decorators who think the current trend of white and cream interiors with natural elements is a new thing? Not on your life. Kathy was doing it well over twenty years ago. She rented a little cottage and she made each beadboard nook and cranny into a little treasure – all on a budget and all with some ingenious DIY on her part. She covered cushions in linen and cotton duck. I can still see it now. I loved that place. In fact, I stayed with her when I first moved out to San Diego until I could move into my apartment. And that little cottage of Kathy's was where I first met Don.
So this Ivy Geranium is little homage to Kathy and the beach and theater gatherings at her little cottage.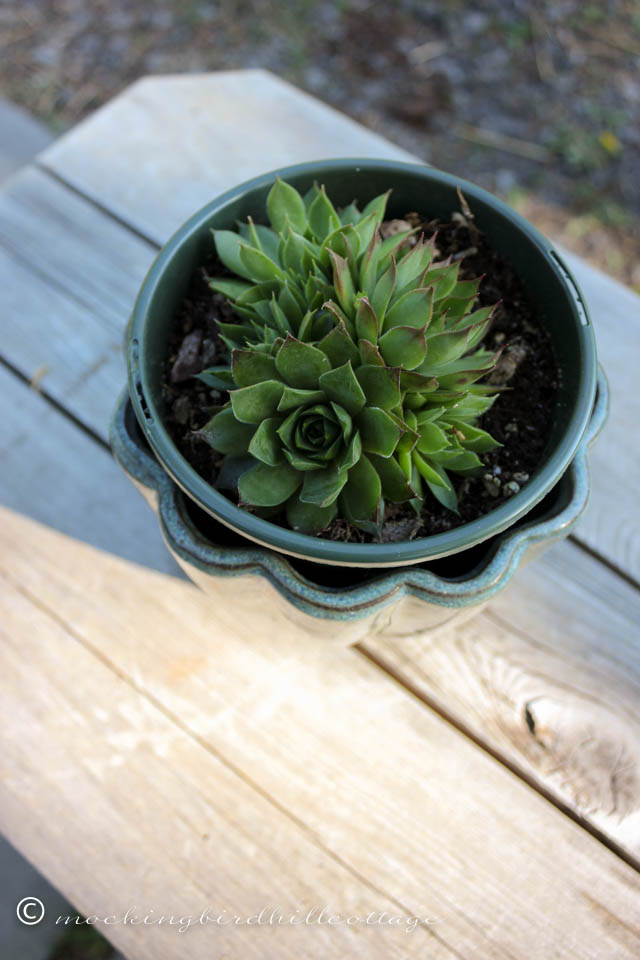 Hens and Chicks on the Funky Patio Bench.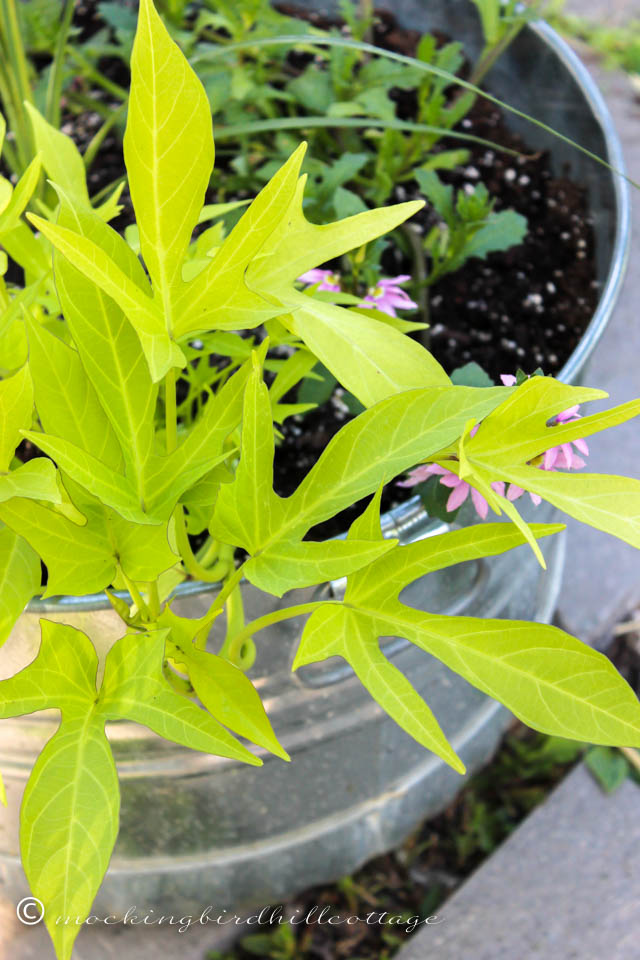 Sweet potato vine in the galvanized planter.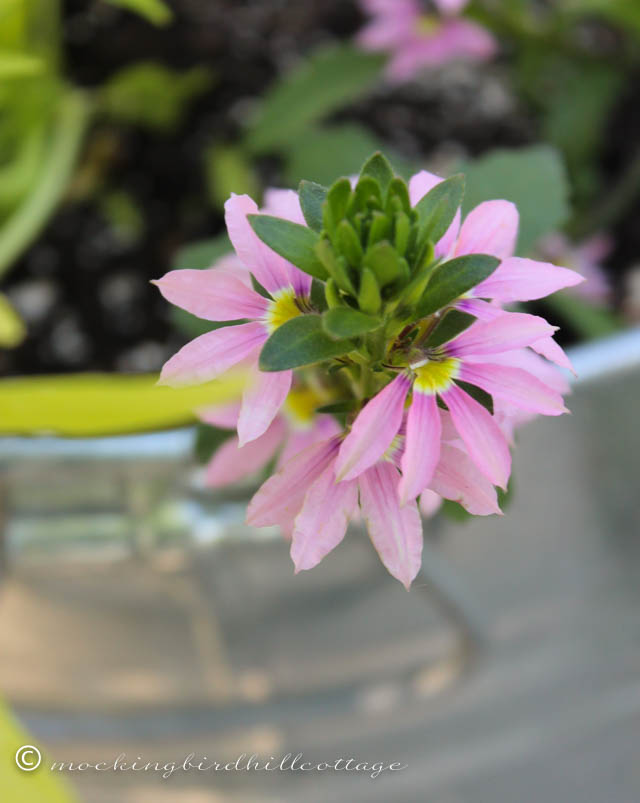 Along with some pink scaevola, which is the same plant I use every year for the hanging pots on the porch.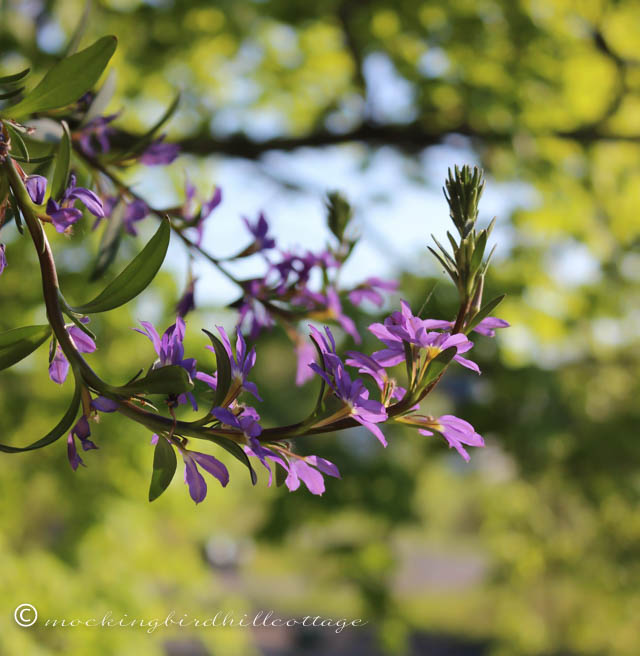 I bought two of them this year and they're gorgeous. They're a little pricey for me, but here's the thing, they last all summer long and into the fall. I don't have to replace the plants in mid-summer. So, they end up saving me money and I'm all about thrifty gardening because I have to be.
Everything you see in the garden beds was purchased a bit at a time over the nine summers I've been gardening here at the cottage. (We're starting the tenth summer this year.) No landscapers, no garden designers. For better or worse, it's just me and a very  limited budget. It took lots and lots of patience. But, oh my, it was and is so rewarding!
I am equally as thrifty about the annuals I add to the porch and patio.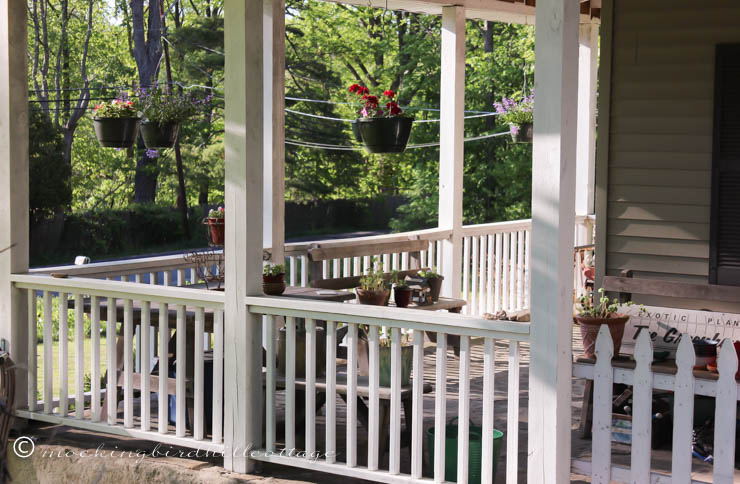 There are six places I can hang pots on the porch – six openings framed by the posts. Last year, I had only two hanging plants. This year, I have six. I purchased the two purple scaevola. I fill the rest of the pots myself. The pots themselves have been saved from year to year. This year, I bought a flat of impatiens. I already have the overwintered impatiens, which saves me a lot of money from year to year. The new flat of impatiens I use to fill a few little pots here and there, but mostly I use them for the hanging pots on the shady side of the porch. They will fill out beautifully and last through the summer.
This year, Don accompanied me to the nursery (that usually doesn't happen but he's developing a real love for the gardens and is much more observant about what's popping up here and there than he used to be) and his eye hit on a beautiful hanging plant with deep red geraniums. We couldn't afford another expensive arrangement, so I grabbed a small inexpensive pot of the same geraniums and plopped them in a hanging pot that I had on hand.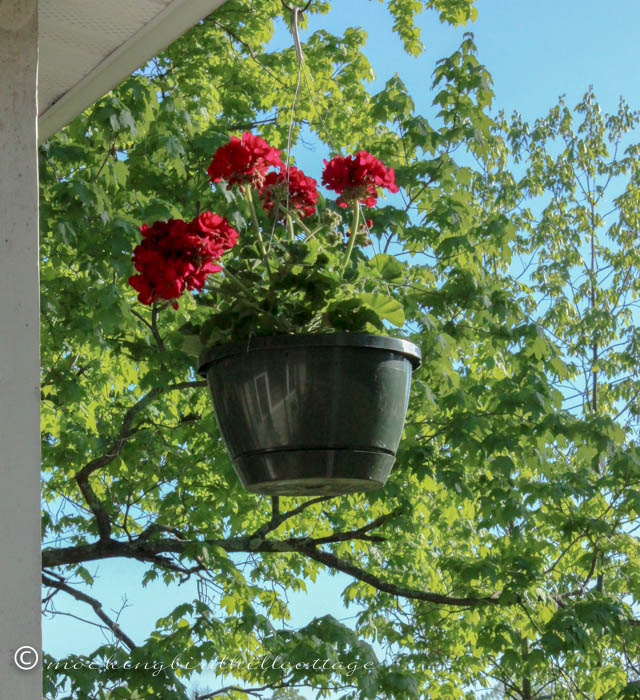 Don never asks for anything special in the gardens. He leaves all of that up to me. This year he asked for two things. I wanted to make sure he had his geraniums. He also fell in love with a little plant called Mexican Mint Agastache and asked if I could add it to the garden. Of course.
It's coming together, slowly but surely.
I'm very, very careful about each year's gardening expenses, so much so that last year I didn't buy mulch in order to save money. That was a mistake that I won't repeat again. Yikes, Claudia, what were you thinking?
Mulch was purchased this year, along with the flat of impatiens, a couple of hanging plants, a few small potted plants, and some morning glory and zinnia seeds. That's it.
Oh, and some bee balm, which had to be purchased because I mistakenly yanked all of the bee balm out of the garden.
Yes, you read that right. I thought it was some invasive mint (it smelled like mint) and yanked it. It wasn't until a few weeks later when I realized I wasn't seeing any bee balm come out of the ground that I learned that it is part of the mint family. I was so mad at myself! That bee balm had been in the garden for at least eight years. I felt sick to my stomach. It was as if I'd harmed a friend. And I had. Again, what was I thinking?
So Don insisted we go buy some bee balm the next day.
An added expense due to my momentary insanity.
Anyway. It's taken nine summers to get the gardens to the point they are now. A few plants at a time. A little bit of money at a time. Now, I almost never add plants to the garden beds because they're nicely full of perennials. (Unless I yank something by mistake, that is.)
Mulch, a few pots of annuals, some seeds. That's doable for two freelancers. And knowing I did it all on a budget – very slowly, with no quick fixes – makes me proud.
Happy Saturday.