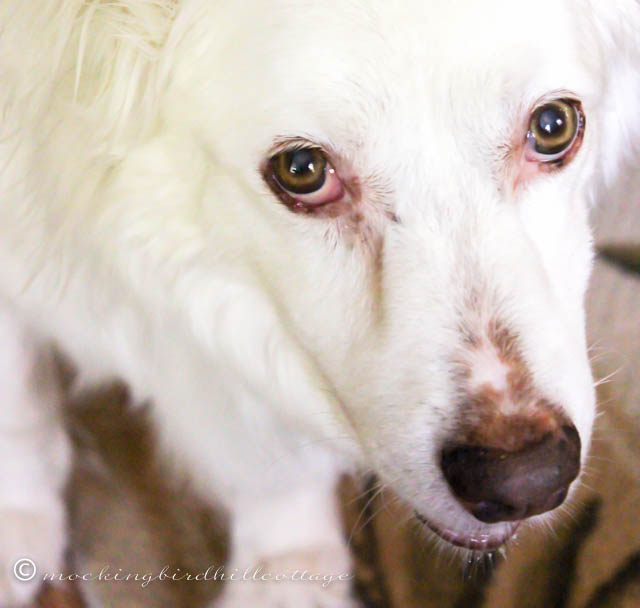 Just because.
She's amazing, our girl. She has good days and not-so-good days, but she's full of spunk and she makes us laugh. In a couple of weeks, she'll be 16½ years old. We are so blessed by her presence in our lives.
Adorable, magical Scoutie.
My rose bushes are leafing out, slowly but surely. I was worried that the brutal winter did them in, but they're coming back. I've been cutting dead canes here and there, but I'm also waiting to see where leaves develop before I do much more. Right now, there are a lot of bare branches – not the most attractive look – but mother nature seems to be doing her magic. Hurrah!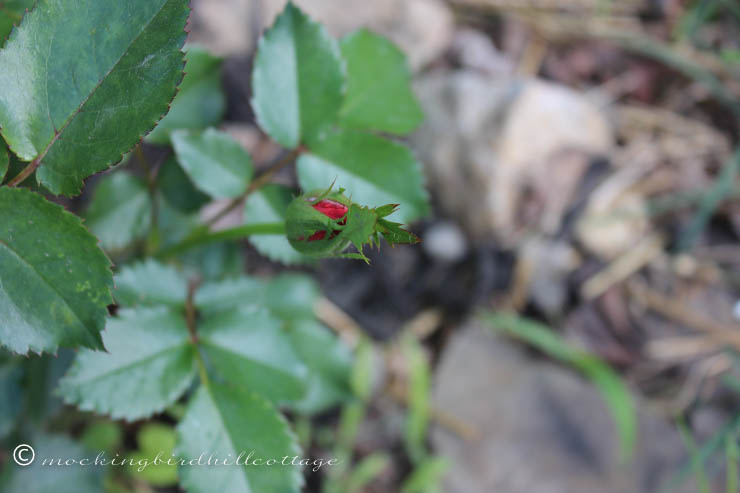 My friend Martha sent me a rose bush last year in remembrance of my mom. It's called Remember Me. We tucked it in next to the chicken wire fence and it rewarded us with a spectacular bloom.
Here we are, almost a year later, and look what I found! It's already developed a bud. I can't wait to see it bloom again. Thank you, Martha. Thank you for this wonderful remembrance of my mom.
Nothing all that exciting on the agenda for this Sunday. A little trip to the nursery for some plants for the Funky Patio. Some reading. Maybe a hike with Don? We'll see.
Something happened that I find utterly despicable. It involves both the good and the bad of being online. Thank goodness for the blog reader who alerted my sister to the situation. It's Meredith's story to tell, so I will direct you to her post.
As you can imagine, I want to see scumbags like this pay for their actions.
Happy Sunday.