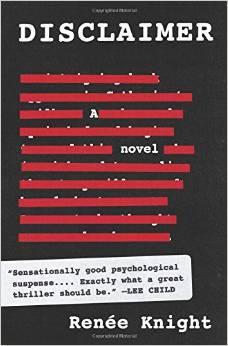 Today I am reviewing Disclaimer by Renée Knight for TLC Book Tours. As always, I am provided with a copy of the book in exchange for my honest review.
About the book (from the publisher): What if you realized the terrifying book you were reading was all about you?
A brilliantly conceived, deeply disturbing psychological thriller about a woman haunted by secrets – and the price she will pay for concealing the truth.
When a mysterious novel appears at Catherine Ravenscroft's bedside, she is curious. She has no idea who might have sent her The Perfect Stranger, or how it ended up on her nightstand. At first, she in intrigued by the suspenseful story that unfolds.
And then she realizes.
This isn't fiction.
The Perfect Stranger re-creates in vivid, unmistakeable detail the day Catherine became hostage to a dark secret – a secret that only one other person knew – and that person is dead.
Now that the past so desperately wants to forget is catching up with her, her world is falling apart. Plunged into a living nightmare, she knows that her only hope is to confront what really happened on that terrible day…even if the shocking truth may destroy her.
My review: This thriller takes hold of the reader and doesn't let go until the very last page. The concept, brilliantly conceived by the author, revolves around two narrative voices. One is Catherine Ravenscroft, married, the mother of a son, with a demanding and successful career. The other is an elderly retired teacher who is a widower. They tell their stories in alternating chapters, moving between past and present, revealing little details that are part of a much bigger puzzle.
We hit the ground running with Catherine's realization that the book she has been reading is telling her story, long hidden, and as far as she knows, known by no one else who is currently living. The recognition that the story is her own, and the ensuing fear and panic it engenders, turns Catherine's life upside down.
Just how the other narrator's story is related to Catherine's is slowly revealed, bit by bit. The back and forth narration creates a taut story line. Knight has written and crafted a superb thriller. As you know from other book reviews, I love it when I cannot figure out what is coming next and how a plot is going to play out. I love surprises. I got all of that and more in this psychological thriller.
Knight is gifted writer who has conceived a delicate balance of past and present from two points-of-view, all the while revealing just a bit here and there, enough to intrigue, but not enough to know. And that, dear readers, will keep you reading into the night.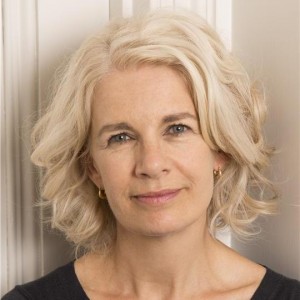 About the author: Renée Knight has worked for the BBC directing arts documentaries and has had TV and film scripts commissioned by the BBC, Channel Four, and Capital Films. In April 2013, she graduated from the Faber Academy "Writing a Novel" course, whose alumni include S.J. Watson. She lives in London with her husband and two children.
One of you will be the lucky winner of a copy of Disclaimer. Just leave a comment on this post and I'll pick a winner on Thursday evening. Good luck!
(More about the tornado tomorrow – this review has long been scheduled for today.)
Happy Monday.