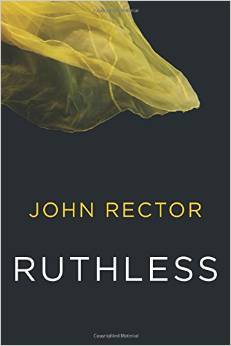 Today I am reviewing Ruthless  by John Rector for TLC Book Tours. As always, I receive a copy of the book in exchange for my honest review.
About the book (from the publisher): Nick White is the only person who can save Abigail Pierce. After uncovering a plot to have her killed, he attempts to warn her, but instead puts himself squarely in the crosshairs. They know who he is, they know where he lives, they know how to get at his family.
Drawn into the conspiracy surrounding Abigail, Nick soon discovers the danger is bigger than he ever believed. Now he must uncover the truth to save her and himself. Gripping and intense, this novel is a twisted thrill ride from best selling author John Rector.
My review: The event that gets this novel rolling is the protagonist's decision to play along with a seeming come-on from a stranger in a bar. Very quickly, he realizes that what he thought of as an innocent flirtation was actually a meeting to set up a murder. Left holding an envelope with thousands of dollars in payment, along with a photograph of a young woman, he contemplates calling the police. While inexplicably dithering over that decision, the real killer-for-hire arrives, sees Nick, and a discussion with the bartender provides Nick's name, which means they now know who he is.
That in itself is a neat idea for the start of a mystery. On the other hand, it never quite rang true, nor did most of the storyline. Maybe it was my frame of mind at the time I read this book, maybe it was an unwillingness to suspend disbelief – but I couldn't quite go there.
Rector has included an interesting  thread in the novel that veers into the laboratory, taking us into science-fiction territory. But the problem here is one that I found throughout the novel – not enough time was spent in fleshing out the plot points, in creating a fully realized world in which each new twist or turn made a sort of sense. Even if the ideas are fantastical, I'll go along with them if they are supported by the writing. I couldn't do that in this case.
I also found it very hard to identify with the protagonist because he just wasn't written with enough depth, which left me feeling less than engaged.
Maybe a beach read? It moves quickly, skimming the surface, and doesn't require a lot of commitment on the part of the reader. Rector is a popular author and this is my first encounter with his writing. However, this particular thriller just wasn't my cup of tea.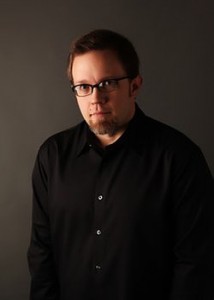 About the author: John Rector is the Wall Street Journal best-selling author of The Grove, The Cold Kiss, Already Gone, and Out of the Black. His short fiction has appeared in numerous magazines and has won several awards including the International Thriller Award for his novella, Lost Things. Many of his other stories can be found in his collection, The Walls Around Us.
He lives in Omaha, Nebraska.
One of you will be the winner of a copy of Ruthless. Just leave a comment on this post, and I'll pick a winner on Sunday.
Happy Thursday.