Many of you have asked for a list of my miniature/dollhouse sources. The truth is, I'm constantly finding new ones. There are a lot of blogs, websites and online shops out there. There are generous bloggers who post tutorials. There are online forums. There's a wealth of material and inspiration out there.
I'm gathering together all of my current sources and will add new ones as I discover them. This will eventually be a link on the Dollhouse tab in my navigation bar.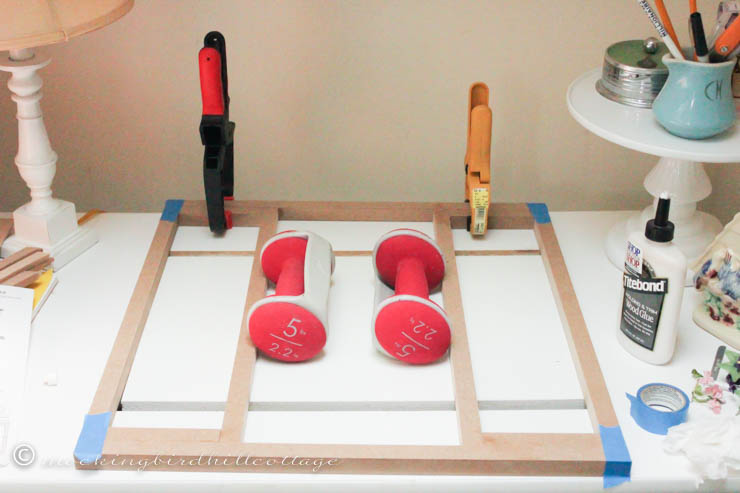 By the way, I started my next project, which is my first-ever dollhouse build. Don was away all day yesterday, so I snuck upstairs when Scout was sleeping and built the base for the project.  A big thank you to reader Janice who sent me the link to a fellow blogger, experienced at building dollhouses, who posted a tutorial about this particular build. Very, very helpful for someone like me. For instance: the tip to use weights, like you see in the photo, was something I wouldn't have thought of.
I'm glad they're finally getting some use.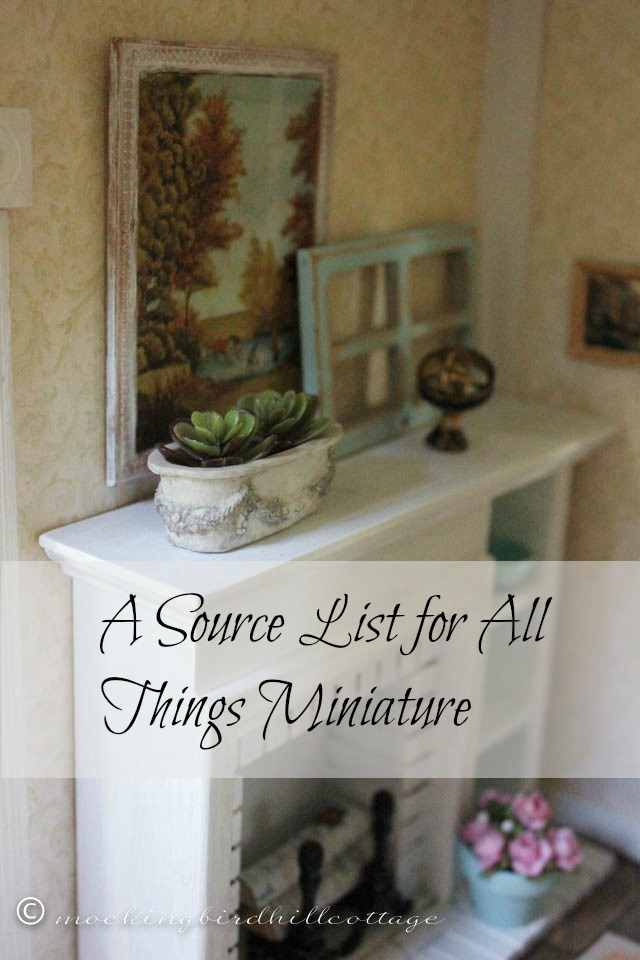 Okay. Here we go.
Online Dollhouse/Miniature Shops
HBS/Miniatures.com – Great store, with nearly everything you need to build a dollhouse, to buy a dollhouse, to furnish a dollhouse. They have frequent sales, shipping is fast, and they have a catalogue that I keep right by my side.
Dollhouses and More – Another great shop. It was there that I found the blue overstuffed chair in the DH living room and the sofa in the den – both extremely realistic pieces.
DeJoux Miniatures – an extensive inventory of all things miniature.
The Dolls House Emporium (DHE Minis) – based in England. Great, great site.
The Little Dollhouse Company – based in Toronto. Fabulous shop.
Dollhouse Elora – also based in Canada.
Itsy Bitsy Mini – the source for all of the wallpaper I have used in the dollhouse. Fast shipping, extensive inventory.
Mainly Minis – I bought several of my miniature Roseville Pottery pieces there.
Train Sets Only – where I bought the ballast for the roof garden.
Elf Miniatures – based in England. My new favorite. The design work is incredible. Their tag line is "High Quality Modern Dolls House Furniture." You have to check them out.
Chautauqua Miniatures – love this shop.
PRD Miniatures – miniature modern furniture and room boxes – great site.
1″ Minis – great tutorials by the incredible Kris Compass. So much information here!
Other Online Sources:
Etsy and eBay are great sources for dollhouse miniatures. I've purchased wonderful pieces from both sources.
I'll list my favorite (so far) Etsy shops:
Flora Dollhouse – Flora made my living room sofa. She's based in Italy.
A Lavender Dilly – Carrie lives in Australia and is the source of many of my rugs, pillows and china, as well as kitchen and baking utensils. Love, love her shop.
L. Delaney – a wonderful artisan who makes books, oddities, wall hangings – all sorts of things.
Twelve Times More Teeny – Sofia lives in Spain and crafts beautiful miniatures – I purchased several china plates from her.
Atelier de Léa – This is the fabulous Léa's shop. She owns a dollhouse shop in Paris (I can dream) and is also the author of an incredible book with all sorts of tutorials, Le Grand Livre de la Maison Miniature – now available in English. Mine is in French, which means I have to translate every tutorial. Sigh.
Weston Miniature – another great shop, fast shipping, lovely work.
Into the Woods – some great minis, including the stand mixer I have in the kitchen.
Green Gypsies – a great mini shop, where I purchased the little rug that is in front of the sink in the kitchen, as well as the large rug in the bedroom.
French Vellum – a great source of Shabby Chic style minis. The ottoman in the bedroom was found here.
Dale's Dreams – wonderful handmade minis – great rugs
In the Twelfth Scale – Gabrielle (from Australia). Her creations include the sofa in the TSP/Studio.
Petals and Brims – full of wonderful minis, including record albums.
Liluminiature – located in Thailand, this miniaturist makes computers, cell phones, appliances – incredibly detailed work.
L.A. Little Artist – he made the wood guitars that are in the TSP/Studio. Wonderful work.
MiniMyEye – she makes framed mini art from postage stamps. One of them is in the TSP/Studio.
Otterine – my friend Brae's Etsy shop. The pillows on the sofa and the boxwood plants in The Studio came from her shop.
feYerwerks – an Etsy shop where I got the kits for the Loll adirondack chairs.
There is also the Greenleaf Dollhouse Forum  where miniaturists share information. Join here.
Great Blogs
This will be a long one. I've recently discovered even more wonderful blogs and I'm thrilled to share them with you. In no particular order.
Otterine's Miniatures – I bow down in awe. The woman behind this blog, Brae Oktober, is incredibly skilled. She builds dollhouses, she takes a dollhouse plan and bashes it to create something even better, she builds furniture. She's the bees knees. I'm currently reading all of her posts – great and inspiring reading material. Based in Chicago.
Minibase – Susi's blog She is amazingly talented. And generous, to boot. See her record shop that she made for last year's Creatin' Contest at Hobby Builder's Supply. Unbelievable detail.
1:12 Modern Miniature Houses – Marian Russek's blog – she lives in Switzerland. She is a gifted miniaturist. Explore her blog and look for the video tour of her most recent creation. You'll be amazed.
Kitty and Kat Miniatures – another relatively new blogger with delightful posts and lots of info.
Casey's Minis – My longtime blogging friend, Casey, is an extraordinarily talented miniaturist. She blogs daily and she can do just about anything. The wicker chair in my dollhouse den was made by Casey. She's also a generous source of helpful information.
Dollhouse Miniature Furniture Tutorials – 1 inch minis – Kris generously shares her skills with us, writing countless tutorials for making your own minis. She is extremely gifted.
Fabulously Small – Monique's blog – full of great information and tutorials.
Nancy Enge Design – wonderful miniaturist, who is, coincidentally, currently working on the Creatin' Contest build (the one I'm making for Don) – lots of wonderful information here.
The Shopping Sherpa – another wonderful blogger based in Australia.
Miniatyrmama – Lena's blog – lots of beautiful creations. Based in Sweden.
Call of the Small – a wonderful blog focused on miniature modern design.
Kilmouski & Me – fabulously talented miniaturist with a great writing style.
MitchyMooMiniatures – Pepper's blog, chronicling her amazing mini creations with helpful hints and tutorials (one of which I'm hoping to try very soon.)
Atelier de Léa – I mentioned her Etsy shop earlier – this is her blog.
Nono Mini Nostalgie – Nono's blog, which is a relatively new discovery. She's based in France.
Studio E Miniatures – Elizabeth is based in Canada. She's a talented miniaturist who passes on a lot of great tips and she's a hoot!
MiniModPod – I've recently been drawn to a group of bloggers who blog about mini modern design and am in awe of their talent. Her tag line is: A blog about modern miniature dollhouses and things related.
Liberty Biberty – Mercedes' blog. She has been a source of information and inspiration for me since the beginning of my dollhouse journey. She lives in New Zealand.
Garden of Miniatures – Jeanette crafts extraordinary minis – all things garden and flowers.
Modern Mini Houses – tag line: chronicling my obsession with modern mini dollhouses and miniatures. Love this blog. Lots of info here.
Paper Doll Miniatures – Kristine is a relatively new blogger with lots of mini style. Lots of wonderful posts with tutorials, as well. She also takes great photos of her minis, creating wonderful moments in time that become art.
Sabs Mini Interiors – another longtime read. Says is unbelievably talented. She builds minis, builds dollhouses, each of them with such a great sense of time, place and style. She's also an interior designer in her real life.
Mini Confessions – tag line: Capturing life in small scale. Another informative and inspiring blog.
A Lavender Dilly – my favorite Etsy source, Carrie Lavender, also writes a blog.
Mini Modern – Another blogger who loves modern minis and is based in California.
Make Mine Mini – my dear friend Norma's blog. Norma lives in Australia and New Zealand and is a talented miniaturist. She is also stunningly generous. She gave me the bed that is in the dollhouse bedroom. She also made all the bed linens.
Miniature House – She doesn't post often, but there is good information here.
A Beautiful World – Josje's blog. She is one of the most talented miniaturists I've encountered online. Simply stunning work. Read and be amazed.
Petite Brocante Miniatures – Another enormously talented miniaturist.
Une Petite Folie – Linda Carswell's blog. Linda has long been an inspiration to this dollhouse enthusiast. The house she crafted and decorated is simply incredible. She's also a generous source of helpful information, taking the time to write me back when I asked about tools. She supplied a list of all her favorite tools, along with a photo of them. She's based in Tasmania.
Lotje's Dollhouse – Sylvia's blog. Another extremely talented miniaturist who I've been reading for years.
A Miniature Obsession – She writes detailed posts about her projects and works in all scales. Love this blog.
A Miniature Life – Kim Saulter's blog. Kim is a gifted miniaturist, specializing in all things mini baked goods.
Cinderella Moments – Caroline constructs a lot of dollhouses and she does it beautfully. Lots of valuable information here.
Cynthia's Cottage Designs – a stylish mini blogger. Love her creations.
Miniatures by Annina – wonderful posts with all sorts of information and help for the mini enthusiast. Check her archives as she has a little one right now and isn't blogging as often as she has in the past.
Pipi's Miniatures – thanks to Barbara for this link. She has constructed a dollhouse inspired by the one in Léa's book. I'm already a fan!
That's all. As I discover more sites, I'll add them to this list.
If any of the links aren't working, I'd so appreciate you letting me know about them. My right hand is tired from writing this post, clicking back and forth and adding all the links, so I'm going to trust that they're working.
Hope this gives you lots of reading material and inspiration.
Happy Sunday.